Нассим Талеб как-то написал: «Писатель Умберто Эко принадлежит к тому немногочисленному классу широко образованных, проницательных, начитанных и при этом нескучных учёных с энциклопедическими знаниями. Будучи владельцем огромной личной библиотеки (содержащей тридцать тысяч книг), он разделяет посетителей на две категории: на тех, кто реагирует в стиле «Ничего себе! Синьор профессор, дотторе Эко, ну и книг у вас! И сколько же из них вы прочитали?», и на других — тех исключительно редких посетителей, которые понимают, что крупная частная библиотека — не способ возвышения эго, а инструмент исследования. Прочитанные книги куда менее важны, чем непрочитанные. Библиотека должна содержать столько того, чего вы не знаете, сколько позволяют вам в нее вместить ваши финансы, ипотечные кредиты и нынешняя сложная ситуация на рынке недвижимости. С годами вы будете накапливать больше знаний и ваша библиотека будет расти, а уплотняющиеся ряды непрочитанных книг начнут смотреть на вас с угрозой. В самом деле, чем шире ваш кругозор, тем больше за вашими плечами непрочитанных книг. Назовем эту коллекцию непрочитанных книг антибиблиотекой».
Ежедневно мы видим и слышим упоминания о различных книгах, которые вызывают у редакции FST неподдельный интерес. Мы можем увидеть рецензию в сети, или уважаемый человек в разговоре отзовется о книге хорошо, или она вызывает бурные публичные дискуссии, или же она никому неизвестна и совершенно случайно попалась на глаза. Обо всех них мы не успеваем написать отдельный материал, поэтому мы решили завести нашу собственную антибиблиотеку, которая будет обновляться на постоянной основе и время от времени (раз в 1-2 недели) «подниматься» в череде публикаций на проекте.
Добро пожаловать. Проверяйте Антибиблиотеку FST раз в неделю.
---
CHINA'S ASIAN DREAM: EMPIRE BUILDING ALONG THE NEW SILK ROAD
by Tom Miller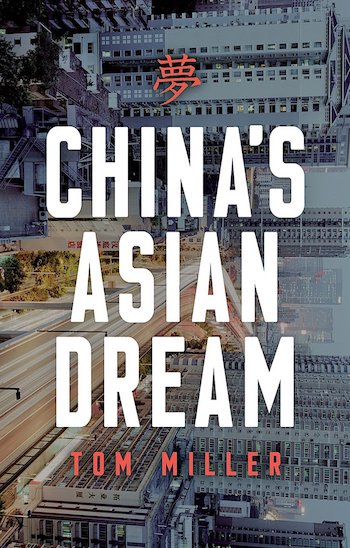 "China," Napoleon once remarked, "is a sleeping lion. Let her sleep, for when she wakes she will shake the world." In 2014, President Xi Jinping triumphantly declared that the lion had awoken. Under Xi, China is pursuing an increasingly ambitious foreign policy with the aim of restoring its historical status as the dominant power in Asia. From the Mekong Basin to the Central Asian steppe, the country is wooing its neighbors with promises of new roads, railways, dams, and power grids. Chinese trade and investment presents huge opportunities for China's neighbors, and its ability to build much-needed infrastructure could assist in the development of some of the world's poorest countries.
Yet Chinas rise also threatens to reduce its neighbours to the status of exploited vassals. In Vietnam and Myanmar, resentment of Chinese encroachment has already incited anti-Chinese protests, and many countries in the region are seeking to counterbalance its influence by turning to the US and Japan. Combining a concise overview of the situation with on-the-ground reportage from over seven countries, China's Asian Dream offers a fresh perspective on one of the most important questions of our time: what does China's rise mean for the future of Asia and of the world?
---
SMALL WARS, BIG DATA: THE INFORMATION REVOLUTION IN MODERN CONFLICT
by Eli Berman, Joseph H. Felter, Jacob N. Shapiro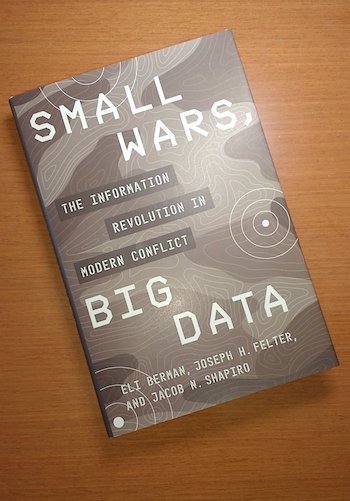 The way wars are fought has changed starkly over the past sixty years. International military campaigns used to play out between large armies at central fronts. Today's conflicts find major powers facing rebel insurgencies that deploy elusive methods, from improvised explosives to terrorist attacks. Small Wars, Big Data presents a transformative understanding of these contemporary confrontations and how they should be fought. The authors show that a revolution in the study of conflict—enabled by vast data, rich qualitative evidence, and modern methods―yields new insights into terrorism, civil wars, and foreign interventions. Modern warfare is not about struggles over territory but over people; civilians―and the information they might choose to provide―can turn the tide at critical junctures.
The authors draw practical lessons from the past two decades of conflict in locations ranging from Latin America and the Middle East to Central and Southeast Asia. Building an information-centric understanding of insurgencies, the authors examine the relationships between rebels, the government, and civilians. This approach serves as a springboard for exploring other aspects of modern conflict, including the suppression of rebel activity, the role of mobile communications networks, the links between aid and violence, and why conventional military methods might provide short-term success but undermine lasting peace. Ultimately the authors show how the stronger side can almost always win the villages, but why that does not guarantee winning the war.
---
GREECE: BIOGRAPHY OF A MODERN NATION
by Roderick Beaton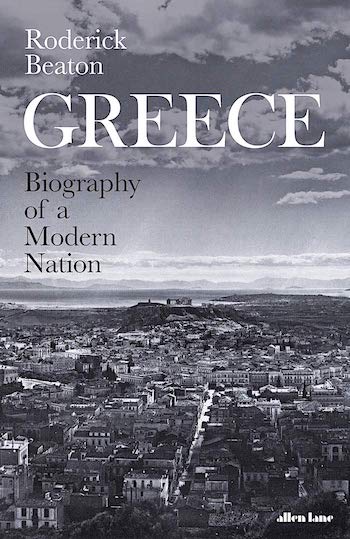 We think we know ancient Greece, the civilisation that shares the same name and gave us just about everything that defines 'western' culture today, in the arts, sciences, social sciences and politics. Yet, as Greece has been brought under repeated scrutiny during the financial crises that have convulsed the country since 2010, worldwide coverage has revealed just how poorly we grasp the modern nation. This book sets out to understand the modern Greeks on their own terms.
How did Greece come to be so powerfully attached to the legacy of the ancients in the first place, and then define an identity for themselves that is at once Greek and modern? This book reveals the remarkable achievement, during the last 300 years, of building a modern nation on, sometimes literally, the ruins of a vanished civilisation. This is the story of the Greek nation-state but also, and perhaps more fundamentally, of the collective identity that goes with it. It is not only a history of events and high politics, it is also a history of culture, of the arts, of people and of ideas.
---
THE AGE OF EM: WORK, LOVE AND LIFE WHEN ROBOTS RULE THE EARTH
by Robin Hanson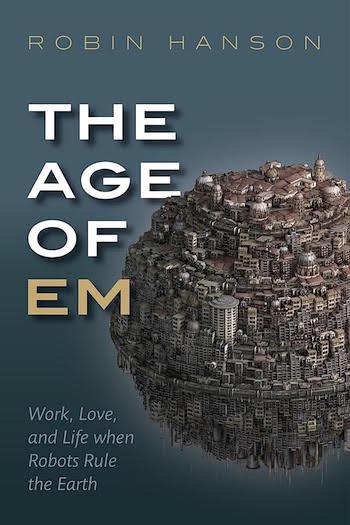 Many think the first truly smart robots will be brain emulations or ems. Scan a human brain, then run a model with the same connections on a fast computer, and you have a robot brain, but recognizably human. Train an em to do some job and copy it a million times: an army of workers is at your disposal. When they can be made cheaply, within perhaps a century, ems will displace humans in most jobs. In this new economic era, the world economy may double in size every few weeks. Some say we can't know the future, especially following such a disruptive new technology, but Professor Robin Hanson sets out to prove them wrong. Applying decades of expertise in physics, computer science, and economics, he uses standard theories to paint a detailed picture of a world dominated by ems.
While human lives don't change greatly in the em era, em lives are as different from ours as our lives are from those of our farmer and forager ancestors. Ems make us question common assumptions of moral progress, because they reject many of the values we hold dear. Read about em mind speeds, body sizes, job training and career paths, energy use and cooling infrastructure, virtual reality, aging and retirement, death and immortality, security, wealth inequality, religion, teleportation, identity, cities, politics, law, war, status, friendship and love. This book shows you just how strange your descendants may be, though ems are no stranger than we would appear to our ancestors. To most ems, it seems good to be an em.
---
WHAT IF THIS WERE ENOUGH?: ESSAYS
by Heather Havrilesky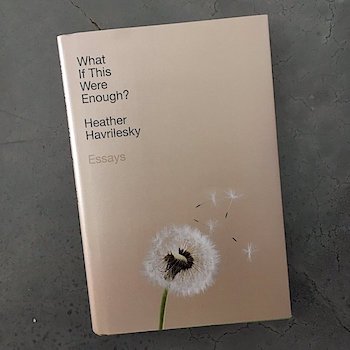 What If This Were Enough? is a mantra and a clarion call. In its chapters—many of them original to the book, others expanded from their initial publication—Havrilesky takes on those cultural forces that shape us. We've convinced ourselves, she says, that salvation can be delivered only in the form of new products, new technologies, new lifestyles. From the allure of materialism to our misunderstandings of romance and success, Havrilesky deconstructs some of the most poisonous and misleading messages we ingest today, all the while suggesting new ways to navigate our increasingly bewildering world.

Through her incisive and witty inquiries, Havrilesky urges us to reject the pursuit of a shiny, shallow future that will never come. These timely, provocative, and often hilarious essays suggest an embrace of the flawed, a connection with what already is, who we already are, what we already have. She asks us to consider: What if this were enough? Our salvation, Havrilesky says, can be found right here, right now, in this imperfect moment.
---
EMPIRE OF GUNS: THE VIOLENT MAKING OF THE INDUSTRIAL REVOLUTION
by Priya Satia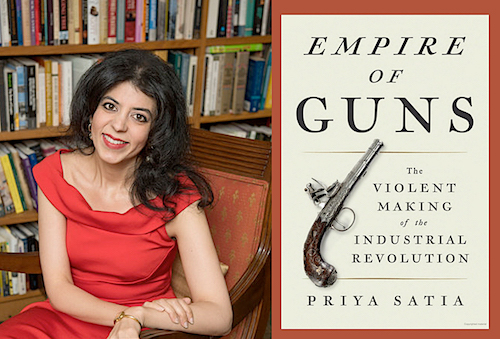 We have long understood the Industrial Revolution as a triumphant story of innovation and technology. Empire of Guns, a rich and ambitious new book by award-winning historian Priya Satia, upends this conventional wisdom by placing war and Britain's prosperous gun trade at the heart of the Industrial Revolution and the state's imperial expansion.

Satia brings to life this bustling industrial society with the story of a scandal: Samuel Galton of Birmingham, one of Britain's most prominent gunmakers, has been condemned by his fellow Quakers, who argue that his profession violates the society's pacifist principles. In his fervent self-defense, Galton argues that the state's heavy reliance on industry for all of its war needs means that every member of the British industrial economy is implicated in Britain's near-constant state of war.

Empire of Guns uses the story of Galton and the gun trade, from Birmingham to the outermost edges of the British empire, to illuminate the nation's emergence as a global superpower, the roots of the state's role in economic development, and the origins of our era's debates about gun control and the «military-industrial complex» — that thorny partnership of government, the economy, and the military. Through Satia's eyes, we acquire a radically new understanding of this critical historical moment and all that followed from it.
---
A GREAT LEAP FORWARD: 1930S DEPRESSION AND U.S. ECONOMIC GROWTH
by Alexander J. Field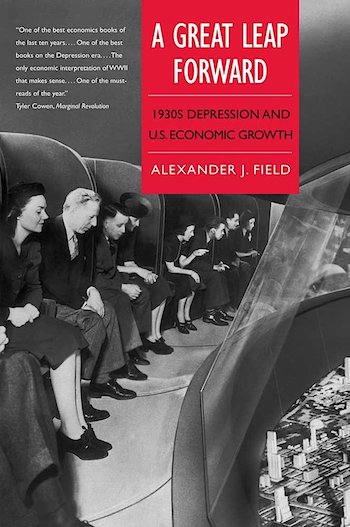 This bold re-examination of the history of U.S. economic growth is built around a novel claim, that productive capacity grew dramatically across the Depression years (1929-1941) and that this advance provided the foundation for the economic and military success of the United States during the Second World War as well as for the golden age (1948-1973) that followed.
Alexander J. Field takes a fresh look at growth data and concludes that, behind a backdrop of double-digit unemployment, the 1930s actually experienced very high rates of technological and organizational innovation, fueled by the maturing of a privately funded research and development system and the government-funded build-out of the country's surface road infrastructure. This significant new volume in the Yale Series in Economic and Financial History invites new discussion of the causes and consequences of productivity growth over the last century and a half and on our current prospects.
---
HIGH GROWTH HANDBOOK
by Elad Gil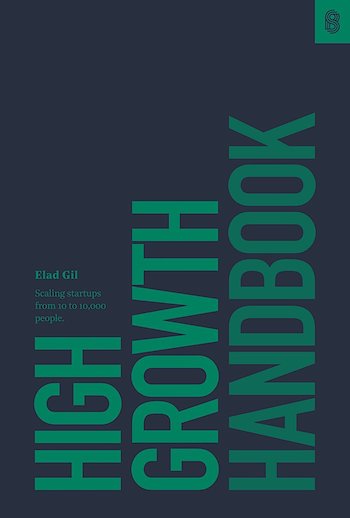 Well-known technology executive and angel investor Elad Gil has worked with high growth tech companies like Airbnb, Twitter, Google, Instacart, Coinbase, Stripe, and Square as they've grown from small companies into global brands. Across all of these break-out companies, a set of common patterns has evolved into a repeatable playbook that Gil has codified in High Growth Handbook.
Covering key topics including the role of the CEO, managing your board, recruiting and managing an executive team, M&A, IPOs and late stage funding rounds, and interspersed with over a dozen interviews with some of the biggest names in Silicon Valley including Reid Hoffman (LinkedIn), Marc Andreessen (Andreessen Horowitz), and Aaron Levie (Box), High Growth Handbook presents crystal clear guidance for navigating the most complex challenges that confront leaders and operators in high-growth startups.
---
BREAKING AND ENTERING: THE EXTRAORDINARY STORY OF A HACKER CALLED «ALIEN»
by Jeremy N. Smith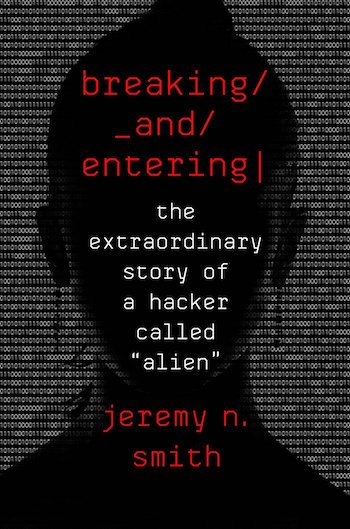 When she arrived at MIT in the 1990s, Alien was quickly drawn to the school's tradition of high risk physical trespassing: the original "hacking." Within a year, one of her hallmates was dead and two others were arraigned. Alien's adventures were only just beginning.

After a stint at the storied, secretive Los Alamos National Laboratory, Alien was recruited by a top cybersecurity firm where she deployed her cache of virtual weapons—and the trespassing and social engineering talents she had developed while "hacking" at MIT. The company tested its clients' security by every means possible—not just coding, but donning disguises and sneaking past guards and secretaries into the C suite.

Alien now runs a boutique hacking outfit that caters to some of the world's biggest and most vulnerable institutions—banks, retailers, government agencies. Her work combines devilish charm, old school deception, and next generation spycraft. In Breaking and Entering, cybersecurity finally gets the rich, character driven, fast-paced treatment it deserves.
---
APPLIED ARTIFICIAL INTELLIGENCE: A HANDBOOK FOR BUSINESS LEADERS
by Mariya Yao, Adelyn Zhou, Marlene Jia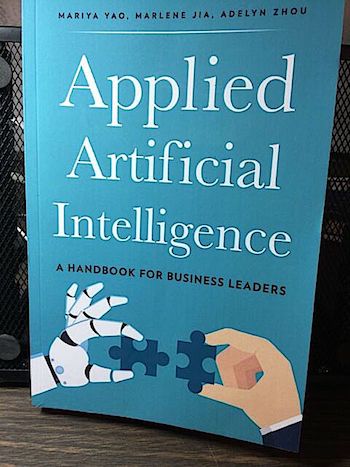 «Artificial intelligence» is the buzzword of the day. You've no doubt read your fair share of media hype either proclaiming doom and gloom where robots seize our jobs or prophesying a new utopia where AI cures all our human problems. But what does it actually mean for your role as a business leader?

Applied Artificial Intelligence is a practical guide for business leaders who are passionate about leveraging machine intelligence to enhance the productivity of their organizations and the quality of life in their communities. If you want to drive innovation by combining data, technology, design, and people to solve real problems at an enterprise scale, this is your playbook.

This book does not overload you with details on debugging TensorFlow code nor bore you with generalizations about the future of humanity. Instead, we teach you how to lead successful AI initiatives by prioritizing the right opportunities, building a diverse team of experts, conducting strategic experiments, and consciously designing your solutions to benefit both your organization and society as a whole. This book is focused on helping you drive concrete business decisions through applications of artificial intelligence and machine learning.
---
NEW DARK AGE: TECHNOLOGY AND THE END OF THE FUTURE
by James Bridle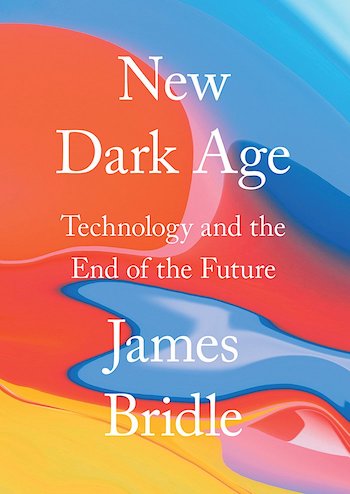 "New Dark Age is among the most unsettling and illuminating books I've read about the Internet, which is to say that it is among the most unsettling and illuminating books I've read about contemporary life." – New Yorker

As the world around us increases in technological complexity, our understanding of it diminishes. Underlying this trend is a single idea: the belief that our existence is understandable through computation, and more data is enough to help us build a better world. In reality, we are lost in a sea of information, increasingly divided by fundamentalism, simplistic narratives, conspiracy theories, and post-factual politics. Meanwhile, those in power use our lack of understanding to further their own interests. Despite the apparent accessibility of information, we're living in a new Dark Age. From rogue financial systems to shopping algorithms, from artificial intelligence to state secrecy, we no longer understand how our world is governed or presented to us. The media is filled with unverifiable speculation, much of it generated by anonymous software, while companies dominate their employees through surveillance and the threat of automation. In his brilliant new work, leading artist and writer James Bridle surveys the history of art, technology, and information systems, and reveals the dark clouds that gather over our dreams of the digital sublime.
---
POSSIBLE MINDS. 25 WAYS OF LOOKING AT AI
Edited by John Brockman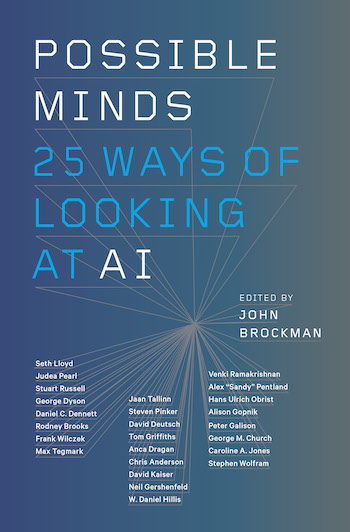 «Artificial intelligence is today's story—the story behind all other stories. It is the Second Coming and the Apocalypse at the same time: Good AI versus evil AI.» —John Brockman

More than sixty years ago, mathematician-philosopher Norbert Wiener published a book on the place of machines in society that ended with a warning: «we shall never receive the right answers to our questions unless we ask the right questions…. The hour is very late, and the choice of good and evil knocks at our door.» In the wake of advances in unsupervised, self-improving machine learning, a small but influential community of thinkers is considering Wiener's words again. In Possible Minds, John Brockman gathers their disparate visions of where AI might be taking us.

The fruit of the long history of Brockman's profound engagement with the most important scientific minds who have been thinking about AI—from Alison Gopnik and David Deutsch to Frank Wilczek and Stephen Wolfram—Possible Minds is an ideal introduction to the landscape of crucial issues AI presents. The collision between opposing perspectives is salutary and exhilarating; some of these figures, such as computer scientist Stuart Russell, Skype co-founder Jaan Tallinn, and physicist Max Tegmark, are deeply concerned with the threat of AI, including the existential one, while others, notably robotics entrepreneur Rodney Brooks, philosopher Daniel Dennett, and bestselling author Steven Pinker, have a very different view. Serious, searching and authoritative, Possible Minds lays out the intellectual landscape of one of the most important topics of our time.
---
HOW WE WIN: HOW CUTTING-EDGE ENTREPRENEURS, POLITICAL VISIONARIES, ENLIGHTENED BUSINESS LEADERS, AND SOCIAL MEDIA MAVENS CAN DEFEAT THE EXTREMIST THREAT
by Farah Pandith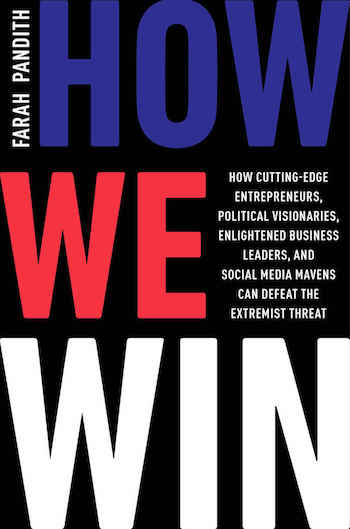 "Drawing on her decades of experience, Pandith unweaves the tangled web of extremism and demonstrates how government officials, tech CEOs, and concerned citizens alike can do their part to defeat it." – Former Secretary of State Madeleine K. Albright
There is a war being fought, and we are losing it. Despite the billions of dollars spent since 9/11 trying to defeat terrorist organizations, the so-called Islamic State, Al Qaeda, and other groups remain a terrifying geopolitical threat. In some ways the threat has grown worse: The 9/11 hijackers came from far away; the danger today can come from anywhere—from the other side of the world to across the street. Unable to stem recruitment, we seem doomed to a worsening struggle with a constantly evolving enemy that remains several steps ahead of us. Unfortunately, current policies seem almost guaranteed not to reduce extremist violence but instead to make it easier for terrorists to spread their hateful ideas, recruit new members, and carry out attacks. We actually possess the means right now to inoculate communities against extremist ideologies. In How We Win, Farah Pandith presents a revolutionary new analysis of global extremism as well as powerful but seldom-used strategies for vanquishing it. Drawing on her visits to eighty countries, the hundreds of interviews and focus groups she's conducted around the world, and her high-level experience in the Bush and Obama administrations, Pandith argues for a paradigm shift in our approach to combat extremism, one that mobilizes the expertise and resources of diplomats, corporate leaders, mental health experts, social scientists, entrepreneurs, local communities, and, most of all, global youth themselves. There is a war being fought, and we can win it. This is how.
---
NO GO WORLD: HOW FEAR IS REDRAWING OUR MAPS AND INFECTING OUR POLITICS
by Ruben Andersson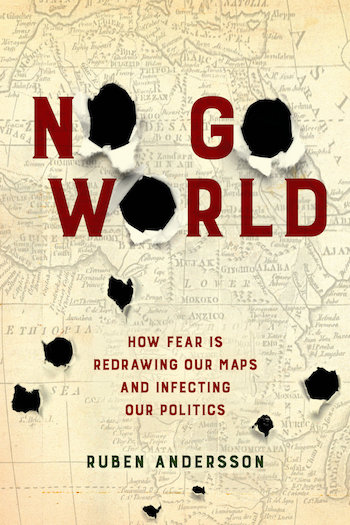 War-torn deserts, jihadist killings, trucks weighted down with contraband and migrants—from the Afghan-Pakistan borderlands to the Sahara, images of danger depict a new world disorder on the global margins. With vivid detail, Ruben Andersson traverses this terrain to provide a startling new understanding of what is happening in remote "danger zones." Instead of buying into apocalyptic visions, Andersson takes aim at how Western states and international organizations conduct military, aid, and border interventions in a dangerously myopic fashion, further disconnecting the world's rich and poor. Using drones, proxy forces, border reinforcement, and outsourced aid, risk-obsessed powers are helping to remap the world into zones of insecurity and danger. The result is a vision of chaos crashing into fortified borders, with national and global politics riven by fear. Andersson contends that we must reconnect and snap out of this dangerous spiral, which affects us whether we live in Texas or Timbuktu. Only by developing a new cartography of hope can we move beyond the political geography of fear that haunts us.
---
THE LAST WARRIOR: ANDREW MARSHALL AND THE SHAPING OF MODERN AMERICAN DEFENSE STRATEGY
by Andrew F. Krepinevich, Barry D. Watts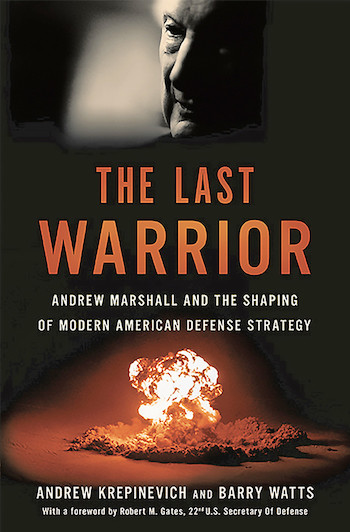 Andrew Marshall is a Pentagon legend. For more than four decades he has served as Director of the Office of Net Assessment, the Pentagon's internal think tank, under twelve defense secretaries and eight administrations. Yet Marshall has been on the cutting edge of strategic thinking even longer than that. At the RAND Corporation during its golden age in the 1950s and early 1960s, Marshall helped formulate bedrock concepts of US nuclear strategy that endure to this day; later, at the Pentagon, he pioneered the development of "net assessment"—a new analytic framework for understanding the long-term military competition between the United States and the Soviet Union. Following the Cold War, Marshall successfully used net assessment to anticipate emerging disruptive shifts in military affairs, including the revolution in precision warfare and the rise of China as a major strategic rival of the United States. In The Last Warrior, Andrew Krepinevich and Barry Watts—both former members of Marshall's staff—trace Marshall's intellectual development from his upbringing in Detroit during the Great Depression to his decades in Washington as an influential behind-the-scenes advisor on American defense strategy. The result is a unique insider's perspective on the changes in US strategy from the dawn of the Cold War to the present day.
---
THE GIFT OF GLOBAL TALENT: HOW MIGRATION SHAPES BUSINESS, ECONOMY & SOCIETY
by William R. Kerr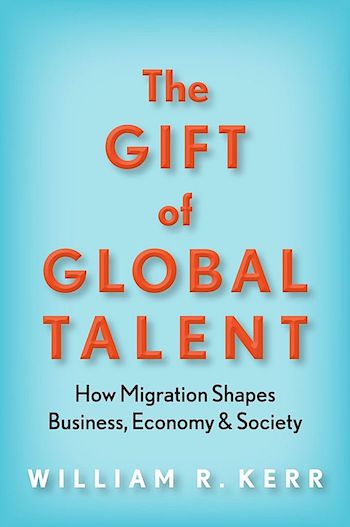 The global race for talent is on, with countries and businesses competing for the best and brightest. Talented individuals migrate much more frequently than the general population, and the United States has received exceptional inflows of human capital. This foreign talent has transformed U.S. science and engineering, reshaped the economy, and influenced society at large. But America is bogged down in thorny debates on immigration policy, and the world around the United States is rapidly catching up, especially China and India. The future is quite uncertain, and the global talent puzzle deserves close examination. To do this, William R. Kerr uniquely combines insights and lessons from business practice, government policy, and individual decision making. Examining popular ideas that have taken hold and synthesizing rigorous research across fields such as entrepreneurship and innovation, regional advantage, and economic policy, Kerr gives voice to data and ideas that should drive the next wave of policy and business practice. The Gift of Global Talent deftly transports readers from joyous celebrations at the Nobel Prize ceremony to angry airport protests against the Trump administration's travel ban. It explores why talented migration drives the knowledge economy, describes how universities and firms govern skilled admissions, explains the controversies of the H-1B visa used by firms like Google and Apple, and discusses the economic inequalities and superstar firms that global talent flows produce. The United States has been the steward of a global gift, and this book explains the huge leadership decision it now faces and how it can become even more competitive for attracting tomorrow's talent.
---
THE STORY OF SILVER: HOW THE WHITE METAL SHAPED AMERICA AND THE MODERN WORLD
by William L. Silber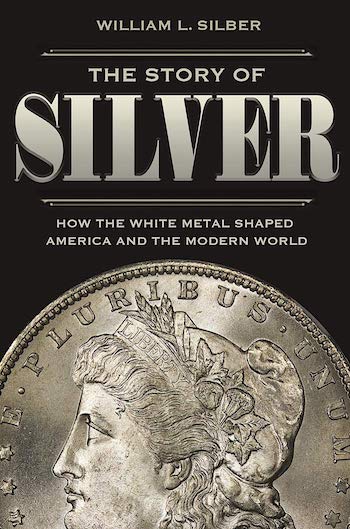 This is the story of silver's transformation from soft money during the nineteenth century to hard asset today, and how manipulations of the white metal by American president Franklin D. Roosevelt during the 1930s and by the richest man in the world, Texas oil baron Nelson Bunker Hunt, during the 1970s altered the course of American and world history. FDR pumped up the price of silver to help jump start the U.S. economy during the Great Depression, but this move weakened China, which was then on the silver standard, and facilitated Japan's rise to power before World War II. Bunker Hunt went on a silver-buying spree during the 1970s to protect himself against inflation and triggered a financial crisis that left him bankrupt. Silver has been the preferred shelter against government defaults, political instability, and inflation for most people in the world because it is cheaper than gold. The white metal has been the place to hide when conventional investments sour, but it has also seduced sophisticated investors throughout the ages like a siren. This book explains how powerful figures, up to and including Warren Buffett, have come under silver's thrall, and how its history guides economic and political decisions in the twenty-first century.
---
WHY WE FIGHT: ONE MAN'S SEARCH FOR MEANING INSIDE THE RING
by Josh Rosenblatt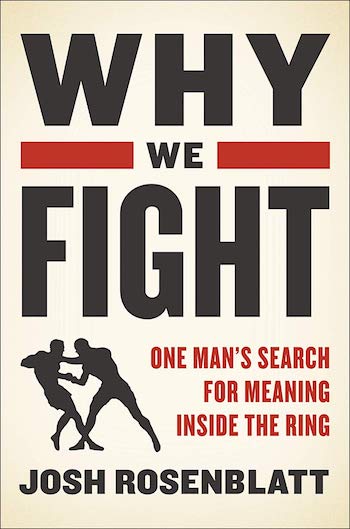 Josh Rosenblatt was thirty-three years old when he first realized he wanted to fight. A lifelong pacifist with a philosopher's hatred of violence and a dandy's aversion to exercise, he drank to excess, smoked passionately, ate indifferently, and mocked physical activity that didn't involve nudity. But deep down inside there was always some part of him that was attracted to the idea of fighting. So, after studying Muay Thai, Krav Maga, Brazilian jiu-jitsu, and boxing, he decided, at age forty, that it was finally time to fight his first—and only—mixed martial arts match: all in the name of experience and transcending ancient fears. An insightful and moving rumination on the nature of fighting, Why We Fight takes us on his journey from the bleachers to the ring. Using his own training as an opportunity to understand how the sport illuminates basic human impulses, Rosenblatt weaves together cultural history, criticism, biology, and anthropology to understand what happens to the human body and mind when under attack, and to explore why he, a self-described "cowardly boy from the suburbs," discovered so much meaning in putting his body, and others', at risk. From the psychology of fear to the physiology of pain, from Ukrainian shtetls to Brooklyn boxing gyms, from Lord Byron to George Plimpton, Why We Fight is a fierce inquiry into the abiding appeal of our most conflicted and controversial fixation, interwoven with a firsthand account of what happens when a mild-mannered intellectual decides to step into the ring for his first real showdown. 
---
ARMIES OF SAND: THE PAST, PRESENT, AND FUTURE OF ARAB MILITARY EFFECTIVENESS
by Kenneth M. Pollack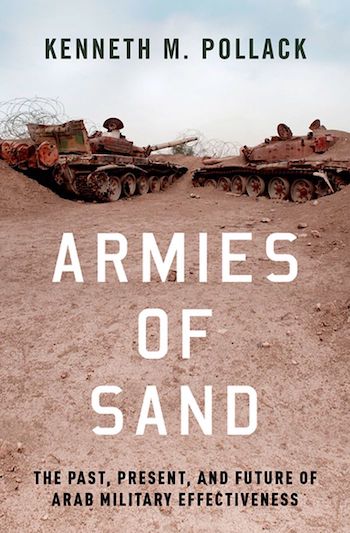 Armies of Sand, Kenneth M. Pollack's powerful and riveting history of Arab armies from the end of World War Two to the present, assesses these differing explanations and isolates the most important causes. Over the course of the book, he examines the combat performance of fifteen Arab armies and air forces in virtually every Middle Eastern war, from the Jordanians and Syrians in 1948 to Hizballah in 2006 and the Iraqis and ISIS in 2014-2017. He then compares these experiences to the performance of the Argentine, Chadian, Chinese, Cuban, North Korean, and South Vietnamese armed forces in their own combat operations during the twentieth century. The book ultimately concludes that reliance on Soviet doctrine was more of a help than a hindrance to the Arabs. In contrast, politicization and underdevelopment were both important factors limiting Arab military effectiveness, but patterns of behavior derived from the dominant Arab culture was the most important factor of all. Pollack closes with a discussion of the rapid changes occurring across the Arab world-political, economic, and cultural-as well as the rapid evolution in war making as a result of the information revolution. He suggests that because both Arab society and warfare are changing, the problems that have bedeviled Arab armed forces in the past could dissipate or even vanish in the future, with potentially dramatic consequences for the Middle East military balance. Sweeping in its historical coverage and highly accessible, this will be the go-to reference for anyone interested in the history of warfare in the Middle East since 1945.
---
AFRICA: A MODERN HISTORY
by Guy Arnold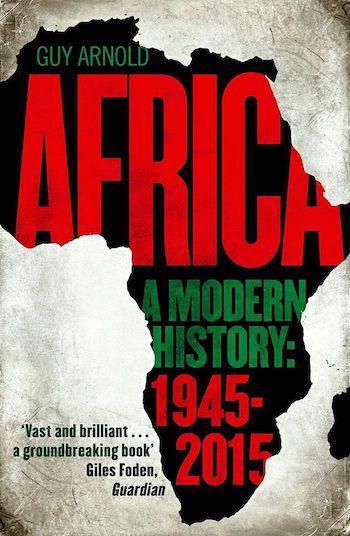 The end of World War II signaled the end of the European African empires. In 1945, four African countries were independent; by 1963, 30 African states created the Organization of African Unity. The 1960s were a time of optimism as Africans enjoyed their new independence, witnessed increases in prosperity and prepared to tackle their political and economic problems in their own way. By the 1990s, however, these high hopes had been dashed. Dictatorship by strongmen, corruption, civil wars and genocide, widespread poverty and the interventions and manipulations of the major powers had all relegated Africa to the position of an aid «basket case,» the world's poorest and least-developed continent. By exploring developments over the last 15 years, including the impact of China, new IT technology and the Arab Spring, the rise of Nigeria as Africa's leading country and the recent refugee crisis, Guy Arnold brings his landmark history of modern Africa up to date and provides a fresh perspective on this misunderstood continent.
---
LEBANON: A COUNTRY IN FRAGMENTS
by Andrew Arsan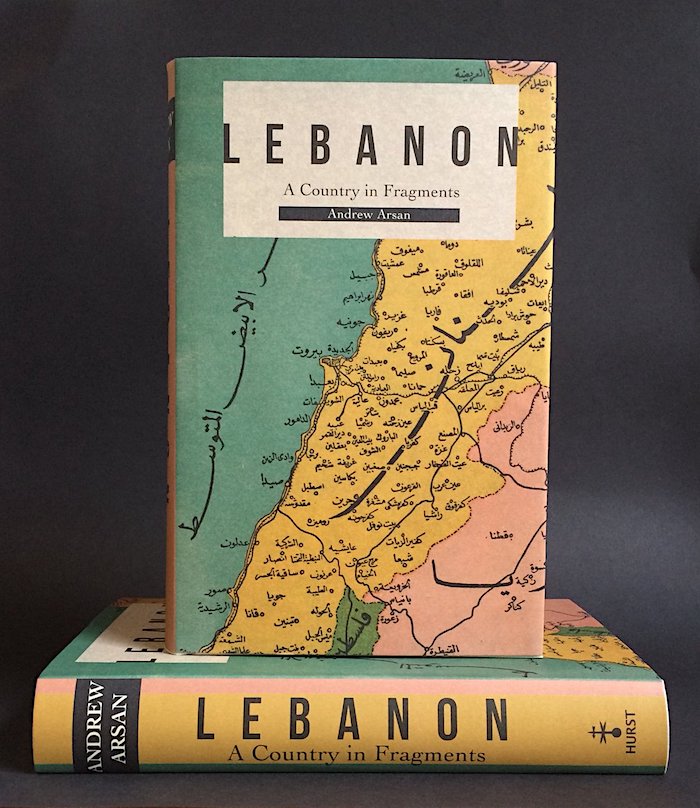 Lebanon seems a country in the grip of permanent crisis. In recent years it has suffered blow after blow, from Rafiq Hariri's assassination in 2005, to the 2006 July War, to the current Syrian conflict, which has brought a million refugees streaming into the country. This is an account not just of Lebanon's high politics, with its endless rows, walk-outs, machinations and foreign alliances, but also of the politics of everyday life: all the stresses and strains the country's inhabitants face, from electricity black-outs and uncollected rubbish to stagnating wages and property bubbles. Andrew Arsan moves between parliament and the public squares where protesters gather, between luxury high-rises and refugee camps, and between expensive nightclubs and seafront promenades, providing a comprehensive view of Lebanon in the twenty-first century. Where others have treated Lebanon's woes as exceptional, a by-product of its sectarianism and particular vulnerability to regional crises, Arsan argues that there is nothing particular about Lebanon's predicament. Rather, it is a country of the age—one of neoliberal economics, populist fervor, forced displacement, rising xenophobia, and public disillusion. Lebanon, in short, offers us a lens through which to look on our times.
---
ROMANCE OF THE RAILS: WHY THE PASSENGER TRAINS WE LOVE ARE NOT THE TRANSPORTATION WE NEED
by Randal O'Toole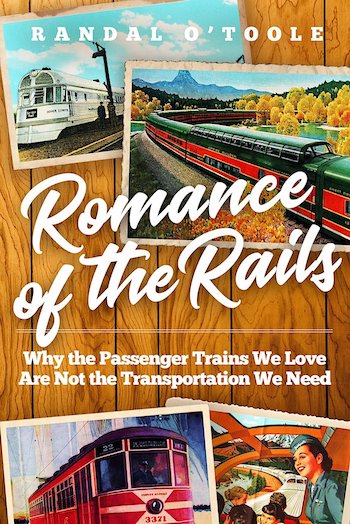 American transportation has undergone many technological revolutions: from sailing ships to steam ships; from canals to railroads; from steam to Diesels; from horse cars to electric streetcars; from passenger trains and urban rail transit to airplanes and automobiles. Normally, the government has allowed and even encouraged these revolutions, but for some reason the federal government is spending billions of dollars trying to preserve and build obsolete rail transit and passenger train lines, including high-speed trains that cost more but are less than half as fast as flying. In Romance of the Rails, rail fan and transportation policy expert Randal O'Toole asks why passenger trains have been singled out and whether this policy makes sense. To answer this question, the book looks at the history of both intercity and urban rail transportation going back to 1825. The Golden Age of rail passenger travel, from about 1890 to 1920, depended on job and population concentrations that no longer exist today. Moreover, even during that Golden Age, most rail travel was confined to the elites, while a majority of Americans rarely if ever rode a streetcar or intercity train. Federally subsidized efforts to return to that Golden Age, through subsidies to Amtrak and local transit agencies, are doing more harm than good to personal mobility. Instead, the transportation of the future will rely on America's 4 million miles of roads and air travel that requires minimal infrastructure.
---
WHITESHIFT: POPULISM, IMMIGRATION, AND THE FUTURE OF WHITE MAJORITIES
by Eric Kaufmann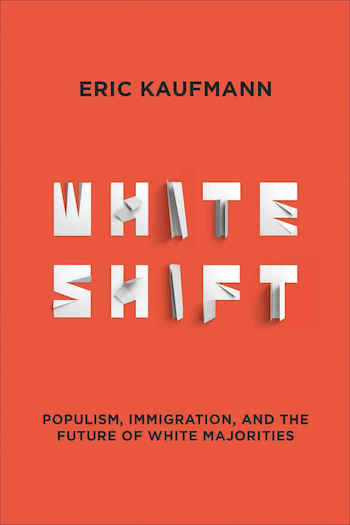 This is the century of whiteshift. As Western societies are becoming increasingly mixed-race, demographic change is transforming politics. Over half of American babies are non-white, and by the end of the century, minorities and those of mixed race are projected to form the majority in the UK and other countries. The early stages of this transformation have led to a populist disruption, tearing a path through the usual politics of left and right. Ethnic transformation will continue, but conservative whites are unlikely to exit quietly; their feelings of alienation are already redrawing political lines and convulsing societies across the West. One of the most crucial challenges of our time is to enable conservatives as well as cosmopolitans to view whiteshift as a positive development. In this groundbreaking book, political scientist Eric Kaufmann examines the evidence to explore ethnic change in North American and Western Europe. Tracing four ways of dealing with this transformation—fight, repress, flight, and join—he charts different scenarios and calls for us to move beyond empty talk about national identity. If we want to avoid more radical political divisions, he argues, we have to open up debate about the future of white majorities. Deeply thought provoking, enriched with illustrative stories, and drawing on detailed and extraordinary survey, demographic, and electoral data, Whiteshift will redefine the way we discuss race in the twenty-first century.
---
AN ECONOMIST WALKS INTO A BROTHEL: AND OTHER UNEXPECTED PLACES TO UNDERSTAND RISK
by Allison Schrager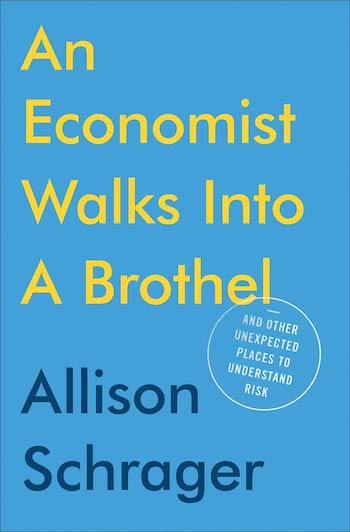 Whether we realize it or not, we all take risks large and small every day. Even the most cautious among us cannot opt out—the question is always which risks to take, not whether to take them at all. What most of us don't know is how to measure those risks and maximize the chances of getting what we want out of life. In An Economist Walks into a Brothel, Schrager equips readers with five principles for dealing with risk, principles used by some of the world's most interesting risk takers. For instance, she interviews a professional poker player about how to stay rational when the stakes are high, a paparazzo in Manhattan about how to spot different kinds of risk, horse breeders in Kentucky about how to diversify risk and minimize losses, and a war general who led troops in Iraq about how to prepare for what we don't see coming. When you start to look at risky decisions through Schrager's new framework, you can increase the upside to any situation and better mitigate the downsides.
---
THE WEALTH OF RELIGIONS: THE POLITICAL ECONOMY OF BELIEVING AND BELONGING
by Robert J Barro, Rachel McCleary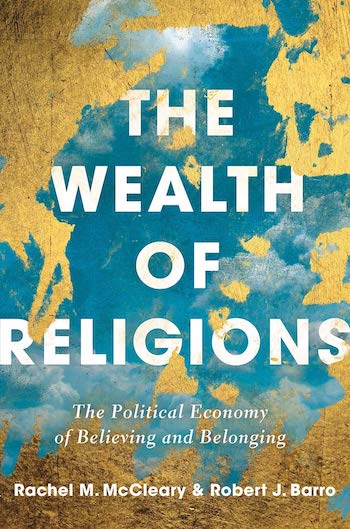 Which countries grow faster economically than those with strong beliefs in heaven and hell or those with weak beliefs in them? Does religious participation matter? Why do some countries experience secularization while others are religiously vibrant? In The Wealth of Religions, Rachel McCleary and Robert Barro draw on their long record of pioneering research to examine these and many other aspects of the economics of religion. Places with firm beliefs in heaven and hell measured relative to the time spent in religious activities tend to be more productive and experience faster growth. Going further, there are two directions of causation: religiosity influences economic performance and economic development affects religiosity. Dimensions of economic developments such as urbanization, education, health, and fertility matter too, interacting differently with religiosity. State regulation and subsidization of religion also play a role.The Wealth of Religions addresses the effects of religious beliefs on character traits such as work ethic, thrift, and honesty; the Protestant Reformation and its long-term effects on education and religious competition; Communism's suppression of and competition with religion; the effects of Islamic laws and regulations on the functioning of markets and, hence, on the long-term development of Muslim countries; why some countries have state religions; analogies between religious groups and terrorist organizations; the violent origins of the Dalai Lama's brand of Tibetan Buddhism; and the use by the Catholic Church of saint-making as a way to compete against the rise of Protestant Evangelicals.
---
JUVENESCENCE: INVESTING IN THE AGE OF LONGEVITY
by Jim Mellon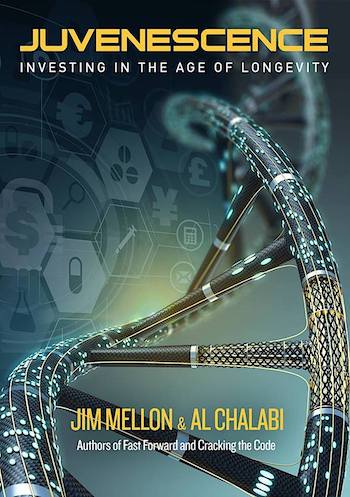 This new book by Jim Mellon and Al Chalabi is a layman's guide to longevity. It investigates the new technologies and explains how to benefit from the life extending technologies both personally and professionally. It helps readers unravel the science, offers ideas on potential investment and reveals the views of the key opinion leaders.
---
THE REVOLT OF THE PUBLIC AND THE CRISIS OF AUTHORITY IN THE NEW MILLENNIUM
by Martin Gurri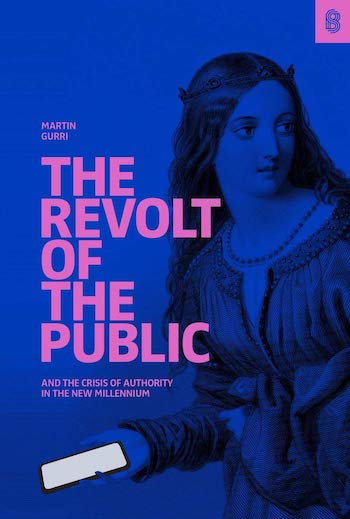 In the words of economist and scholar Arnold Kling, Martin Gurri saw it coming.Technology has categorically reversed the information balance of power between the public and the elites who manage the great hierarchical institutions of the industrial age government, political parties, the media.
The Revolt of the Public tells the story of how insurgencies, enabled by digital devices and a vast information sphere, have mobilized millions of ordinary people around the world. Originally published in 2014, this updated edition of The Revolt of the Public includes an extensive analysis of Donald Trump's improbable rise to the presidency and the electoral triumphs of Brexit and concludes with a speculative look forward, pondering whether the current elite class can bring about a reformation of the democratic process, and whether new organizing principles, adapted to a digital world, can arise out of the present political turbulence.
---
AUGMENTED MIND: AI, SUPERHUMANS, AND THE NEXT ECONOMIC REVOLUTION
by Alex Bates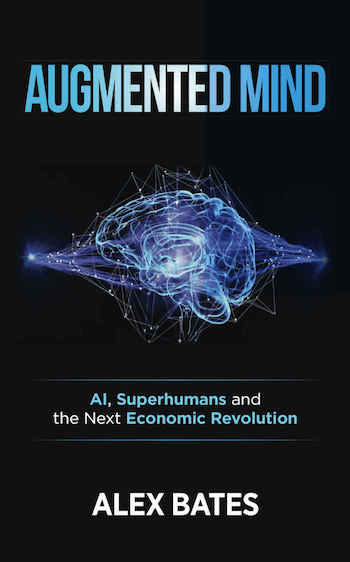 We are about to become superhuman. Serial AI entrepreneur Alex Bates explains how the combination of AI with human intelligence — called Intelligence Augmentation — has revolutionary potential. After a decade on the front lines of the AI, facilitating the collaboration of humans an AI, he saw first hand how humans and AI were highly complementary and augment each other; and also how little this was recognized or researched. When his last AI venture was acquired, Bates created a global mastermind network of applied AI technologists and researchers to get more perspectives on these issues, with membership from Caltech, MIT, Harvard, Oxford, UCSD, USC, and other leading institutions and companies. It became clear that while there has been a global arms race in AI and machine learning, it has been almost exclusively focused on replicating human intelligence. Augmenting human intelligence represents a tiny fraction of the total research and development. This book explores how augmenting humans, combining human intuition and artificial intelligence, will herald an unprecedented era of productivity and financial success. The coming wave of human centered AI will help us solve the biggest problems facing humanity while also protecting us from rogue or weaponized AI systems.
---
THE RISE AND RISE OF MERITOCRACY
by Geoff Dench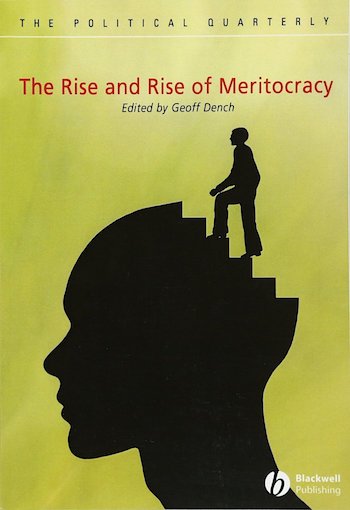 It is now fifty years since Michael Young wrote The Rise of the Meritocracy — a sociological fantasy set in the twenty-first century and portraying a sinister, highly stratified society organised around intelligence testing and educational selection. After some difficulty getting published, it was an immediate success and became very widely read. But it does not seem to have had the influence that Michael most wanted for it, over Labour Party thinking. The story was intended to help turn Labour away from meritocracy, by reminding it of the importance of communitarian values. Curiously, though, half a century later we have a Labour Government declaring the promotion of meritocracy as one of its primary objectives. So what is going on? This book offers a variety of opinions. Building on a conference held to mark the half-centenary of Michael Young's Institute of Community Studies, it contains commentaries by a selection of academics, journalists and politicians, from Asa Briggs to David Willetts, on the origin, meaning and future of meritocracy.
---
CODERS: THE MAKING OF A NEW TRIBE AND THE REMAKING OF THE WORLD
by Clive Thompson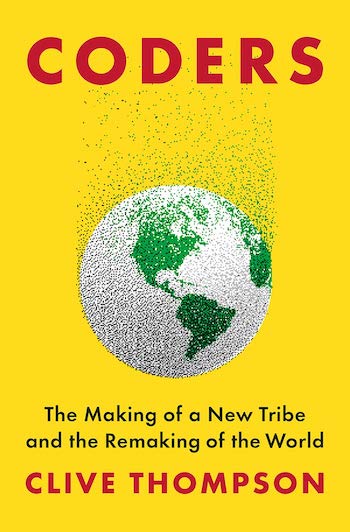 Facebook's algorithms shaping the news. Self-driving cars roaming the streets. Revolution on Twitter and romance on Tinder. We live in a world constructed of code—and coders are the ones who built it for us. From acclaimed tech writer Clive Thompson comes a brilliant anthropological reckoning with the most powerful tribe in the world today, computer programmers, in a book that interrogates who they are, how they think, what qualifies as greatness in their world, and what should give us pause. They are the most quietly influential people on the planet, and Coders shines a light on their culture. In pop culture and media, the people who create the code that rules our world are regularly portrayed in hackneyed, simplified terms, as ciphers in hoodies. Thompson goes far deeper, dramatizing the psychology of the invisible architects of the culture, exploring their passions and their values, as well as their messy history. In nuanced portraits, Coders takes us close to some of the great programmers of our time, including the creators of Facebook's News Feed, Instagram, Google's cutting-edge AI, and more. Speaking to everyone from revered «10X» elites to neophytes, back-end engineers and front-end designers, Thompson explores the distinctive psychology of this vocation—which combines a love of logic, an obsession with efficiency, the joy of puzzle-solving, and a superhuman tolerance for mind-bending frustration. Along the way, Coders thoughtfully ponders the morality and politics of code, including its implications for civic life and the economy. Programmers shape our everyday behavior: When they make something easy to do, we do more of it. When they make it hard or impossible, we do less of it. Thompson wrestles with the major controversies of our era, from the «disruption» fetish of Silicon Valley to the struggle for inclusion by marginalized groups.
---
JUMP-STARTING AMERICA: HOW BREAKTHROUGH SCIENCE CAN REVIVE ECONOMIC GROWTH AND THE AMERICAN DREAM
by Jonathan Gruber and Simon Johnson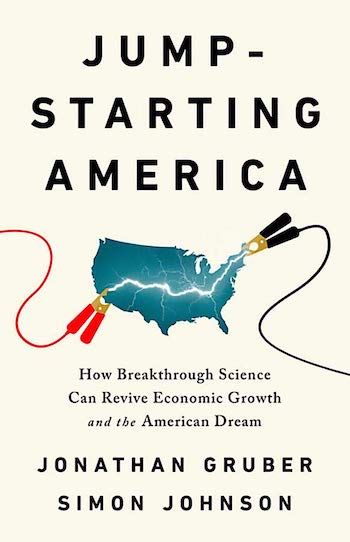 The American economy glitters on the outside, but the reality is quite different. Job opportunities and economic growth are increasingly concentrated in a few crowded coastal enclaves. Corporations and investors are disproportionately developing technologies that benefit the wealthiest Americans in the most prosperous areas—and destroying middle class jobs elsewhere. To turn this tide, we must look to a brilliant and all-but-forgotten American success story and embark on a plan that will create the industries of the future—and the jobs that go with them. Beginning in 1940, massive public investment generated breakthroughs in science and technology that first helped win WWII and then created the most successful economy the world has ever seen. Private enterprise then built on these breakthroughs to create new industries—such as radar, jet engines, digital computers, mobile telecommunications, life-saving medicines, and the internet— that became the catalyst for broader economic growth that generated millions of good jobs. We lifted almost all boats, not just the yachts. Jonathan Gruber and Simon Johnson tell the story of this first American growth engine and provide the blueprint for a second. It's a visionary, pragmatic, sure-to-be controversial plan that will lead to job growth and a new American economy in places now left behind.
---
THE UNDERSEA NETWORK
by Nicole Starosielski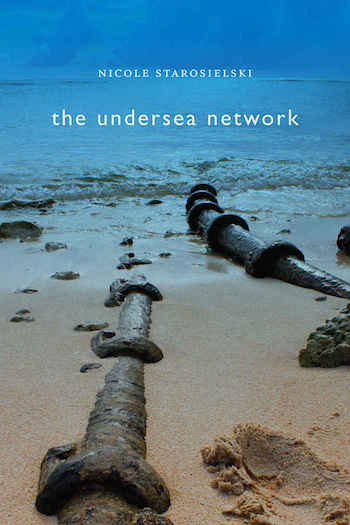 In our «wireless» world it is easy to take the importance of the undersea cable systems for granted, but the stakes of their successful operation are huge, as they are responsible for carrying almost all transoceanic Internet traffic. In The Undersea Network Nicole Starosielski follows these cables from the ocean depths to their landing zones on the sandy beaches of the South Pacific, bringing them to the surface of media scholarship and making visible the materiality of the wired network. In doing so, she charts the cable network's cultural, historical, geographic and environmental dimensions. Starosielski argues that the environments the cables occupy are historical and political realms, where the network and the connections it enables are made possible by the deliberate negotiation and manipulation of technology, culture, politics and geography. Accompanying the book is an interactive digital mapping project, where readers can trace cable routes, view photographs and archival materials, and read stories about the island cable hubs.
---
FACES OF MUHAMMADWESTERN PERCEPTIONS OF THE PROPHET OF ISLAM FROM THE MIDDLE AGES TO TODAY
by John V. Tolan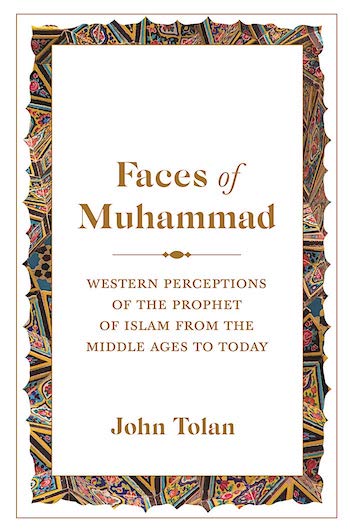 In European culture, Muhammad has been vilified as a heretic, an impostor, and a pagan idol. But these aren't the only images of the Prophet of Islam that emerge from Western history. Commentators have also portrayed Muhammad as a visionary reformer and an inspirational leader, statesman, and lawgiver. In Faces of Muhammad, John Tolan provides a comprehensive history of these changing, complex, and contradictory visions. Starting from the earliest calls to the faithful to join the Crusades against the "Saracens," he traces the evolution of Western conceptions of Muhammad through the Reformation, the Enlightenment, and the nineteenth and twentieth centuries, and up to the present day. Faces of Muhammad reveals a lengthy tradition of positive portrayals of Muhammad that many will find surprising. To Reformation polemicists, the spread of Islam attested to the corruption of the established Church, and prompted them to depict Muhammad as a champion of reform. In revolutionary England, writers on both sides of the conflict drew parallels between Muhammad and Oliver Cromwell, asking whether the prophet was a rebel against legitimate authority or the bringer of a new and just order. Voltaire first saw Muhammad as an archetypal religious fanatic but later claimed him as an enemy of superstition. To Napoleon, he was simply a role model: a brilliant general, orator, and leader.
---
VICE, CRIME, AND POVERTY. HOW THE WESTERN IMAGINATION INVENTED THE UNDERWORLD
by Dominique Kalifa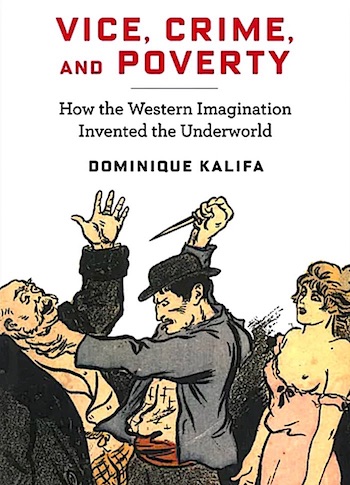 Beggars, outcasts, urchins, waifs, prostitutes, criminals, convicts, madmen, fallen women, lunatics, degenerates—part reality, part fantasy, these are the grotesque faces that populate the underworld, the dark inverse of our everyday world. Lurking in the mirror that we hold up to our society, they are our counterparts and our doubles, repelling us and yet offering the tantalizing promise of escape. Although these images testify to undeniable social realities, the sordid lower depths make up a symbolic and social imaginary that reflects our fears and anxieties—as well as our desires. In Vice, Crime, and Poverty, Dominique Kalifa traces the untold history of the concept of the underworld and its representations in popular culture. He examines how the myth of the lower depths came into being in nineteenth-century Europe, as biblical figures and Christian traditions were adapted for a world turned upside-down by the era of industrialization, democratization, and mass culture. From the Parisian demimonde to Victorian squalor, from the slums of New York to the sewers of Buenos Aires, Kalifa deciphers the making of an image that has cast an enduring spell on its audience. While the social conditions that created that underworld have changed, Vice, Crime, and Poverty shows that, from social-scientific ideas of the underclass to contemporary cinema and steampunk culture, its shadows continue to haunt us.
---
THE SQUARE AND THE TOWER: NETWORKS AND POWER, FROM THE FREEMASONS TO FACEBOOK
by Niall Ferguson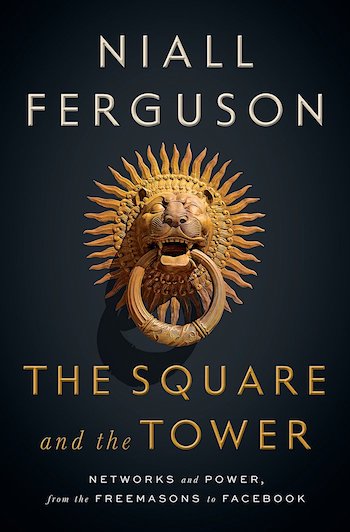 Most history is hierarchical: it's about emperors, presidents, prime ministers and field marshals. It's about states, armies and corporations. It's about orders from on high. Even history «from below» is often about trade unions and workers' parties. But what if that's simply because hierarchical institutions create the archives that historians rely on? What if we are missing the informal, less well documented social networks that are the true sources of power and drivers of change? The 21st century has been hailed as the Age of Networks. However, in The Square and the Tower, Niall Ferguson argues that networks have always been with us, from the structure of the brain to the food chain, from the family tree to freemasonry. Throughout history, hierarchies housed in high towers have claimed to rule, but often real power has resided in the networks in the town square below. For it is networks that tend to innovate. And it is through networks that revolutionary ideas can contagiously spread. Just because conspiracy theorists like to fantasize about such networks doesn't mean they are not real.
---
NEW TO BIG: HOW COMPANIES CAN CREATE LIKE ENTREPRENEURS, INVEST LIKE VCS, AND INSTALL A PERMANENT OPERATING SYSTEM FOR GROWTH
by David Kidder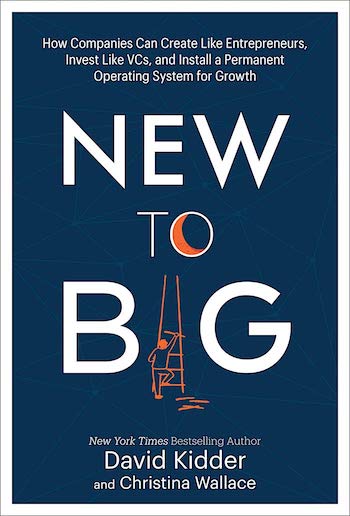 Most established companies face a key survival challenge, says David Kidder, CEO of Bionic, lifelong entrepreneur, and angel investor in more than thirty startups: operational efficiency and outdated bureaucracy are at war with new growth. Legacy companies are skilled at growing big businesses into even bigger ones. But they are less adept at discovering new opportunities and turning them into big businesses, the way entrepreneurs and early-stage investors must. In New to Big, Kidder and Wallace reveal their proprietary blueprint for installing a permanent growth capability inside any company—the Growth Operating System. The Growth OS borrows the best tools, systems, and mind-sets from entrepreneurship and venture capital and adapts them for established organizations, leveraging these two distinct skills as a form of management for building in a future that is uncertain. By focusing on what consumers do rather than what they say, celebrating productive failure, embracing a portfolio approach, and learning from the outside-in, Kidder and Wallace argue any company can go on offense and win the future.
---
POISONOUS PANDAS: CHINESE CIGARETTE MANUFACTURING IN CRITICAL HISTORICAL PERSPECTIVES
by Matthew Kohrman, Gan Quan, Liu Wennan, Robert N. Proctor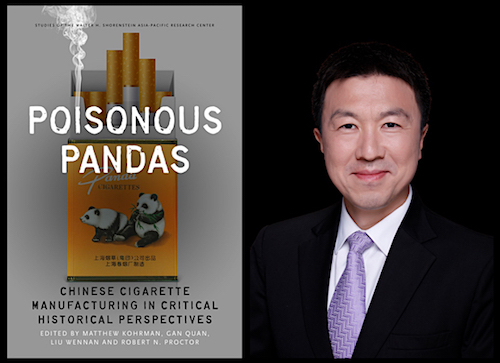 A favorite icon for cigarette manufacturers across China since the mid-twentieth century has been the panda, with factories from Shanghai to Sichuan using cuddly cliché to market tobacco products. The proliferation of panda-branded cigarettes coincides with profound, yet poorly appreciated, shifts in the worldwide tobacco trade. Over the last fifty years, transnational tobacco companies and their allies have fueled a tripling of the world's annual consumption of cigarettes. At the forefront is the China National Tobacco Corporation, now producing forty percent of cigarettes sold globally. What's enabled the manufacturing of cigarettes in China to flourish since the time of Mao and to prosper even amidst public health condemnation of smoking In Poisonous Pandas, an interdisciplinary group of scholars comes together to tell that story. They offer novel portraits of people within the Chinese polity―government leaders, scientists, tax officials, artists, museum curators, and soldiers―who have experimentally revamped the country's pre-Communist cigarette supply chain and fitfully expanded its political, economic, and cultural influence. These portraits cut against the grain of what contemporary tobacco-control experts typically study, opening a vital new window on tobacco―the single largest cause of preventable death worldwide today.
---
THE IDEA OF THE WORLD: A MULTI-DISCIPLINARY ARGUMENT FOR THE MENTAL NATURE OF REALITY
by Bernardo Kastrup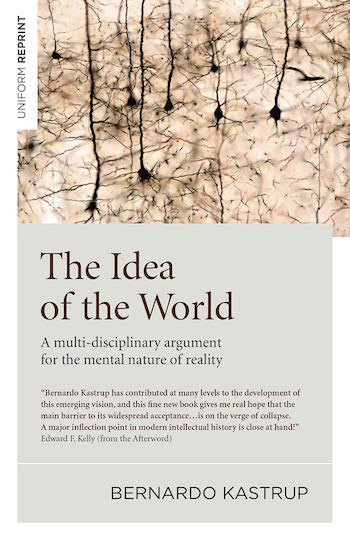 A rigorous case for the primacy of mind in nature, from philosophy to neuroscience, psychology and physics. The Idea of the World offers a grounded alternative to the frenzy of unrestrained abstractions and unexamined assumptions in philosophy and science today. This book examines what can be learned about the nature of reality based on conceptual parsimony, straightforward logic and empirical evidence from fields as diverse as physics and neuroscience. It compiles an overarching case for idealism — the notion that reality is essentially mental — from ten original articles the author has previously published in leading academic journals. The case begins with an exposition of the logical fallacies and internal contradictions of the reigning physicalist ontology and its popular alternatives, such as bottom-up panpsychism. It then advances a compelling formulation of idealism that elegantly makes sense of — and reconciles — classical and quantum worlds. The main objections to idealism are systematically refuted and empirical evidence is reviewed that corroborates the formulation presented here. The book closes with an analysis of the hidden psychological motivations behind mainstream physicalism and the implications of idealism for the way we relate to the world.
---
MAOISM: A GLOBAL HISTORY
by Julia Lovell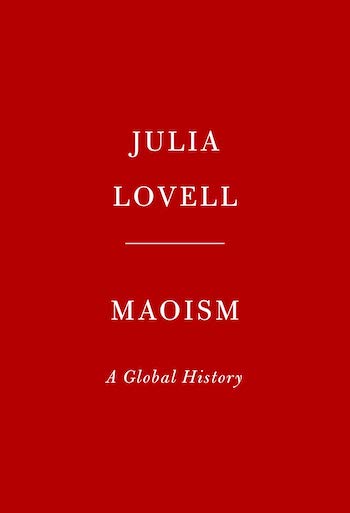 Although to Western eyes it seems that China has long abandoned the utopian turmoil of Maoism in favour of authoritarian capitalism, Mao and his ideas remain central to the People' Republic and the legitimacy of its communist government. As disagreements and conflicts between China and the West are likely to mount, the need to understand the political legacy of Mao will only become more urgent. Yet during Mao's lifetime and beyond, the power and appeal of Maoism has always extended beyond China. Across the globe, Maoism was a crucial motor of the Cold War: it shaped the course of the Vietnam War (and the international youth rebellion it triggered) and brought to power the murderous Khmer Rouge in Cambodia; it aided, and sometimes handed victory to, anti-colonial resistance movements in Africa; it inspired terrorism in Germany and Italy, and wars and insurgencies in Peru, India and Nepal, some of which are still with us today – more than forty years after the death of Mao. In this new history, acclaimed historian Julia Lovell revaluates Maoism, analysing both China's engagement with the movement and its legacy on a global canvas. It's a story that takes us from the tea plantations of north India to the sierras of the Andes, from Paris's 5th Arrondissement to the fields of Tanzania, from the rice paddies of Cambodia to the terraces of Brixton. Starting from the movement's birth in northwest China in the 1930s and unfolding right up to its present-day violent rebirth, this is the definitive history of global Maoism.
---
SEAPOWER STATES: MARITIME CULTURE, CONTINENTAL EMPIRES AND THE CONFLICT THAT MADE THE MODERN WORLD
by Andrew Lambert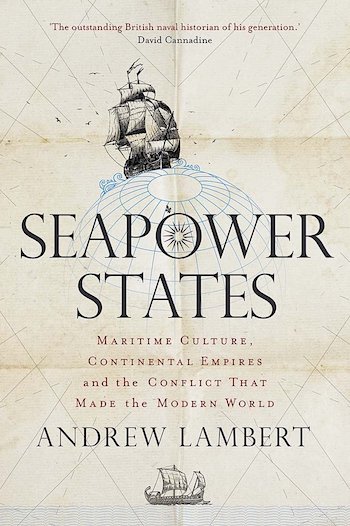 Andrew Lambert, author of The Challenge: Britain Against America in the Naval War of 1812—winner of the prestigious Anderson Medal—turns his attention to Athens, Carthage, Venice, the Dutch Republic, and Britain, examining how their identities as "seapowers" informed their actions and enabled them to achieve success disproportionate to their size. Lambert demonstrates how creating maritime identities made these states more dynamic, open, and inclusive than their lumbering continental rivals. Only when they forgot this aspect of their identity did these nations begin to decline. Recognizing that the United States and China are modern naval powers—rather than seapowers—is essential to understanding current affairs, as well as the long-term trends in world history. This volume is a highly original "big think" analysis of five states whose success—and eventual failure—is a subject of enduring interest, by a scholar at the top of his game.
---
OF PRIVACY AND POWER: THE TRANSATLANTIC STRUGGLE OVER FREEDOM AND SECURITY
by Henry Farrell, Abraham L. Newman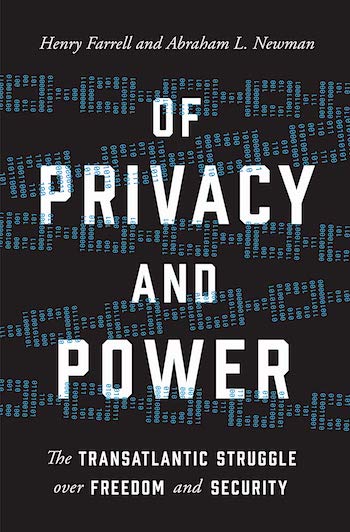 We live in an interconnected world, where security problems like terrorism are spilling across borders, and globalized data networks and e-commerce platforms are reshaping the world economy. This means that states' jurisdictions and rule systems clash. How have they negotiated their differences over freedom and security? Of Privacy and Power investigates how the European Union and United States, the two major regulatory systems in world politics, have regulated privacy and security, and how their agreements and disputes have reshaped the transatlantic relationship. The transatlantic struggle over freedom and security has usually been depicted as a clash between a peace-loving European Union and a belligerent United States. Henry Farrell and Abraham Newman demonstrate how this misses the point. The real dispute was between two transnational coalitions—one favoring security, the other liberty—whose struggles have reshaped the politics of surveillance, e-commerce, and privacy rights. Looking at three large security debates in the period since 9/11, involving Passenger Name Record data, the SWIFT financial messaging controversy, and Edward Snowden's revelations, the authors examine how the powers of border-spanning coalitions have waxed and waned. Globalization has enabled new strategies of action, which security agencies, interior ministries, privacy NGOs, bureaucrats, and other actors exploit as circumstances dictate.
---
THE BIG NINE: HOW THE TECH TITANS AND THEIR THINKING MACHINES COULD WARP HUMANITY
by Amy Webb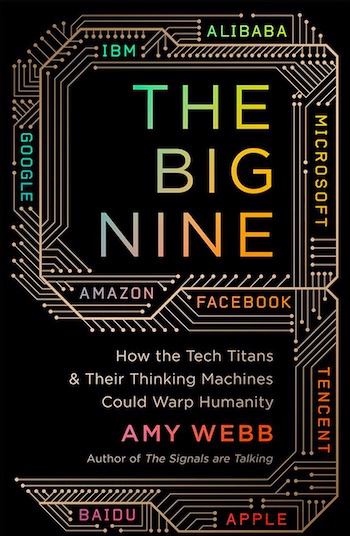 We like to think that we are in control of the future of «artificial» intelligence. The reality, though, is that we—the everyday people whose data powers AI—aren't actually in control of anything. When, for example, we speak with Alexa, we contribute that data to a system we can't see and have no input into—one largely free from regulation or oversight. The big nine corporations—Amazon, Google, Facebook, Tencent, Baidu, Alibaba, Microsoft, IBM and Apple—are the new gods of AI and are short-changing our futures to reap immediate financial gain. In this book, Amy Webb reveals the pervasive, invisible ways in which the foundations of AI—the people working on the system, their motivations, the technology itself—is broken. Within our lifetimes, AI will, by design, begin to behave unpredictably, thinking and acting in ways which defy human logic. The big nine corporations may be inadvertently building and enabling vast arrays of intelligent systems that don't share our motivations, desires, or hopes for the future of humanity. Much more than a passionate, human-centered call-to-arms, this book delivers a strategy for changing course, and provides a path for liberating us from algorithmic decision-makers and powerful corporations.
---
BIG BUSINESS: A LOVE LETTER TO AN AMERICAN ANTI-HERO
by Tyler Cowen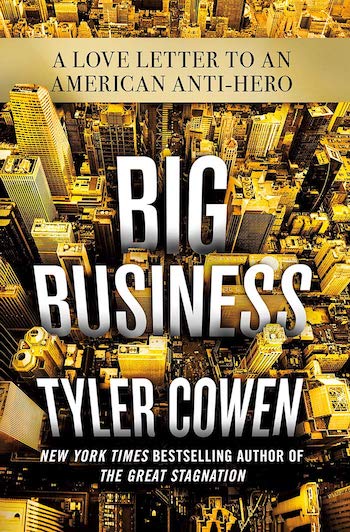 We love to hate the 800-pound gorilla. Walmart and Amazon destroy communities and small businesses. Facebook turns us into addicts while putting our personal data at risk. From skeptical politicians like Bernie Sanders who, at a 2016 presidential campaign rally said, "If a bank is too big to fail, it is too big to exist," to millennials, only 42 percent of whom support capitalism, belief in big business is at an all-time low. But are big companies inherently evil? If business is so bad, why does it remain so integral to the basic functioning of America? Economist and bestselling author Tyler Cowen says our biggest problem is that we don't love business enough. In Big Business, Cowen puts forth an impassioned defense of corporations and their essential role in a balanced, productive, and progressive society. He dismantles common misconceptions and untangles conflicting intuitions. According to a 2016 Gallup survey, only 12 percent of Americans trust big business "quite a lot," and only 6 percent trust it "a great deal." Yet Americans as a group are remarkably willing to trust businesses, whether in the form of buying a new phone on the day of its release or simply showing up to work in the expectation they will be paid. Cowen illuminates the crucial role businesses play in spurring innovation, rewarding talent and hard work, and creating the bounty on which we've all come to depend.
---
THE SECOND MOUNTAIN: THE QUEST FOR A MORAL LIFE
by David Brooks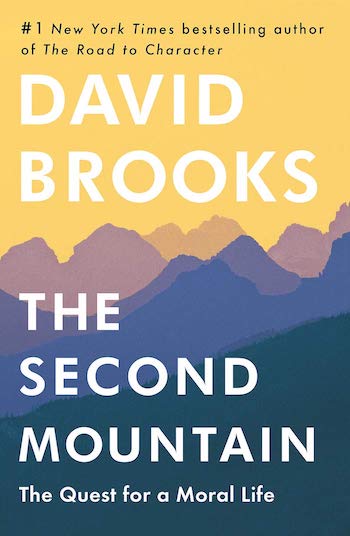 And so they embark on a new journey. On the second mountain, life moves from self-centered to other-centered. They want the things that are truly worth wanting, not the things other people tell them to want. They embrace a life of interdependence, not independence. They surrender to a life of commitment. In The Second Mountain, David Brooks explores the four commitments that define a life of meaning and purpose: to a spouse and family, to a vocation, to a philosophy or faith, and to a community. Our personal fulfillment depends on how well we choose and execute these commitments. Brooks looks at a range of people who have lived joyous, committed lives, and who have embraced the necessity and beauty of dependence. He gathers their wisdom on how to choose a partner, how to pick a vocation, how to live out a philosophy, and how we can begin to integrate our commitments into one overriding purpose.
---
THE POLITICAL VALUE OF TIME: CITIZENSHIP, DURATION, AND DEMOCRATIC JUSTICE
by Elizabeth F. Cohen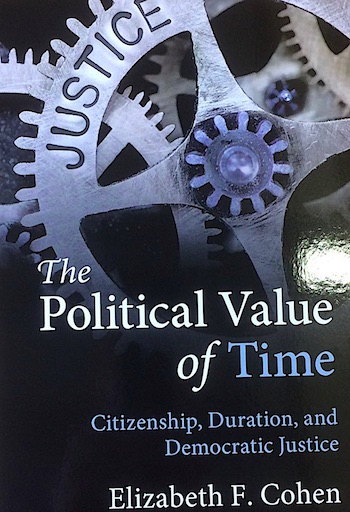 Waiting periods and deadlines are so ubiquitous that we often take them for granted. Yet they form a critical part of any democratic architecture. When a precise moment or amount of time is given political importance, we ought to understand why this is so. The Political Value of Time explores the idea of time within democratic theory and practice. Elizabeth F. Cohen demonstrates how political procedures use quantities of time to confer and deny citizenship rights. Using specific dates and deadlines, states carve boundaries around a citizenry. As time is assigned a form of political value it comes to be used to transact over rights. Cohen concludes with a normative analysis of the ways in which the devaluation of some people's political time constitutes a widely overlooked form of injustice. This book shows readers how and why they need to think about time if they want to understand politics.
---
TRILLION DOLLAR COACH: THE LEADERSHIP PLAYBOOK OF SILICON VALLEY'S BILL CAMPBELL
by Eric Schmidt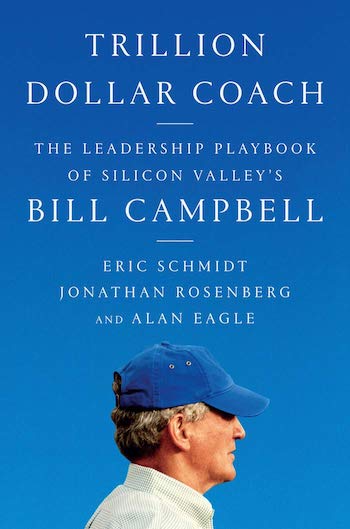 Bill Campbell played an instrumental role in the growth of several prominent companies, such as Google, Apple, and Intuit, fostering deep relationships with Silicon Valley visionaries, including Steve Jobs, Larry Page, and Eric Schmidt. In addition, this business genius mentored dozens of other important leaders on both coasts, from entrepreneurs to venture capitalists to educators to football players, leaving behind a legacy of growing companies, successful people, respect, friendship, and love after his death in 2016. Leaders at Google for over a decade, Eric Schmidt, Jonathan Rosenberg, and Alan Eagle experienced firsthand how the man fondly known as Coach Bill built trusting relationships, fostered personal growth—even in those at the pinnacle of their careers—inspired courage, and identified and resolved simmering tensions that inevitably arise in fast-moving environments. To honor their mentor and inspire and teach future generations, they have codified his wisdom in this essential guide. Based on interviews with over eighty people who knew and loved Bill Campbell, Trillion Dollar Coach explains the Coach's principles and illustrates them with stories from the many great people and companies with which he worked.
---
BROKEN STARS: CONTEMPORARY CHINESE SCIENCE FICTION IN TRANSLATION
by Ken Liu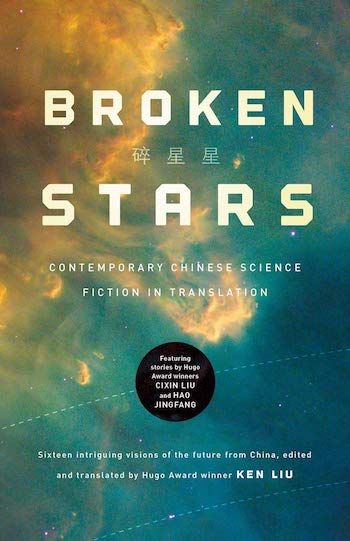 Some of the included authors are already familiar to readers in the West (Liu Cixin and Hao Jingfang, both Hugo winners); some are publishing in English for the first time. Because of the growing interest in newer SFF from China, virtually every story here was first published in Chinese in the 2010s. The stories span the range from short-shorts to novellas, and evoke every hue on the emotional spectrum. Besides stories firmly entrenched in subgenres familiar to Western SFF readers such as hard SF, cyberpunk, science fantasy, and space opera, the anthology also includes stories that showcase deeper ties to Chinese culture: alternate Chinese history, chuanyue time travel, satire with historical and contemporary allusions that are likely unknown to the average Western reader. While the anthology makes no claim or attempt to be «representative» or "comprehensive,» it demonstrates the vibrancy and diversity of science fiction being written in China at this moment. In addition, three essays at the end of the book explore the history of Chinese science fiction publishing, the state of contemporary Chinese fandom, and how the growing interest in science fiction in China has impacted writers who had long labored in obscurity.
---
WHAT THE FUTURE LOOKS LIKE: SCIENTISTS PREDICT THE NEXT GREAT DISCOVERIES―AND REVEAL HOW TODAY'S BREAKTHROUGHS ARE ALREADY SHAPING OUR WORLD
by Jim Al-Khalili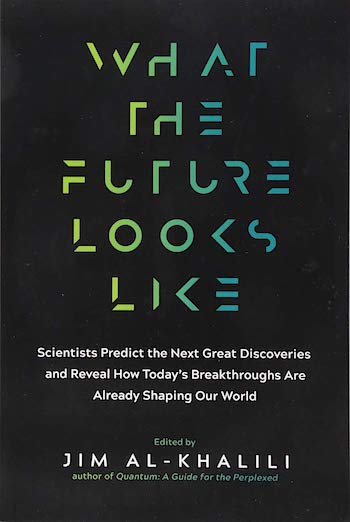 In a sweeping look at the state of numerous fields of research, theoretical physicist Jim Al-Khalili edits a collection of essays by leading scientists on everything from artificial intelligence to teleportation. Will humans settle on other planets? Will we augment ourselves with bionics? Can we permanently rid ourselves of disease, or balance our insatiable need for energy with our planet's rapidly changing climate? These questions and more are addressed using recent discoveries and breakthroughs as a possible view of what is yet to come. When it comes to what the future looks like, we cannot know with certainty—but this book provides some educated guesses.
---
THE PATHS OF THE SEA
by Pierre Schoendoerffer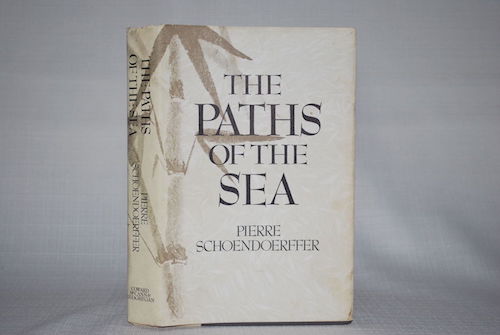 This is the source of Schoendoerffer's fine film LE CRABE TAMBOUR. The novel is an altogether richer experience, melding a fine description of life on a destroyer in the North Atlantic with the French crew's memories of Viet-Nam and Algeria. This book — winner of France's highest literary award — is an unjustly ignored masterpiece. The tale of two friends who were stationed together in French Vietnam, the book is mostly about the effect the one friend — vibrant and full of life — has on the other, who is quieter, more philosophical and introspective. Full of contemplation, atmosphere, and starkly beautiful poetry, the novel builds up to a meeting of the two friends in the middle of the north Atlantic many years after their friendship has waned, and becomes a tale of what one does with one's life. What influences people have upon each other, and a reckoning of what one's done with one's talents.
---
KIDNAP: INSIDE THE RANSOM BUSINESS
by Anja Shortland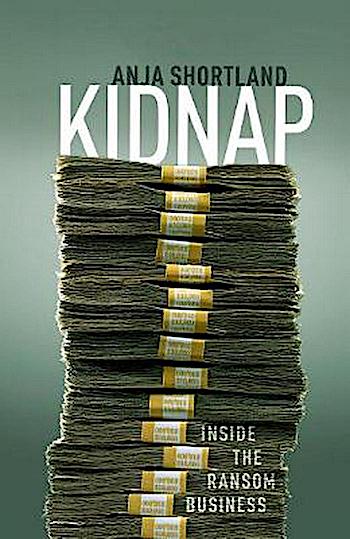 Kidnap for ransom is a lucrative but tricky business. Millions of people live, travel, and work in areas with significant kidnap risks, yet kidnaps of foreign workers, local VIPs, and tourists are surprisingly rare and the vast majority of abductions are peacefully resolved — often for remarkably low ransoms. In fact, the market for hostages is so well ordered that the crime is insurable. This is a puzzle: ransoming a hostage is the world's most precarious trade. What would be the «right» price for your loved one — and can you avoid putting others at risk by paying it? What prevents criminals from maltreating hostages? How do you (safely) pay a ransom? And why would kidnappers release a potential future witness after receiving their money? Kidnap: Inside the Ransom Business uncovers how a group of insurers at Lloyd's of London have solved these thorny problems for their customers. Based on interviews with industry insiders (from both sides), as well as hostage stakeholders, it uncovers an intricate and powerful private governance system ordering transactions between the legal and the criminal economies.
---
NOT WORKING: WHERE HAVE ALL THE GOOD JOBS GONE?
by David G. Blanchflower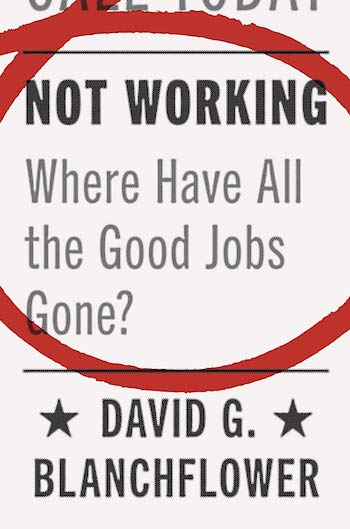 Don't trust low unemployment numbers as proof that the labor market is doing fine―it isn't. Not Working is about those who can't find full-time work at a decent wage―the underemployed―and how their plight is contributing to widespread despair, a worsening drug epidemic, and the unchecked rise of right-wing populism. In this revelatory and outspoken book, David Blanchflower draws on his acclaimed work in the economics of labor and well-being to explain why today's postrecession economy is vastly different from what came before. He calls out our leaders and policymakers for failing to see the Great Recession coming, and for their continued failure to address one of the most unacknowledged social catastrophes of our time. Blanchflower shows how many workers are underemployed or have simply given up trying to find a well-paying job, how wage growth has not returned to prerecession levels despite rosy employment indicators, and how general prosperity has not returned since the crash of 2008.
---
VC: AN AMERICAN HISTORY
by Tom Nicholas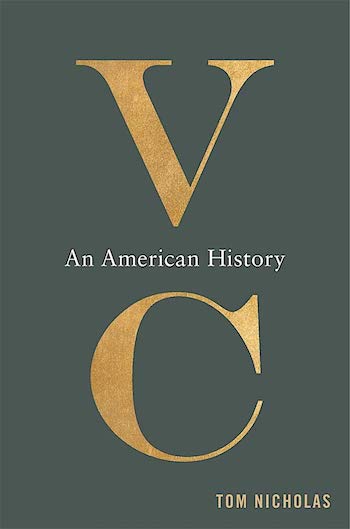 VC tells the riveting story of how the industry arose from the United States' long-running orientation toward entrepreneurship. Venture capital has been driven from the start by the pull of outsized returns through a skewed distribution of payoffs―a faith in low-probability but substantial financial rewards that rarely materialize. Whether the gamble is a whaling voyage setting sail from New Bedford or the newest startup in Silicon Valley, VC is not just a model of finance that has proven difficult to replicate in other countries. It is a state of mind exemplified by an appetite for risk-taking, a bold spirit of adventure, and an unbridled quest for improbable wealth through investment in innovation. Tom Nicholas's history of the venture capital industry offers readers a ride on the roller coaster of setbacks and success in America's pursuit of financial gain.
---
HOW WE MAKE STUFF NOW: TURN IDEAS INTO PRODUCTS THAT BUILD SUCCESSFUL BUSINESSES
by Jules Pieri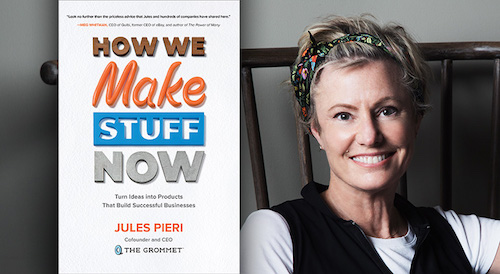 Thanks to high-speed Internet, game-changing technology, and innovative new platforms, individuals with vision and heart can go from idea to marketplace on a shoestring budget. In How We Make Stuff Now, Jules Pieri—cofounder and CEO of The Grommet, a product launch platform that helps innovative products reach a community of millions—takes readers through the entire consumer product creation process, showing how individual Makers, inventors, and entrepreneurs have utilized technology, the Maker Movement, and perseverance to turn ideas for innovative consumer goods into thriving businesses, breaking the rules of traditional retailing in the process. Jules details what goes into each of the steps they take: ideation, education, research, design and documentation, prototyping, funding, manufacturing, packaging, marketing, distribution, logistics, payments, customer service, financial and inventory management, and growth. Using case studies of successful startups, she reveals how entrepreneurs overcome obstacles, solve challenges, and rise above them to deliver innovations. If you're an aspiring entrepreneur, Maker, or inventor, the first crucial step in your journey to turning your ideas into products that build thriving businesses is learning How We Make Stuff Now.
---
THE DARK SIDES OF EMPATHY
by Fritz Breithaupt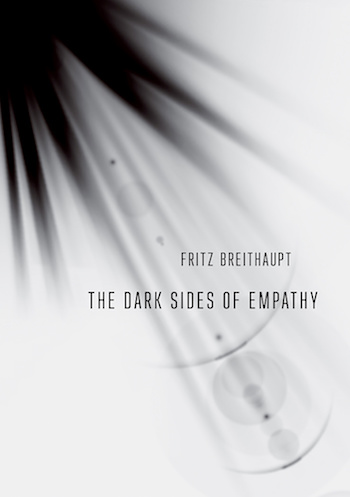 Many consider empathy to be the basis of moral action. However, the ability to empathize with others is also a prerequisite for deliberate acts of humiliation and cruelty. In The Dark Sides of Empathy, Fritz Breithaupt contends that people often commit atrocities not out of a failure of empathy but rather as a direct consequence of over-identification and a desire to increase empathy. Even well-meaning compassion can have many unintended consequences, such as intensifying conflicts or exploiting others. Empathy plays a central part in a variety of highly problematic behaviors. From mere callousness to terrorism, exploitation to sadism, and emotional vampirism to stalking, empathy all too often motivates and promotes malicious acts. After tracing the development of empathy as an idea in German philosophy, Breithaupt looks at a wide-ranging series of case studies―from Stockholm syndrome to Angela Merkel's refugee policy and from novels of the romantic era to helicopter parents and murderous cheerleader moms―to uncover how narcissism, sadism, and dangerous celebrity obsessions alike find their roots in the quality that, arguably, most makes us human.
---
ЧЕЛОВЕК + МАШИНА. НОВЫЕ ПРИНЦИПЫ РАБОТЫ В ЭПОХУ ИСКУССТВЕННОГО ИНТЕЛЛЕКТА
Пол Доэрти и Джеймс Уилсон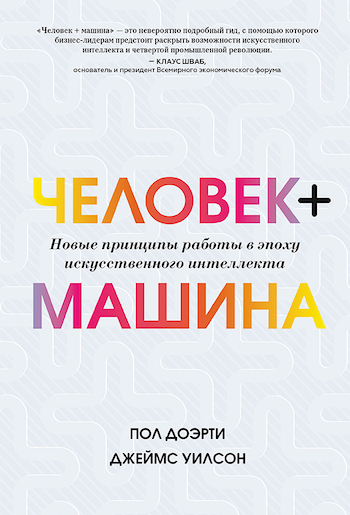 Руководители компании Accenture Пол Доэрти и Джеймс Уилсон уже давно вместе работают над исследованием и описанием влияния технологий на бизнес и общество. Они изучили развитие искусственного интеллекта за прошедшие тридцать лет. Не так давно, когда искусственный интеллект вырвался на публичную арену, став главной новостью дня и одной из самых популярных тем, Доэрти и Уилсон поняли, что развернувшаяся дискуссия носит весьма субъективный характер и во многих случаях основана на мнениях, а также что не существует результатов исследований или данных о том, как искусственный интеллект станет движущей силой перемен и какие изменения необходимы в настоящее время и понадобятся в будущем. Еще важнее то, что практически не было объективных рекомендаций для тех, кому необходимо уже сейчас принимать важные решения по поводу применения искусственного интеллекта в бизнесе, в государственном управлении и в области образования. Поскольку у Доэрти был опыт оказания организациям помощи в осуществлении крупных изменений на основе технологий, а Уилсон был экспертом по стратегии и научным исследованиям в области технологий, они решили пролить свет на то, что влечет за собой эпоха ИИ. В будущем машины будут выполнять рутинные операции — и не только механические, а человек будет заниматься интерпретациями результатов и обучением машин. В этой книге описан набор шагов, которые должны предпринять руководители бизнеса для внедрения ИИ во все бизнес-процессы — от сбора данных до их анализа и последующего планирования и корректировки маркетинговых кампаний в режиме реального времени. Авторы собрали примеры компаний из разных секторов экономики, которые уже внедрили ИИ или находятся на этом пути.
---
BYTES, BOMBS, AND SPIES: THE STRATEGIC DIMENSIONS OF OFFENSIVE CYBER OPERATIONS
by Amy Zegart and Herb Lin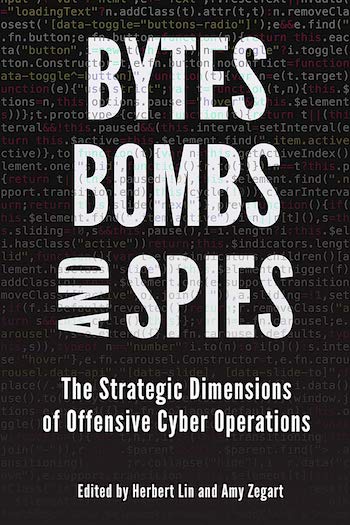 A new era of war fighting is emerging for the U.S. military. Hi-tech weapons have given way to hi tech in a number of instances recently: A computer virus is unleashed that destroys centrifuges in Iran, slowing that country's attempt to build a nuclear weapon. ISIS, which has made the internet the backbone of its terror operations, finds its network-based command and control systems are overwhelmed in a cyber attack. A number of North Korean ballistic missiles fail on launch, reportedly because their systems were compromised by a cyber campaign. Offensive cyber operations like these have become important components of U.S. defense strategy and their role will grow larger. But just what offensive cyber weapons are and how they could be used remains clouded by secrecy. This new volume by Amy Zegart and Herb Lin is a groundbreaking discussion and exploration of cyber weapons with a focus on their strategic dimensions. It brings together many of the leading specialists in the field to provide new and incisive analysis of what former CIA director Michael Hayden has called "digital combat power" and how the United States should incorporate that power into its national security strategy.
---
RED MEAT REPUBLIC: A HOOF-TO-TABLE HISTORY OF HOW BEEF CHANGED AMERICA
by Joshua Specht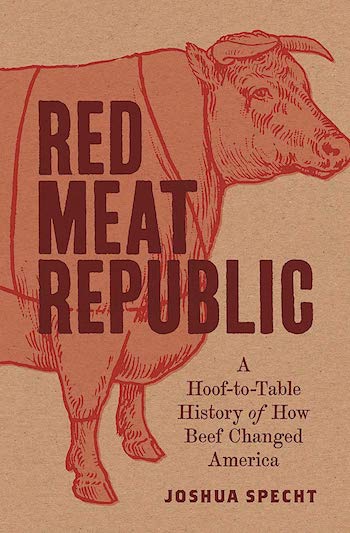 By the late nineteenth century, Americans rich and poor had come to expect high-quality fresh beef with almost every meal. Beef production in the United States had gone from small-scale, localized operations to a highly centralized industry spanning the country, with cattle bred on ranches in the rural West, slaughtered in Chicago, and consumed in the nation's rapidly growing cities. Red Meat Republic tells the remarkable story of the violent conflict over who would reap the benefits of this new industry and who would bear its heavy costs. Joshua Specht puts people at the heart of his story—the big cattle ranchers who helped to drive the nation's westward expansion, the meatpackers who created a radically new kind of industrialized slaughterhouse, and the stockyard workers who were subjected to the shocking and unsanitary conditions described by Upton Sinclair in his novel The Jungle. Specht brings to life a turbulent era marked by Indian wars, Chicago labor unrest, and food riots in the streets of New York. He shows how the enduring success of the cattle-beef complex—centralized, low cost, and meatpacker dominated—was a consequence of the meatpackers' ability to make their interests overlap with those of a hungry public, while the interests of struggling ranchers, desperate workers, and bankrupt butchers took a backseat. America—and the American table—would never be the same again. A compelling and unfailingly enjoyable read, Red Meat Republic reveals the complex history of exploitation and innovation behind the food we consume today.
---
UPHEAVAL: HOW NATIONS COPE WITH CRISIS AND CHANGE
by Jared Diamond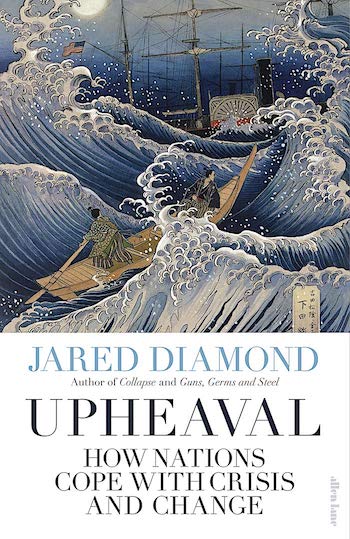 In his landmark international bestsellers Guns, Germs and Steel and Collapse, Jared Diamond transformed our understanding of what makes civilizations rise and fall. Now, at a time when crises are erupting around the world, he reveals what makes certain nations resilient in the face of tremendous upheaval. In a riveting journey into the recent past, he traces how six countries have survived defining catastrophes — from the forced opening of Japan to the Soviet invasion of Finland to Chile's brutal Pinochet regime — through selective change, a coping mechanism more commonly associated with personal trauma. He identifies unique patterns in the way that these distinctive modern nations — all countries in which he has lived — have recovered from these upheavals. Looking ahead to the gravest threats we face in the future, he investigates the risk that the United States, and the world, are squandering their natural advantages and are on a devastating path towards catastrophe. Is this fate inevitable? Or can we still learn from the lessons of the past? Adding a psychological dimension to the in-depth history, geography, biology, and anthropology that mark all of Diamond's books, Upheaval reveals the factors that influence how both nations and individuals can respond to enormous challenges. The result is a book epic in scope, but also his most personal yet.
---
THE AI DOES NOT HATE YOU: SUPERINTELLIGENCE, RATIONALITY AND THE RACE TO SAVE THE WORLD
by Tom Chivers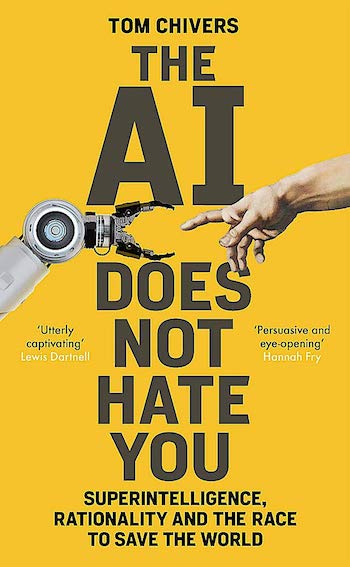 This is a book about AI and AI risk. But it's also more importantly about a community of people who are trying to think rationally about intelligence, and the places that these thoughts are taking them, and what insight they can and can't give us about the future of the human race over the next few years. It explains why these people are worried, why they might be right, and why they might be wrong. It is a book about the cutting edge of our thinking on intelligence and rationality right now by the people who stay up all night worrying about it. Along the way, we discover why we probably don't need to worry about a future AI resurrecting a perfect copy of our minds and torturing us for not inventing it sooner, but we perhaps should be concerned about paperclips destroying life as we know it; how Mickey Mouse can teach us an important lesson about how to program AI; and how a more rational approach to life could be what saves us all.
---
THE NEW SILK ROADS: THE PRESENT AND FUTURE OF THE WORLD
by Peter Frankopan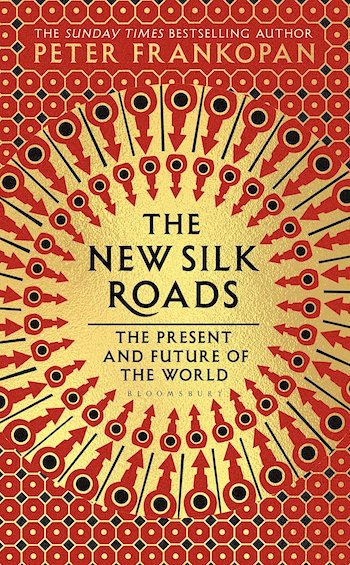 The New Silk Roads — a brand new book by Peter Frankopan — takes a fresh look at the network of relationships being formed along the length and breadth of the Silk Roads today. The world is changing dramatically and in an age of Brexit and Trump, the themes of isolation and fragmentation permeating the western world stand in sharp contrast to events along the Silk Roads, where ties have been strengthened and mutual cooperation established. Following the Silk Roads eastwards from Europe through to China, by way of Russia and the Middle East, The New Silk Roads provides a timely reminder that we live in a world that is profoundly interconnected. In this prescient contemporary history, Peter Frankopan assesses the global reverberations of these continual shifts in the centre of power — all too often absent from headlines in the west. This important — and ultimately hopeful — book asks us to reread who we are and where we are in the world, illuminating the themes on which all our lives and livelihoods depend.
---
RETHINKING AMERICA'S HIGHWAYS: A 21ST-CENTURY VISION FOR BETTER INFRASTRUCTURE
by Robert Poole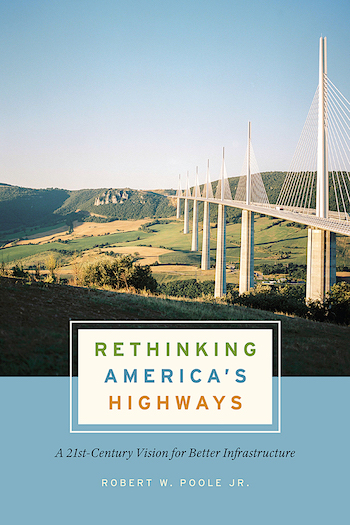 Americans spend hours every day sitting in traffic. And the roads they idle on are often rough and potholed, their exits, tunnels, guardrails, and bridges in terrible disrepair. According to transportation expert Robert Poole, this congestion and deterioration are outcomes of the way America provides its highways. Our twentieth-century model overly politicizes highway investment decisions, short-changing maintenance and often investing in projects whose costs exceed their benefits. In Rethinking America's Highways, Poole examines how our current model of state-owned highways came about and why it is failing to satisfy its customers. He argues for a new model that treats highways themselves as public utilities—like electricity, telephones, and water supply. If highways were provided commercially, Poole argues, people would pay for highways based on how much they used, and the companies would issue revenue bonds to invest in facilities people were willing to pay for. Arguing for highway investments to be motivated by economic rather than political factors, this book makes a carefully-reasoned and well-documented case for a new approach to highways that is sure to inform future decisions and policies for U.S. infrastructure.
---
NEWS FROM GERMANY: THE COMPETITION TO CONTROL WORLD COMMUNICATIONS, 1900–1945
by Heidi Tworek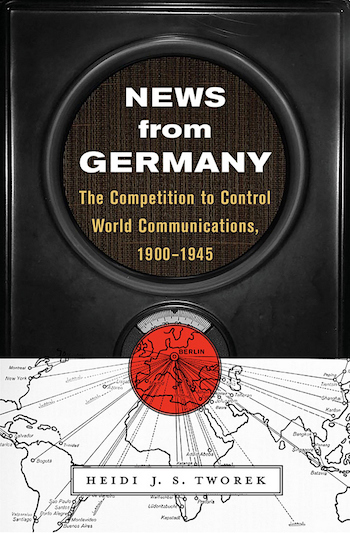 Information warfare may seem like a new feature of our contemporary digital world. But it was just as crucial a century ago, when the great powers competed to control and expand their empires. In News from Germany, Heidi Tworek uncovers how Germans fought to regulate information at home and used the innovation of wireless technology to magnify their power abroad. Tworek reveals how for nearly fifty years, across three different political regimes, Germany tried to control world communications―and nearly succeeded. From the turn of the twentieth century, German political and business elites worried that their British and French rivals dominated global news networks. Many Germans even blamed foreign media for Germany's defeat in World War I. The key to the British and French advantage was their news agencies―companies whose power over the content and distribution of news was arguably greater than that wielded by Google or Facebook today. Communications networks became a crucial battleground for interwar domestic democracy and international influence everywhere from Latin America to East Asia. Imperial leaders, and their Weimar and Nazi successors, nurtured wireless technology to make news from Germany a major source of information across the globe. The Nazi mastery of global propaganda by the 1930s was built on decades of Germany's obsession with the news. News from Germany is not a story about Germany alone. It reveals how news became a form of international power and how communications changed the course of history.
---
BEING AND NEONNESS
by Luis de Miranda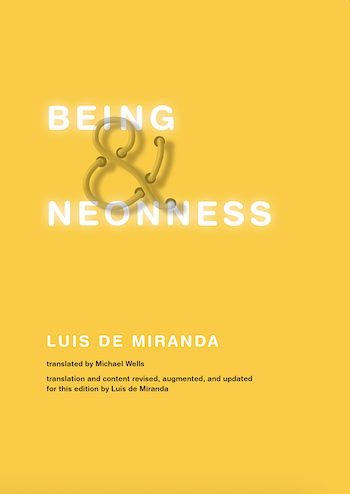 For most of us, the word neon conjures images of lights, colors, nightlife, and streets. It evokes the poetry of city nights. For Luis de Miranda, neon is a subject of philosophical curiosity. Being and Neonness is a cultural and philosophical history of neon, from early twentieth-century Paris to the electric, perpetually switched-on present day Manhattan. It is an inspired journey through a century of night, deciphering the halos of the past and the reflections of the present to shed light on the future. Invented in Paris in 1912, neon first appeared on a modest but arresting sign outside a small barbershop; the sign lit up number 14, Boulevard Montmartre, attracting so many passersby that the barber's revenues soon doubled. A century later, neon is no longer just a sign; it is a mythic object—a metonymy of contemporary identity and a metaphor for the present, signifying the ubiquity of commerce and the tautology of hypermodernity. But perhaps the noble gas of neon whispers something more, something deeper? In ten short, poetic yet precise chapters, de Miranda explores the neon lights of the twentieth century. He considers, among other historical curiosities, the neon compulsions of the Italian Futurists; the Soviet program of "neonization"; the Nazi's deployment of neon for propaganda purposes; Baudelaire's "halo" and Benjamin's "aura"; neon as a gas and crystallized chaos; neon and power; neon and capitalism—all of this backlit by an original reading of Sartre's Being and Nothingness. This English edition has been thoroughly revised and adapted from the French edition, L'être et le neon.
---
RANGE: WHY GENERALISTS TRIUMPH IN A SPECIALIZED WORLD
by David Epstein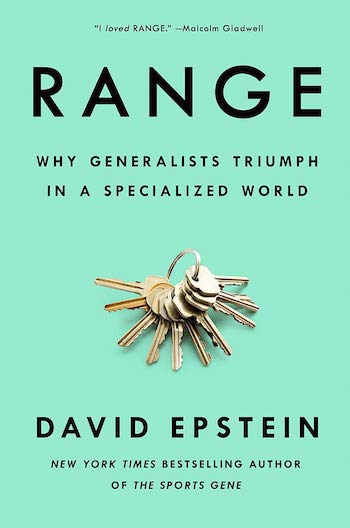 Plenty of experts argue that anyone who wants to develop a skill, play an instrument, or lead their field should start early, focus intensely, and rack up as many hours of deliberate practice as possible. If you dabble or delay, you'll never catch up to the people who got a head start. But a closer look at research on the world's top performers, from professional athletes to Nobel laureates, shows that early specialization is the exception, not the rule. David Epstein examined the world's most successful athletes, artists, musicians, inventors, forecasters and scientists. He discovered that in most fields—especially those that are complex and unpredictable—generalists, not specialists, are primed to excel. Generalists often find their path late, and they juggle many interests rather than focusing on one. They're also more creative, more agile, and able to make connections their more specialized peers can't see. Provocative, rigorous, and engrossing, Range makes a compelling case for actively cultivating inefficiency. Failing a test is the best way to learn. Frequent quitters end up with the most fulfilling careers. The most impactful inventors cross domains rather than deepening their knowledge in a single area. As experts silo themselves further while computers master more of the skills once reserved for highly focused humans, people who think broadly and embrace diverse experiences and perspectives will increasingly thrive.
---
THE AMERICA SYNDROME: APOCALYPSE, WAR, AND OUR CALL TO GREATNESS
by Betsy Hartmann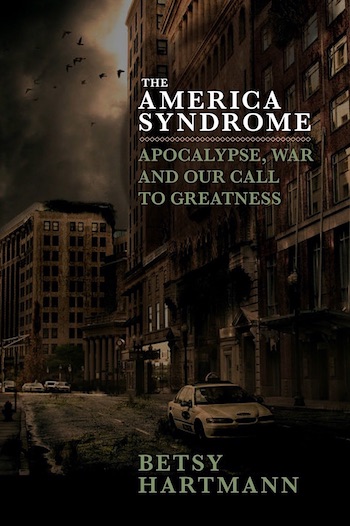 Has apocalyptic thinking contributed to some of our nation's biggest problems—inequality, permanent war, and the despoiling of our natural resources? From the Puritans to the present, historian and public policy advocate Betsy Hartmann sheds light on a pervasive but—until now—invisible theme shaping the American mindset: apocalyptic thinking, or the belief that the end of the world is nigh. Hartmann makes a compelling case that apocalyptic fears are deeply intertwined with the American ethos, to our detriment. In The America Syndrome, she seeks to reclaim human agency and, in so doing, revise the national narrative. By changing the way we think, we just might change the world.
---
THE CODE: SILICON VALLEY AND THE REMAKING OF AMERICA
by Margaret O'Mara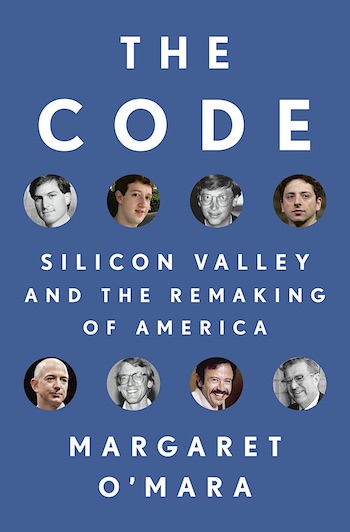 Long before Margaret O'Mara became one of our most consequential historians of the American-led digital revolution, she worked in the White House of Bill Clinton and Al Gore in the earliest days of the commercial Internet. There she saw first-hand how deeply intertwined Silicon Valley was with the federal government, and always had been, and how shallow the common understanding of the secrets of the Valley's success actually was. Now, after almost five years of pioneering research, O'Mara has produced the definitive history of Silicon Valley for our time, the story of mavericks and visionaries, but also of powerful institutions creating the framework for innovation, from the Pentagon to Stanford University. It is also a story of a community that started off remarkably homogeneous and elitist and stayed that way, and whose belief in its own mythology has deepened into a collective hubris that has led to astonishing triumphs as well as devastating second-order effects. Deploying a wonderfully rich and diverse cast of protagonists, from the justly famous to the unjustly obscure, across four generations of explosive growth in the Valley, from the Forties to the present, O'Mara has wrestled into magnificent narrative form one of the most fateful developments in modern American history. She is on the ground with all of the key tech companies, and chronicles the evolution in their offerings through each successive era, and she has a profound fingertip feel for the politics of the sector, and its relation to the larger cultural narrative about tech as it has evolved over the years. Perhaps most impressively, O'Mara has penetrated the inner kingdom of tech venture capital firms, the insular and still remarkably old-boy world that became the cockpit of American capitalism and the crucible for bringing technological innovation to market, or not.
---
SUPERIOR: THE RETURN OF RACE SCIENCE
by Angela Saini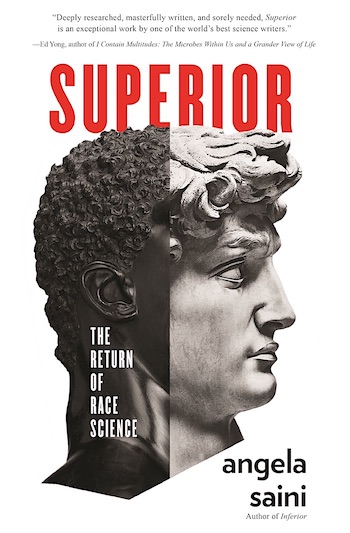 Superior tells the disturbing story of the persistent thread of belief in biological racial differences in the world of science. After the horrors of the Nazi regime in WWII, the mainstream scientific world turned its back on eugenics and the study of racial difference. But a worldwide network of unrepentant eugenicists quietly founded journals and funded research, providing the kind of shoddy studies that were ultimately cited in Richard Hernstein's and Charles Murray's 1994 title, The Bell Curve, which purported to show differences in intelligence among races. If the vast majority of scientists and scholars disavowed these ideas, and considered race a social construct, it was still an idea that managed to somehow make its way into the research into the human genome that began in earnest in the mid-1990s and continues today. Dissecting the statements and work of contemporary scientists studying human biodiversity, most of whom claim to be just following the data, Saini shows us how, again and again, science is retrofitted to accommodate race. Even as our understanding of highly complex traits like intelligence, and the complicated effect of environmental influences on human beings, from the molecular level on up, grows, the hope of finding simple genetic differences between «races»—to explain differing rates of disease, to explain poverty or test scores or to justify cultural assumptions—stubbornly persists.
---
THE FATE OF FOOD: WHAT WE'LL EAT IN A BIGGER, HOTTER, SMARTER WORLD
by Amanda Little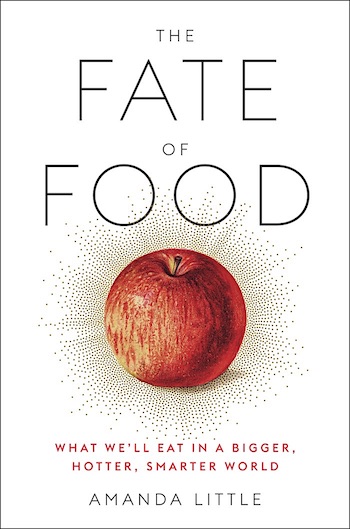 Climate models show that global crop production will decline every decade for the rest of this century due to drought, heat, and flooding. Water supplies are in jeopardy. Meanwhile, the world's population is expected to grow another 30 percent by midcentury. So how, really, will we feed nine billion people sustainably in the coming decades? Amanda Little, a professor at Vanderbilt University and an award-winning journalist, spent three years traveling through a dozen countries and as many U.S. states in search of answers to this question. Her journey took her from an apple orchard in Wisconsin to a remote control organic farm in Shanghai, from Norwegian fish farms to famine-stricken regions of Ethiopia. The raise to reinvent the global food system is on, and the challenge is twofold: We must solve the existing problems of industrial agriculture while also preparing for the pressures ahead. Through her interviews and adventures with farmers, scientists, activists, and engineers, Little tells the fascinating story of human innovation and explores new and old approaches to food production while charting the growth of a movement that could redefine sustainable food on a grand scale. She meets small permaculture farmers and «Big Food» executives, botanists studying ancient superfoods and Kenyan farmers growing the country's first GMO corn. She travels to places that might seem irrelevant to the future of food yet surprisingly play a critical role—a California sewage plant, a U.S. Army research lab, even the inside of a monsoon cloud above Mumbai. Little asks tough questions: Can GMOs actually be good for the environment—and for us? Are we facing the end of animal meat? What will it take to eliminate harmful chemicals from farming? How can a clean, climate-resilient food supply become accessible to all?
---
THE DRIVER IN THE DRIVERLESS CAR: HOW OUR TECHNOLOGY CHOICES WILL CREATE THE FUTURE
by Vivek Wadhwa, Alex Salkever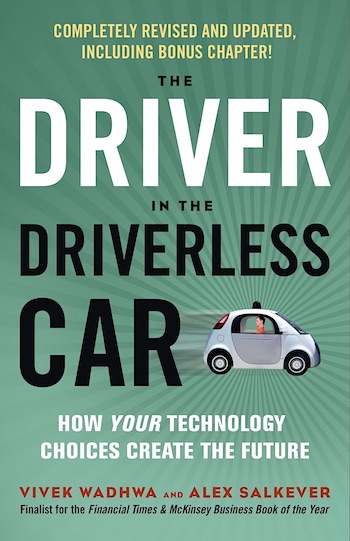 A computer beats the reigning human champion of Go, a game harder than chess. Another is composing classical music. Labs are creating life-forms from synthetic DNA. A doctor designs an artificial trachea, uses a 3D printer to produce it, and implants it and saves a child's life. Astonishing technological advances like these are arriving in increasing numbers. Scholar and entrepreneur Vivek Wadhwa uses this book to alert us to dozens of them and raise important questions about what they may mean for us. Breakthroughs such as personalized genomics, self-driving vehicles, drones, and artificial intelligence could make our lives healthier, safer, and easier. But the same technologies raise the specter of a frightening, alienating future: eugenics, a jobless economy, complete loss of privacy, and ever-worsening economic inequality. As Wadhwa puts it, our choices will determine if our future is Star Trek or Mad Max. Wadhwa offers us three questions to ask about every emerging technology: Does it have the potential to benefit everyone equally? What are its risks and rewards? And does it promote autonomy or dependence? Looking at a broad array of advances in this light, he emphasizes that the future is up to us to create—that even if our hands are not on the wheel, we will decide the driverless car's destination.
---
HACKING DARWIN: GENETIC ENGINEERING AND THE FUTURE OF HUMANITY
by Jamie Metzl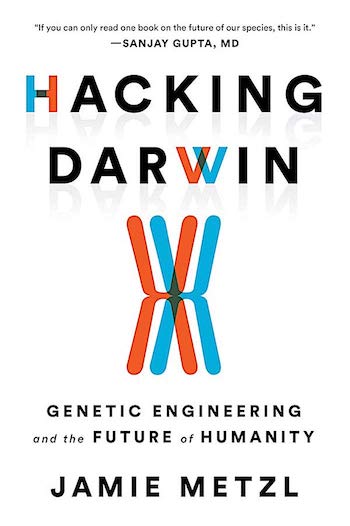 From leading geopolitical expert and technology futurist Jamie Metzl comes a groundbreaking exploration of the many ways genetic-engineering is shaking the core foundations of our lives ― sex, war, love, and death. At the dawn of the genetics revolution, our DNA is becoming as readable, writable, and hackable as our information technology. But as humanity starts retooling our own genetic code, the choices we make today will be the difference between realizing breathtaking advances in human well-being and descending into a dangerous and potentially deadly genetic arms race. Enter the laboratories where scientists are turning science fiction into reality. Look towards a future where our deepest beliefs, morals, religions, and politics are challenged like never before and the very essence of what it means to be human is at play. When we can engineer our future children, massively extend our lifespans, build life from scratch, and recreate the plant and animal world, should we?
---
THE NEXT AMERICAN CITY: THE BIG PROMISE OF OUR MIDSIZE METROS
by Mick Cornett, Jayson White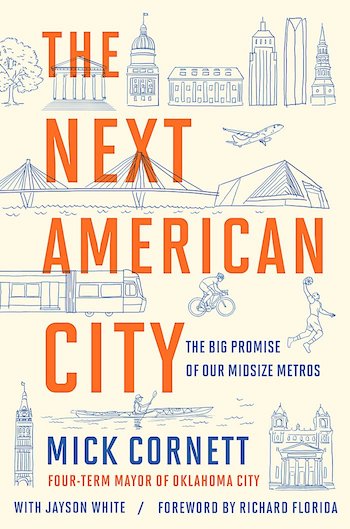 Oklahoma City. Indianapolis. Charleston. Des Moines. What do these cities have in common?They are cities of modest size but outsized accomplishment, powered by a can-do spirit, valuing compromise over confrontation and progress over political victory. These are the cities leading America . . . and they're not waiting for Washington's help. As mayor of one of America's most improved cities, Cornett used a bold, creative, and personal approach to orchestrate his city's renaissance. Once regarded as a forgettable city in «flyover country,» Oklahoma City has become one of our nation's most dynamic places-and it is not alone. In this book, Cornett translates his city's success-and the success of cities like his-into a vision for the future of our country. The Next American City is a story of civic engagement, inventive public policy, and smart urban design. It is a study of the changes re-shaping American urban life-and a blueprint for those to come.
---
NUKING THE MOON: AND OTHER INTELLIGENCE SCHEMES AND MILITARY PLOTS LEFT ON THE DRAWING BOARD
by Vince Houghton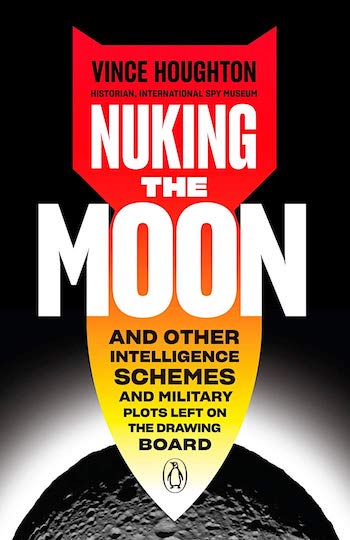 In 1958, the U.S. Air Force nuked the moon as a show of military force. In 1967, the CIA sent live cats to spy on the Soviet government. In 1942, the British built a torpedo-proof aircraft carrier out of an iceberg. Of course, none of these things ever actually happened. But in Nuking the Moon, intelligence historian Vince Houghton proves that abandoned plans can be just as illuminating—and every bit as entertaining—as the ones that made it. Vividly capturing the fascinating stories of how twenty-one plans from WWII and the Cold War went from conception, planning, and testing to cancellation, Houghton explores what happens when innovation meets desperation: For every plan as good as D-Day, there's a scheme to strap bombs to bats or dig a spy tunnel underneath the Soviet embassy. Along the way, he reveals what each one tells us about twentieth-century history, the art of spycraft, military strategy, and famous figures like JFK, Castro, and Churchill. By turns terrifying and hilarious—but always riveting—this is the unique story of history left on the drawing board.
---
THE MERITOCRACY TRAP: HOW AMERICA'S FOUNDATIONAL MYTH FEEDS INEQUALITY, DISMANTLES THE MIDDLE CLASS, AND DEVOURS THE ELITE
by Daniel Markovits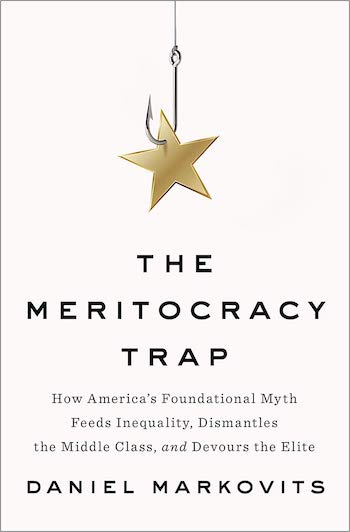 It is an axiom of American life that advantage should be earned through ability and effort. Even as the country divides itself at every turn, the meritocratic ideal – that social and economic rewards should follow achievement rather than breeding – reigns supreme. Both Democrats and Republicans insistently repeat meritocratic notions. Meritocracy cuts to the heart of who we are. It sustains the American dream. But what if, both up and down the social ladder, meritocracy is a sham? Today, meritocracy has become exactly what it was conceived to resist: a mechanism for the concentration and dynastic transmission of wealth and privilege across generations. Upward mobility has become a fantasy, and the embattled middle classes are now more likely to sink into the working poor than to rise into the professional elite. At the same time, meritocracy now ensnares even those who manage to claw their way to the top, requiring rich adults to work with crushing intensity, exploiting their expensive educations in order to extract a return. All this is not the result of deviations or retreats from meritocracy but rather stems directly from meritocracy's successes. This is the radical argument that Daniel Markovits prosecutes with rare force. Markovits is well placed to expose the sham of meritocracy. Having spent his life at elite universities, he knows from the inside the corrosive system we are trapped within. Markovits also knows that, if we understand that meritocratic inequality produces near-universal harm, we can cure it. When The Meritocracy Trap reveals the inner workings of the meritocratic machine, it also illuminates the first steps outward, towards a new world that might once again afford dignity and prosperity to the American people.
---
SEA STORIES: MY LIFE IN SPECIAL OPERATIONS
by Admiral William H. McRaven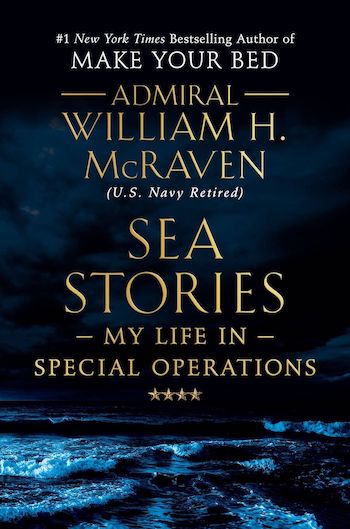 Admiral William H. McRaven is a part of American military history, having been involved in some of the most famous missions in recent memory, including the capture of Saddam Hussein, the rescue of Captain Richard Phillips, and the raid to kill Osama bin Laden. Sea Stories begins in 1960 at the American Officers' Club in France, where Allied officers and their wives gathered to have drinks and tell stories about their adventures during World War II — the place where a young Bill McRaven learned the value of a good story. Sea Stories is an unforgettable look back on one man's incredible life, from childhood days sneaking into high-security military sites to a day job of hunting terrorists and rescuing hostages. Action-packed, inspiring, and full of thrilling stories from life in the special operations world, Sea Stories is a remarkable memoir from one of America's most accomplished leaders.
---
EXHALATION: STORIES
by Ted Chiang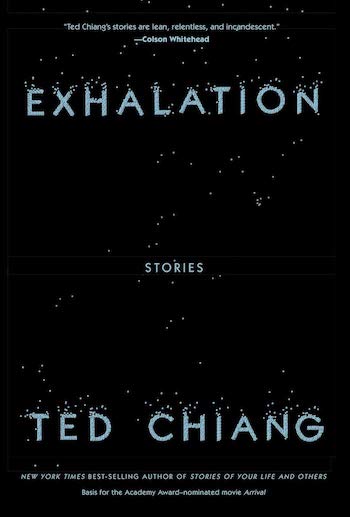 From the acclaimed author of Stories of Your Life and Others—the basis for the Academy Award –nominated film Arrival: a groundbreaking new collection of short fiction. In these nine stunningly original, provocative, and poignant stories, Ted Chiang tackles some of humanity's oldest questions along with new quandaries only he could imagine. In "The Merchant and the Alchemist's Gate," a portal through time forces a fabric seller in ancient Baghdad to grapple with past mistakes and second chances. In "Exhalation," an alien scientist makes a shocking discovery with ramifications that are literally universal. In "Anxiety Is the Dizziness of Freedom," the ability to glimpse into alternate universes necessitates a radically new examination of the concepts of choice and free will. Including stories being published for the first time as well as some of his rare and classic uncollected work, Exhalation is Ted Chiang at his best: profound, sympathetic—revelatory.
---
CRACKS IN THE IVORY TOWER: THE MORAL MESS OF HIGHER EDUCATION
by Jason Brennan and Phillip Magness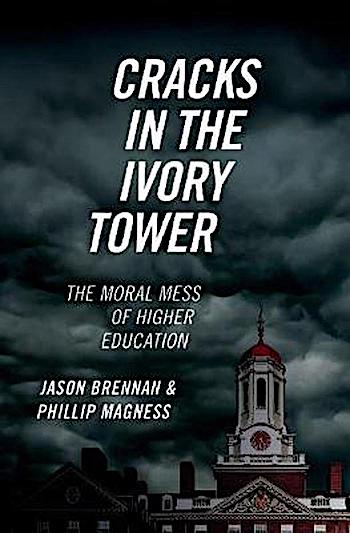 Academics extol high-minded ideals, such as serving the common good and promoting social justice. Universities aim to be centers of learning that find the best and brightest students, treat them fairly, and equip them with the knowledge they need to lead better lives. But as Jason Brennan and Phillip Magness show in Cracks in the Ivory Tower, American universities fall far short of this ideal. At almost every level, they find that students, professors, and administrators are guided by self-interest rather than ethical concerns. College bureaucratic structures also often incentivize and reward bad behavior, while disincentivizing and even punishing good behavior. Most students, faculty, and administrators are out to serve themselves and pass their costs onto others. The problems are deep and pervasive: most academic marketing and advertising is semi-fraudulent. To justify their own pay raises and higher budgets, administrators hire expensive and unnecessary staff. Faculty exploit students for tuition dollars through gen-ed requirements. Students hardly learn anything and cheating is pervasive. At every level, academics disguise their pursuit of self-interest with high-faluting moral language. Marshaling an array of data, Brennan and Magness expose many of the ethical failings of academia and in turn reshape our understanding of how such high power institutions run their business. Everyone knows academia is dysfunctional. Brennan and Magness show the problems are worse than anyone realized. Academics have only themselves to blame.
---
THE FUTURE IS ASIAN
by Parag Khanna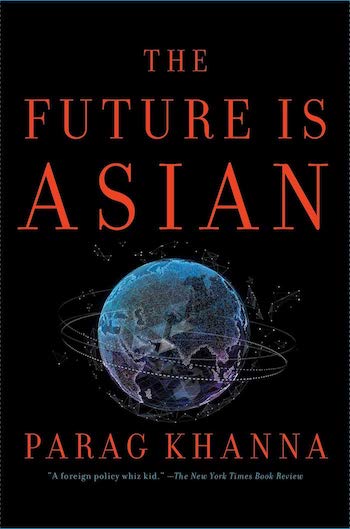 The "Asian Century" is even bigger than you think. Far greater than just China, the new Asian system taking shape is a multi-civilizational order spanning Saudi Arabia to Japan, Russia to Australia, Turkey to Indonesia—linking five billion people through trade, finance, infrastructure, and diplomatic networks that together represent 40 percent of global GDP. China has taken a lead in building the new Silk Roads across Asia, but it will not lead it alone. Rather, Asia is rapidly returning to the centuries-old patterns of commerce, conflict, and cultural exchange that thrived long before European colonialism and American dominance. Asians will determine their own future—and as they collectively assert their interests around the world, they will determine ours as well. There is no more important region of the world for us to better understand than Asia – and thus we cannot afford to keep getting Asia so wrong. Asia's complexity has led to common misdiagnoses: Western thinking on Asia conflates the entire region with China, predicts imminent World War III around every corner, and regularly forecasts debt-driven collapse for the region's major economies. But in reality, the region is experiencing a confident new wave of growth led by younger societies from India to the Philippines, nationalist leaders have put aside territorial disputes in favor of integration, and today's infrastructure investments are the platform for the next generation of digital innovation.
---
У БАРНОЙ СТОЙКИ. АЛКОГОЛЬНЫЕ НАПИТКИ КАК НАУКА И КАК ИСКУССТВО
Автор: Адам Роджерс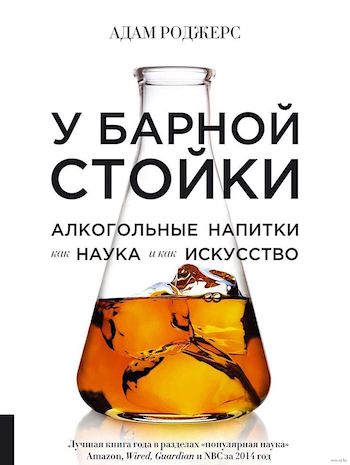 В течение десяти тысяч лет люди совершенствовали производство спиртных напитков, но лишь сравнительно недавно ученые начали использовать достижения науки для того, чтобы создать их идеальный состав. В ярком турне по культурам и континентам Адам Роджерс проводит нас по ведущим мировым лабораториям, барам и питейным заведениям, где совершенствуется наука пития. Автор описывает физические, биологические и химические основы идеального напитка, отдельно останавливаясь на психологических и нейробиологических процессах, провоцирующих желание пригубить бокал. Если вас когда-нибудь интересовало, что происходит со спиртным напитком до того, как вы откупориваете бутылку, и то, какие реакции он запускает в вашем организме, книга «У барной стойки» – ваш незаменимый компаньон, несравненное дополнение к изысканным напиткам.
---
THE MARGINAL REVOLUTIONARIES: HOW AUSTRIAN ECONOMISTS FOUGHT THE WAR OF IDEAS
by Janek Wasserman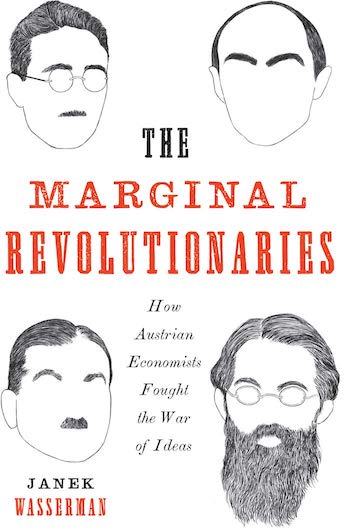 The Austrian School of Economics—a movement that has had a vast impact on economics, politics, and society, especially among the American right—is poorly understood by supporters and detractors alike. Defining themselves in opposition to the mainstream, economists such as Ludwig von Mises, Friedrich Hayek, and Joseph Schumpeter built the School's international reputation with their work on business cycles and monetary theory. Their focus on individualism—and deep antipathy toward socialism—ultimately won them a devoted audience among the upper echelons of business and government. In this collective biography, Janek Wasserman brings these figures to life, showing that in order to make sense of the Austrians and their continued influence, one must understand the backdrop against which their philosophy was formed—notably, the collapse of the Austro-Hungarian Empire and a half-century of war and exile.
---
THE LAST UNKNOWNS: DEEP, ELEGANT, PROFOUND UNANSWERED QUESTIONS ABOUT THE UNIVERSE, THE MIND, THE FUTURE OF CIVILIZATION, AND THE MEANING OF LIFE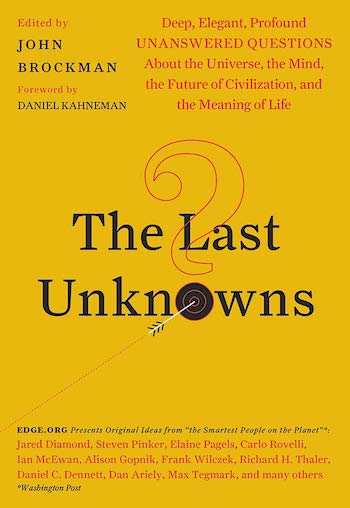 by John Brockman (Author), Daniel Kahneman (Foreword)
This is a little book of profound questions — unknowns that address the secrets of our world, our civilization, the meaning of life. Here are the deepest riddles that have fascinated, obsessed, and haunted the greatest thinkers of our time, including Nobel laureates, cosmologists, philosophers, economists, prize-winning novelists, religious scholars, and more than 250 leading scientists, artists, and theorists. In The Last Unknowns, John Brockman, publisher of Edge.org, asks «a mind-blowing gathering of innovative thinkers» (Booklist): «What is 'The Last Question,' your last question, the question for which you will be remembered?»
---
SILENT INVASION: CHINA'S INFLUENCE IN AUSTRALIA
by Clive Hamilton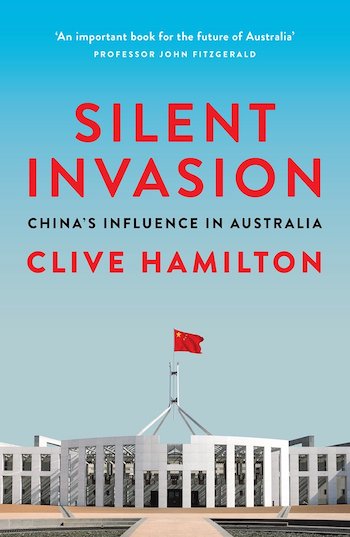 Respected academic Clive Hamilton realised something big was happening when, in 2016, it was revealed that wealthy Chinese businessmen linked to the Chinese Communist Party had become the largest donors to both major Australian political parties. Hamilton began to investigate the Chinese government s influence in Australia. What he found shocked him. From politics to culture, real estate to agriculture, universities to unions, and even in our primary schools, he uncovered compelling evidence of the Chinese Communist Party s infiltration of Australia. It s no exaggeration to say the Chinese Communist Party and Australian democracy are on a collision course. The CCP is determined to win, while Australia looks the other way. Thoroughly researched and powerfully argued, Silent Invasion is a sobering examination of the mounting threats to democratic freedoms Australians have for too long taken for granted. Yes, China is important to our economic prosperity; but, Hamilton asks, how much is our sovereignty as a nation worth?
---
THE NEW ART OF WAR-CHINA'S DEEP STRATEGY INSIDE THE UNITED STATES
by Bill Holstein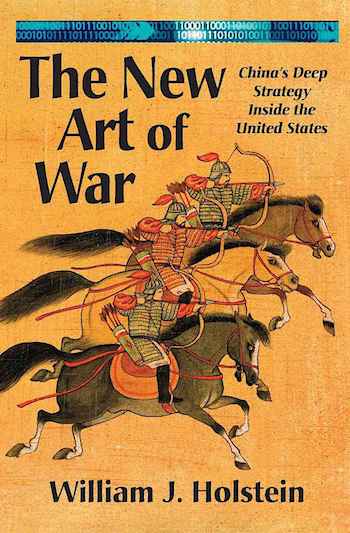 Bill Holstein's gripping reporting on the extent of China's incursion into American commerce, culture, education and politics is so alarming that if you put this book under your pillow it would keep you up all night. A must read for everyone to understand the just below-the-surface asymmetric war China is relentlessly waging against the largely-unsuspecting United States. Some Chinese-Americans and Chinese residents—perhaps only a relative handful—have cooperated in obtaining technology for China. And many Chinese nationals who obtained years of experience working at American companies have returned to China to help competitors there. The Chinese have a nickname for these individuals, haigui, or returning sea turtles who come ashore once a year to lay their eggs. This book outlines the contemporary issues and offers solutions.
---
THE SIMULATION HYPOTHESIS: AN MIT COMPUTER SCIENTIST SHOWS WHY AI, QUANTUM PHYSICS AND EASTERN MYSTICS ALL AGREE WE ARE IN A VIDEO GAME
by Rizwan Virk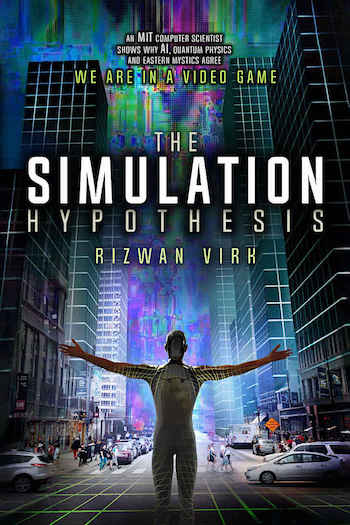 The Simulation Hypothesis, by best-selling author, renowned MIT computer scientist and Silicon Valley video game designer Rizwan Virk, explains one of the most daring and consequential theories of our time. Drawing from research and concepts from computer science, artificial intelligence, video games, quantum physics, and referencing both speculative fiction and ancient eastern spiritual texts, Virk shows how all of these traditions come together to point to the idea that we may be inside a simulated reality like the Matrix. The Simulation Hypothesis is the idea that our physical reality, far from being a solid physical universe, is part of an increasingly sophisticated video game-like simulation, where we all have multiple lives, consisting of pixels with its own internal clock run by some giant Artificial Intelligence. Simulation Theory explains some of the biggest mysteries of quantum and relativistic physics, such as quantum indeterminacy, parallel universes, and the integral nature of the speed of light.
---
CHINA DREAM
by Ma Jian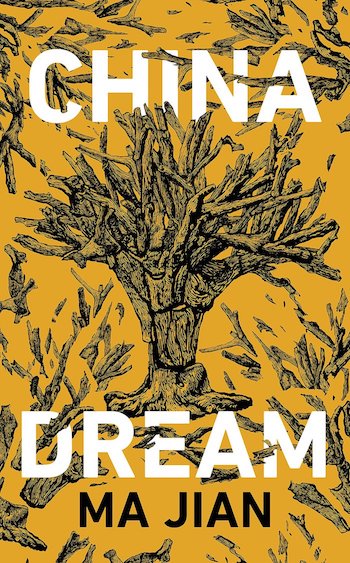 Ma Daode is feeling pleased with himself. He has just been appointed Director of the China Dream Bureau, tasked with overwriting people's private dreams with President Xi's great China Dream of national rejuvenation. He has an impressive office, three properties and a bevy of mistresses texting him night and day. But just as Ma Daode is putting the finishing touches to his plan for a mass golden wedding anniversary celebration, things take an uneasy turn. Suddenly plagued by flashbacks of the Cultural Revolution, Ma Daode's nightmares from the past threaten to undo his dream of a glorious future. The only solution is to get hold of the secret recipe for a legendary broth of amnesia that will eradicate history for good. In China Dream Ma Jian takes the reader on a tragi-comic ride through the horrors and absurdities of totalitarian power. His dystopian vision is set not in the future, but in China today.
---
THE NEW RIGHT: A JOURNEY TO THE FRINGE OF AMERICAN POLITICS
by Michael Malice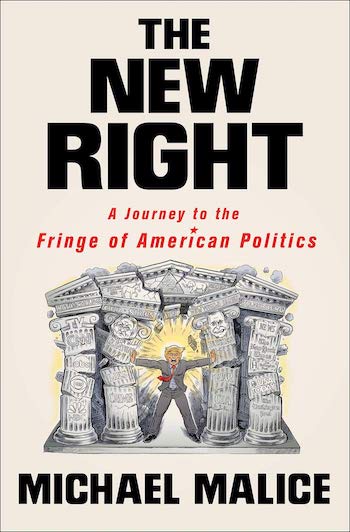 What do internet trolls, economic populists, white nationalists, techno-anarchists and Alex Jones have in common? Nothing, except for an unremitting hatred of evangelical progressivism and the so-called "Cathedral" from whence it pours forth. Contrary to the dissembling explanations from the corporate press, this movement did not emerge overnight―nor are its varied subgroups in any sense interchangeable with one another. As united by their opposition as they are divided by their goals, the members of the New Right are willfully suspicious of those in the mainstream who would seek to tell their story. Fortunately, author Michael Malice was there from the very inception, and in The New Right recounts their tale from the beginning. Malice provides an authoritative and unbiased portrait of the New Right as a movement of ideas―ideas that he traces to surprisingly diverse ideological roots. From the heterodox right wing of the 1940s to the Buchanan/Rothbard alliance of 1992 and all the way through to what he witnessed personally in Charlottesville, The New Right is a thorough firsthand accounting of the concepts, characters and chronology of this widely misunderstood sociopolitical phenomenon.
---
XI JINPING: THE BACKLASH
by Richard McGregor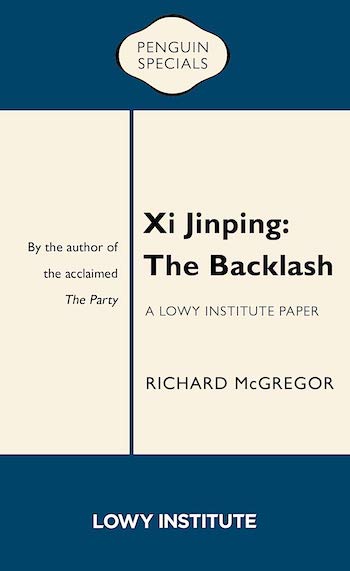 A look at how Xi Jinping rapidly made himself the most powerful Chinese leader since Mao Zedong, and how in turn his authoritarian ways have sparked a backlash against him at home and abroad, from the Lowy Institute. Xi Jinping has transformed China at home and abroad with a speed and aggression that few foresaw when he came to power in 2012. Finally, he is meeting resistance, both at home among disgruntled officials and disillusioned technocrats, and abroad from an emerging coalition of Western nations that seem determined to resist China's geopolitical and high-tech expansion. With the United States and China at loggerheads, Richard McGregor outlines how the world came to be split in two.
---
SECRETS OF SAND HILL ROAD: VENTURE CAPITAL AND HOW TO GET IT
by Scott Kupor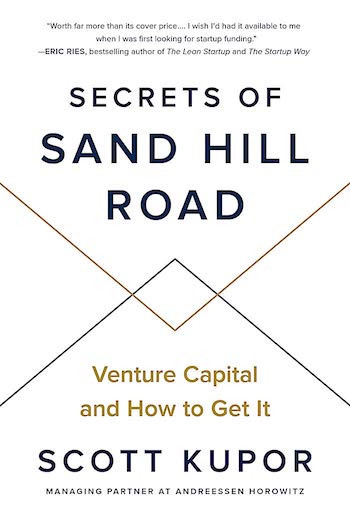 What are venture capitalists saying about your startup behind closed doors? And what can you do to influence that conversation?If Silicon Valley is the greatest wealth-generating machine in the world, Sand Hill Road is its humming engine. That's where you'll find the biggest names in venture capital, including famed VC firm Andreessen Horowitz, where lawyer-turned-entrepreneur-turned-VC Scott Kupor serves as managing partner. Whether you're trying to get a new company off the ground or scale an existing business to the next level, you need to understand how VCs think. In Secrets of Sand Hill Road, Kupor explains exactly how VCs decide where and how much to invest, and how entrepreneurs can get the best possible deal and make the most of their relationships with VCs.
---
FALL; OR, DODGE IN HELL: A NOVEL
by Neal Stephenson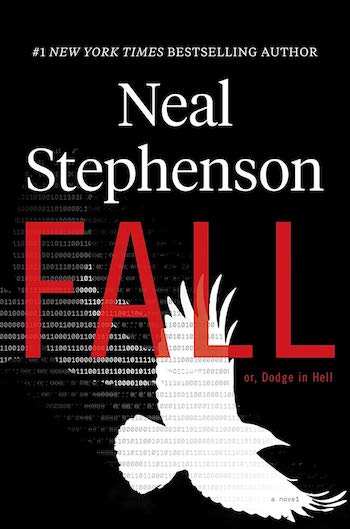 The #1 New York Times bestselling author of Seveneves, Anathem, Reamde, and Cryptonomicon returns with a wildly inventive and entertaining science fiction thriller—Paradise Lost by way of Philip K. Dick—that unfolds in the near future, in parallel worlds.
In the coming years, technology allows Dodge's brain to be turned back on. It is an achievement that is nothing less than the disruption of death itself. An eternal afterlife—the Bitworld—is created, in which humans continue to exist as digital souls. But this brave new immortal world is not the Utopia it might first seem . . . Fall, or Dodge in Hell is pure, unadulterated fun: a grand drama of analog and digital, man and machine, angels and demons, gods and followers, the finite and the eternal. In this exhilarating epic, Neal Stephenson raises profound existential questions and touches on the revolutionary breakthroughs that are transforming our future. Combining the technological, philosophical, and spiritual in one grand myth, he delivers a mind-blowing speculative literary saga for the modern age.
---
THE CASE FOR SPACE: HOW THE REVOLUTION IN SPACEFLIGHT OPENS UP A FUTURE OF LIMITLESS POSSIBILITY
by Robert Zubrin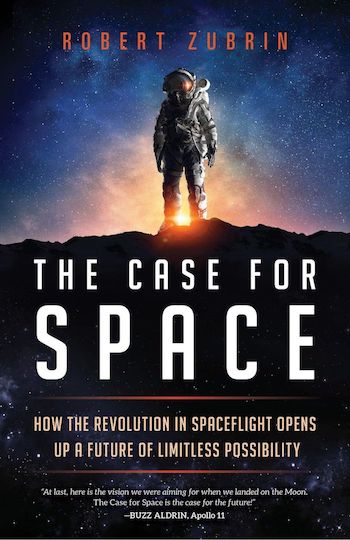 Fueled by the combined expertise of the old aerospace industry and the talents of Silicon Valley entrepreneurs, spaceflight is becoming cheaper. The new generation of space explorers has already achieved a major breakthrough by creating reusable rockets. Zubrin foresees more rapid innovation, including global travel from any point on Earth to another in an hour or less; orbital hotels; moon bases with incredible space observatories; human settlements on Mars, the asteroids, and the moons of the outer planets; and then, breaking all limits, pushing onward to the stars. Zubrin shows how projects that sound like science fiction can actually become reality. But beyond the how, he makes an even more compelling case for why we need to do this—to increase our knowledge of the universe, to make unforeseen discoveries on new frontiers, to harness the natural resources of other planets, to safeguard Earth from stray asteroids, to ensure the future of humanity by expanding beyond its home base, and to protect us from being catastrophically set against each other by the false belief that there isn't enough for all.
---
ДАНИИЛ ТУРОВСКИЙ: ВТОРЖЕНИЕ. КРАТКАЯ ИСТОРИЯ РУССКИХ ХАКЕРОВ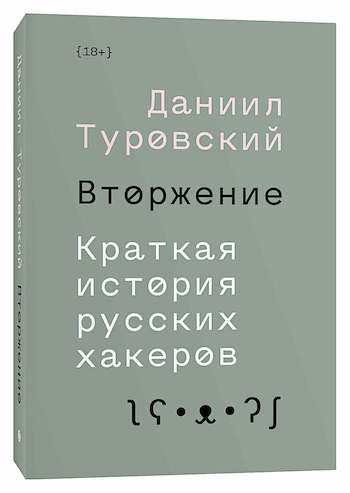 Летом 2016 года неизвестные выложили в интернет переписку высших чинов Демократической партии США — и российские хакеры, предположительно работающие на Кремль, моментально превратились в один из главных сюжетов мировой политики. Спецкор «Медузы», обладатель премии GQ в номинации «Журналист года» и четырех премий «Редколлегия» Даниил Туровский к тому времени писал об этих людях уже несколько лет: одни из них публиковали архивы почты российских чиновников, другие взламывали госсайты сопредельных стран по просьбе спецслужб, третьи просто зарабатывали миллионы, воруя их по всему миру. «Вторжение» — самая полная история российских хакеров: от советских матшкол и постсоветской нищеты к мировой кибервойне и транснациональным преступным группировкам. Книга описывает новый тип власти — но, как показывает Туровский, люди, которые обладают этой властью, сталкиваются все с теми же моральными дилеммами, выбирая между тюрьмой и сумой, чувством и долгом, добром и злом.
---
НЕЛЮБИМАЯ ДОЧЬ
by Пег Стрип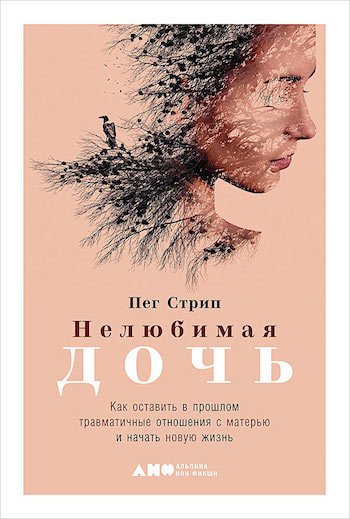 Матери бывают разные, некоторым на всю жизнь удается поселить в своих детях страх и ощущение собственной никчемности и неполноценности. Но в силах каждого «недолюбленного» уже взрослого человека изменить свое отношение к себе. О том, как это сделать, рассказывает Пег Стрип в книге «Нелюбимая дочь. Как оставить в прошлом травматичные отношения с матерью и начать новую жизнь». Почему в голове одних женщин звучит голос, побуждающий идти вперед, а другим этот голос твердит о неполноценности и призывает оставить все попытки чего-то добиться? Возможно потому, что их не любила в детстве мама, считает Пег Стрип, публицист, автор книги «Нелюбимая дочь. Как оставить в прошлом травматичные отношения с матерью и начать новую жизнь».
---
ТЕКУЧЕЕ ЗЛО: ЖИЗНЬ В МИРЕ, ГДЕ НЕТ АЛЬТЕРНАТИВ
Бауман Зигмунт, Донскис Леонидас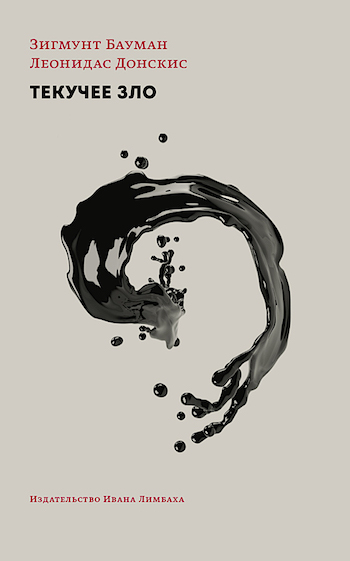 Зло сосуществует с нами с незапамятных времен. В современных обществах оно стало более распространенным и в то же время менее заметным. Текучее зло скрывается в самой ткани человеческого общежития, в бесчисленных «черных дырах» общественного пространства, в котором взаимное отчуждение подменило сотрудничество и солидарность. Зло соблазняет нас своей обыденностью, нападает без предупреждения, и мир оказывается похож на минное поле.
---
THE GREAT SUCCESSOR: THE DIVINELY PERFECT DESTINY OF BRILLIANT COMRADE KIM JONG UN
by Anna Fifield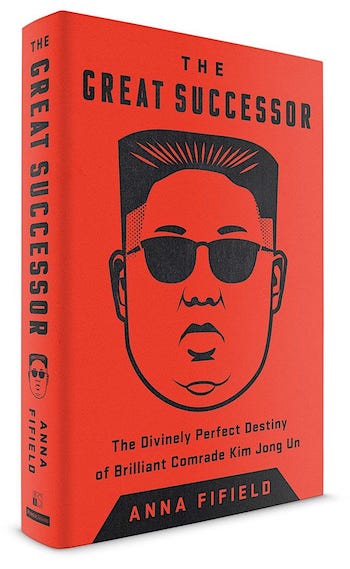 Since his birth in 1984, Kim Jong Un has been swaddled in myth and propaganda, from the plainly silly—he could supposedly drive a car at the age of three—to the grimly bloody stories of family members who perished at his command. Anna Fifield reconstructs Kim's past and present with exclusive access to sources near him and brings her unique understanding to explain the dynastic mission of the Kim family in North Korea. The archaic notion of despotic family rule matches the almost medieval hardship the country has suffered under the Kims. Few people thought that a young, untested, unhealthy, Swiss-educated basketball fanatic could hold together a country that should have fallen apart years ago. But Kim Jong Un has not just survived, he has thrived, abetted by the approval of Donald Trump and diplomacy's weirdest bromance. Skeptical yet insightful, Fifield creates a captivating portrait of the oddest and most secretive political regime in the world—one that is isolated yet internationally relevant, bankrupt yet in possession of nuclear weapons—and its ruler, the self-proclaimed Beloved and Respected Leader, Kim Jong Un.
---
OTTOMAN ODYSSEY: TRAVELS THROUGH A LOST EMPIRE
by Alev Scott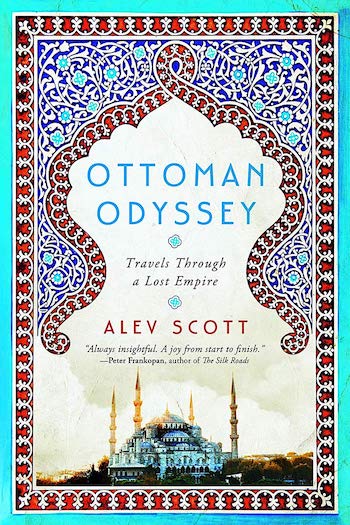 The author's odyssey began when she looked beyond Turkey's borders for contemporary traces of the Ottoman Empire. Their 800 years of rule ended a century ago―and yet, travelling through twelve countries from Kosovo to Greece to Palestine, she uncovers a legacy that's vital and relevant; where medieval ethnic diversity meets twenty-first century nationalism―and displaced people seek new identities. It's a story of surprises. An acolyte of Erdogan in Christian-majority Serbia confirms the wide-reaching appeal of his authoritarian leadership. A Druze warlord explains the secretive religious faction in the heart of the Middle East. The palimpsest-like streets of Jerusalem's Old Town hint at the Ottoman co-existence of Muslims and Jews. And in Turkish Cyprus, Alev Scott rediscovers a childhood home. In every community, history is present as a dynamic force. Faced by questions of exile, diaspora and collective memory, Alev Scott searches for answers from the cafes of Beirut to the refugee camps of Lesbos. She uncovers in Erdogan's nouveau-Ottoman Turkey a version of the nostalgic utopias sold to disillusioned voters in Europe and America. And yet―as she relates with compassion, insight, and humor―diversity is the enduring, endangered heart of this fascinating region.
---
KING OF THE MISSISSIPPI: A NOVEL
by Mike Freedman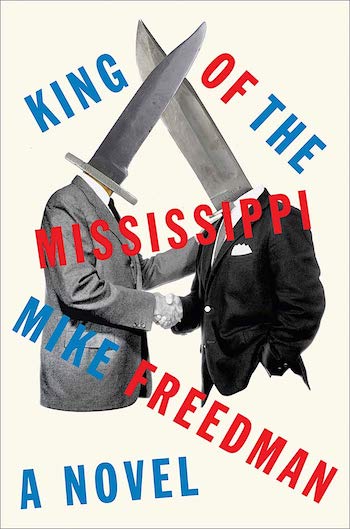 King of the Mississippi is an incisive, uproarious dissection of contemporary male vanity and delusion, centered around a «war» for dominance of a prestigious Houston consulting firm. On one side of the conflict is Brock Wharton, an old money ex-jock whose delight in telling clients to downsize is matched only by his firm conviction that people like himself deserve to run the world. On the other is Mike Fink, a newly hired wily former soldier trying to ride his veteran status to the top of a corporate world that lionizes «the troops» without truly understanding them. Brock and Mike are mortal enemies on sight, bitterly divided not only by background and class but by diametrically opposed (yet equally delusional) visions of what it means to «be a man.» And as their escalating conflict spirals out of control, it will take them all the way from the hidebound boardrooms and gladiatorial football fields of Texas to the vapid and self-serving upper echelon of Silicon Valley, to the corporatized battlefield of Iraq, all the while serving as a ruthlessly funny takedown of the vacuity and empty machismo of corporate life and alpha-male culture in modern America. Devastatingly witty, unapologetically scathing, and ultimately surprisingly moving, King of the Mississippi marks the arrival of a unique and scintillating new voice in American fiction, one that boldly punctures the myths of American manhood like no one has since the heyday of The Bonfire of the Vanities and American Psycho.
---
THE TARGETER: MY LIFE IN THE CIA, HUNTING TERRORISTS AND CHALLENGING THE WHITE HOUSE
by Nada Bakos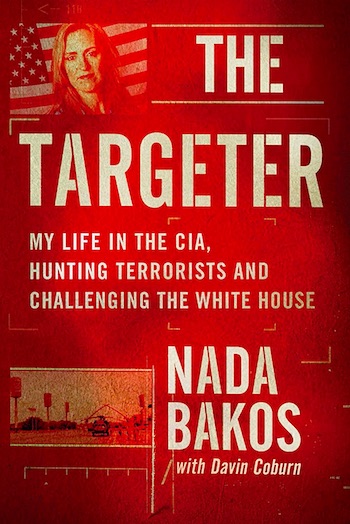 In 1999, 30-year-old Nada Bakos moved from her lifelong home in Montana to Washington, DC, to join the CIA. Quickly realizing her affinity for intelligence work, Nada was determined to rise through the ranks of the agency first as an analyst and then as a Targeting Officer, eventually finding herself on the frontline of America's War against Islamic extremists. In this role, Nada was charged with determining if Iraq had a relationship with 9/11 and Al-Qaida, and finding the mastermind behind this terrorist activity: Abu Musab al-Zarqawi. Her team's analysis stood the test of time, but it was not satisfactory for some members of the Administration. In a tight, tension-packed narrative that takes the reader from Langley deep into Iraq, Bakos reveals the inner workings of the Agency and the largely hidden world of intelligence gathering post 9/11. Entrenched in the world of the CIA, Bakos, along with her colleagues, focused on leading U.S. Special Operations Forces to the doorstep of one of the world's most wanted terrorists.
---
THE THIRD PILLAR: HOW MARKETS AND THE STATE LEAVE THE COMMUNITY BEHIND
by Raghuram Rajan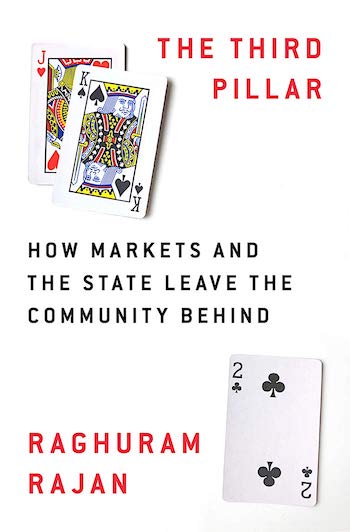 Raghuram Rajan, distinguished University of Chicago professor, former IMF chief economist, head of India's central bank, and author of the 2010 FT-Goldman-Sachs Book of the Year Fault Lines, has an unparalleled vantage point onto the social and economic consequences of globalization and their ultimate effect on our politics. In The Third Pillar he offers up a magnificent big-picture framework for understanding how these three forces—the state, markets, and our communities—interact, why things begin to break down, and how we can find our way back to a more secure and stable plane.
---
MEASURING POVERTY AROUND THE WORLD
by Anthony Atkinson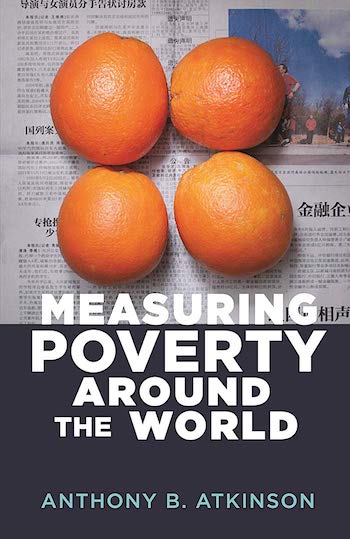 In this, his final book, economist Anthony Atkinson, one of the world's great social scientists and a pioneer in the study of poverty and inequality, offers an inspiring analysis of a central question: What is poverty and how much of it is there around the globe? The persistence of poverty―in rich and poor countries alike―is one of the most serious problems facing humanity. Better measurement of poverty is essential for raising awareness, motivating action, designing good policy, gauging progress, and holding political leaders accountable for meeting targets. To help make this possible, Atkinson provides a critically important examination of how poverty is―and should be―measured. Bringing together evidence about the nature and extent of poverty across the world and including case studies of sixty countries, Atkinson addresses both financial poverty and other indicators of deprivation. He starts from first principles about the meaning of poverty, translates these into concrete measures, and analyzes the data to which the measures can be applied. Crucially, he integrates international organizations' measurements of poverty with countries' own national analyses.
---
OPENNESS TO CREATIVE DESTRUCTION: SUSTAINING INNOVATIVE DYNAMISM
by Arthur M. Diamond, Jr.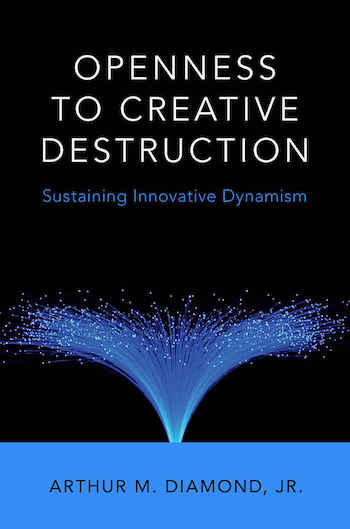 Life improves under the economic system often called «entrepreneurial capitalism» or «creative destruction,» but more accurately called «innovative dynamism.» Openness to Creative Destruction: Sustaining Innovative Dynamism shows how innovation occurs through the efforts of inventors and innovative entrepreneurs, how workers on balance benefit, and how good policies can encourage innovation. The inventors and innovative entrepreneurs are often cognitively diverse outsiders with the courage and perseverance to see and pursue serendipitous discoveries or slow hunches. Arthur M. Diamond, Jr. shows how economies grow where innovative dynamism through leapfrog competition flourishes, as in the United States from roughly 1830-1930. Consumers vote with their feet for innovative new goods and for process innovations that reduce prices, benefiting ordinary citizens more than the privileged elites. Diamond highlights that because breakthrough inventions are costly and difficult, patents can be fair rewards for invention and can provide funding to enable future inventions. He argues that some fears about adverse effects on labor market are unjustified, since more and better new jobs are created than are destroyed, and that other fears can be mitigated by better policies. The steady growth in regulations, often defended on the basis of the precautionary principle, increases the costs to potential entrepreneurs and thus reduces innovation.
---
THE LOST HISTORY OF LIBERALISMFROM ANCIENT ROME TO THE TWENTY-FIRST CENTURY
by Helena Rosenblatt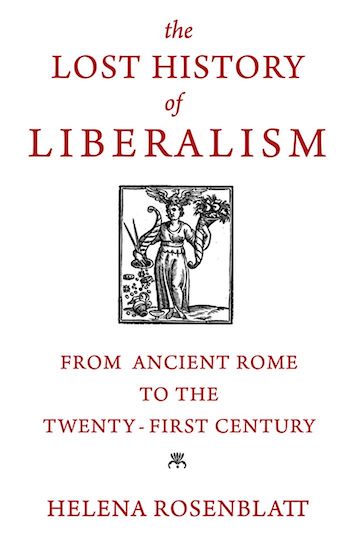 The Lost History of Liberalism challenges our most basic assumptions about a political creed that has become a rallying cry―and a term of derision―in today's increasingly divided public square. Taking readers from ancient Rome to today, Helena Rosenblatt traces the evolution of the words "liberal" and "liberalism," revealing the heated debates that have taken place over their meaning. In this timely and provocative book, Rosenblatt debunks the popular myth of liberalism as a uniquely Anglo-American tradition centered on individual rights. She shows that it was the French Revolution that gave birth to liberalism and Germans who transformed it. Only in the mid-twentieth century did the concept become widely known in the United States―and then, as now, its meaning was hotly debated. Liberals were originally moralists at heart. They believed in the power of religion to reform society, emphasized the sanctity of the family, and never spoke of rights without speaking of duties. It was only during the Cold War and America's growing world hegemony that liberalism was refashioned into an American ideology focused so strongly on individual freedoms.
---
THE ROBOTS ARE COMING!: THE FUTURE OF JOBS IN THE AGE OF AUTOMATION
by Andrés Oppenheimer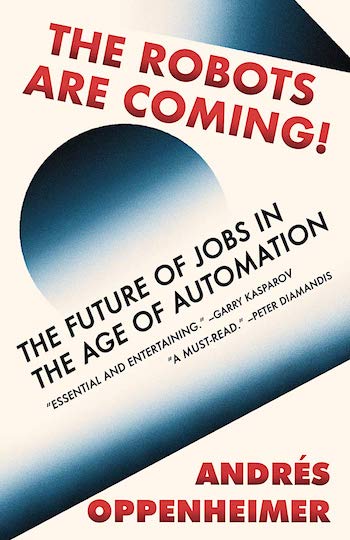 Staying true to his trademark journalistic approach, Andrés Oppenheimer takes his readers on yet another journey, this time across the globe, in a thought-provoking search to understand what the future holds for today's jobs in the foreseeable age of automation.The Robots Are Coming! centers around the issue of jobs and their future in the context of rapid automation and the growth of online products and services. As two of Oppenheimer's interviewees — both experts in technology and economics from Oxford University — indicate, forty-seven percent of existing jobs are at risk of becoming automated or rendered obsolete by other technological changes in the next twenty years. Oppenheimer examines current changes in several fields, including the food business, legal work, banking, and medicine, speaking with experts in the field, and citing articles and literature on automation in various areas of the workforce. He contrasts the perspectives of «techno-optimists» with those of «techno-negativists» and generally attempts to find a middle ground between an alarmist vision of the future, and one that is too uncritical. A self-described «cautious optimist», Oppenheimer believes that technology will not create massive unemployment, but rather will drastically change what work looks like.
---
ALPHA GIRLS: THE WOMEN UPSTARTS WHO TOOK ON SILICON VALLEY'S MALE CULTURE AND MADE THE DEALS OF A LIFETIME
by Julian Guthrie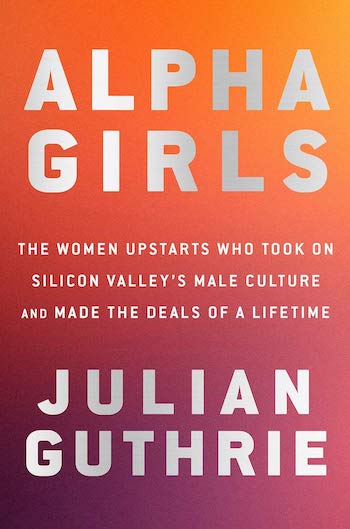 In Alpha Girls, award-winning journalist Julian Guthrie takes readers behind the closed doors of venture capital, an industry that transforms economies and shapes how we live. We follow the lives and careers of four women who were largely written out of history — until now. Magdalena Yesil, who arrived in America from Turkey with $43 to her name, would go on to receive her electrical engineering degree from Stanford, found some of the first companies to commercialize internet access, and help Marc Benioff build Salesforce. Mary Jane Elmore went from the corn fields of Indiana to Stanford and on to the storied venture capital firm IVP — where she was one of the first women in the U.S. to make partner — only to be pulled back from the glass ceiling by expectations at home. Theresia Gouw, an overachieving first-generation Asian American from a working-class town, dominated the foosball tables at Brown (she would later reluctantly let Sergey Brin win to help Accel Partners court Google), before she helped land and build companies including Facebook, Trulia, Imperva, and ForeScout. Sonja Hoel, a Southerner who became the first woman investing partner at white-glove Menlo Ventures, invested in McAfee, Hotmail, Acme Packet, and F5 Networks. As her star was still rising at Menlo, a personal crisis would turn her into an activist overnight, inspiring her to found an all-women's investment group and a national nonprofit for girls. These women, juggling work and family, shaped the tech landscape we know today while overcoming unequal pay, actual punches, betrayals, and the sexist attitudes prevalent in Silicon Valley and in male-dominated industries everywhere. Despite the setbacks, they would rise again to rewrite the rules for an industry they love. In Alpha Girls, Guthrie reveals their untold stories.
---
DIGITAL CASH: THE UNKNOWN HISTORY OF THE ANARCHISTS, UTOPIANS, AND TECHNOLOGISTS WHO CREATED CRYPTOCURRENCY
by Finn Brunton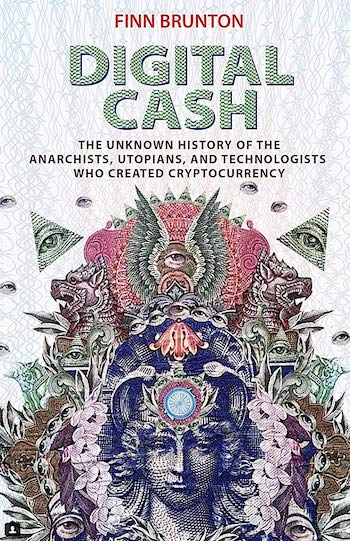 Bitcoin may appear to be a revolutionary form of digital cash without precedent or prehistory. In fact, it is only the best-known recent experiment in a long line of similar efforts going back to the 1970s. But the story behind cryptocurrencies like Bitcoin and its blockchain technology has largely been untold―until now. In Digital Cash, Finn Brunton reveals how technological utopians and political radicals created experimental money to bring about their visions of the future: protecting privacy or bringing down governments, preparing for apocalypse or launching a civilization of innovation and abundance that would make its creators immortal. The incredible story of the pioneers of cryptocurrency takes us from autonomous zones on the high seas to the world's most valuable dump, from bank runs to idea coupons, from time travelers in a San Francisco bar to the pattern securing every twenty-dollar bill, and from marketplaces for dangerous secrets to a tank of frozen heads awaiting revival in the far future. Along the way, Digital Cash explores the hard questions and challenges that these innovators faced: How do we learn to trust and use different kinds of money? What makes digital objects valuable? How does currency prove itself as real to us? What would it take to make a digital equivalent to cash, something that could be created but not forged, exchanged but not copied, and which reveals nothing about its users?
---
THE AGE OF LIVING MACHINES: HOW BIOLOGY WILL BUILD THE NEXT TECHNOLOGY REVOLUTION
by Susan Hockfield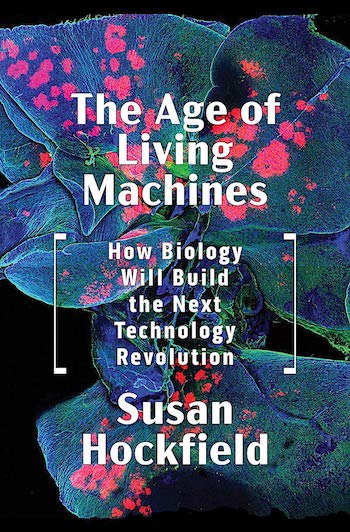 Today, the world's population is projected to rise to well over 9.5 billion by 2050, and we are currently faced with the consequences of producing the energy that fuels, heats, and cools us. With temperatures and sea levels rising, and large portions of the globe plagued with drought, famine, and drug-resistant diseases, we need new technologies to tackle these problems. But we are on the cusp of a new convergence, argues world-renowned neuroscientist Susan Hockfield, with discoveries in biology coming together with engineering to produce another array of almost inconceivable technologies―next-generation products that have the potential to be every bit as paradigm shifting as the twentieth century's digital wonders. The Age of Living Machines describes some of the most exciting new developments and the scientists and engineers who helped create them. Virus-built batteries. Protein-based water filters. Cancer-detecting nanoparticles. Mind-reading bionic limbs. Computer-engineered crops. Together they highlight the promise of the technology revolution of the twenty-first century to overcome some of the greatest humanitarian, medical, and environmental challenges of our time.
---
DEEP MEDICINE: HOW ARTIFICIAL INTELLIGENCE CAN MAKE HEALTHCARE HUMAN AGAIN
by Eric Topol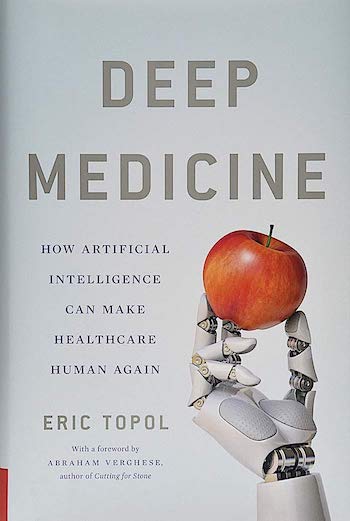 One of America's top doctors reveals how AI will empower physicians and revolutionize patient care. Medicine has become inhuman, to disastrous effect. The doctor-patient relationship—the heart of medicine—is broken: doctors are too distracted and overwhelmed to truly connect with their patients, and medical errors and misdiagnoses abound. In Deep Medicine, leading physician Eric Topol reveals how artificial intelligence can help. AI has the potential to transform everything doctors do, from notetaking and medical scans to diagnosis and treatment, greatly cutting down the cost of medicine and reducing human mortality. By freeing physicians from the tasks that interfere with human connection, AI will create space for the real healing that takes place between a doctor who can listen and a patient who needs to be heard. Innovative, provocative, and hopeful, Deep Medicine shows us how the awesome power of AI can make medicine better, for all the humans involved.
---
TURNED ON: SCIENCE, SEX AND ROBOTS
by Kate Devlin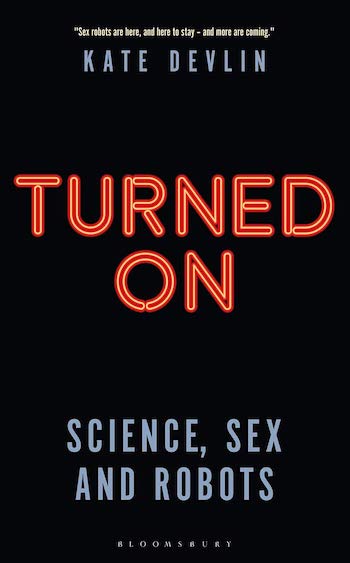 The idea of the seductive sex robot is the stuff of myth, legend and science fiction. From the ancient Greeks to twenty-first century movies, robots in human form have captured our imagination, our hopes and our fears. But beyond the fantasies there are real and fundamental questions about our relationship with technology as it moves into the realm of robotics. Artificial intelligence raises very real concerns. Sexual activity is central to our very existence; it shapes how we think, how we act and how we live. With advances in technology come machines that may one day think independently. What will happen to us when we form close relationships with these intelligent systems?
---
THE FARM: A NOVEL
by Joanne Ramos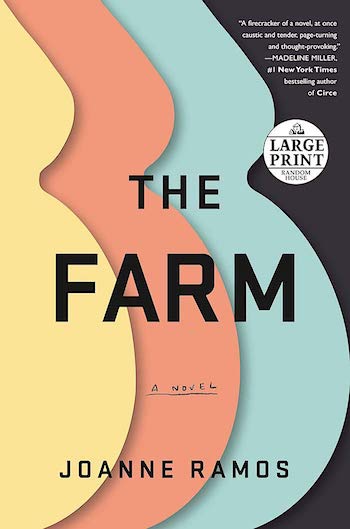 Nestled in New York's Hudson Valley is a luxury retreat boasting every amenity: organic meals, personal fitness trainers, daily massages—and all of it for free. In fact, you're paid big money to stay here—more than you've ever dreamed of. The catch? For nine months, you cannot leave the grounds, your movements are monitored, and you are cut off from your former life while you dedicate yourself to the task of producing the perfect baby. For someone else.
Jane, an immigrant from the Philippines, is in desperate search of a better future when she commits to being a "Host" at Golden Oaks—or the Farm, as residents call it. But now pregnant, fragile, consumed with worry for her family, Jane is determined to reconnect with her life outside. Yet she cannot leave the Farm or she will lose the life-changing fee she'll receive on the delivery of her child. Gripping, provocative, heartbreaking, The Farm pushes to the extremes our thinking on motherhood, money, and merit and raises crucial questions about the trade-offs women will make to fortify their futures and the futures of those they love.
---
ANOINTED WITH OIL: HOW CHRISTIANITY AND CRUDE MADE MODERN AMERICA
by Darren Dochuk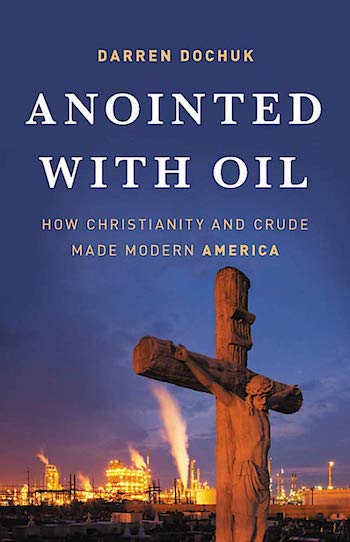 Anointed with Oil places religion and oil at the center of American history. As prize-winning historian Darren Dochuk reveals, from the earliest discovery of oil in America during the Civil War, citizens saw oil as the nation's special blessing and its peculiar burden, the source of its prophetic mission in the world. Over the century that followed and down to the present day, the oil industry's leaders and its ordinary workers together fundamentally transformed American religion, business, and politics — boosting America's ascent as the preeminent global power, giving shape to modern evangelical Christianity, fueling the rise of the Republican Right, and setting the terms for today's political and environmental debates. Ranging from the Civil War to the present, from West Texas to Saudi Arabia to the Alberta Tar Sands, and from oil-patch boomtowns to the White House, this is a sweeping, magisterial book that transforms how we understand our nation's history.
---
THE COSTS OF CONVERSATION: OBSTACLES TO PEACE TALKS IN WARTIME
by Oriana Skylar Mastro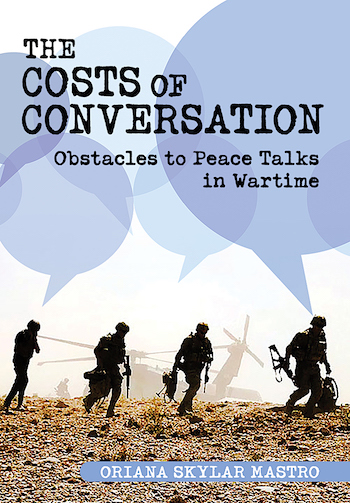 After a war breaks out, what factors influence the warring parties' decisions about whether to talk to their enemy, and when may their position on wartime diplomacy change? How do we get from only fighting to also talking? In The Costs of Conversation, Oriana Skylar Mastro argues that states are primarily concerned with the strategic costs of conversation, and these costs need to be low before combatants are willing to engage in direct talks with their enemy. Specifically, Mastro writes, leaders look to two factors when determining the probable strategic costs of demonstrating a willingness to talk: the likelihood the enemy will interpret openness to diplomacy as a sign of weakness, and how the enemy may change its strategy in response to such an interpretation. Only if a state thinks it has demonstrated adequate strength and resiliency to avoid the inference of weakness, and believes that its enemy has limited capacity to escalate or intensify the war, will it be open to talking with the enemy.
---
PLACES AND NAMES: ON WAR, REVOLUTION, AND RETURNING
by Elliot Ackerman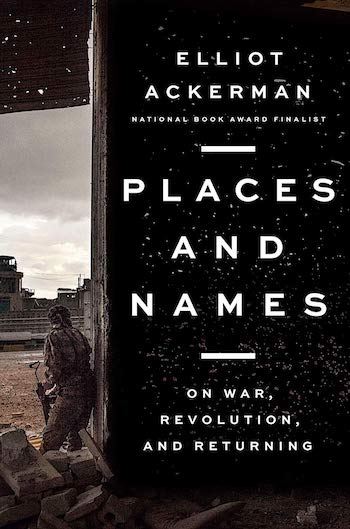 Toward the beginning of Places and Names, Elliot Ackerman sits in a refugee camp in southern Turkey, across the table from a man named Abu Hassar, who fought for Al Qaeda in Iraq, and whose connections to the Islamic State are murky. At first, Ackerman pretends to have been a journalist during the Iraq War, but after establishes a rapport with Abu Hassar, he takes a risk by revealing to him that in fact he was a Marine special operation officer. Ackerman then draws the shape of the Euphrates River on a large piece of paper, and his one-time adversary quickly joins him in the game of filling in the map with the names and dates of where they saw fighting during the war. They had shadowed each other for some time, it turned out, a realization that brought them to a strange kind of intimacy. The rest of Elliot Ackerman's extraordinary memoir is in a way an answer to the question of why he came to that refugee camp and what he hoped to find there. By moving back and forth between his recent experiences on the ground as a journalist in Syria and its environs and his deeper past in combat in Iraq and Afghanistan, he creates a work of astonishing atmospheric pressurization. Ackerman shares extraordinarily vivid and powerful stories of his own experiences in battle, culminating in the events of the Second Battle of Fallujah, the most intense urban combat for the Marines since Hue in Vietnam, where Ackerman's actions leading a rifle platoon saw him awarded the Silver Star. He weaves these stories into the latticework of a masterful larger reckoning, with contemporary geopolitics through his vantage as a journalist in Istanbul and with the human extremes of both bravery and horror.
---
THE GREAT CAULDRON: A HISTORY OF SOUTHEASTERN EUROPE
by Marie-Janine Calic (Author), Elizabeth Janik (Translator)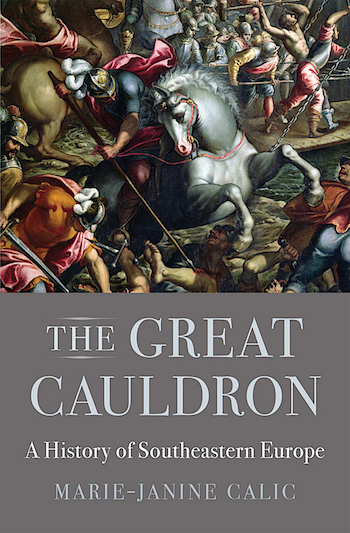 We often think of the Balkans as a region beset by turmoil and backwardness, but from late antiquity to the present it has been a dynamic meeting place of cultures and religions. Combining deep insight with narrative flair, The Great Cauldron invites us to reconsider the history of this intriguing, diverse region as essential to the story of global Europe. Marie-Janine Calic reveals the many ways in which southeastern Europe's position at the crossroads of East and West shaped continental and global developments. The nascent merchant capitalism of the Mediterranean world helped the Balkan knights fight the Ottomans in the fifteenth century. The deep pull of nationalism led a young Serbian bookworm to spark the conflagration of World War I. The late twentieth century saw political Islam spread like wildfire in a region where Christians and Muslims had long lived side by side. Along with vivid snapshots of revealing moments in time, including Krujë in 1450 and Sarajevo in 1984, Calic introduces fascinating figures rarely found in standard European histories. We meet the Greek merchant and poet Rhigas Velestinlis, whose revolutionary pamphlet called for a general uprising against Ottoman tyranny in 1797. And the Croatian bishop Ivan Dominik Stratiko, who argued passionately for equality of the sexes and whose success with women astonished even his friend Casanova. Calic's ambitious reappraisal expands and deepens our understanding of the ever-changing mixture of peoples, faiths, and civilizations in this much-neglected nexus of empire.
---
THE ECONOMICS OF ARTIFICIAL INTELLIGENCE: AN AGENDA
by Ajay Agrawal (Editor), Joshua Gans (Editor), Avi Goldfarb (Editor)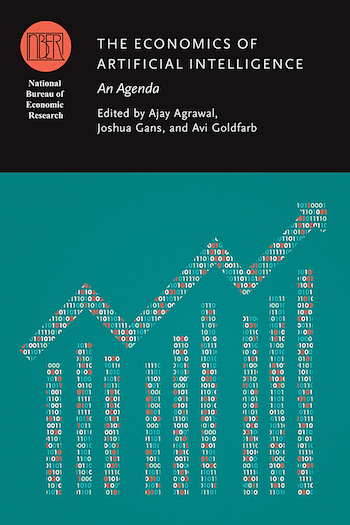 Advances in artificial intelligence (AI) highlight the potential of this technology to affect productivity, growth, inequality, market power, innovation, and employment. This volume seeks to set the agenda for economic research on the impact of AI. It covers four broad themes: AI as a general purpose technology; the relationships between AI, growth, jobs, and inequality; regulatory responses to changes brought on by AI; and the effects of AI on the way economic research is conducted. It explores the economic influence of machine learning, the branch of computational statistics that has driven much of the recent excitement around AI, as well as the economic impact of robotics and automation and the potential economic consequences of a still-hypothetical artificial general intelligence. The volume provides frameworks for understanding the economic impact of AI and identifies a number of open research questions.
---
WHAT YOU DO IS WHO YOU ARE: HOW TO CREATE YOUR BUSINESS CULTURE
by Ben Horowitz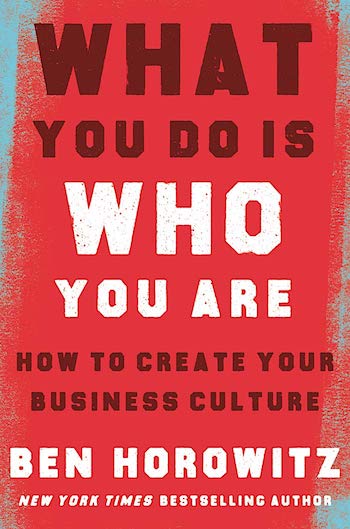 Ben Horowitz, a leading venture capitalist, modern management expert, and New York Timesbestselling author, combines lessons both from history and from modern organizational practice with practical and often surprising advice to help executives build cultures that can weather both good and bad times. Ben Horowitz has long been fascinated by history, and particularly by how people behave differently than you'd expect. The time and circumstances in which they were raised often shapes them—yet a few leaders have managed to shape their times. In What You Do Is Who You Are, he turns his attention to a question crucial to every organization: how do you create and sustain the culture you want? To Horowitz, culture is how a company makes decisions. It is the set of assumptions employees use to resolve everyday problems: should I stay at the Red Roof Inn, or the Four Seasons? Should we discuss the color of this product for five minutes or thirty hours? If culture is not purposeful, it will be an accident or a mistake.
---
UNITED STATES V. APPLE: COMPETITION IN AMERICA
by Chris Sagers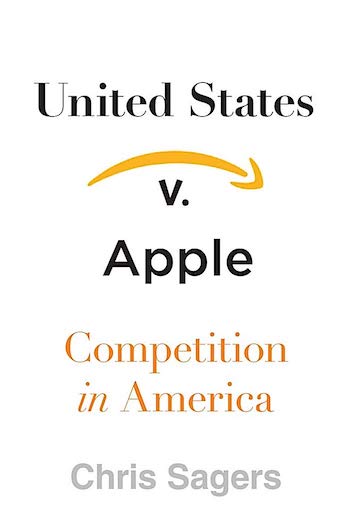 Chris Sagers, a renowned antitrust expert, meticulously pulls apart the misunderstandings and exaggerations that industries as diverse as mom-and-pop grocers and producers of cast-iron sewer pipes have cited to justify colluding to forestall competition. In each of these cases, antitrust law, a time-honored vehicle to promote competition, is put on the defensive. Herein lies the real insight of United States v. Apple. If we desire competition as a policy, we must make peace with its sometimes rough consequences. As bruising as markets in their ordinary operation often seem, letting market forces play out has almost always benefited the consumer. United States v. Apple shows why supporting cases that protect price competition, even when doing so hurts some of us, is crucial if antitrust law is to protect and maintain markets.
---
GAME CHANGER: ALPHAZERO'S GROUNDBREAKING CHESS STRATEGIES AND THE PROMISE OF AI
by Matthew Sadler (Author), Natasha Regan (Author), Garry Kasparov (Foreword)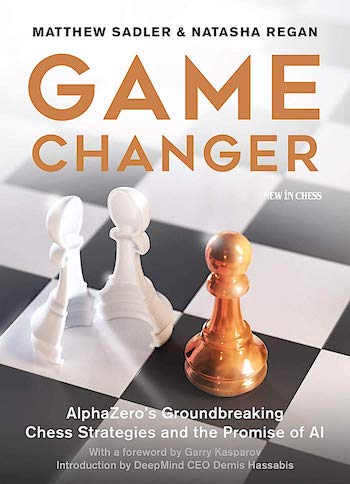 It took AlphaZero only a few hours of self-learning to become the chess player that shocked the world. The artificial intelligence system, created by DeepMind, had been fed nothing but the rules of the Royal Game when it beat the world's strongest chess engine in a prolonged match. The selection of ten games published in December 2017 created a worldwide sensation: how was it possible to play in such a brilliant and risky style and not lose a single game against an opponent of superhuman strength? For Game Changer, Matthew Sadler and Natasha Regan investigated more than two thousand previously unpublished games by AlphaZero. They also had unparalleled access to its team of developers and were offered a unique look 'under the bonnet' to grasp the depth and breadth of AlphaZero's search. Sadler and Regan reveal its thinking process and tell the story of the human motivation and the techniques that created AlphaZero. Game Changer also presents a collection of lucidly explained chess games of astonishing quality. Both professionals and club players will improve their game by studying AlphaZero's stunning discoveries in every field that matters: opening preparation, piece mobility, initiative, attacking techniques, long-term sacrifices and much more. The story of AlphaZero has a wider impact. Game Changer offers intriguing insights into the opportunities and horizons of Artificial Intelligence. Not just in solving games, but in providing solutions for a wide variety of challenges in society. With a foreword by former World Chess Champion Garry Kasparov and an introduction by DeepMind CEO Demis Hassabis.
---
HOW TO WIN IN A WINNER-TAKE-ALL WORLD: THE DEFINITIVE GUIDE TO ADAPTING AND SUCCEEDING IN HIGH-PERFORMANCE CAREERS
by Neil Irwin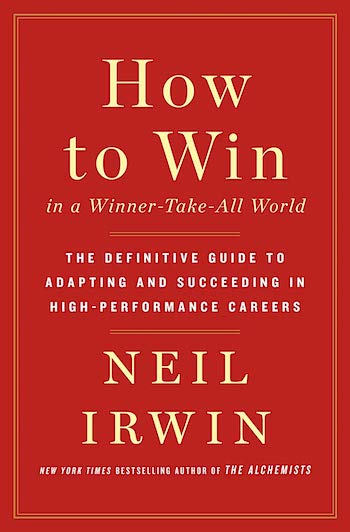 In How to Win in a Winner-Take-All World, Neil Irwin, senior economic correspondent at the New York Times, delivers the essential guide to being successful in today's economy when the very notion of the "job" is shifting and the corporate landscape has become dominated by global firms. He shows that the route to success lies in cultivating the ability to bring multiple specialties together―to become a "glue person" who can ensure people with radically different technical skills work together effectively―and how a winding career path makes you better prepared for today's fast-changing world. Through original data, close analysis, and case studies, Irwin deftly explains the 21st century economic landscape and its implications for ambitious people seeking a lifetime of professional success. Using insights from global giants like Microsoft, Walmart, and Goldman Sachs, and from smaller lesser known organizations like those that make cutting-edge digital effects in Planet of the Apesmovies or Jim Beam bourbon, How to Win in a Winner-Take-All World illuminates what it really takes to be on top in this world of technological complexity and global competition.
---
THE ALLURE OF BATTLE: A HISTORY OF HOW WARS HAVE BEEN WON AND LOST
by Cathal J. Nolan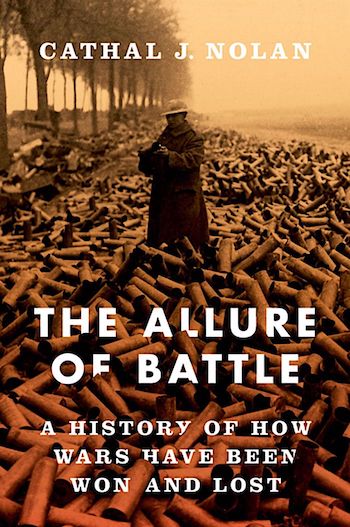 History has tended to measure war's winners and losers in terms of its major engagements, battles in which the result was so clear-cut that they could be considered «decisive.» Marathon, Cannae, Tours, Agincourt, Austerlitz, Sedan, Stalingrad—all resonate in the literature of war and in our imaginations as tide-turning. But were they? As Cathal J. Nolan demonstrates in this magisterial and sweeping work, victory in major wars usually has been determined in other ways. Even the most legendarily lopsided of battles did not necessarily decide their outcomes. Nolan also challenges the hoary concept of the military «genius,» even of the Great Captains—from Alexander to Frederick and Napoleon—mapping instead the descent into total war. The Allure of Battle systematically recreates and analyzes the major campaigns among the Great Powers, from the Middle Ages through the 20th century, from the fall of Byzantium to the defeat of the Axis powers, tracing the illusion of «short-war thinking,» the hope that victory might be swift and conflict brief. Such has almost never been the case. Even one-sided battles have mainly contributed to victory or defeat by accelerating erosion of the other side's defenses, resources, and will.
---
FIRE IN THE SKY: COSMIC COLLISIONS, KILLER ASTEROIDS, AND THE RACE TO DEFEND EARTH
by Gordon Dillow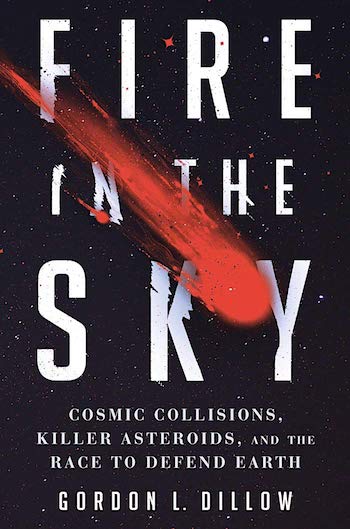 Combining history, pop science, and in-depth reporting, a fascinating account of asteroids that hit Earth long ago, and those streaming toward us now, as well as how we are preparing against asteroid-caused catastrophe.One of these days, warns Gordon Dillow, the Earth will be hit by a comet or asteroid of potentially catastrophic size. The only question is when. In the meantime, we need to get much better at finding objects hurtling our way, and if they're large enough to penetrate the atmosphere without burning up, figure out what to do about them. We owe many of science's most important discoveries to the famed Meteor Crater, a mile-wide dimple on the Colorado Plateau created by an asteroid hit 50,000 years ago. In his masterfully researched Fire in the Sky, Dillow unpacks what the Crater has to tell us. Prior to the early 1900s, the world believed that all craters—on the Earth and Moon—were formed by volcanic activity. Not so. The revelation that Meteor Crater and others like it were formed by impacts with space objects has led to a now accepted theory about what killed off the dinosaurs, and it has opened up a new field of asteroid observation, which has recently brimmed with urgency. Dillow looks at great asteroid hits of the past and spends time with modern-day asteroid hunters and defense planning experts, including America's first Planetary Defense Officer.
---
ONE GIANT LEAP: THE IMPOSSIBLE MISSION THAT FLEW US TO THE MOON
by Charles Fishman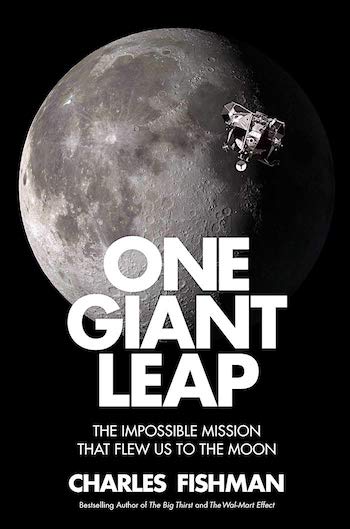 One Giant Leap is the sweeping, definitive behind-the-scenes account of the furious race to complete one of mankind's greatest achievements. It's a story filled with surprises—from the item the astronauts almost forgot to take with them (the American flag), to the extraordinary impact Apollo would have back on Earth, and on the way we live today. Charles Fishman introduces readers to the men and women who had to solve 10,000 problems before astronauts could reach the Moon. From the research labs of MIT, where the eccentric and legendary pioneer Charles Draper created the tools to fly the Apollo spaceships, to the factories where dozens of women sewed spacesuits, parachutes, and even computer hardware by hand, Fishman captures the exceptional feats of these ordinary Americans. One Giant Leap is the captivating story of men and women charged with changing the world as we knew it—their leaders, their triumphs, their near disasters, all of which led to arguably the greatest success story, and the greatest adventure story, of the twentieth century.
---
EYES IN THE SKY: THE SECRET RISE OF GORGON STARE AND HOW IT WILL WATCH US ALL
by Arthur Holland Michel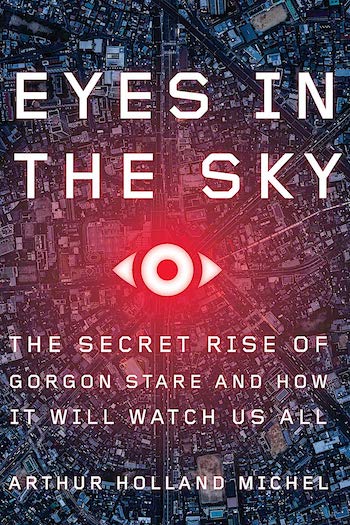 Eyes in the Sky is the authoritative account of how the Pentagon secretly developed a godlike surveillance system for monitoring America's enemies overseas, and how it is now being used to watch us in our own backyards. Whereas a regular aerial camera can only capture a small patch of ground at any given time, this system—and its most powerful iteration, Gorgon Stare—allow operators to track thousands of moving targets at once, both forwards and backwards in time, across whole city-sized areas. When fused with big-data analysis techniques, this network can be used to watch everything simultaneously, and perhaps even predict attacks before they happen. In battle, Gorgon Stare and other systems like it have saved countless lives, but when this technology is deployed over American cities—as it already has been, extensively and largely in secret—it has the potential to become the most nightmarishly powerful visual surveillance system ever built. While it may well solve serious crimes and even help ease the traffic along your morning commute, it could also enable far more sinister and dangerous intrusions into our lives. This is closed-circuit television on steroids. Facebook in the heavens. Drawing on extensive access within the Pentagon and in the companies and government labs that developed these devices, Eyes in the Sky reveals how a top-secret team of mad scientists brought Gorgon Stare into existence, how it has come to pose an unprecedented threat to our privacy and freedom, and how we might still capitalize on its great promise while avoiding its many perils.
---
LEAVE SOMETHING ON THE TABLE: AND OTHER SURPRISING LESSONS FOR SUCCESS IN BUSINESS AND IN LIFE
by Frank Bennack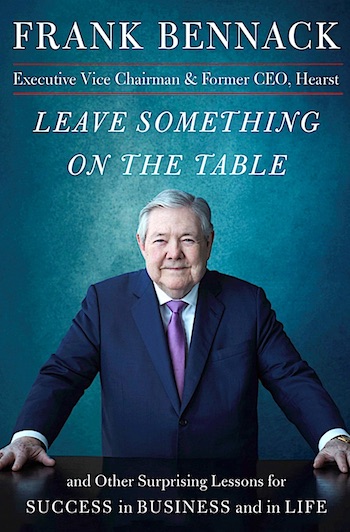 He was named chief executive of Hearst in 1979, and for nearly 30 years he helped solidify the company's reputation as a leader in consumer media, overseeing the purchase of more than two dozen television stations and several major newspapers (Houston Chronicle), the launch of top-selling magazines (O, The Oprah Magazine), and a partnership with ABC, now the Walt Disney Company, to create the pioneering cable networks A&E, HISTORY, and Lifetime. One of his greatest achievements was when, in 1990, he negotiated a 20 percent stake in ESPN for $167 million. The sports network would be valued by market analysts at roughly $30 billion. He also played a key role in Hearst's march toward diversification, with acquisitions of business media assets including global ratings agency Fitch Group. In Leave Something on the Table, Bennack takes readers behind the scenes of these high-stakes moves and offers practical tips for excelling in the corporate world and beyond. He tells stories from his Texas childhood—a first job at 8, his own television show at 17—that foretold why he would become a CEO at 46. And he shares his encounters with US presidents, reflects on his longtime commitment to philanthropy, and describes his and his colleagues' unwavering quest to build the visionary Hearst Tower.
---
MILITARY ANTHROPOLOGY: SOLDIERS, SCHOLARS AND SUBJECTS AT THE MARGINS OF EMPIRE
by Montgomery McFate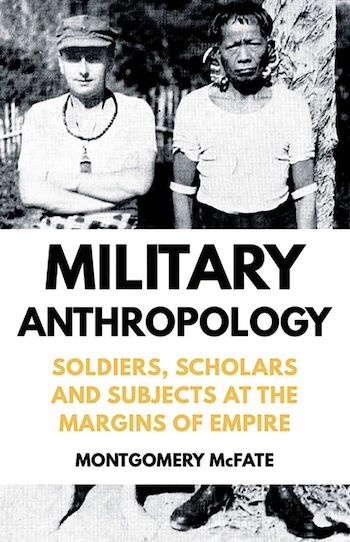 In almost every military intervention in its history, the US has made cultural mistakes that hindered attainment of its policy goals. From the strategic bombing of Vietnam to the accidental burning of the Koran in Afghanistan, it has blundered around with little consideration of local cultural beliefs and for the long-term effects on the host nation's society. Cultural anthropology—the so-called «handmaiden of colonialism»—has historically served as an intellectual bridge between Western powers and local nationals. What light can it shed on the intersection of the US military and foreign societies today This book tells the story of anthropologists who worked directly for the military, such as Ursula Graham Bower, the only woman to hold a British combat command during WWII. Each faced challenges including the negative outcomes of exporting Western political models and errors of perception.
Ranging from the British colonial era in Africa to the recent wars in Iraq and Afghanistan, Military Anthropology illustrates the conceptual, cultural and practical barriers encountered by military organisations operating in societies vastly different from their own.
---
THE TECHNOLOGY TRAP: CAPITAL, LABOR, AND POWER IN THE AGE OF AUTOMATION
by Carl Benedikt Frey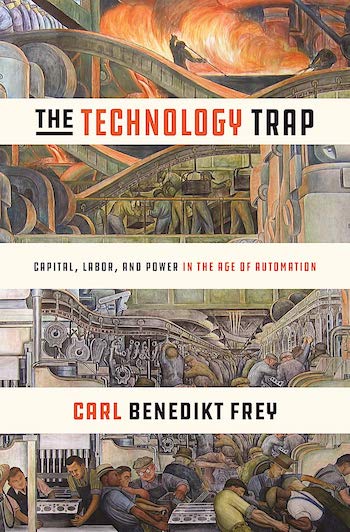 From the Industrial Revolution to the age of artificial intelligence, The Technology Trap takes a sweeping look at the history of technological progress and how it has radically shifted the distribution of economic and political power among society's members. As Carl Benedikt Frey shows, the Industrial Revolution created unprecedented wealth and prosperity over the long run, but the immediate consequences of mechanization were devastating for large swaths of the population. Middle-income jobs withered, wages stagnated, the labor share of income fell, profits surged, and economic inequality skyrocketed. These trends, Frey documents, broadly mirror those in our current age of automation, which began with the Computer Revolution. Just as the Industrial Revolution eventually brought about extraordinary benefits for society, artificial intelligence systems have the potential to do the same. But Frey argues that this depends on how the short term is managed. In the nineteenth century, workers violently expressed their concerns over machines taking their jobs. The Luddite uprisings joined a long wave of machinery riots that swept across Europe and China. Today's despairing middle class has not resorted to physical force, but their frustration has led to rising populism and the increasing fragmentation of society. As middle-class jobs continue to come under pressure, there's no assurance that positive attitudes to technology will persist.
---
TRANSPARENT AND REPRODUCIBLE SOCIAL SCIENCE RESEARCH: HOW TO DO OPEN SCIENCE
by Garret Christensen, Jeremy Freese, Edward Miguel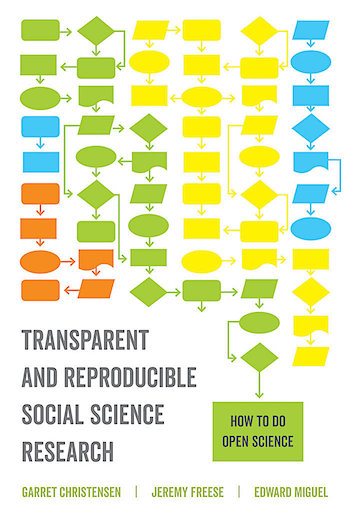 Recently, social science has had numerous episodes of influential research that was found invalid when placed under rigorous scrutiny. The growing sense that many published results are potentially erroneous has made those conducting social science research more determined to ensure the underlying research is sound. Transparent and Reproducible Social Science Research is the first book to summarize and synthesize new approaches to combat false positives and non-reproducible findings in social science research, document the underlying problems in research practices, and teach a new generation of students and scholars how to overcome them. Understanding that social science research has real consequences for individuals when used by professionals in public policy, health, law enforcement, and other fields, the book crystallizes new insights, practices, and methods that help ensure greater research transparency, openness, and reproducibility. Readers are guided through well-known problems and are encouraged to work through new solutions and practices to improve the openness of their research. Created with both experienced and novice researchers in mind, Transparent and Reproducible Social Science Research serves as an indispensable resource for the production of high quality social science research.
---
THE TRANSPACIFIC EXPERIMENT: HOW CHINA AND CALIFORNIA COLLABORATE AND COMPETE FOR OUR FUTURE
by Matt Sheehan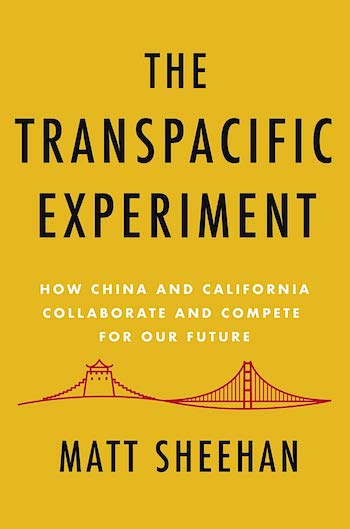 Tensions between the world's superpowers are mounting in Washington, D.C., and Beijing. But between these hubs of high-level politics, an entirely new reality is emerging. Yet the People's Republic of China and the state of California have built deep and interdependent socioeconomic exchanges that reverberate across the globe, and these interactions make California a microcosm of the most important international relationship of the twenty-first century. In The Transpacific Experiment, journalist Matt Sheehan chronicles the real people who are making these connections. Sheehan tells the story of a Southern Californian mayor who believes a Chinese electric bus factory will save his town from meth labs and skinheads. He follows a celebrated Chinese AI researcher who leaves Google to challenge his former employer from behind the Great Firewall. Sheehan joins a tour bus of wealthy Chinese families shopping for homes in the Bay Area, revealing disgruntled neighbors and raising important questions about California's own prejudices and perceptions of immigration and the American Dream.
---
RETHINKING CONSCIOUSNESS: A SCIENTIFIC THEORY OF SUBJECTIVE EXPERIENCE
by Michael S A Graziano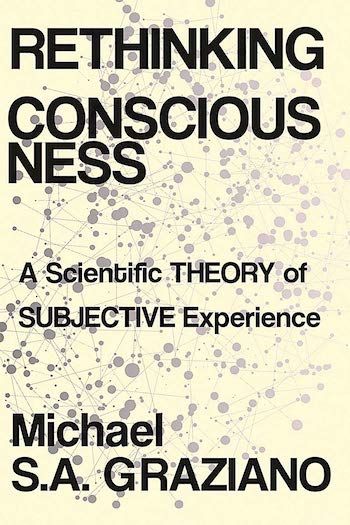 Focusing attention can help an animal find food or flee a predator. It also may have led to consciousness. Tracing evolution over millions of years, Michael S. A. Graziano uses examples from the natural world to show how neurons first allowed animals to develop simple forms of attention: taking in messages from the environment, prioritizing them, and responding as necessary. Then some animals evolved covert attention―a roving mental focus that can take in information apart from where the senses are pointed, like hearing sirens at a distance or recalling a memory. Graziano proposes that in order to monitor and control this specialized attention, the brain evolved a simplified model of it―a cartoonish self-description depicting an internal essence with a capacity for knowledge and experience. In other words, consciousness.
---
HUMAN COMPATIBLE: ARTIFICIAL INTELLIGENCE AND THE PROBLEM OF CONTROL
by Stuart Russell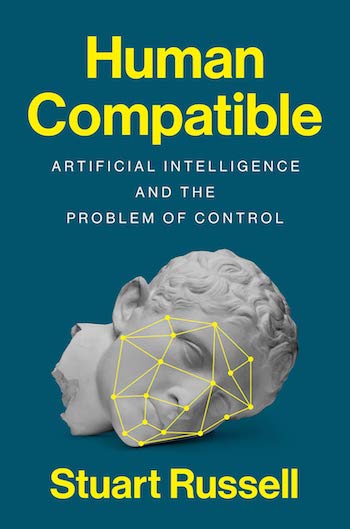 In the popular imagination, superhuman artificial intelligence is an approaching tidal wave that threatens not just jobs and human relationships, but civilization itself. Conflict between humans and machines is seen as inevitable and its outcome all too predictable. In this groundbreaking book, distinguished AI researcher Stuart Russell argues that this scenario can be avoided, but only if we rethink AI from the ground up. Russell begins by exploring the idea of intelligence in humans and in machines. He describes the near-term benefits we can expect, from intelligent personal assistants to vastly accelerated scientific research, and outlines the AI breakthroughs that still have to happen before we reach superhuman AI. He also spells out the ways humans are already finding to misuse AI, from lethal autonomous weapons to viral sabotage. If the predicted breakthroughs occur and superhuman AI emerges, we will have created entities far more powerful than ourselves. How can we ensure they never, ever, have power over us? Russell suggests that we can rebuild AI on a new foundation, according to which machines are designed to be inherently uncertain about the human preferences they are required to satisfy.
---
THOU SHALT INNOVATE: HOW ISRAELI INGENUITY REPAIRS THE WORLD
by Avi Jorisch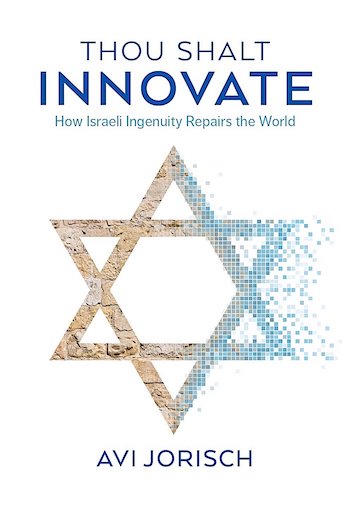 Thou Shalt Innovate profiles wondrous Israeli innovations that are collectively changing the lives of billions of people around the world and explores why Israeli innovators of all faiths feel compelled to make the world better. This is the story of how Israelis are helping to feed the hungry, cure the sick, protect the defenseless, and make the desert bloom. Israel is playing a disproportionate role in helping solve some of the world s biggest challenges by tapping into the nation's soul: the spirit of tikkun olam the Jewish concept of repairing the world. Following Start-Up Nation's account of Israel's incredibly prolific start-up scene, Thou Shalt Innovate tells the story of how Israeli innovation is making the whole world a better place. Israel has extraordinary innovators who are bound together by their desire to save lives and find higher purpose. In a part of the world that has more than its share of darkness, these stories are rays of light.
---
RESISTING REDUCTION
by Joichi Ito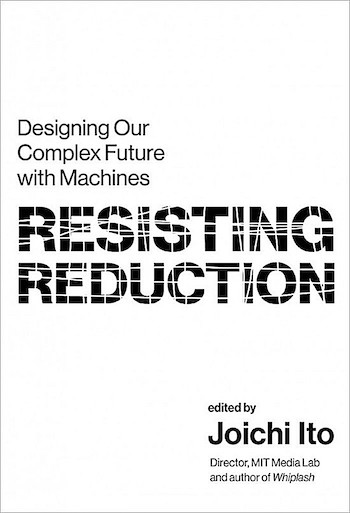 Nature's ecosystem provides us with an elegant example of a complex adaptive system where myriad "currencies" interact and respond to feedback systems that enable both flourishing and regulation. This collaborative model–rather than a model of exponential financial growth or the Singularity, which promises the transcendence of our current human condition through advances in technology—should provide the paradigm for our approach to artificial intelligence. More than 60 years ago, MIT mathematician and philosopher Norbert Wiener warned us that "when human atoms are knit into an organization in which they are used, not in their full right as responsible human beings, but as cogs and levers and rods, it matters little that their raw material is flesh and blood." We should heed Wiener's warning.
---
A THEORY OF JERKS AND OTHER PHILOSOPHICAL MISADVENTURES (THE MIT PRESS)
by Eric Schwitzgebel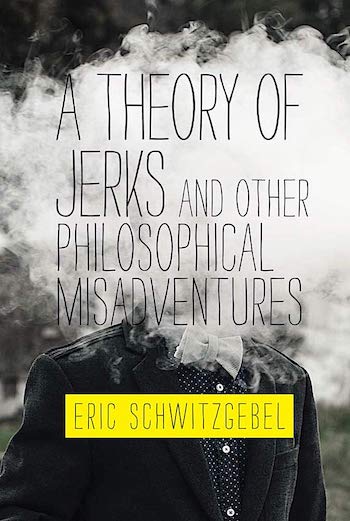 Have you ever wondered about why some people are jerks? Asked whether your driverless car should kill you so that others may live? Found a robot adorable? Considered the ethics of professional ethicists? Reflected on the philosophy of hair? In this engaging, entertaining, and enlightening book, Eric Schwitzgebel turns a philosopher's eye on these and other burning questions. In a series of quirky and accessible short pieces that cover a mind-boggling variety of philosophical topics, Schwitzgebel offers incisive takes on matters both small (the consciousness of garden snails) and large (time, space, and causation). A common theme might be the ragged edge of the human intellect, where moral or philosophical reflection begins to turn against itself, lost among doubts and improbable conclusions. The history of philosophy is humbling when we see how badly wrong previous thinkers have been, despite their intellectual skills and confidence. (See, for example, "Kant on Killing Bastards, Masturbation, Organ Donation, Homosexuality, Tyrants, Wives, and Servants.") Some of the texts resist thematic categorization―thoughts on the philosophical implications of dreidels, the diminishing offensiveness of the most profane profanity, and fatherly optimism―but are no less interesting.
---
EIGHT LESSONS ON INFINITY: A MATHEMATICAL ADVENTURE
by Haim Shapira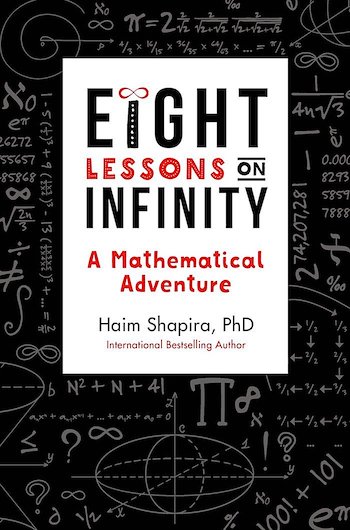 In this book, best-selling author and mathematician Haim Shapira presents an introduction to mathematical theories which deal with the most beautiful concept ever invented by humankind: infinity. Written in clear, simple language and aimed at a lay audience, this book also offers some strategies that will allow readers to try their ability at solving truly fascinating mathematical problems. Infinity is a deeply counter-intuitive concept that has inspired many great thinkers. In this book we will meet many sages, both familiar and unfamiliar: Zeno and Pythagoras, Georg Cantor and Bertrand Russell, Sofia Kovalevskaya and Emmy Noether, al-Khwarizmi and Euclid, Sophie Germain and Srinivasa Ramanujan.The world of infinity is inhabited by many paradoxes, and so is this book: Zeno paradoxes, Hilbert's "Infinity Hotel", Achilles and the gods paradox, the paradox of heaven and hell, the Ross-Littlewood paradox involving tennis balls, the Galileo paradox and many more. Aimed at the curious but non-technical reader, this book refrains from using any fearsome mathematical symbols. It uses only the most basic operations of mathematics: adding, subtracting, multiplication, division, powers and roots – that is all. But that doesn't mean that a bit of deep thinking won't be necessary and rewarding. Writing with humour and lightness of touch, Haim Shapira banishes the chalky pallor of the schoolroom and offers instead a truly thrilling intellectual journey.
---
THE IRRATIONAL APE: WHY FLAWED LOGIC PUTS US ALL AT RISK AND HOW CRITICAL THINKING CAN SAVE THE WORLD
by David Robert Grimes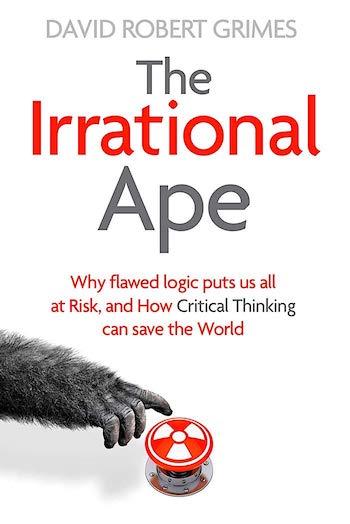 In The Irrational Ape, David Robert Grimes shows how we can be lured into making critical mistakes or drawing false conclusions, and how to avoid such errors. Given the power of modern science and the way that movements can unite to protest a cause via social media, we are in dangerous times. But fortunately, we can learn from our mistakes, and by critical thinking and scientific method we can discover how to apply these techniques to everything from deciding what insurance to buy to averting global disaster. This book, packed with fascinating case studies and examples, helps ensure we are ready for the modern world.
---
FENTANYL, INC.: HOW ROGUE CHEMISTS ARE CREATING THE DEADLIEST WAVE OF THE OPIOID EPIDEMIC
by Ben Westhoff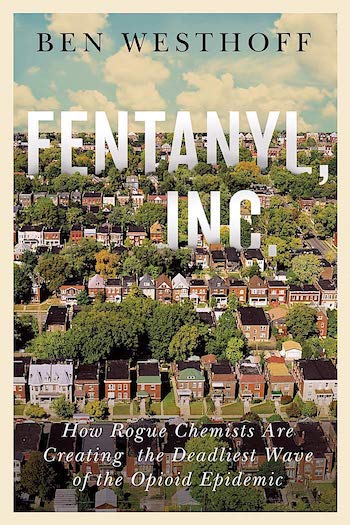 A deeply human story, Fentanyl, Inc. is the first deep-dive investigation of a hazardous and illicit industry that has created a worldwide epidemic, ravaging communities and overwhelming and confounding government agencies that are challenged to combat it. "A whole new crop of chemicals is radically changing the recreational drug landscape," writes Ben Westhoff. "These are known as Novel Psychoactive Substances (NPS) and they include replacements for known drugs like heroin, cocaine, ecstasy, and marijuana. They are synthetic, made in a laboratory, and are much more potent than traditional drugs"―and all-too-often tragically lethal. Drugs like fentanyl, K2, and Spice―and those with arcane acronyms like 25i-NBOMe― were all originally conceived in legitimate laboratories for proper scientific and medicinal purposes. Their formulas were then hijacked and manufactured by rogue chemists, largely in China, who change their molecular structures to stay ahead of the law, making the drugs' effects impossible to predict. Westhoff has infiltrated this shadowy world. He tracks down the little-known scientists who invented these drugs and inadvertently killed thousands, as well as a mysterious drug baron who turned the law upside down in his home country of New Zealand. Westhoff visits the shady factories in China from which these drugs emanate, providing startling and original reporting on how China's vast chemical industry operates, and how the Chinese government subsidizes it. Poignantly, he chronicles the lives of addicted users and dealers, families of victims, law enforcement officers, and underground drug awareness organizers in the U.S. and Europe. Together they represent the shocking and riveting full anatomy of a calamity we are just beginning to understand. From its depths, as Westhoff relates, are emerging new strategies that may provide essential long-term solutions to the drug crisis that has affected so many.
---
THE VALUE OF EVERYTHING: MAKING AND TAKING IN THE GLOBAL ECONOMY
by Mariana Mazzucato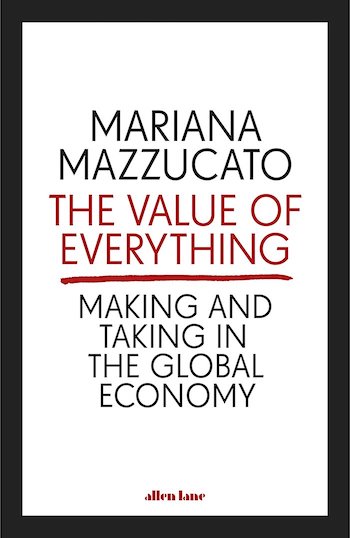 A scathing indictment of our current global financial system, The Value of Everything rigorously scrutinizes the way in which economic value has been accounted and reveals how economic theory has failed to clearly delineate the difference between value creation and value extraction. Mariana Mazzucato argues that the increasingly blurry distinction between the two categories has allowed certain actors in the economy to portray themselves as value creators, while in reality they are just moving around existing value or, even worse, destroying it. The book uses case studies-from Silicon Valley to the financial sector to big pharma-to show how the foggy notions of value create confusion between rents and profits, reward extractors and creators, and distort the measurements of growth and GDP. In the process, innovation suffers and inequality rises. The lesson here is urgent and sobering: to rescue our economy from the next inevitable crisis and to foster long-term economic growth, we will need to rethink capitalism, rethink the role of public policy and the importance of the public sector, and redefine how we measure value in our society.
---
TALKING TO STRANGERS: WHAT WE SHOULD KNOW ABOUT THE PEOPLE WE DON'T KNOW
by Malcolm Gladwell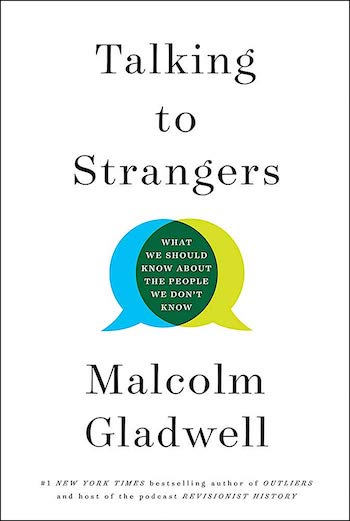 How did Fidel Castro fool the CIA for a generation? Why did Neville Chamberlain think he could trust Adolf Hitler? Why are campus sexual assaults on the rise? Do television sitcoms teach us something about the way we relate to each other that isn't true?Talking to Strangers is a classically Gladwellian intellectual adventure, a challenging and controversial excursion through history, psychology, and scandals taken straight from the news. He revisits the deceptions of Bernie Madoff, the trial of Amanda Knox, the suicide of Sylvia Plath, the Jerry Sandusky pedophilia scandal at Penn State University, and the death of Sandra Bland—throwing our understanding of these and other stories into doubt. Something is very wrong, Gladwell argues, with the tools and strategies we use to make sense of people we don't know. And because we don't know how to talk to strangers, we are inviting conflict and misunderstanding in ways that have a profound effect on our lives and our world. 
---
BLUEPRINT: THE EVOLUTIONARY ORIGINS OF A GOOD SOCIETY
by Nicholas A. Christakis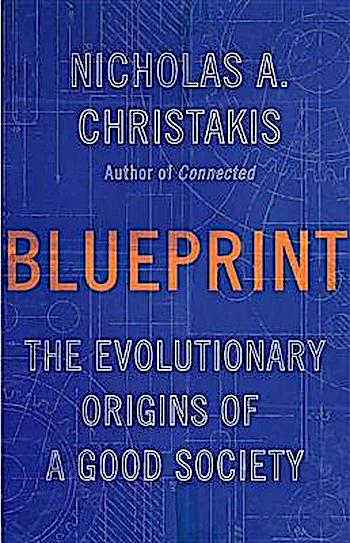 For too long, scientists have focused on the dark side of our biological heritage: our capacity for aggression, cruelty, prejudice, and self-interest. But natural selection has given us a suite of beneficial social features, including our capacity for love, friendship, cooperation, and learning. Beneath all our inventions — our tools, farms, machines, cities, nations — we carry with us innate proclivities to make a good society. In Blueprint, Nicholas A. Christakis introduces the compelling idea that our genes affect not only our bodies and behaviors, but also the ways in which we make societies, ones that are surprisingly similar worldwide. With many vivid examples — including diverse historical and contemporary cultures, communities formed in the wake of shipwrecks, commune dwellers seeking utopia, online groups thrown together by design or involving artificially intelligent bots, and even the tender and complex social arrangements of elephants and dolphins that so resemble our own — Christakis shows that, despite a human history replete with violence, we cannot escape our social blueprint for goodness. 
---
YOUTUBERS: HOW YOUTUBE SHOOK UP TV AND CREATED A NEW GENERATION OF STARS
by Chris Stokel-Walker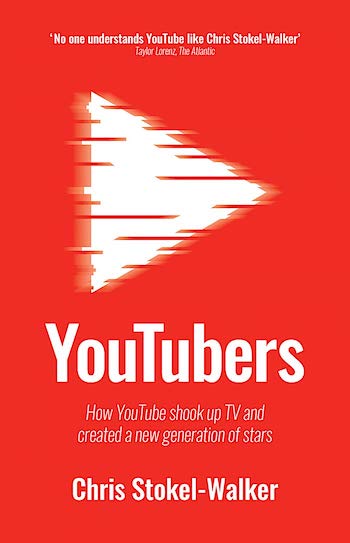 Jake Paul, KSI and PewDiePie influence the views, lives and purchases of millions of fans. And their power is growing. Two billion people worldwide watch YouTube. Yet despite their reach, YouTubers remain a mystery to much of the public and media. What is the secret of their appeal? How do they cope with being in front of the lens? And who is behind them? Wired journalist Chris Stokel-Walker reveals the answers in the first independent in-depth book on YouTube. For three years he has interviewed more than 100 figures connected with the world's biggest video-sharing website, among them agents, managers and influencers themselves. He charts YouTube's rise from showing a single video of a zoo to multi-billion-dollar site that outmuscles Facebook. And he delves into thorny issues about brands, burnout and authenticity. He explains why YouTubers keep stopping traffic in city centers and whether they will eat normal TV.
---
FUTURE CITIES: ARCHITECTURE AND THE IMAGINATION
by Paul Dobraszczyk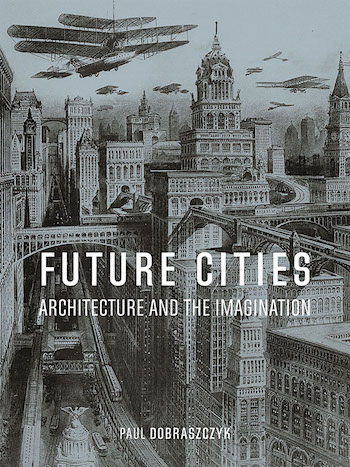 Though reaching ever further toward the skies, today's cities are overshadowed by multiple threats: climate change, overpopulation, social division, and urban warfare all endanger our metropolitan way of life. The fundamental tool we use to make sense of these uncertain city futures is the imagination. Architects, artists, filmmakers, and fiction writers have long been inspired to imagine cities of the future, but their speculative visions tend to be seen very differently from scientific predictions: flights of fancy on the one hand versus practical reasoning on the other. In a digital age when the real and the fantastic coexist as near equals, it is especially important to know how these two forces are entangled, and how together they may help us best conceive of cities yet to come. Exploring a breathtaking range of imagined cities—submerged, floating, flying, vertical, underground, ruined, and salvaged—Future Cities teases out the links between speculation and reality, arguing that there is no clear separation between the two. In the Netherlands, prototype floating cities are already being built; Dubai's recent skyscrapers resemble those of science-fiction cities of the past; while makeshift settlements built by the urban poor in the developing world are already like the dystopian cities of cyberpunk. Bringing together architecture, fiction, film, and visual art, Paul Dobraszczyk reconnects the imaginary city with the real, proposing a future for humanity that is firmly grounded in the present and in the diverse creative practices already at our fingertips.
---
FULLY AUTOMATED LUXURY COMMUNISM
by Aaron Bastani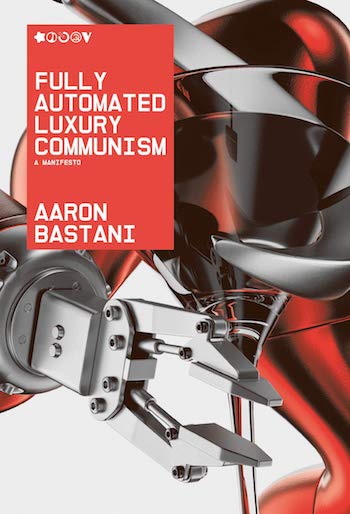 In the twenty-first century, new technologies should liberate us from work. Automation, rather than undermining an economy built on full employment, is instead the path to a world of liberty, luxury and happiness—for everyone. Technological advance will reduce the value of commodities—food, healthcare and housing—towards zero. Improvements in renewable energies will make fossil fuels a thing of the past. Asteroids will be mined for essential minerals. Genetic editing and synthetic biology will prolong life, virtually eliminate disease and provide meat without animals. New horizons beckon. In Fully Automated Luxury Communism, Aaron Bastani conjures a vision of extraordinary hope, showing how we move to energy abundance, feed a world of 9 billion, overcome work, transcend the limits of biology, and establish meaningful freedom for everyone. Rather than a final destination, such a society merely heralds the real beginning of history.
---
PEOPLE, POWER, AND PROFITS: PROGRESSIVE CAPITALISM FOR AN AGE OF DISCONTENT
by Joseph E. Stiglitz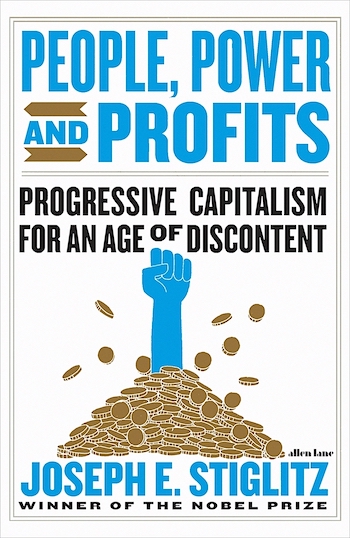 We all have the sense that the American economy―and its government―tilts toward big business, but as Joseph E. Stiglitz explains in his new book, People, Power, and Profits, the situation is dire. A few corporations have come to dominate entire sectors of the economy, contributing to skyrocketing inequality and slow growth. This is how the financial industry has managed to write its own regulations, tech companies have accumulated reams of personal data with little oversight, and our government has negotiated trade deals that fail to represent the best interests of workers. Too many have made their wealth through exploitation of others rather than through wealth creation. If something isn't done, new technologies may make matters worse, increasing inequality and unemployment. Stiglitz identifies the true sources of wealth and of increases in standards of living, based on learning, advances in science and technology, and the rule of law. He shows that the assault on the judiciary, universities, and the media undermines the very institutions that have long been the foundation of America's economic might and its democracy.
---
NOVACENE: THE COMING AGE OF HYPERINTELLIGENCE
by James Lovelock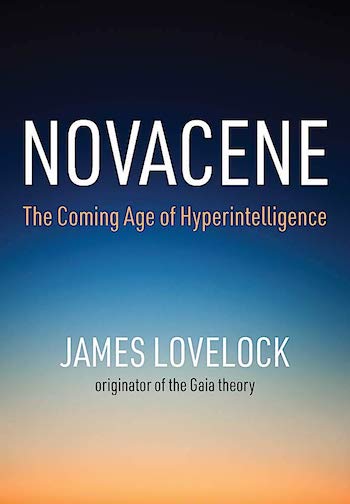 James Lovelock, creator of the Gaia hypothesis and the greatest envi- ronmental thinker of our time, has produced an astounding new theory about future of life on Earth. He argues that the Anthropocene—the age in which humans acquired planetary-scale technologies—is, after 300 years, coming to an end. A new age—the Novacene—has already begun. In the Novacene, new beings will emerge from existing artificial intel- ligence systems. They will think 10,000 times faster than we do and they will regard us as we now regard plants. But this will not be the cruel, vio- lent machine takeover of the planet imagined by science fiction. These hyperintelligent beings will be as dependent on the health of the planet as we are. They will need the planetary cooling system of Gaia to defend them from the increasing heat of the sun as much as we do. And Gaia depends on organic life. We will be partners in this project. It is crucial, Lovelock argues, that the intelligence of Earth survives and prospers. He does not think there are intelligent aliens, so we are the only beings capable of understanding the cosmos. Perhaps, he speculates, the Novacene could even be the beginning of a process that will finally lead to intelligence suffusing the entire cosmos. At the age of 100, James Lovelock has produced the most important and compelling work of his life.
---
THE ARTIST IN THE MACHINE: THE WORLD OF AI-POWERED CREATIVITY
by Arthur I. Miller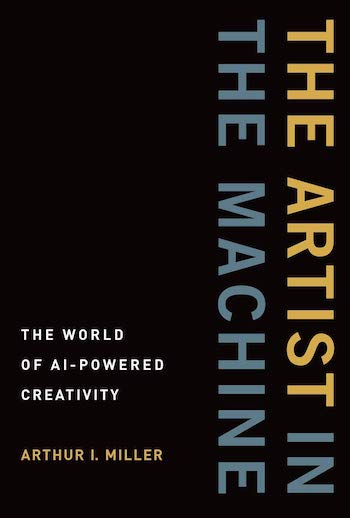 Today's computers are composing music that sounds "more Bach than Bach," turning photographs into paintings in the style of Van Gogh's Starry Night, and even writing screenplays. But are computers truly creative―or are they merely tools to be used by musicians, artists, and writers? In this book, Arthur I. Miller takes us on a tour of creativity in the age of machines. Miller, an authority on creativity, identifies the key factors essential to the creative process, from "the need for introspection" to "the ability to discover the key problem." He talks to people on the cutting edge of artificial intelligence, encountering computers that mimic the brain and machines that have defeated champions in chess, Jeopardy!, and Go. In the central part of the book, Miller explores the riches of computer-created art, introducing us to artists and computer scientists who have, among much else, unleashed an artificial neural network to create a nightmarish, multi-eyed dog-cat; taught AI to imagine; developed a robot that paints; created algorithms for poetry; and produced the world's first computer-composed musical, Beyond the Fence, staged by Android Lloyd Webber and friends.
---
OUR DEMOCRATIC FUTURE: TOWARD A POST-NEOLIBERAL SOCIETY
by Joshua Cohen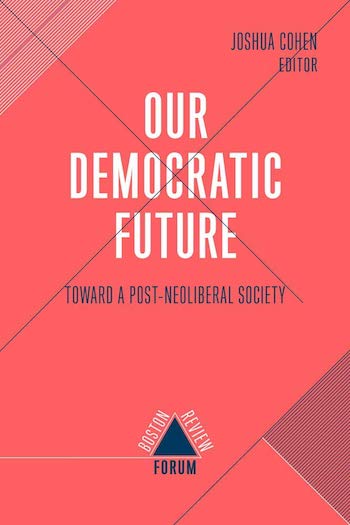 Popular books and articles warn of democracy's demise, and many are understandably skeptical about American society's future prospects. Our Democratic Future is grounded in the idea that a democratic future is possible, but that it depends on looking beyond the tyranny of market logic in our public lives and policy solutions and returning to basics. The contributors take as their starting point debates about fundamental values, principles, and democratic institutions. Who is a member of the polity? What do we owe each other? Conceived by the renowned political philosopher Joshua Cohen, this collection brings together some of our most promising public intellectuals to reimagine the fundamentals of democracy: What might it look like, over the next generation, to have a society of equals―religiously pluralistic and multiracial―whose members are assured the rudiments of a decent life, have meaningful work, cooperate on fair terms, and argue together about a common future?
---
FRANKENSTEIN IN BAGHDAD: A NOVEL
by Ahmed Saadawi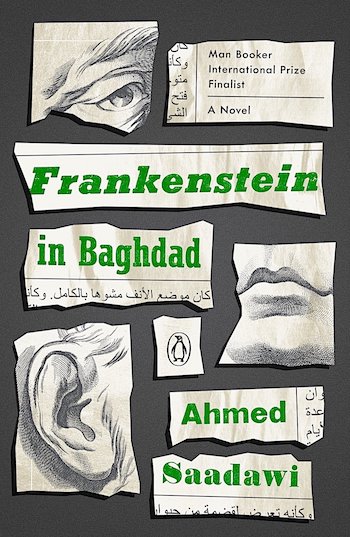 This absurdist novel is set in post-2003 occupied Baghdad, in which a sewn-together corpse is animated by the spirit of an Iraqi security guard whose own body was vaporized by a truck bomb. The corpse, "Whatsitsname" then proceeds to enact vengeance on those who are responsible for the deaths of the original owners of its (his?) various composite parts. But this wartime setting takes place in the civilian Iraqi populace that few Americans were able to experience through their body armor. The novel illustrates what will be a largely unfamiliar sociological setting to Western readers, perhaps even for those who spent multiple tours on Baghdad's streets. Think Heller meets Kafka, with a few borrowings from Shelley.
---
THE BODY: A GUIDE FOR OCCUPANTS
by Bill Bryson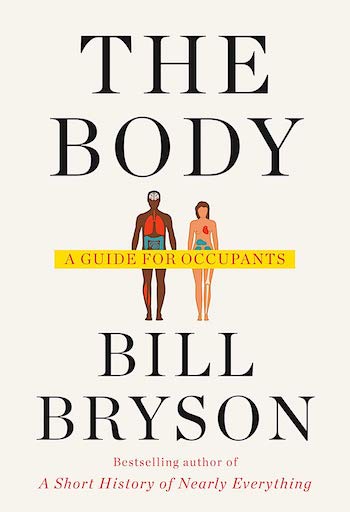 Bill Bryson once again proves himself to be an incomparable companion as he guides us through the human body—how it functions, its remarkable ability to heal itself, and (unfortunately) the ways it can fail. Full of extraordinary facts (your body made a million red blood cells since you started reading this) and irresistible Bryson-esque anecdotes, The Body will lead you to a deeper understanding of the miracle that is life in general and you in particular. As Bill Bryson writes, «We pass our existence within this wobble of flesh and yet take it almost entirely for granted.» The Body will cure that indifference with generous doses of wondrous, compulsively readable facts and information.
---
WHITE IDENTITY POLITICS
by Ashley Jardina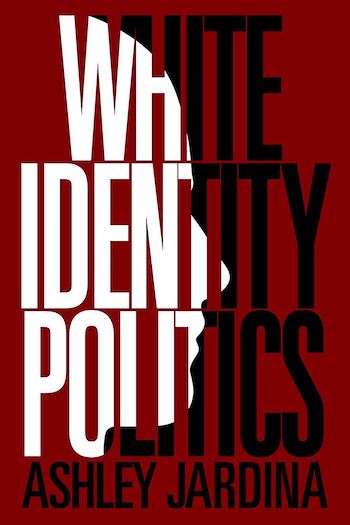 Amidst discontent over America's growing diversity, many white Americans now view the political world through the lens of a racial identity. Whiteness was once thought to be invisible because of whites' dominant position and ability to claim the mainstream, but today a large portion of whites actively identify with their racial group and support policies and candidates that they view as protecting whites' power and status. In White Identity Politics, Ashley Jardina offers a landmark analysis of emerging patterns of white identity and collective political behavior, drawing on sweeping data. Where past research on whites' racial attitudes emphasized out-group hostility, Jardina brings into focus the significance of in-group identity and favoritism. White Identity Politics shows that disaffected whites are not just found among the working class; they make up a broad proportion of the American public — with profound implications for political behavior and the future of racial conflict in America.
---
FULL SURROGACY NOW. FEMINISM AGAINST FAMILY
by Sophie Lewis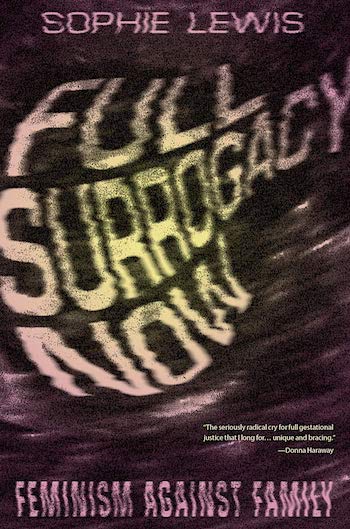 The surrogacy industry is estimated to be worth over $1 billion a year, and many of its surrogates around the world work in terrible conditions—deception, wage-stealing and money skimming are rife; adequate medical care is horrifyingly absent; and informed consent is depressingly rare. In Full Surrogacy Now, Sophie Lewis brings a fresh and unique perspective to the topic. Often, we think of surrogacy as the problem, but, Full Surrogacy Now argues, we need more surrogacy, not less! Rather than looking at surrogacy through a legal lens, Lewis argues that the needs and protection of surrogates should be put front and center. Their relationship to the babies they gestate must be rethought, as part of a move to recognize that reproduction is productive work. Only then can we begin to break down our assumptions that children "belong" to those whose genetics they share. Taking collective responsibility for children would radically transform our notions of kinship, helping us to see that it always takes a village to make a baby.
---
THE WORLD IN A GRAIN
by Vince Beiser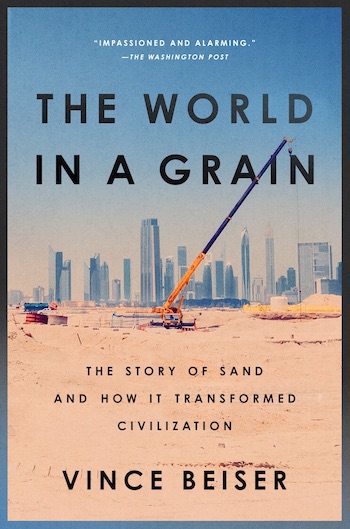 The World in a Grain is the compelling true story of the hugely important and diminishing natural resource that grows more essential every day, and of the people who mine it, sell it, build with it–and sometimes, even kill for it. It's also a provocative examination of the serious human and environmental costs incurred by our dependence on sand, which has received little public attention. Not all sand is created equal: Some of the easiest sand to get to is the least useful. Award-winning journalist Vince Beiser delves deep into this world, taking readers on a journey across the globe, from the United States to remote corners of India, China, and Dubai to explain why sand is so crucial to modern life. Along the way, readers encounter world-changing innovators, island-building entrepreneurs, desert fighters, and murderous sand pirates. The result is an entertaining and eye-opening work, one that is both unexpected and involving, rippling with fascinating detail and filled with surprising characters.
---
TALKING TO ROBOTS: TALES FROM OUR HUMAN-ROBOT FUTURES
by David Ewing Duncan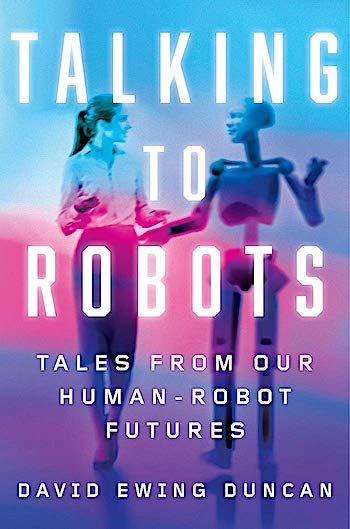 What robot and AI systems are being built and imagined right now? What do they say about us, their creators? Will they usher in a fantastic new future, or destroy us? What do some of our greatest thinkers, from physicist Brian Greene and futurist Kevin Kelly to inventor Dean Kamen, geneticist George Church, and filmmaker Tiffany Shlain, anticipate about our human-robot future? For even as robots and A.I. intrigue us and make us anxious about the future, our fascination with robots has always been about more than the potential of the technology–it's also about what robots tell us about being human.
---
DELTA-V
by Daniel Suarez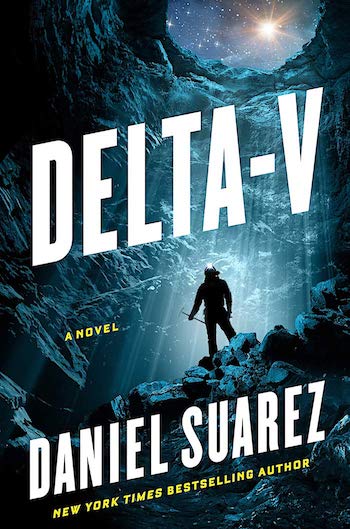 When itinerant cave diver James Tighe receives an invitation to billionaire Nathan Joyce's private island, he thinks it must be a mistake. But Tighe's unique skill set makes him a prime candidate for Joyce's high-risk venture to mine a near-earth asteroid—with the goal of kick-starting an entire off-world economy. The potential rewards and personal risks are staggering, but the competition is fierce and the stakes couldn't be higher. Isolated and pushed beyond their breaking points, Tighe and his fellow twenty-first century adventurers—ex-soldiers, former astronauts, BASE jumpers, and mountain climbers—must rely on each other to survive not only the dangers of a multi-year expedition but the harsh realities of business in space. They're determined to transform humanity from an Earth-bound species to a space-faring one—or die trying.
---
ESCAPE FROM ROME: THE FAILURE OF EMPIRE AND THE ROAD TO PROSPERITY
by Walter Scheidel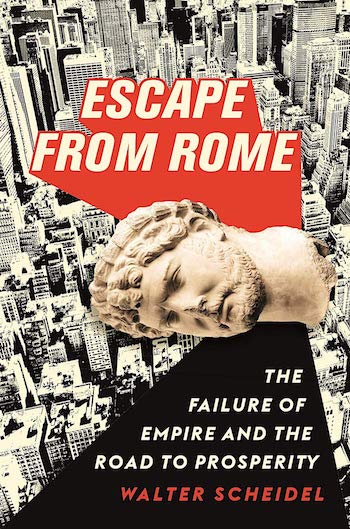 The fall of the Roman Empire has long been considered one of the greatest disasters in history. But in this groundbreaking book, Walter Scheidel argues that Rome's dramatic collapse was actually the best thing that ever happened, clearing the path for Europe's economic rise and the creation of the modern age. Ranging across the entire premodern world, Escape from Rome offers new answers to some of the biggest questions in history: Why did the Roman Empire appear? Why did nothing like it ever return to Europe? And, above all, why did Europeans come to dominate the world? In an absorbing narrative that begins with ancient Rome but stretches far beyond it, from Byzantium to China and from Genghis Khan to Napoleon, Scheidel shows how the demise of Rome and the enduring failure of empire-building on European soil ensured competitive fragmentation between and within states. This rich diversity encouraged political, economic, scientific, and technological breakthroughs that allowed Europe to surge ahead while other parts of the world lagged behind, burdened as they were by traditional empires and predatory regimes that lived by conquest. It wasn't until Europe «escaped» from Rome that it launched an economic transformation that changed the continent and ultimately the world.
---
ME THE PEOPLE: HOW POPULISM TRANSFORMS DEMOCRACY
by Nadia Urbinati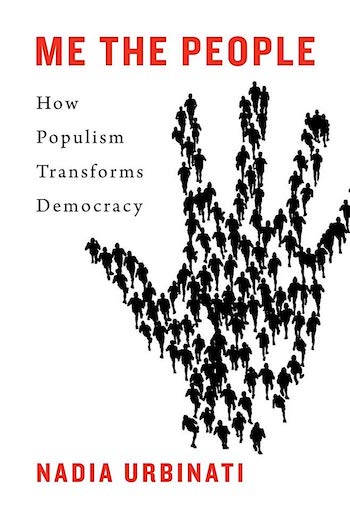 In Me the People, Nadia Urbinati argues that populism should be regarded as a new form of representative government, one based on a direct relationship between the leader and those the leader defines as the "good" or "right" people. Populist leaders claim to speak to and for the people without the need for intermediaries―in particular, political parties and independent media―whom they blame for betraying the interests of the ordinary many. Urbinati shows that, while populist governments remain importantly distinct from dictatorial or fascist regimes, their dependence on the will of the leader, along with their willingness to exclude the interests of those deemed outside the bounds of the "good" or "right" people, stretches constitutional democracy to its limits and opens a pathway to authoritarianism.
---
LOST CONNECTIONS: WHY YOU'RE DEPRESSED AND HOW TO FIND HOPE
by Johann Hari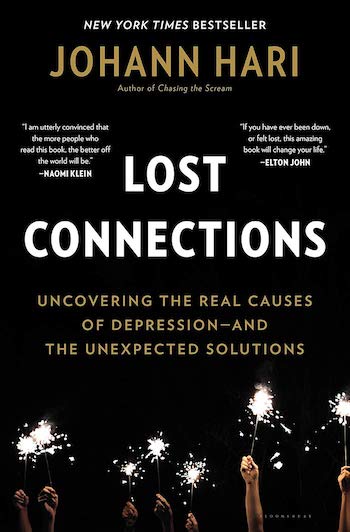 There was a mystery haunting award-winning investigative journalist Johann Hari. He was thirty-nine years old, and almost every year he had been alive, depression and anxiety had increased in Britain and across the Western world. Why? He had a very personal reason to ask this question. When he was a teenager, he had gone to his doctor and explained that he felt like pain was leaking out of him, and he couldn't control it or understand it. Some of the solutions his doctor offered had given him some relief―but he remained in deep pain. So, as an adult, he went on a forty-thousand-mile journey across the world to interview the leading experts about what causes depression and anxiety, and what solves them. He learned there is scientific evidence for nine different causes of depression and anxiety―and that this knowledge leads to a very different set of solutions: ones that offer real hope.
---
A CULTURE OF FACT: ENGLAND, 1550–1720
by Barbara J. Shapiro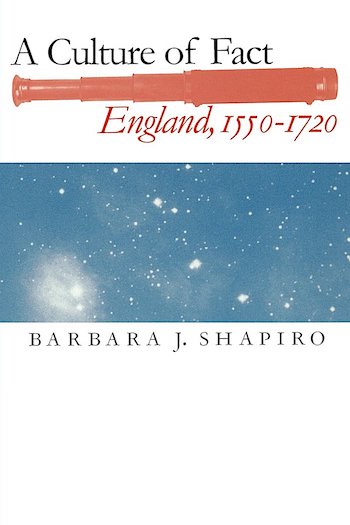 Barbara J. Shapiro traces the surprising genesis of the «fact,» a modern concept that, she convincingly demonstrates, originated not in natural science but in legal discourse. She follows the concept's evolution and diffusion across a variety of disciplines in early modern England, examining how the emerging «culture of fact» shaped the epistemological assumptions of each intellectual enterprise.Drawing on an astonishing breadth of research, Shapiro probes the fact's changing identity from an alleged human action to a proven natural or human happening. The crucial first step in this transition occurred in the sixteenth century when English common law established a definition of fact which relied on eyewitnesses and testimony. The concept widened to cover natural as well as human events as a result of developments in news reportage and travel writing. Only then, Shapiro discovers, did scientific philosophy adopt the category «fact.» With Francis Bacon advocating more stringent criteria, the witness became a vital component in scientific observation and experimentation. Shapiro also recounts how England's preoccupation with the fact influenced historiography, religion, and literature―which saw the creation of a fact-oriented fictional genre, the novel.
---
AMERICAN HIGHER EDUCATION SINCE WORLD WAR II: A HISTORY
by Roger Geiger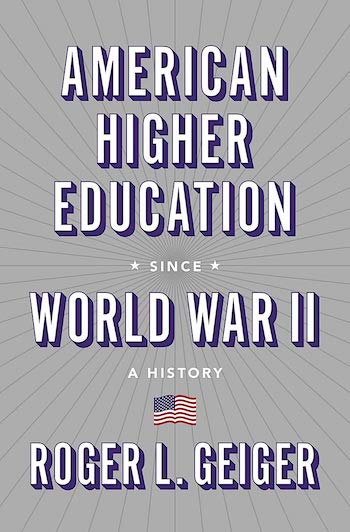 American higher education is nearly four centuries old. But in the decades after World War II, as government and social support surged and enrollments exploded, the role of colleges and universities in American society changed dramatically. Roger Geiger provides the most complete and in-depth history of this remarkable transformation, taking readers from the GI Bill and the postwar expansion of higher education to the social upheaval of the 1960s and 1970s, desegregation and coeducation, and the challenges confronting American colleges today. Shedding critical light on the tensions and triumphs of an era of rapid change, Geiger shows how American universities emerged after the war as the world's most successful system for the advancement of knowledge, how the pioneering of mass higher education led to the goal of higher education for all, and how the "selectivity sweepstakes" for admission to the most elite schools has resulted in increased stratification today. He identifies 1980 as a turning point when the link between research and economic development stimulated a revival in academic research―and the ascendancy of the modern research university―that continues to the present.
---
BOTTLE OF LIES: THE INSIDE STORY OF THE GENERIC DRUG BOOM
by Katherine Eban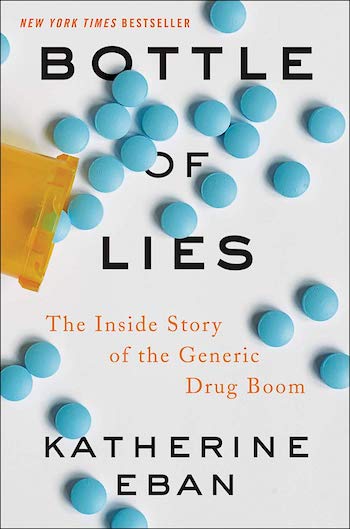 Many have hailed the widespread use of generic drugs as one of the most important public-health developments of the twenty-first century. Today, almost 90 percent of our pharmaceutical market is comprised of generics, the majority of which are manufactured overseas. We have been reassured by our doctors, our pharmacists and our regulators that generic drugs are identical to their brand-name counterparts, just less expensive. But is this really true? Katherine Eban's Bottle of Lies exposes the deceit behind generic-drug manufacturing—and the attendant risks for global health. Drawing on exclusive accounts from whistleblowers and regulators, as well as thousands of pages of confidential FDA documents, Eban reveals an industry where fraud is rampant, companies routinely falsify data, and executives circumvent almost every principle of safe manufacturing to minimize cost and maximize profit, confident in their ability to fool inspectors. Meanwhile, patients unwittingly consume medicine with unpredictable and dangerous effects.
---
AUTOMATION AND UTOPIA: HUMAN FLOURISHING IN A WORLD WITHOUT WORK
by John Danaher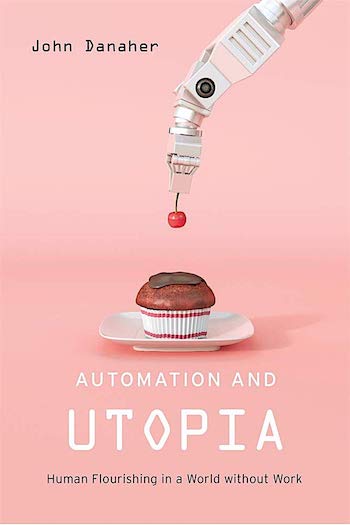 Human obsolescence is imminent. The factories of the future will be dark, staffed by armies of tireless robots. The hospitals of the future will have fewer doctors, depending instead on cloud-based AI to diagnose patients and recommend treatments. The homes of the future will anticipate our wants and needs and provide all the entertainment, food, and distraction we could ever desire. To many, this is a depressing prognosis, an image of civilization replaced by its machines. But what if an automated future is something to be welcomed rather than feared? Work is a source of misery and oppression for most people, so shouldn't we do what we can to hasten its demise? Automation and Utopia makes the case for a world in which, free from need or want, we can spend our time inventing and playing games and exploring virtual realities that are more deeply engaging and absorbing than any we have experienced before, allowing us to achieve idealized forms of human flourishing.
---
BECAUSE INTERNET: UNDERSTANDING THE NEW RULES OF LANGUAGE
by Gretchen McCulloch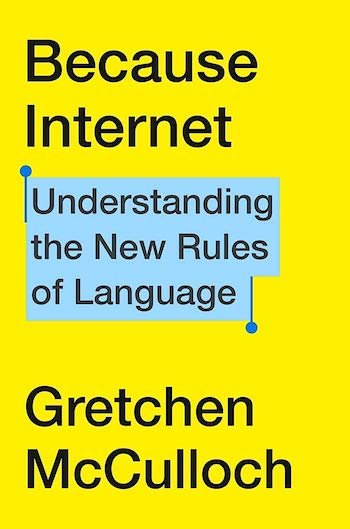 Language is humanity's most spectacular open-source project, and the internet is making our language change faster and in more interesting ways than ever before. Internet conversations are structured by the shape of our apps and platforms, from the grammar of status updates to the protocols of comments and @replies. Linguistically inventive online communities spread new slang and jargon with dizzying speed. What's more, social media is a vast laboratory of unedited, unfiltered words where we can watch language evolve in real time. Even the most absurd-looking slang has genuine patterns behind it. Internet linguist Gretchen McCulloch explores the deep forces that shape human language and influence the way we communicate with one another. She explains how your first social internet experience influences whether you prefer «LOL» or «lol,» why ~sparkly tildes~ succeeded where centuries of proposals for irony punctuation had failed, what emoji have in common with physical gestures, and how the artfully disarrayed language of animal memes like lolcats and doggo made them more likely to spread.
---
ORIGINS: HOW EARTH'S HISTORY SHAPED HUMAN HISTORY
by Lewis Dartnell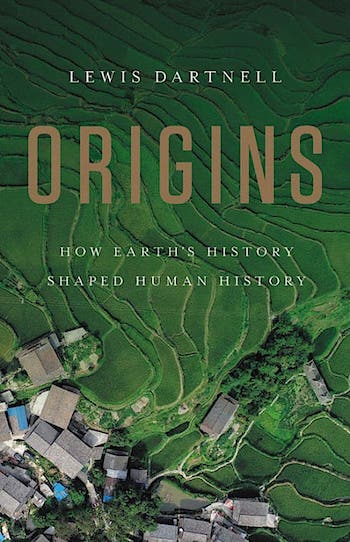 When we talk about human history, we often focus on great leaders, population forces, and decisive wars. But how has the earth itself determined our destiny? Our planet wobbles, driving changes in climate that forced the transition from nomadism to farming. Mountainous terrain led to the development of democracy in Greece. Atmospheric circulation patterns later on shaped the progression of global exploration, colonization, and trade. Even today, voting behavior in the south-east United States ultimately follows the underlying pattern of 75 million-year-old sediments from an ancient sea. Everywhere is the deep imprint of the planetary on the human. From the cultivation of the first crops to the founding of modern states, Origins reveals the breathtaking impact of the earth beneath our feet on the shape of our human civilizations.
---
AMERICAN COSMIC: UFOS, RELIGION, TECHNOLOGY
by D.W. Pasulka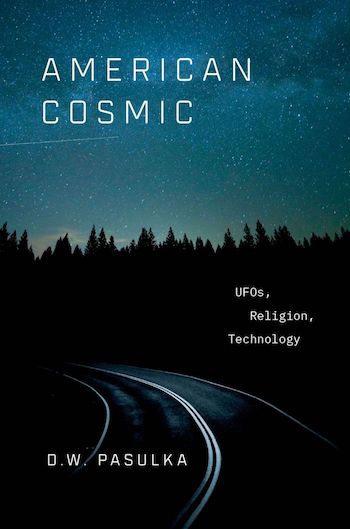 More than half of American adults and more than seventy-five percent of young Americans believe in intelligent extraterrestrial life. This level of belief rivals that of belief in God. American Cosmic examines the mechanisms at work behind the thriving belief system in extraterrestrial life, a system that is changing and even supplanting traditional religions. Over the course of a six-year ethnographic study, D.W. Pasulka interviewed successful and influential scientists, professionals, and Silicon Valley entrepreneurs who believe in extraterrestrial intelligence, thereby disproving the common misconception that only fringe members of society believe in UFOs. She argues that widespread belief in aliens is due to a number of factors including their ubiquity in modern media like The X-Files, which can influence memory, and the believability lent to that media by the search for planets that might support life. American Cosmic explores the intriguing question of how people interpret unexplainable experiences, and argues that the media is replacing religion as a cultural authority that offers believers answers about non-human intelligent life.
---
THE FIFTH DOMAIN: DEFENDING OUR COUNTRY, OUR COMPANIES, AND OURSELVES IN THE AGE OF CYBER THREATS
by Richard A. Clarke, Robert K. Knake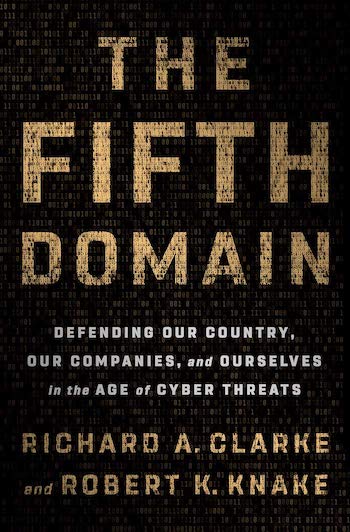 There is much to fear in the dark corners of cyberspace. From well-covered stories like the Stuxnet attack which helped slow Iran's nuclear program, to lesser-known tales like EternalBlue, the 2017 cyber battle that closed hospitals in Britain and froze shipping crates in Germany in midair, we have entered an age in which online threats carry real-world consequences. But we do not have to let autocrats and criminals run amok in the digital realm. We now know a great deal about how to make cyberspace far less dangerous—and about how to defend our security, economy, democracy, and privacy from cyber attack. This is a book about the realm in which nobody should ever want to fight a war: the fifth domain, the Pentagon's term for cyberspace. Our guides are two of America's top cybersecurity experts, seasoned practitioners who are as familiar with the White House Situation Room as they are with Fortune 500 boardrooms. Richard A. Clarke and Robert K. Knake offer a vivid, engrossing tour of the often unfamiliar terrain of cyberspace, introducing us to the scientists, executives, and public servants who have learned through hard experience how government agencies and private firms can fend off cyber threats.
---
DESTINED FOR THE STARS: FAITH, THE FUTURE, AND AMERICA'S FINAL FRONTIER
by Catherine L. Newell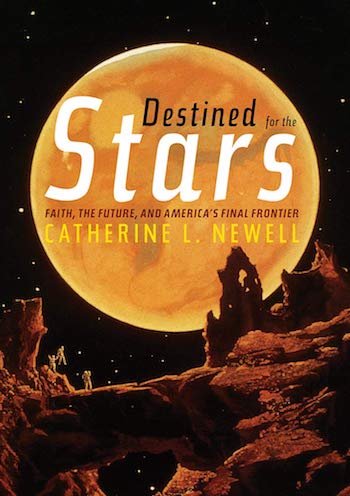 Where did humanity get the idea that outer space is a frontier waiting to be explored? Destined for the Stars unravels the popularization of the science of space exploration in America between 1944 and 1955, arguing that the success of the US space program was due not to technological or economic superiority, but was sustained by a culture that had long believed it was called by God to settle new frontiers and prepare for the inevitable end of time and God's final judgment. Religious forces, Newell finds, were in no small way responsible for the crescendo of support for and interest in space exploration in the early 1950s, well before Project Mercury—the United States' first human spaceflight program—began in 1959. In this remarkable history, Newell explores the connection between the art of Chesley Bonestell—the father of modern space art whose paintings drew inspiration from depictions of the American West—and the popularity of that art in Cold War America; Bonestell's working partnership with science writer and rocket expert Willy Ley; and Ley and Bonestell's relationship with Wernher von Braun, father of both the V-2 missile and the Saturn V rocket, whose millennial conviction that God wanted humankind to leave Earth and explore other planets animated his life's work. Together, they inspired a technological and scientific faith that awoke a deep-seated belief in a sense of divine destiny to reach the heavens. The origins of their quest, Newell concludes, had less to do with the Cold War strife commonly associated with the space race and everything to do with the religious culture that contributed to the invention of space as the final frontier.
---
THE HISTORY OF THE LASER
by Mario Bertolotti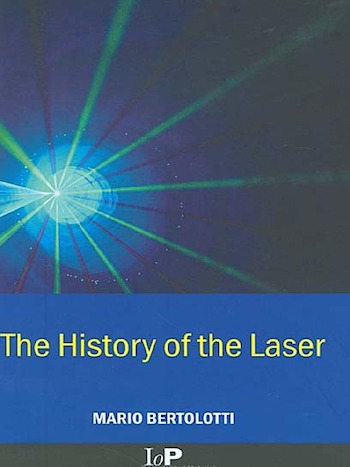 Since the invention of the first working laser in 1960, development of these devices has progressed at an unprecedented rate, to the extent that the laser is now a common part of everyday life, from the semiconductor laser used in CD players and telecommunication systems to the high power eximer lasers used in manufacturing processes. This book traces the history of the laser, from the first theoretical predictions of stimulated emission made in the 1920s, through the experimental development of masers and lasers in the 50s and 60s, to the advanced applications of lasers in the present day. Along the way it tells the fascinating and at times controversial story of the people behind the discoveries. Written in a style suitable for the general public, it will be of interest to those working within the laser community, and to anyone with an interest in the history of science.
---
CHINESE SPIES: FROM CHAIRMAN MAO TO XI JINPING
by Roger Faligot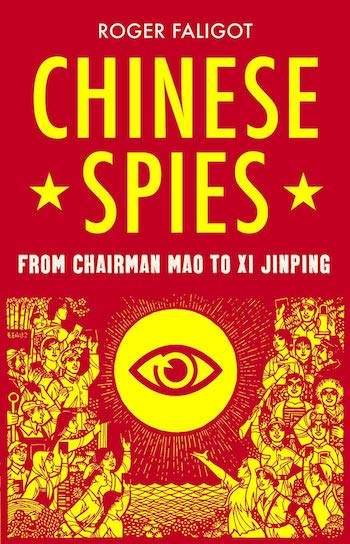 In 1920s Shanghai, Zhou Enlai founded the first Chinese communist spy network, operating in the shadows against nationalists, Western powers and the Japanese. The story of Chinese spies has been a global one from the start. Unearthing previously unseen papers and interviewing countless insiders, Roger Faligot's astonishing account reveals nothing less than a century of world events shaped by Chinese spies. Working as scientists, journalists, diplomats, foreign students and businessmen, they've been everywhere, from Stalin's purges to 9/11. This murky world has swept up Ho Chi Minh, the Clintons and everyone in between, with the action moving from Cambodia to Cambridge, and from the Australian outback to the centres of Western power.
This fascinating narrative exposes the sprawling tentacles of the world's largest intelligence service, from the very birth of communist China to Xi Jinping's absolute rule today.
---
THE MOSQUITO: A HUMAN HISTORY OF OUR DEADLIEST PREDATOR
by Timothy C. Winegard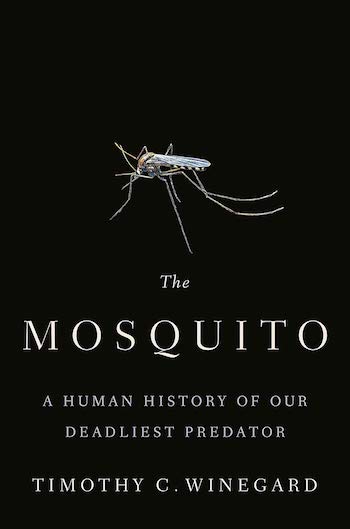 Why was gin and tonic the cocktail of choice for British colonists in India and Africa? What does Starbucks have to thank for its global domination? What has protected the lives of popes for millennia? Why did Scotland surrender its sovereignty to England? What was George Washington's secret weapon during the American Revolution? The answer to all these questions, and many more, is the mosquito.Across our planet since the dawn of humankind, this nefarious pest, roughly the size and weight of a grape seed, has been at the frontlines of history as the grim reaper, the harvester of human populations, and the ultimate agent of historical change. As the mosquito transformed the landscapes of civilization, humans were unwittingly required to respond to its piercing impact and universal projection of power. The mosquito has determined the fates of empires and nations, razed and crippled economies, and decided the outcome of pivotal wars, killing nearly half of humanity along the way. She (only females bite) has dispatched an estimated 52 billion people from a total of 108 billion throughout our relatively brief existence. As the greatest purveyor of extermination we have ever known, she has played a greater role in shaping our human story than any other living thing with which we share our global village.
---
BEATEN DOWN, WORKED UP: THE PAST, PRESENT, AND FUTURE OF AMERICAN LABOR
by Steven Greenhouse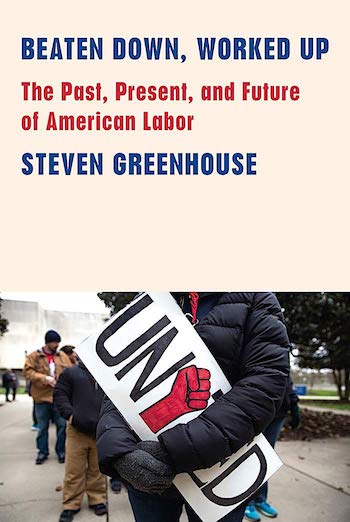 Steven Greenhouse sees this decline reflected in some of the most pressing problems facing our nation today, including income inequality, declining social mobility, the gender pay gap, and the concentration of political power in the hands of the wealthy. He rebuts the often-stated view that labor unions are outmoded—or even harmful—by recounting some of labor's victories, and the efforts of several of today's most innovative and successful worker groups. He shows us the modern labor landscape through the stories of dozens of American workers, from G.M. workers to Uber drivers, and we see how unions historically have empowered—and lifted—the most marginalized, including young women garment workers in New York in 1909, black sanitation workers in Memphis in 1968, and hotel housekeepers today. Greenhouse proposes concrete, feasible ways in which workers' collective power can be—and is being—rekindled and reimagined in the twenty-first century.
---
BUBBLES AND CRASHES: THE BOOM AND BUST OF TECHNOLOGICAL INNOVATION
by Brent Goldfarb, David A. Kirsch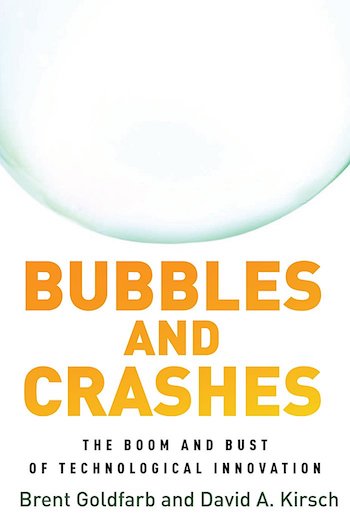 Financial market bubbles are recurring, often painful, reminders of the costs and benefits of capitalism. While many books have studied financial manias and crises, most fail to compare times of turmoil with times of stability. In Bubbles and Crashes, Brent Goldfarb and David A. Kirsch give us new insights into the causes of speculative booms and busts. They identify a class of assets—major technological innovations—that can, but does not necessarily, produce bubbles. This methodological twist is essential: Only by comparing similar events that sometimes lead to booms and busts can we ascertain the root causes of bubbles. Using a sample of eighty-eight technologies spanning 150 years, Goldfarb and Kirsch find that four factors play a key role in these episodes: the degree of uncertainty surrounding a particular innovation, the attentive presence of novice investors, the opportunity to directly invest in companies that specialize in the technology, and whether or not a technology is a good protagonist in a narrative. Goldfarb and Kirsch consider the implications of their analysis for technology bubbles that may be in the works today, offer tools for investors to identify whether a bubble is happening, and propose policy measures that may mitigate the risks associated with future speculative episodes.
---
THE DREAM MACHINE
by M. Mitchell Waldrop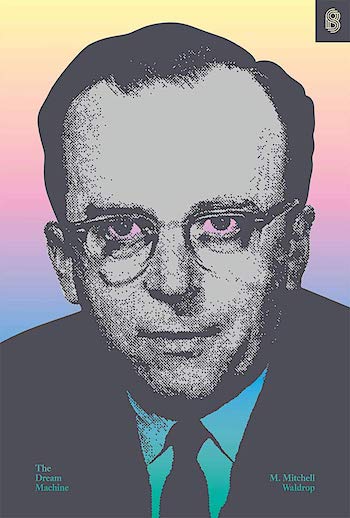 Behind every great revolution is a vision and behind perhaps the greatest revolution of our time, personal computing, is the vision of J.C.R. Licklider. He did not design the first personal computers or write the software that ran on them, nor was he involved in the legendary early companies that brought them to the forefront of our everyday experience. He was instead a relentless visionary that saw the potential of the way individuals could interact with computers and software. In a simultaneously compelling personal narrative and comprehensive historical exposition, Waldrop tells the story of the man who not only instigated the work that led to the internet, but also shifted our understanding of what computers were and could be. Included in this edition are also the original texts of Licklider's three most influential writings: 'Man-computer symbiosis' (1960), which outlines the vision that inspired the personal computer revolution of the 1970s; his 'Intergalactic Network' memo (1963), which outlines the vision that inspired the internet; and «The computer as a communication device» (1968, co-authored with Robert Taylor), which amplifies his vision for what the network could become.
---
MORE FROM LESS: THE SURPRISING STORY OF HOW WE LEARNED TO PROSPER USING FEWER RESOURCES―AND WHAT HAPPENS NEXT
by Andrew McAfee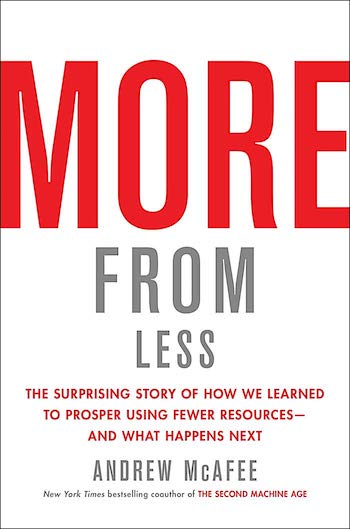 From the coauthor of the New York Times bestseller The Second Machine Age, a compelling argument — masterfully researched and brilliantly articulated —that we have at last learned how to increase human prosperity while treading more lightly on our planet. Throughout history, the only way for humanity to grow was by degrading the Earth: chopping down forests, fouling the air and water, and endlessly digging out resources. Since the first Earth Day in 1970, the reigning argument has been that taking better care of the planet means radically changing course: reducing our consumption, tightening our belts, learning to share and reuse, restraining growth. Is that argument correct? Absolutely not. In More from Less, McAfee argues that to solve our ecological problems we don't need to make radical changes. Instead, we need to do more of what we're already doing: growing technologically sophisticated market-based economies around the world.
---
LIFE UNDERCOVER: COMING OF AGE IN THE CIA
by Amaryllis Fox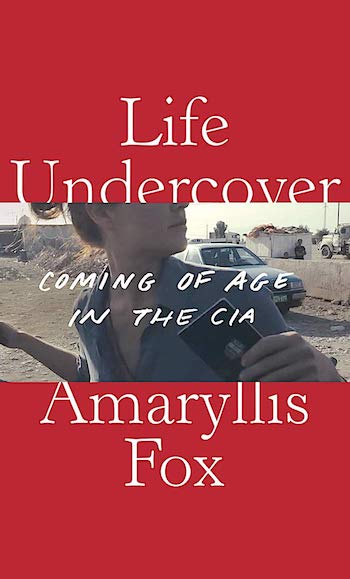 Amaryllis Fox was in her last year as an undergraduate at Oxford studying theology and international law when her writing mentor Daniel Pearl was captured and beheaded. Galvanized by this brutality, Fox applied to a master's program in conflict and terrorism at Georgetown's School of Foreign Service, where she created an algorithm that predicted, with uncanny certainty, the likelihood of a terrorist cell arising in any village around the world. At twenty-one, she was recruited by the CIA. Her first assignment was reading and analyzing hundreds of classified cables a day from foreign governments and synthesizing them into daily briefs for the president. Her next assignment was at the Iraq desk in the Counterterrorism center. At twenty-two, she was fast-tracked into advanced operations training, sent from Langley to «the Farm,» where she lived for six months in a simulated world learning how to use a Glock, how to get out of flexicuffs while locked in the trunk of a car, how to withstand torture, and the best ways to commit suicide in case of captivity. At the end of this training she was deployed as a spy under non-official cover—the most difficult and coveted job in the field as an art dealer specializing in tribal and indigenous art and sent to infiltrate terrorist networks in remote areas of the Middle East and Asia. Life Undercover is exhilarating, intimate, fiercely intelligent—an impossible to put down record of an extraordinary life, and of Amaryllis Fox's astonishing courage and passion.
---
A CULTURE OF GROWTH: THE ORIGINS OF THE MODERN ECONOMY
by Joel Mokyr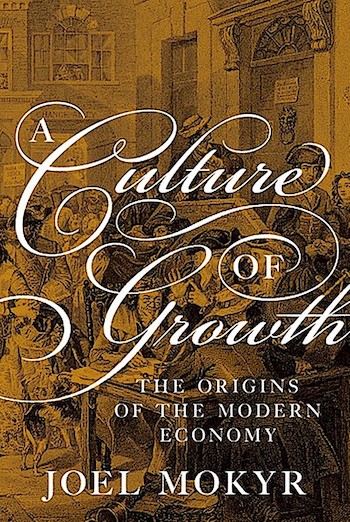 During the late eighteenth century, innovations in Europe triggered the Industrial Revolution and the sustained economic progress that spread across the globe. While much has been made of the details of the Industrial Revolution, what remains a mystery is why it took place at all. Why did this revolution begin in the West and not elsewhere, and why did it continue, leading to today's unprecedented prosperity? In this groundbreaking book, celebrated economic historian Joel Mokyr argues that a culture of growth specific to early modern Europe and the European Enlightenment laid the foundations for the scientific advances and pioneering inventions that would instigate explosive technological and economic development. Bringing together economics, the history of science and technology, and models of cultural evolution, Mokyr demonstrates that culture—the beliefs, values, and preferences in society that are capable of changing behavior—was a deciding factor in societal transformations. Mokyr looks at the period 1500–1700 to show that a politically fragmented Europe fostered a competitive «market for ideas» and a willingness to investigate the secrets of nature.
---
THE RIDE OF A LIFETIME: LESSONS LEARNED FROM 15 YEARS AS CEO OF THE WALT DISNEY COMPANY
by Robert Iger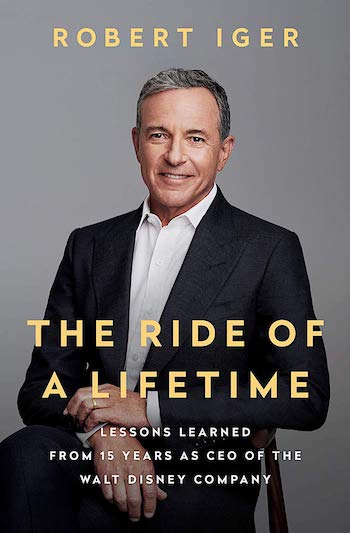 Robert Iger became CEO of The Walt Disney Company in 2005, during a difficult time. Competition was more intense than ever and technology was changing faster than at any time in the company's history. His vision came down to three clear ideas: Recommit to the concept that quality matters, embrace technology instead of fighting it, and think bigger—think global—and turn Disney into a stronger brand in international markets. Twelve years later, Disney is the largest, most respected media company in the world, counting Pixar, Marvel, Lucasfilm, and 21st Century Fox among its properties. Its value is nearly five times what it was when Iger took over, and he is recognized as one of the most innovative and successful CEOs of our era.
---
ACTIVE DEFENSE: CHINA'S MILITARY STRATEGY SINCE 1949
by M. Taylor Fravel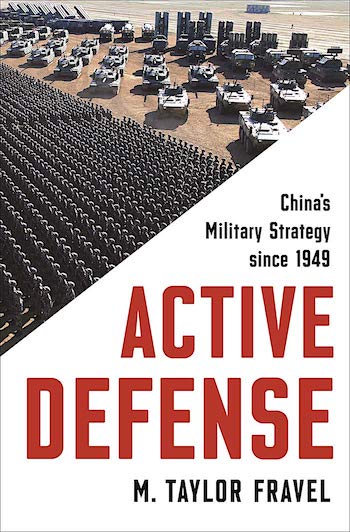 Since the 1949 Communist Revolution, China has devised nine different military strategies, which the People's Liberation Army (PLA) calls "strategic guidelines." What accounts for these numerous changes? Active Defense offers the first systematic look at China's military strategy from the mid-twentieth century to today. Exploring the range and intensity of threats that China has faced, M. Taylor Fravel illuminates the nation's past and present military goals and how China sought to achieve them, and offers a rich set of cases for deepening the study of change in military organizations. Drawing from diverse Chinese-language sources, including memoirs of leading generals, military histories, and document collections that have become available only in the last two decades, Fravel shows why transformations in military strategy were pursued at certain times and not others. He focuses on the military strategies adopted in 1956, 1980, and 1993―when the PLA was attempting to wage war in a new kind of way―to show that China has pursued major change in its strategic guidelines when there has been a significant shift in the conduct of warfare in the international system and when China's Communist Party has been united. Delving into the security threats China has faced over the last seven decades, Active Defenseoffers a detailed investigation into how and why states alter their defense policies.
---
THEOTERRORISM V. FREEDOM OF SPEECH: FROM INCIDENT TO PRECEDENT
by Paul Cliteur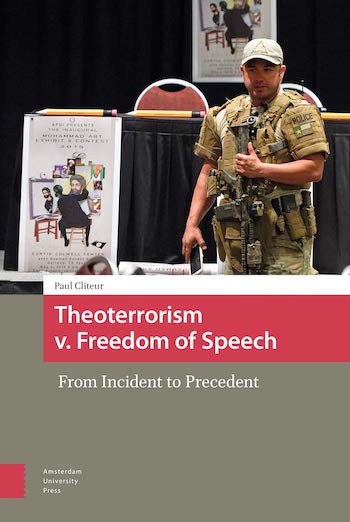 The Rushdie Affair, the Danish Cartoon Affair, the assault on Charlie Hebdo, and the earlier Carrell Affair, are examples of religious fanatics' extreme reactions to religious satire and criticism. Perpetrators of these actions consider themselves as true believers. This book aims to understand their motives by means of the concept of theoterrorism: terrorism grounded in religious zealotry.
---
HOW TO HAVE IMPOSSIBLE CONVERSATIONS: A VERY PRACTICAL GUIDE
by Peter Boghossian and James Lindsay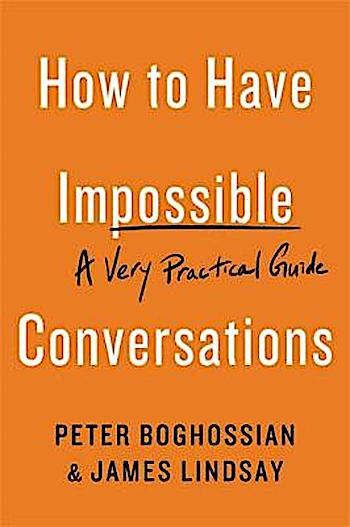 In How to Have Impossible Conversations, Peter Boghossian and James Lindsay guide you through the straightforward, practical, conversational techniques necessary for every successful conversation — whether the issue is climate change, religious faith, gender identity, race, poverty, immigration, or gun control. Boghossian and Lindsay teach the subtle art of instilling doubts and opening minds. They cover everything from learning the fundamentals for good conversations to achieving expert-level techniques to deal with hardliners and extremists. This book is the manual everyone needs to foster a climate of civility, connection, and empathy.
---
FRAUD IN THE LAB: THE HIGH STAKES OF SCIENTIFIC RESEARCH
by Nicolas Chevassus-au-Louis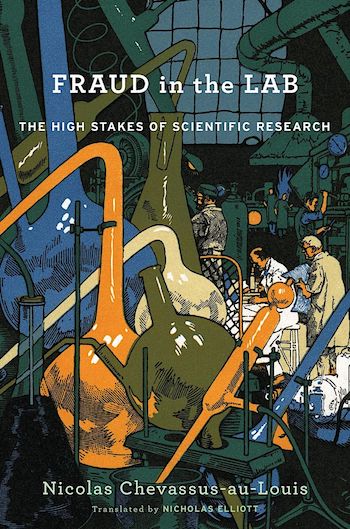 In the 1970s, a scientific scandal about painted mice hit the headlines. A cancer researcher was found to have deliberately falsified his experiments by coloring transplanted mouse skin with ink. This widely publicized case of scientific misconduct marked the beginning of an epidemic of fraud that plagues the scientific community today. From manipulated results and made-up data to retouched illustrations and plagiarism, cases of scientific fraud have skyrocketed in the past two decades, especially in the biomedical sciences. Fraud in the Lab examines cases of scientific misconduct around the world and asks why this behavior is so pervasive. Nicolas Chevassus-au-Louis points to large-scale trends that have led to an environment of heightened competition, extreme self-interest, and emphasis on short-term payoffs. Because of the move toward highly specialized research, fewer experts are qualified to verify experimental findings. And the pace of journal publishing has exacerbated the scientific rewards system―publish or perish holds sway more than ever. Even when instances of misconduct are discovered, researchers often face few consequences, and falsified data may continue to circulate after an article has been retracted. Sharp and damning, this exposé details the circumstances that have allowed scientific standards to decline. Fraud in the Lab reveals the intense social pressures that lead to fraud, documents the lasting impact it has had on the scientific community, and highlights recent initiatives and proposals to reduce the extent of misconduct in the future.
---
EMPTY PLANET: THE SHOCK OF GLOBAL POPULATION DECLINE
by Darrell Bricker, John Ibbitson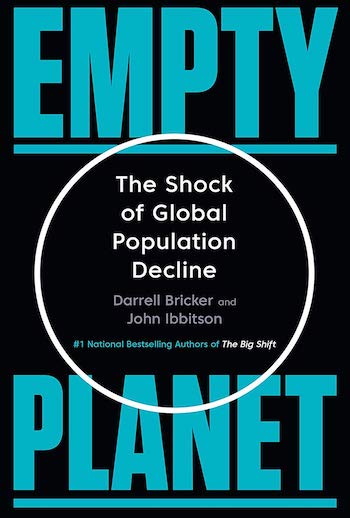 For half a century, statisticians, pundits, and politicians have warned that a burgeoning planetary population will soon overwhelm the earth's resources. But a growing number of experts are sounding a different kind of alarm. Rather than growing exponentially, they argue, the global population is headed for a steep decline. Throughout history, depopulation was the product of catastrophe: ice ages, plagues, the collapse of civilizations. This time, however, we're thinning ourselves deliberately, by choosing to have fewer babies than we need to replace ourselves. In much of the developed and developing world, that decline is already underway, as urbanization, women's empowerment, and waning religiosity lead to smaller and smaller families. In Empty Planet, Ibbitson and Bricker travel from South Florida to Sao Paulo, Seoul to Nairobi, Brussels to Delhi to Beijing, drawing on a wealth of research and firsthand reporting to illustrate the dramatic consequences of this population decline—and to show us why the rest of the developing world will soon join in. They find that a smaller global population will bring with it a number of benefits: fewer workers will command higher wages; good jobs will prompt innovation; the environment will improve; the risk of famine will wane; and falling birthrates in the developing world will bring greater affluence and autonomy for women. But enormous disruption lies ahead, too.
---
GODS AND ROBOTS: MYTHS, MACHINES, AND ANCIENT DREAMS OF TECHNOLOGY
by Adrienne Mayor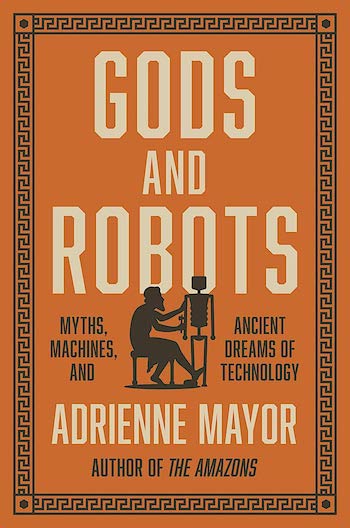 The first robot to walk the earth was a bronze giant called Talos. This wondrous machine was created not by MIT Robotics Lab, but by Hephaestus, the Greek god of invention. More than 2,500 years ago, long before medieval automata, and centuries before technology made self-moving devices possible, Greek mythology was exploring ideas about creating artificial life―and grappling with still-unresolved ethical concerns about biotechne, "life through craft." In this compelling, richly illustrated book, Adrienne Mayor tells the fascinating story of how ancient Greek, Roman, Indian, and Chinese myths envisioned artificial life, automata, self-moving devices, and human enhancements―and how these visions relate to and reflect the ancient invention of real animated machines. As early as Homer, Greeks were imagining robotic servants, animated statues, and even ancient versions of Artificial Intelligence, while in Indian legend, Buddha's precious relics were defended by robot warriors copied from Greco-Roman designs for real automata. Mythic automata appear in tales about Jason and the Argonauts, Medea, Daedalus, Prometheus, and Pandora, and many of these machines are described as being built with the same materials and methods that human artisans used to make tools and statues. And, indeed, many sophisticated animated devices were actually built in antiquity, reaching a climax with the creation of a host of automata in the ancient city of learning, Alexandria, the original Silicon Valley.
---
REBOOTING AI: BUILDING ARTIFICIAL INTELLIGENCE WE CAN TRUST
by Gary Marcus, Ernest Davis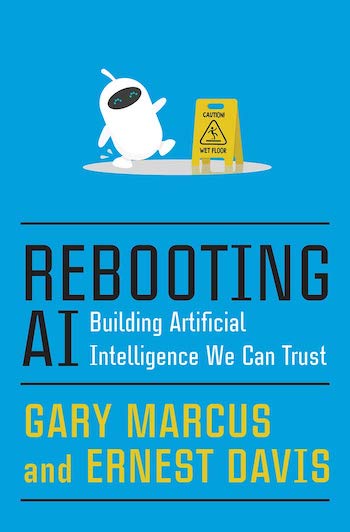 Despite the hype surrounding AI, creating an intelligence that rivals or exceeds human levels is far more complicated than we have been led to believe. Professors Gary Marcus and Ernest Davis have spent their careers at the forefront of AI research and have witnessed some of the greatest milestones in the field, but they argue that a computer beating a human in Jeopardy! does not signal that we are on the doorstep of fully autonomous cars or superintelligent machines. The achievements in the field thus far have occurred in closed systems with fixed sets of rules, and these approaches are too narrow to achieve genuine intelligence. The real world, in contrast, is wildly complex and open-ended. How can we bridge this gap? What will the consequences be when we do? Taking inspiration from the human mind, Marcus and Davis explain what we need to advance AI to the next level, and suggest that if we are wise along the way, we won't need to worry about a future of machine overlords. If we focus on endowing machines with common sense and deep understanding, rather than simply focusing on statistical analysis and gatherine ever larger collections of data, we will be able to create an AI we can trust—in our homes, our cars, and our doctors' offices. Rebooting AI provides a lucid, clear-eyed assessment of the current science and offers an inspiring vision of how a new generation of AI can make our lives better.
---
THE FINANCE CURSE
by Nicholas Shaxson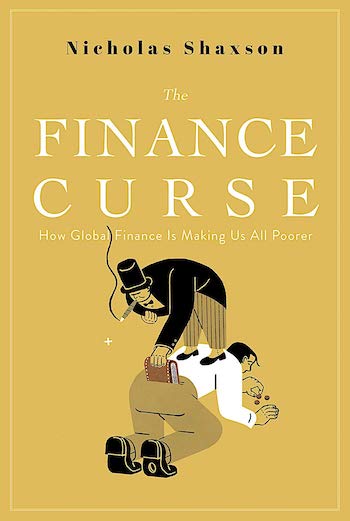 Financial journalist Nicholas Shaxson first made his reputation studying the "resource curse," seeing first-hand the disastrous economic and societal effects of the discovery of oil in Angola. He then gained prominence as an expert on tax havens, revealing the dark corners of that world long before the scandals of the Panama and Paradise Papers. Now, in The Finance Curse, revised with chapters exclusive to this American edition, he takes us on a terrifying journey through the world economy, exposing tax havens, monopolists, megabanks, private equity firms, Eurobond traders, lobbyists, and a menagerie of scoundrels quietly financializing our entire society, hurting both business and individuals. Shaxson shows we got here, telling the story of how finance re-engineered the global economic order in the last half-century, with the aim not of creating wealth but extracting it from the underlying economy. Under the twin gospels of "national competitiveness" and "shareholder value," megabanks and financialized corporations have provoked a race to the bottom between states to provide the most subsidized environment for big business, have encouraged a brain drain into finance, and have fostered instability, inequality, and turned a blind eye to the spoils of organized crime. From Ireland to Iowa, Shaxson shows the insidious effects of financialization on our politics and on communities who were promised paradise but got poverty wages instead.
---
THE ANARCHY: THE EAST INDIA COMPANY, CORPORATE VIOLENCE, AND THE PILLAGE OF AN EMPIRE
by William Dalrymple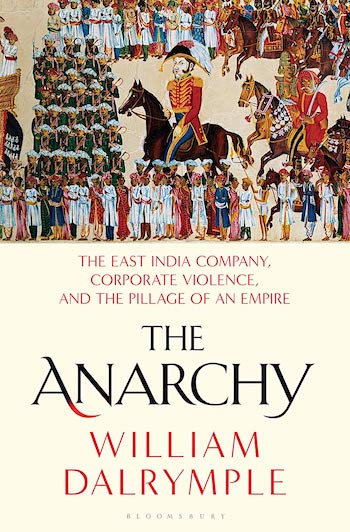 In August 1765, the East India Company defeated the young Mughal emperor and set up, in his place, a government run by English traders who collected taxes through means of a private army. The creation of this new government marked the moment that the East India Company ceased to be a conventional company and became something much more unusual: an international corporation transformed into an aggressive colonial power. Over the course of the next 47 years, the company's reach grew until almost all of India south of Delhi was effectively ruled from a boardroom in the city of London. The Anarchy tells one of history's most remarkable stories: how the Mughal Empire-which dominated world trade and manufacturing and possessed almost unlimited resources-fell apart and was replaced by a multinational corporation based thousands of miles overseas, and answerable to shareholders, most of whom had never even seen India and no idea about the country whose wealth was providing their dividends. Using previously untapped sources, Dalrymple tells the story of the East India Company as it has never been told before and provides a portrait of the devastating results from the abuse of corporate power.
---
THE WAREHOUSE: A NOVEL
by Rob Hart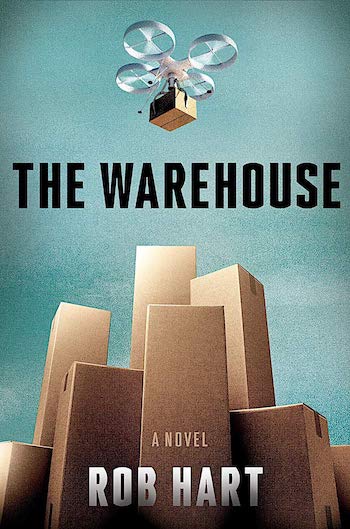 "A thrilling story of corporate espionage at the highest level . . . and a powerful cautionary tale about technology, runaway capitalism, and the nightmare world we are making for ourselves."—Blake Crouch, New York Times bestselling author of Dark Matter
"I loved The Warehouse, although and because it made my blood run cold. This is what our world could be by this time next year."—S.J. Rozan, Edgar award-winning author of Paper Son

"An inventive, addictive, Crichton-esque, page-turning, near-future dystopian thriller."—Paul Tremblay, Stoker award-winning author of A Head Full of Ghostsof Lock Every Door
---
COLD WARRIORS: WRITERS WHO WAGED THE LITERARY COLD WAR
by Duncan White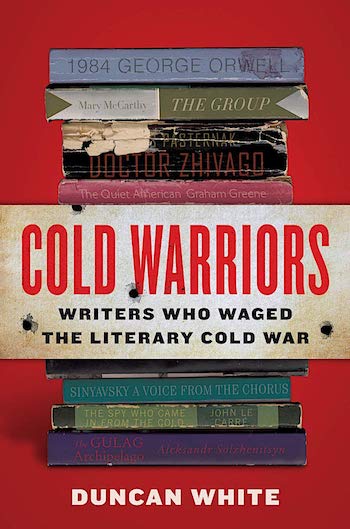 A brilliant, invigorating account of the great writers on both sides of the Iron Curtain who played the dangerous games of espionage, dissidence and subversion that changed the course of the Cold War. During the Cold War, literature was both sword and noose. Novels, essays and poems could win the hearts and minds of those caught between the competing creeds of capitalism and communism. They could also lead to exile, imprisonment or execution if they offended those in power. The clandestine intelligence services of the United States, Britain and the Soviet Union had secret agents and vast propaganda networks devoted to literary warfare. But the battles were personal, too: friends turning on each other, lovers cleaved by political fissures, artists undermined by inadvertent complicities.
---
DEMOCRACY MAY NOT EXIST, BUT WE'LL MISS IT WHEN IT'S GONE
by Astra Taylor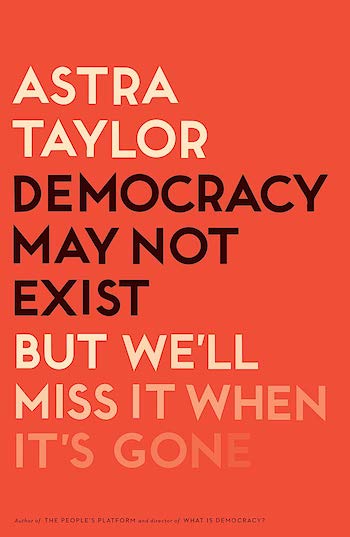 There is no shortage of democracy, at least in name, and yet it is in crisis everywhere we look. From a cabal of plutocrats in the White House to gerrymandering and dark-money compaign contributions, it is clear that the principle of government by and for the people is not living up to its promise. The problems lie deeper than any one election cycle. As Astra Taylor demonstrates, real democracy―fully inclusive and completely egalitarian―has in fact never existed. In a tone that is both philosophical and anecdotal, weaving together history, theory, the stories of individuals, and interviews with such leading thinkers as Cornel West and Wendy Brown, Taylor invites us to reexamine the term. Is democracy a means or an end, a process or a set of desired outcomes? What if those outcomes, whatever they may be―peace, prosperity, equality, liberty, an engaged citizenry―can be achieved by non-democratic means? In what areas of life should democratic principles apply? If democracy means rule by the people, what does it mean to rule and who counts as the people?
---
DO MARKETS CORRUPT OUR MORALS?
by Virgil Henry Storr (Author), Ginny Seung Choi (Contributor)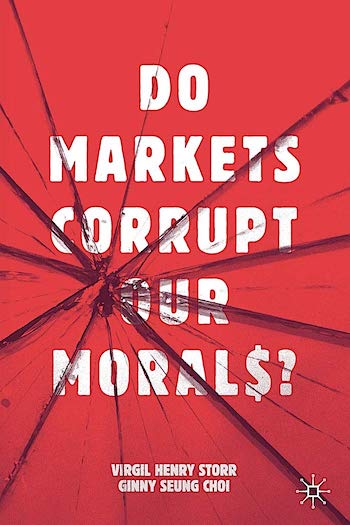 The most damning criticism of markets is that they are morally corrupting. As we increasingly engage in market activity, the more likely we are to become selfish, corrupt, rapacious and debased. Even Adam Smith, who famously celebrated markets, believed that there were moral costs associated with life in market societies. This book explores whether or not engaging in market activities is morally corrupting. Storr and Choi demonstrate that people in market societies are wealthier, healthier, happier and better connected than those in societies where markets are more restricted. More provocatively, they explain that successful markets require and produce virtuous participants. Markets serve as moral spaces that both rely on and reward their participants for being virtuous. Rather than harming individuals morally, the market is an arena where individuals are encouraged to be their best moral selves. Do Markets Corrupt Our Morals? invites us to reassess the claim that markets corrupt our morals.
---
WHY CITIES LOOK THE WAY THEY DO
by Richard J. Williams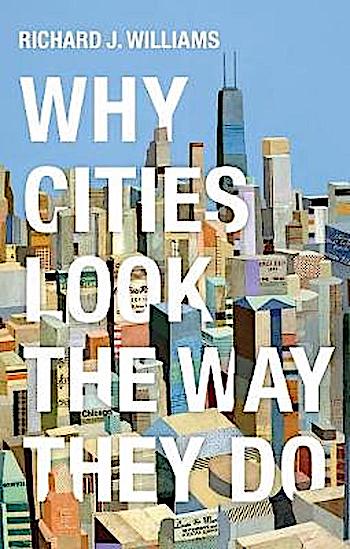 We tend to think cities look the way they do because of the conscious work of architects, planners and builders. But what if the look of cities had less to do with design, and more to do with social, cultural, financial and political processes, and the way ordinary citizens interact with them? What if the city is a process as much as a design? Richard J. Williams takes the moment construction is finished as a beginning, tracing the myriad processes that produce the look of the contemporary global city. This book is the story of dramatic but unforeseen urban sights: how financial capital spawns empty towering skyscrapers and hollowed-out ghettoes; how the zoning of once-illicit sexual practices in marginal areas of the city results in the reinvention of culturally vibrant gay villages; how abandoned factories have been repurposed as creative hubs in a precarious postindustrial economy. It is also the story of how popular urban clichés and the fictional portrayal of cities powerfully shape the way we read and see the bricks, concrete and glass that surround us.
---
ALCHEMY: THE DARK ART AND CURIOUS SCIENCE OF CREATING MAGIC IN BRANDS, BUSINESS, AND LIFE
by Rory Sutherland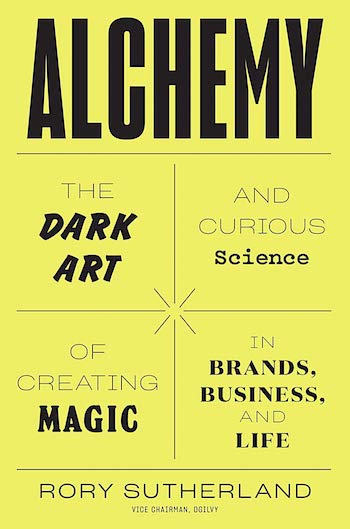 Why is Red Bull so popular, though everyone—everyone!—hates the taste? Humans are, in a word, irrational, basing decisions as much on subtle external signals (that little blue can) as on objective qualities (flavor, price, quality). The surrounding world, meanwhile, is irreducibly complex and random. This means future success can't be projected on any accounting spreadsheet. To strike gold, you must master the dark art and curious science of conjuring irresistible ideas: alchemy. Based on thirty years of field work inside the largest experiment in human behavior ever conceived—the forever-unfolding pageant of consumer capitalism—Alchemy, the revolutionary book byOgilvy advertising legend Rory Sutherland, whose TED talks have been viewed nearly seven million times, decodes human behavior, blending leading-edge scientific research, absurdly entertaining storytelling, deep psychological insight, and practical case studies from his storied career working on campaigns for AmEx, Microsoft, and others.
---
BEIRUT HELLFIRE SOCIETY: A NOVEL
by Rawi Hage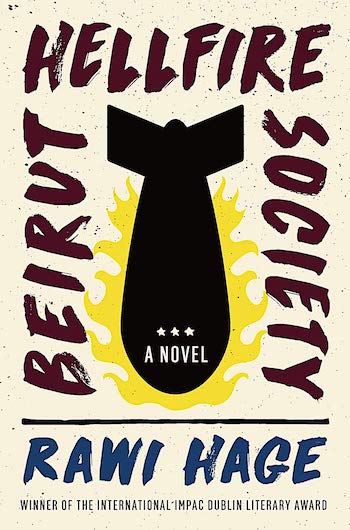 On a ravaged street overlooking a cemetery in Beirut's Christian enclave, we meet an eccentric young man named Pavlov, the son of a local undertaker. When his father meets a sudden and untimely death, Pavlov is approached by a colorful member of the mysterious Hellfire Society―an anti-religious sect that, among many rebellious and often salacious activities, arranges secret burial for outcasts who have been denied last rites because of their religion or sexuality. Pavlov agrees to take on his father's work for the society, and over the course of the novel he becomes a survivor-chronicler of his embattled and fading community at the heart of Lebanon's civil war. His new role introduces him to an unconventional cast of characters, including a father searching for his son's body, a mysterious woman who takes up residence on Pavlov's stairs after a bombing, and the flamboyant head of the Hellfire Society, El-Marquis. Deftly combining comedy with tragedy, gritty reality with surreal absurdity, Beirut Hellfire Societyasks: What, after all, can be preserved in the face of certain change and imminent death? The answer is at once propulsive, elegiac, outrageous, profane, and transcendent―and a profoundly moving fable on what it means to live through war.
---
GOOD ECONOMICS FOR HARD TIMES
by Abhijit V. Banerjee, Esther Duflo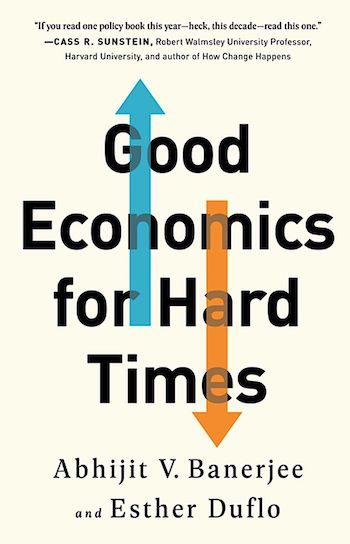 Immigration and inequality, globalization and technological disruption, slowing growth and accelerating climate change—these are sources of great anxiety across the world, from New Delhi and Dakar to Paris and Washington, DC. The resources to address these challenges are there—what we lack are ideas that will help us jump the wall of disagreement and distrust that divides us. If we succeed, history will remember our era with gratitude; if we fail, the potential losses are incalculable. In this revolutionary book, renowned MIT economists Abhijit V. Banerjee and Esther Duflo take on this challenge, building on cutting-edge research in economics explained with lucidity and grace. Original, provocative, and urgent, Good Economics for Hard Times makes a persuasive case for an intelligent interventionism and a society built on compassion and respect. It is an extraordinary achievement, one that shines a light to help us appreciate and understand our precariously balanced world.
---
SEEDS OF SCIENCE: WHY WE GOT IT SO WRONG ON GMOS
by Mark Lynas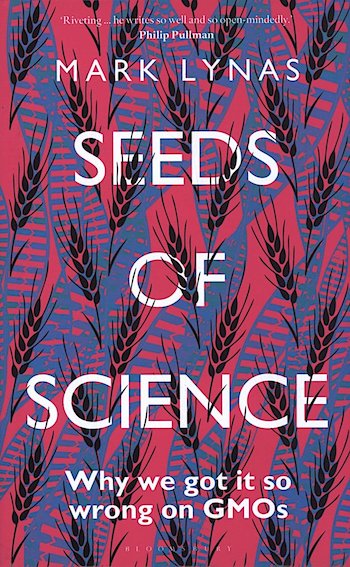 In Seeds of Science, eco-activist Mark Lynas lifts the lid on the controversial story and misunderstood science of GMOs. In the mid-1990s, as the global media stirred up a panic about the risks of genetically modified crops, Lynas destroyed crop fields and spoke out in the press…until he realized he was wrong. This book explains why. Twenty years after GMO crops became a source of controversy, scientists are working hard to devise new farming methods that will meet the world's food requirements while causing the minimum amount of ecological harm. We're now discovering that the environmentalist mainstream might have misjudged the GMO issue completely, and as a consequence we have forfeited two decades' worth of scientific progress in perhaps the most vital area of human need: food. No one is more aware of this fact than Mark Lynas. Starting out as one of the leading activists in the fight against GMOs-from destroying experimental crop fields to leading the charge in the press-in 2013 Lynas famously admitted that he got it all wrong. Lynas takes us back to the origins of the technology, and examines the histories of the people and companies who pioneered it. He explains what lead him to question his assumptions on GMOs, and how he is currently tracking poverty by using genetic modification to encourage better harvests.
---
SMOKE & MIRRORS: HOW HYPE OBSCURES THE FUTURE AND HOW TO SEE PAST IT
by Gemma Milne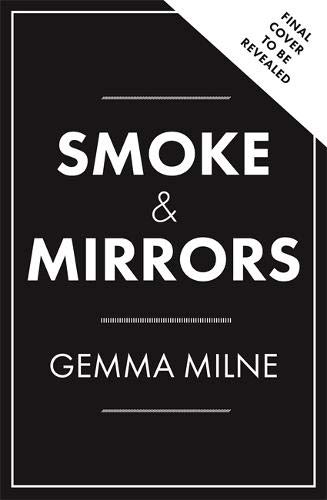 Young Scottish writer Gemma Milne argues that we need urgently to refine our vision of what is to come If we are to succeed in building the future that we actually want. She believes that we need to redefine the aims we should be pursuing based on a realistic understanding of what is actually going on in science and technology right now. We have to focus on the real innovations that we will require along the way. We need to champion critical thinking by empowering as many people as possible to be able to question what real progress is being made. We need to look beyond the blind idealism and wilful hype which blinkers us as to what is really going on and what is realistically achievable. Each chapter focuses on a different 'blinker', in effect, which stops us from seeing the bigger picture, either through fear or cognitive dissonance, whether this is all-too-effective misleading advertising or simply a desperate desire to believe in some Utopian dream. At the same time, each chapter also leads the reader through a different critical-thinking method, in order not only to reveal something of the specific topic in question, but also to provide tools for thinking past the hype in future, too.
---
THAT WILL NEVER WORK: THE BIRTH OF NETFLIX AND THE AMAZING LIFE OF AN IDEA
by Marc Randolph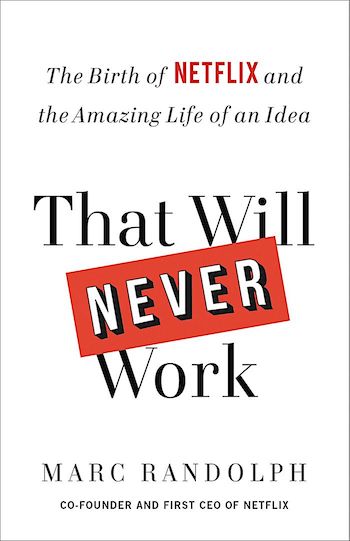 Once upon a time, brick-and-mortar video stores were king. Late fees were ubiquitous, video-streaming unheard was of, and widespread DVD adoption seemed about as imminent as flying cars. Indeed, these were the widely accepted laws of the land in 1997, when Marc Randolph had an idea. It was a simple thought-leveraging the internet to rent movies-and was just one of many more and far worse proposals, like personalized baseball bats and a shampoo delivery service, that Randolph would pitch to his business partner, Reed Hastings, on their commute to work each morning. But Hastings was intrigued, and the pair-with Hastings as the primary investor and Randolph as the CEO-founded a company. Now with over 150 million subscribers, Netflix's triumph feels inevitable, but the twenty first century's most disruptive start up began with few believers and calamity at every turn. From having to pitch his own mother on being an early investor, to the motel conference room that served as a first office, to server crashes on launch day, to the now-infamous meeting when Netflix brass pitched Blockbuster to acquire them, Marc Randolph's transformational journey exemplifies how anyone with grit, gut instincts and determination can change the world-even with an idea that many think will never work.
---
THE ENCHANTMENTS OF MAMMON: HOW CAPITALISM BECAME THE RELIGION OF MODERNITY
by Eugene McCarraher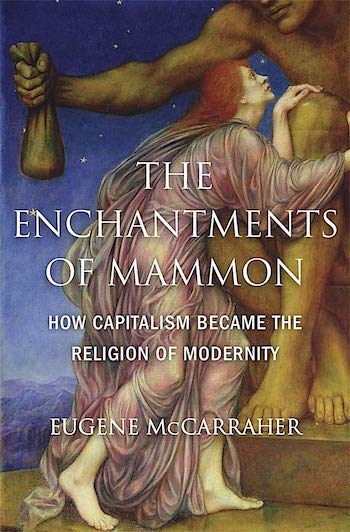 Eugene McCarraher challenges this conventional view. Capitalism, he argues, is full of sacrament, whether or not it is acknowledged. Capitalist enchantment first flowered in the fields and factories of England and was brought to America by Puritans and evangelicals whose doctrine made ample room for industry and profit. Later, the corporation was mystically animated with human personhood, to preside over the Fordist endeavor to build a heavenly city of mechanized production and communion. By the twenty-first century, capitalism has become thoroughly enchanted by the neoliberal deification of "the market." Informed by cultural history and theology as well as economics, management theory, and marketing, The Enchantments of Mammon looks not to Marx and progressivism but to nineteenth-century Romantics for salvation. The Romantic imagination favors craft, the commons, and sensitivity to natural wonder. It promotes labor that, for the sake of the person, combines reason, creativity, and mutual aid. In this impassioned challenge, McCarraher makes the case that capitalism has hijacked and redirected our intrinsic longing for divinity―and urges us to break its hold on our souls.
---
SUPER PUMPED: THE BATTLE FOR UBER
by Mike Isaac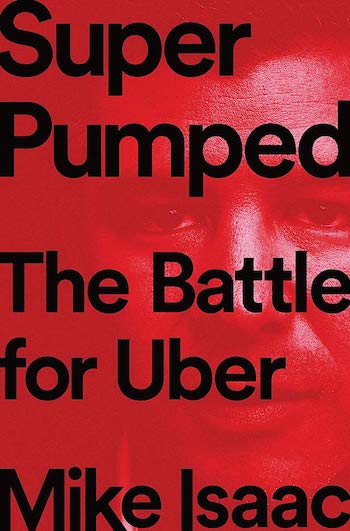 In June 2017, Travis Kalanick, the hard-charging CEO of Uber, was ousted in a boardroom coup that capped a brutal year for the transportation giant. Uber had catapulted to the top of the tech world, yet for many came to symbolize everything wrong with Silicon Valley. Award-winning New York Times technology correspondent Mike Isaac's Super Pumped presents the dramatic rise and fall of Uber, set against an era of rapid upheaval in Silicon Valley. Backed by billions in venture capital dollars and led by a brash and ambitious founder, Uber promised to revolutionize the way we move people and goods through the world. A near instant "unicorn," Uber seemed poised to take its place next to Amazon, Apple, and Google as a technology giant.
---
MAKE, THINK, IMAGINE: ENGINEERING THE FUTURE OF CIVILIZATION
by John Browne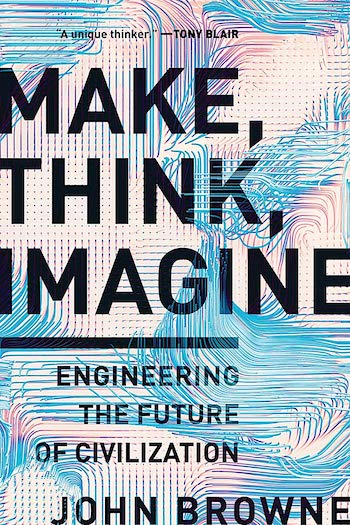 An impassioned defense of progress and innovation―and an argument for social responsibility from engineer, businessman, and former CEO of BP Lord John Browne. Today's unprecedented pace of change leaves many people wondering what new technologies are doing to our lives. Has social media robbed us of our privacy and fed us with false information? Are the decisions about our health, security and finances made by computer programs inexplicable and biased? Will these algorithms become so complex that we can no longer control them? Are robots going to take our jobs? Will better health care lead to an aging population which cannot be cared for? Can we provide housing for our ever-growing urban populations? And has our demand for energy driven the Earth's climate to the edge of catastrophe? John Browne argues that we need not and must not put the brakes on technological advance. Civilization is founded on engineering innovation; all progress stems from the human urge to make things and to shape the world around us, resulting in greater freedom, health and wealth for all. Drawing on history, his own experiences and conversations with many of today's great innovators, he uncovers the basis for all progress and its consequences, both good and bad. He argues compellingly that the same spark that triggers each innovation can be used to counter its negative consequences. Make, Think, Imagine provides an eloquent blueprint for how we can keep moving towards a brighter future.
---
NEVER ENOUGH: THE NEUROSCIENCE AND EXPERIENCE OF ADDICTION
by Judith Grisel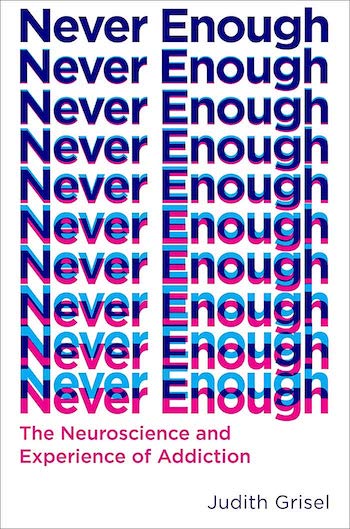 From a renowned behavioral neuroscientist and recovering addict, a rare page-turning work of science that draws on personal insights to reveal how drugs work, the dangerous hold they can take on the brain, and the surprising way to combat today's epidemic of addiction.Judith Grisel was a daily drug user and college dropout when she began to consider that her addiction might have a cure, one that she herself could perhaps discover by studying the brain. Now, after twenty-five years as a neuroscientist, she shares what she and other scientists have learned about addiction, enriched by captivating glimpses of her personal journey. In Never Enough, Grisel reveals the unfortunate bottom line of all regular drug use: there is no such thing as a free lunch. All drugs act on the brain in a way that diminishes their enjoyable effects and creates unpleasant ones with repeated use. Yet they have their appeal, and Grisel draws on anecdotes both comic and tragic from her own days of using as she limns the science behind the love of various drugs, from marijuana to alcohol, opiates to psychedelics, speed to spice.
---
THE ENTREPRENEURIAL MYTH: A MANIFESTO FOR REAL BUSINESS
by Louise Nicolson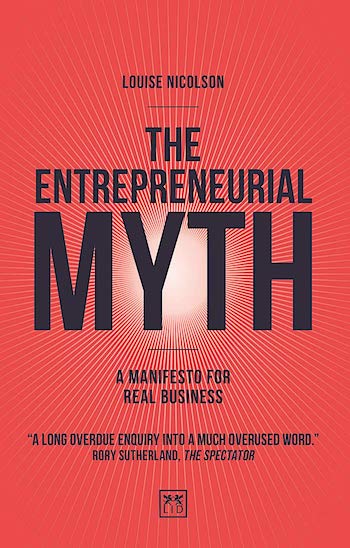 We cloak entrepreneurs in metaphor and turn business protagonists into all-powerful, infallible gurus. The collective necessity for enterprise is placed squarely on an individual's shoulders. This has a profound impact on the business creator, their business, and community, and ultimately our economy and global enterprise. The Entrepreneurial Myth challenges the pervasive influence of illusion and re-designs enterprise for the next generation. This book is a heartfelt call to business people and politicians, educators, and legislators, to connect when the entrepreneurial myth isolates, reflect when the entrepreneurial myth exhausts, and fight when the entrepreneurial myth excludes. Entrepreneurship — with all its griefs, glories, and possibilities — belongs to us all.
---
A BEGINNER'S GUIDE TO JAPAN: OBSERVATIONS AND PROVOCATIONS
by Pico Iyer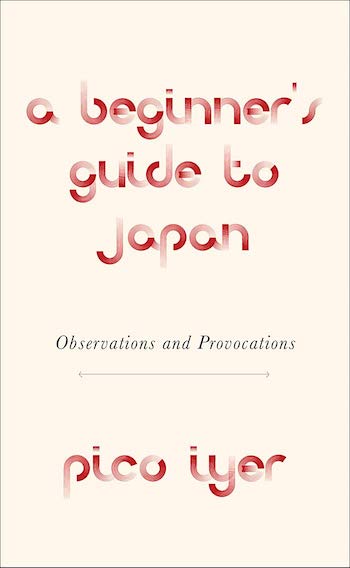 After thirty-two years in Japan, Pico Iyer can use everything from anime to Oscar Wilde to show how his adopted home is both hauntingly familiar and the strangest place on earth. «Arguably the world's greatest living travel writer» (Outside). He draws on readings, reflections, and conversations with Japanese friends to illuminate an unknown place for newcomers, and to give longtime residents a look at their home through fresh eyes. A Beginner's Guide to Japan is a playful and profound guidebook full of surprising, brief, incisive glimpses into Japanese culture. Iyer's adventures and observations as he travels from a meditation-hall to a love-hotel, from West Point to Kyoto Station, make for a constantly surprising series of provocations guaranteed to pique the interest and curiosity of those who don't know Japan, and to remind those who do of the wide range of fascinations the country and culture contain.
---
TOOLS AND WEAPONS: THE PROMISE AND THE PERIL OF THE DIGITAL AGE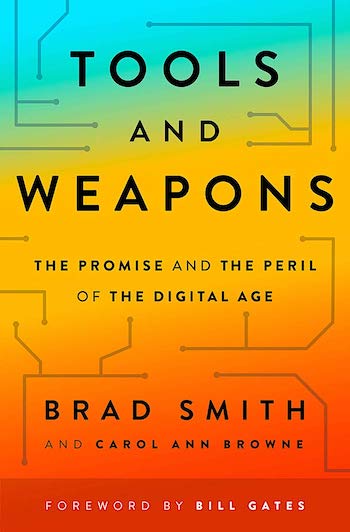 by Brad Smith
From Microsoft's president and one of the tech industry's broadest thinkers, a frank and thoughtful reckoning with how to balance enormous promise and existential risk as the digitization of everything accelerates. Microsoft President Brad Smith operates by a simple core belief: When your technology changes the world, you bear a responsibility to help address the world you have helped create. This might seem uncontroversial, but it flies in the face of a tech sector long obsessed with rapid growth and sometimes on disruption as an end in itself. While sweeping digital transformation holds great promise, we have reached an inflection point. The world has turned information technology into both a powerful tool and a formidable weapon, and new approaches are needed to manage an era defined by even more powerful inventions like artificial intelligence. Companies that create technology must accept greater responsibility for the future, and governments will need to regulate technology by moving faster and catching up with the pace of innovation.
---
PIONEERS, HIDDEN CHAMPIONS, CHANGEMAKERS, AND UNDERDOGS: LESSONS FROM CHINA'S INNOVATORS
by Mark J. Greeven, George S. Yip, Wei Wei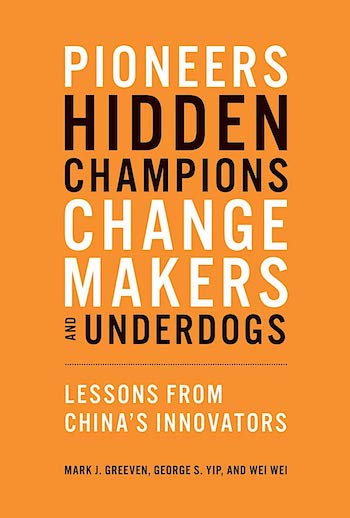 Chinese innovators are making their mark globally. Not only do such giants as Alibaba and Huawei continue to thrive and grow through innovation, thousands of younger Chinese entrepreneurs are poised to enter the global marketplace. In this book, Mark Greeven, George Yip, and Wei Wei offer an insider's view of China's under-the-radar, globally competitive innovators. The authors, all experts on Chinese innovation, distinguish four types of innovators in China: pioneers, large companies that are globally known; hidden champions, midsize enterprises that are market leaders in their niches; underdogs, technology-driven ventures with significant intellectual property; and change makers, newer firms characterized by digital disruption, exponential growth, and cross-industry innovations. They investigate what kinds of innovations these companies develop (product, process, or business model), their competitive strategies, and key drivers of innovation.
---
Galileo's Error: Foundations for a New Science of Consciousness
by Philip Goff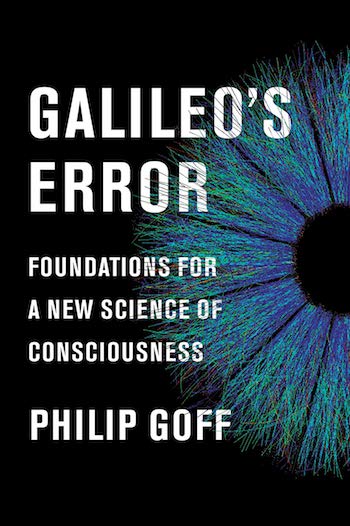 Understanding how brains produce consciousness is one of the great scientific challenges of our age. Some philosophers argue that consciousness is something «extra,» beyond the physical workings of the brain. Others think that if we persist in our standard scientific methods, our questions about consciousness will eventually be answered. And some even suggest that the mystery is so deep, it will never be solved. Decades have been spent trying to explain consciousness from within our current scientific paradigm, but little progress has been made. Now, Philip Goff offers an exciting alternative that could pave the way forward. Rooted in an analysis of the philosophical underpinnings of modern science and based on the early twentieth-century work of Arthur Eddington and Bertrand Russell, Goff makes the case for panpsychism, a theory which posits that consciousness is not confined to biological entities but is a fundamental feature of all physical matter—from subatomic particles to the human brain. In Galileo's Error, he has provided the first step on a new path to the final theory of human consciousness.
---
THE MONETARY IMAGINATION OF EDGAR ALLAN POE: BANKING, CURRENCY AND POLITICS IN THE WRITINGS
by Heinz Tschachler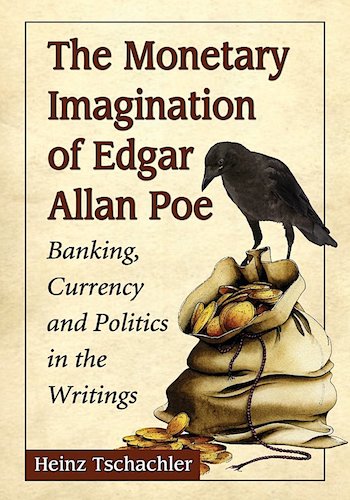 In this first-of-its-kind treatment, Heinz Tschachler offers an account of Edgar Allan Poe's relation to the world of banking and money in antebellum America. He contends that Poe gave the full force of his censure to the acrimonious debates about America's money, Andrew Jackson's bank war, the panic of 1837 and the ensuing depression, and the nation's inability to furnish a «sound and uniform currency.» Poe's attitude is overt in his early satires, more subdued in «The Gold-Bug,» and almost an undercurrent in writings that enter into and historicize the discovery of gold in California. In Poe's writings much is concealed, though his art also reveals while it conceals, in this instance, a deep felt desire for an authority that would guarantee a measure of permanence and continuity to the nation' s currency. That kind of currency was finally furnished by Abraham Lincoln (both were born in 1809; Poe died in 1849), at one time a dedicated reader of Poe's tales and sketches. Wielding his «power of regulation,» Lincoln came to save the Union not just militarily but also economically. Under him, the United States government finally provided the kind of «sound and uniform currency» that Poe in his writings could only name and rehearse.
---
BIG BRAIN REVOLUTION: ARTIFICIAL INTELLIGENCE SPY OR SAVIOUR?
by Dr Michelle Tempest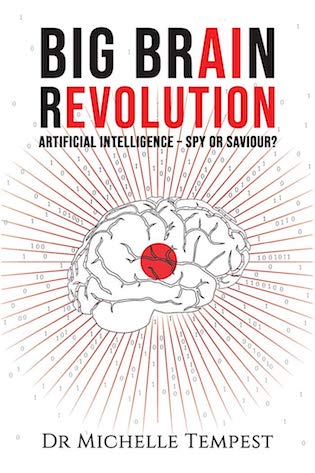 Is Artificial Intelligence (AI) changing the world? Is AI updating the human brain? Can AI help to solve complex problems baffling scientists and politicians? The answer is yes. This book offers unique insights into the consequences of mixing psychology with technology. It takes you on a journey of discovery, stripping AI and the human brain back to basics. It's not academic, keeps knowledge simple and questions if humans can be manipulated by machines. Big data is already monitoring human movements. So imagine future powers of information gathering on an even bigger scale — including brain waves, emotions and inner thoughts. AI could personalise messages back to the brain and update love, desires and our destiny.Now is the time to be curious and to question. We must not hesitate. History will not forgive us. This is our common purpose. Our mission is to bequeath ethical AI advancements to the next generation. Humility tells us how working together is the secret sauce to guide AI to help mankind. It must help untangle collective problems such as climate change — bigger than the individual. This book is for everyone. So read it, pass it on and discuss how AI is impacting your brain and our futures.
---
THE PRECIPICE: EXISTENTIAL RISK AND THE FUTURE OF HUMANITY
by Toby Ord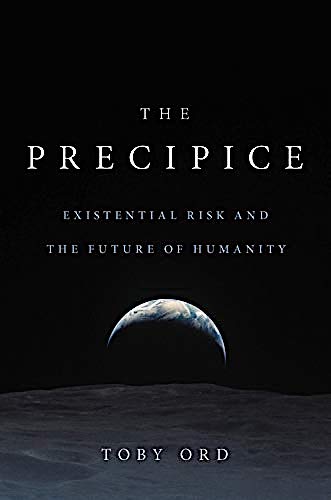 If all goes well, human history is just beginning. Our species could survive for billions of years — enough time to end disease, poverty, and injustice, and to flourish in ways unimaginable today. But this vast future is at risk. With the advent of nuclear weapons, humanity entered a new age, where we face existential catastrophes — those from which we could never come back. Since then, these dangers have only multiplied, from climate change to engineered pathogens and artificial intelligence. If we do not act fast to reach a place of safety, it will soon be too late. Drawing on over a decade of research, The Precipice explores the cutting-edge science behind the risks we face. It puts them in the context of the greater story of humanity: showing how ending these risks is among the most pressing moral issues of our time. And it points the way forward, to the actions and strategies that can safeguard humanity. An Oxford philosopher committed to putting ideas into action, Toby Ord has advised the US National Intelligence Council, the UK Prime Minister's Office, and the World Bank on the biggest questions facing humanity. In The Precipice, he offers a startling reassessment of human history, the future we are failing to protect, and the steps we must take to ensure that our generation is not the last.
---
THE SHENZHEN EXPERIMENT: THE STORY OF CHINA'S INSTANT CITY
by Juan Du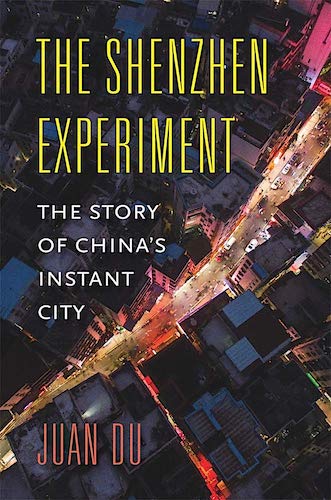 Shenzhen is ground zero for the economic transformation China has seen in recent decades. In 1979, driven by China's widespread poverty, Deng Xiaoping supported a bold proposal to experiment with economic policies in a rural borderland next to Hong Kong. The site was designated as the City of Shenzhen and soon after became China's first Special Economic Zone (SEZ). Four decades later, Shenzhen is a megacity of twenty million, an internationally recognized digital technology hub, and the world's most successful economic zone. Some see it as a modern miracle city that seemingly came from nowhere, attributing its success solely to centralized planning and Shenzhen's proximity to Hong Kong. The Chinese government has built hundreds of new towns using the Shenzhen model, yet none has come close to replicating the city's level of economic success.
---
MARKETS AGAINST MODERNITY: ECOLOGICAL IRRATIONALITY, PUBLIC AND PRIVATE
by Ryan Murphy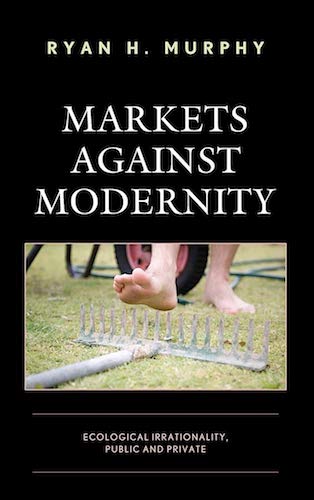 In Markets Against Modernity, economist Ryan Murphy documents a clear continuity between the systematic errors people make in their personal lives and the gaps between public opinion and informed opinion. These errors cluster around specific divergences between how the modern world's institutions function—including global markets, pluralistic democracy, and even science itself—and how evolution trained our brains to understand the nature of economic relationships, social relationships, and humanity's relationship to the physical world. Murphy calls these systematic divergences Ecological Irrationality. Exploring them leads him to even more prickly questions—and to conclusions that may challenge the beliefs of those who understand that, for instance, modern vaccines are safe and effective. Do we actually want a less cohesive society? Is doing a task yourself financially prudent? And if we recognize an expert consensus, is there even a way to implement it and achieve the desired effects?
---
THE AGE OF FOOTBALL: THE GLOBAL GAME IN THE TWENTY-FIRST CENTURY
by David Goldblatt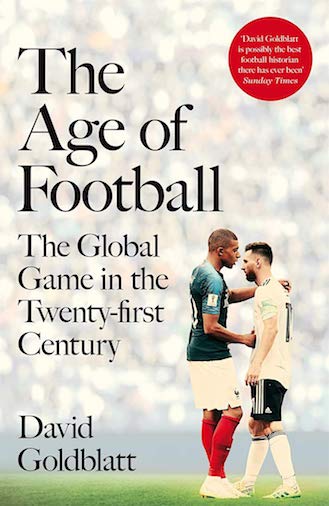 In The Age of Football, David Goldblatt charts football's global cultural ascent, its economic transformation and deep politicisation, taking in prison football in Uganda and amputee football in Angola, the role of football fans in the Arab Spring, the footballing presidencies of Bolivia's Evo Morales and Turkey's Recep Erdogan, China's declared intention to both host and win the World Cup by 2050, as well as the FIFA corruption scandal. Following the intersection of the game with money, power and identity, like no previous sports writer or historian, Goldblatt's sweeping story is remarkable in its scope, breathtaking in its depth of knowledge, and is a brilliantly original perspective of the twenty-first century. It is the account of how football has come to define every facet of our social, economic and cultural lives and at what cost, shaping who we think we are and who we want to be.
---
FASHIONOPOLIS: THE PRICE OF FAST FASHION AND THE FUTURE OF CLOTHES
by Dana Thomas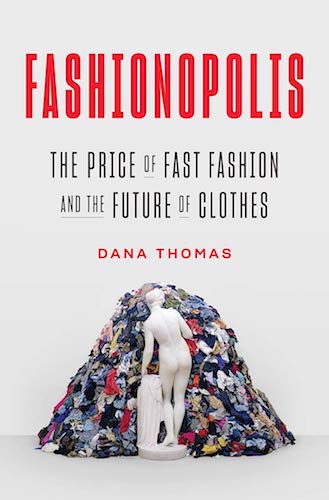 What should I wear? It's one of the fundamental questions we ask ourselves every day. More than ever, we are told it should be something new. Today, the clothing industry churns out 80 billion garments a year and employs every sixth person on Earth. Historically, the apparel trade has exploited labor, the environment, and intellectual property—and in the last three decades, with the simultaneous unfurling of fast fashion, globalization, and the tech revolution, those abuses have multiplied exponentially, primarily out of view. We are in dire need of an entirely new human-scale model. Bestselling journalist Dana Thomas has traveled the globe to discover the visionary designers and companies who are propelling the industry toward that more positive future by reclaiming traditional craft and launching cutting-edge sustainable technologies to produce better fashion.
---
MEASURING SOCIAL WELFARE: AN INTRODUCTION
by Matthew D. Adler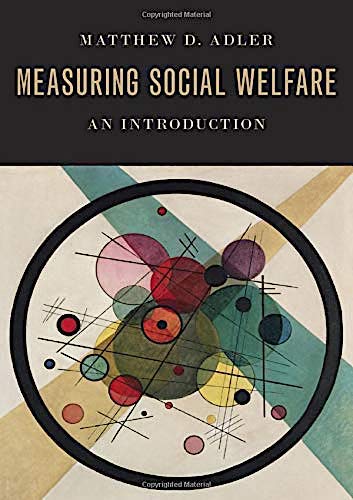 How to measure and balance well-being gains and losses is a vexed issue. Matthew D. Adler advances the debate by introducing the social welfare function (SWF) framework and demonstrating how it can be used as a powerful tool for evaluating governmental policies. The framework originates in welfare economics and in philosophical scholarship regarding individual well-being, ethics, and distributive justice. It has three core components: a well-being measure, which translates each of the possible policy outcomes into an array of interpersonally comparable well-being numbers, quantifying how well off each person in the population would be in that outcome; a rule for ranking outcomes thus described ; and an uncertainty module, which orders policies understood as probability distributions over outcomes. The SWF framework is a significant improvement compared to cost-benefit analysis (CBA), which quantifies policy impacts in dollars, is thereby biased towards the rich, and is insensitive to the distribution of these monetized impacts.
---
ISLAMIC EMPIRES: FIFTEEN CITIES THAT DEFINE A CIVILIZATION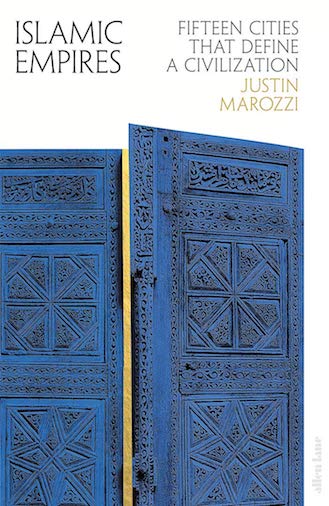 by Justin Marozzi
Islamic civilization was once the envy of the world. From a succession of glittering, cosmopolitan capitals, Islamic empires lorded it over the Middle East, North Africa, Central Asia and swathes of the Indian subcontinent, while Europe cowered feebly at the margins. For centuries the caliphate was both ascendant on the battlefield and triumphant in the battle of ideas, its cities unrivalled powerhouses of artistic grandeur, commercial power, spiritual sanctity and forward-looking thinking, in which nothing was off limits. Islamic Empires is a history of this rich and diverse civilization told through its greatest cities over the fifteen centuries of Islam, from its earliest beginnings in Mecca in the seventh century to the astonishing rise of Doha in the twenty-first.
---
THE SCHOOL OF LIFE: AN EMOTIONAL EDUCATION
by The School of Life (Author), Alain de Botton (Introduction)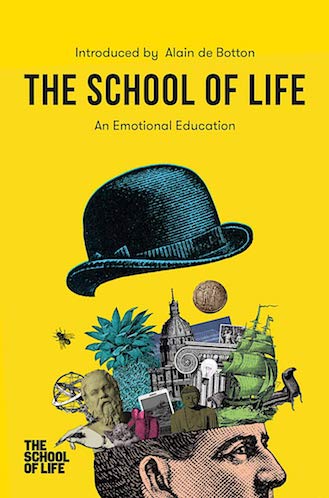 Emotional intelligence affects every aspect of the way we live, from romantic to professional relationships, from our inner resilience to our social success. It is arguably the single most important skill for surviving the twenty-first century. But what does it really mean? One decade ago, Alain de Botton founded The School of Life, an institute dedicated to understanding and improving our emotional intelligence. Now he presents the gathered wisdom of those ten years in a wide-ranging and innovative compendium of emotional intelligence which forms an introduction to The School of Life. Using his trademark mixture of analysis and anecdote, philosophical insight and practical wisdom, he considers how we interact with each and with ourselves, and how we can do so better. From the reigning master of popular philosophy, The School of Life: An Emotional Education is an essential look at the skill set that defines our modern lives.
---
THE MAN WHO SOLVED THE MARKET: HOW JIM SIMONS LAUNCHED THE QUANT REVOLUTION
by Gregory Zuckerman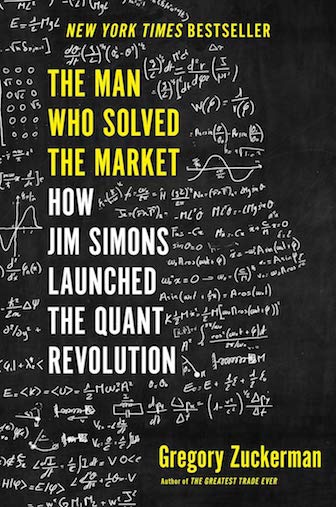 Jim Simons is the greatest money maker in modern financial history. No other investor—Warren Buffett, Peter Lynch, Ray Dalio, Steve Cohen, or George Soros—can touch his record. Since 1988, Renaissance's signature Medallion fund has generated average annual returns of 66 percent. The firm has earned profits of more than $100 billion; Simons is worth twenty-three billion dollars. Drawing on unprecedented access to Simons and dozens of current and former employees, Zuckerman, a veteran Wall Street Journal investigative reporter, tells the gripping story of how a world-class mathematician and former code breaker mastered the market. Simons pioneered a data-driven, algorithmic approach that's sweeping the world.
---
THE ASSAULT ON AMERICAN EXCELLENCE
by Anthony Kronman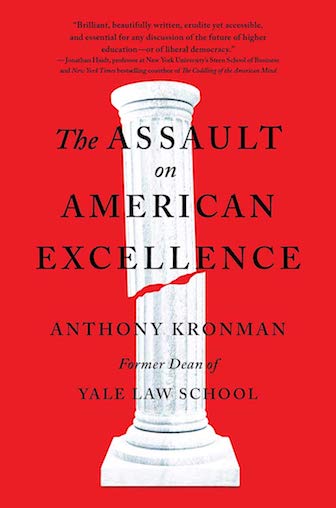 In his tenure at Yale, Anthony Kronman has watched students march across campus to protest the names of buildings and seen colleagues resign over emails about Halloween costumes. He is no stranger to recent confrontations at American universities. But where many see only the suppression of free speech, the babying of students, and the drive to bury the imperfect parts of our history, Kronman recognizes in these on-campus clashes a threat to our democracy. As Kronman argues in The Assault on American Excellence, the founders of our nation learned over three centuries ago that in order for this country to have a robust democratic government, its citizens have to be trained to have tough skins, to make up their own minds, and to win arguments not on the basis of emotion but because their side is closer to the truth. In other words, to prepare people to choose good leaders, you need to turn them into smart fighters, people who can take hits and think clearly so they're not manipulated by demagogues.
---
THE BRIDGE: NATURAL GAS IN A REDIVIDED EUROPE
by Thane Gustafson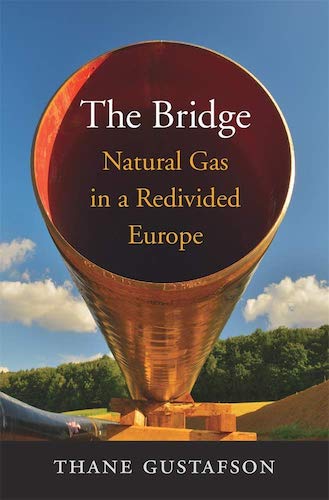 A noted expert on Russian energy argues that despite Europe's geopolitical rivalries, natural gas and deals based on it unite Europe's nations in mutual self-interest. Three decades after the fall of the Berlin Wall and the breakup of the Soviet empire, the West faces a new era of East-West tensions. Any vision of a modern Russia integrated into the world economy and aligned in peaceful partnership with a reunited Europe has abruptly vanished. Two opposing narratives vie to explain the strategic future of Europe, one geopolitical and one economic, and both center on the same resource: natural gas. In The Bridge, Thane Gustafson, an expert on Russian oil and gas, argues that the political rivalries that capture the lion's share of media attention must be viewed alongside multiple business interests and differences in economic ideologies. With a dense network of pipelines linking Europe and Russia, natural gas serves as a bridge that unites the region through common interests.
---
THE ECONOMICS BOOK: FROM XENOPHON TO CRYPTOCURRENCY, 250 MILESTONES IN THE HISTORY OF ECONOMICS
by Steven G. Medema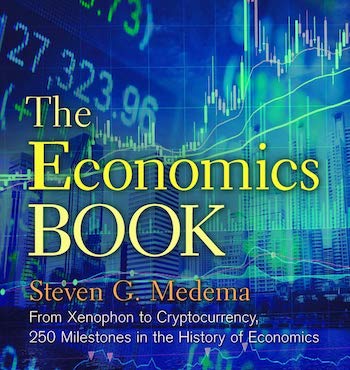 From the philosophical dialogues of Ancient Greece and the moral contemplations of Medieval Europe to deregulation and cryptocurrency, The Economics Book presents 250 milestones in the science of the production, sale, and purchase of goods and services. These concise, engaging, informative essays examine the full gamut of subjects, revealing both the entertaining stories and the world-changing developments in the field. They shed thoughtful light on the field's significant subdisciplines, including: mercantilism, the Enlightenment, communism, econometrics, Keynesianism, macroeconomics, game theory, cliometrics, market design theory, and the Keynesian Resurgence that emerged in the wake of the Great Recession. This vibrant, colorfully illustrated collection will captivate you with a bird's-eye view of the development of the world's markets, what has shaped and affected them, and what drives them today.
---
UNRIVALED: WHY AMERICA WILL REMAIN THE WORLD'S SOLE SUPERPOWER
by Michael Beckley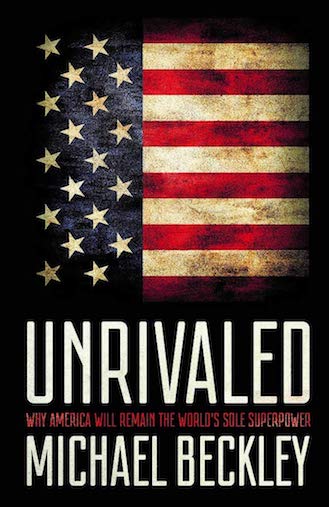 The United States has been the world's dominant power for more than a century. Now many analysts believe that other countries are rising and the United States is in decline. Is the unipolar moment over? Is America finished as a superpower? In this book, Michael Beckley argues that the United States has unique advantages over other nations that, if used wisely, will allow it to remain the world's sole superpower throughout this century. We are not living in a transitional, post-Cold War era. Instead, we are in the midst of what he calls the unipolar era―a period as singular and important as any epoch in modern history. This era, Beckley contends, will endure because the US has a much larger economic and military lead over its closest rival, China, than most people think and the best prospects of any nation to amass wealth and power in the decades ahead. Deeply researched and brilliantly argued, this book covers hundreds of years of great power politics and develops new methods for measuring power and predicting the rise and fall of nations. By documenting long-term trends in the global balance of power and explaining their implications for world politics, the book provides guidance for policymakers, businesspeople, and scholars alike.
---
ТЯЖЕЛЫЙ СЛУЧАЙ. ЗАПИСКИ ХИРУРГА
Атул Гаванде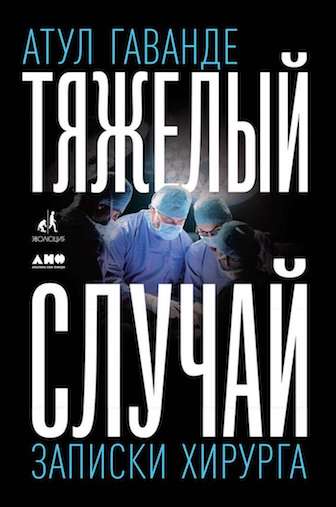 Книга Атула Гаванде, практикующего хирурга и известного популяризатора науки, — блестящее, смелое и невероятно увлекательное повествование о буднях врача, ежедневно имеющего дело с жизнью и смертью, вынужденного принимать решения подчас в ситуациях, когда наука ненадежна, информация ограничена, а ставкой является жизнь человека. Рассказывая трогательные, пронзительные истории из своей практики, автор откровенно говорит о серьезных проблемах и ограничениях современной медицины, о загадках человеческого организма, о том, как хорошие врачи становятся плохими, об удачах и неудачах в работе хирурга, о лечебных ошибках и о том, какое это счастье, когда удается спасти жизнь пациента.
---
ERIC HOBSBAWM: A LIFE IN HISTORY
by Richard Evans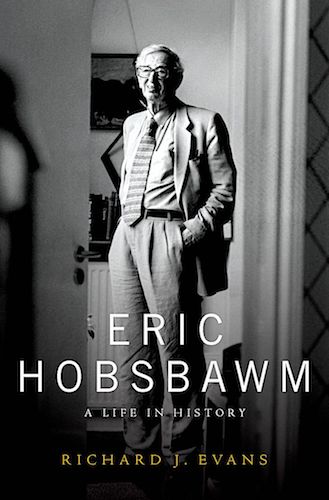 Eric Hobsbawm's works have had a nearly incalculable effect across generations of readers and students, influencing more than the practice of history but also the perception of it. Born in Alexandria, Egypt, of second-generation British parents, Hobsbawm was orphaned at age fourteen in 1931. Living with an uncle in Berlin, he experienced the full force of world economic depression, and in the charged reaction to it in Germany was forced to choose between Nazism and Communism, which was no choice at all. Hobsbawm's lifelong allegiance to Communism inspired his pioneering work in social history, particularly the trilogy for which he is most famous—The Age of Revolution, The Age of Capital, and The Age of Empire—covering what he termed «the long nineteenth century» in Europe. Selling in the millions of copies, these held sway among generations of readers, some of whom went on to have prominent careers in politics and business. In this comprehensive biography of Hobsbawm, acclaimed historian Richard Evans (author of The Third Reich Trilogy, among other works) offers both a living portrait and vital insight into one of the most influential intellectual figures of the twentieth century.
---
INSURGENT EMPIRE: ANTICOLONIAL RESISTANCE AND BRITISH DISSENT
by Priyamvada Gopal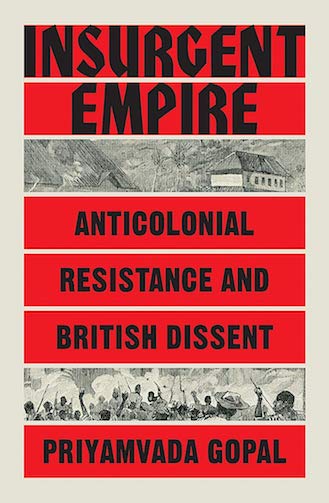 Insurgent Empire shows how Britain's enslaved and colonial subjects were active agents in their own liberation. What is more, they shaped British ideas of freedom and emancipation back in the United Kingdom. Priyamvada Gopal examines a century of dissent on the question of empire and shows how British critics of empire were influenced by rebellions and resistance in the colonies, from the West Indies and East Africa to Egypt and India. In addition, a pivotal role in fomenting resistance was played by anticolonial campaigners based in London, right at the heart of empire. Much has been written on how colonized peoples took up British and European ideas and turned them against empire when making claims to freedom and self-determination. Insurgent Empire sets the record straight in demonstrating that these people were much more than victims of imperialism or, subsequently, the passive beneficiaries of an enlightened British conscience—they were insurgents whose legacies shaped and benefited the nation that once oppressed them.
---
USEFUL ENEMIES: ISLAM AND THE OTTOMAN EMPIRE IN WESTERN POLITICAL THOUGHT, 1450-1750
by Noel Malcolm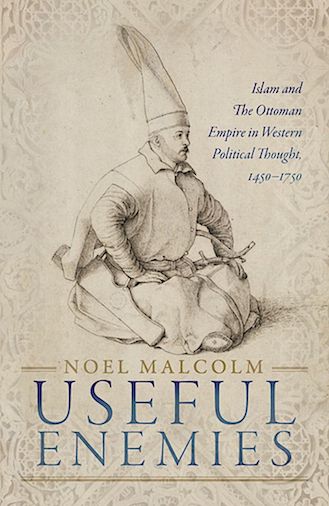 From the fall of Constantinople in 1453 until the eighteenth century, many Western European writers viewed the Ottoman Empire with almost obsessive interest. Typically they reacted to it with fear and distrust; and such feelings were reinforced by the deep hostility of Western Christendom towards Islam. Yet there was also much curiosity about the social and political system on which the huge power of the sultans was based. In the sixteenth century, especially, when Ottoman territorial expansion was rapid and Ottoman institutions seemed particularly robust, there was even open admiration. In this path-breaking book Noel Malcolm ranges through these vital centuries of East-West interaction, studying all the ways in which thinkers in the West interpreted the Ottoman Empire as a political phenomenon — and Islam as a political religion. Useful Enemies shows how the concept of 'oriental despotism' began as an attempt to turn the tables on a very positive analysis of Ottoman state power, and how, as it developed, it interacted with Western debates about monarchy and government. Noel Malcolm also shows how a negative portrayal of Islam as a religion devised for political purposes was assimilated by radical writers, who extended the criticism to all religions, including Christianity itself.
---
ARABS: A 3,000-YEAR HISTORY OF PEOPLES, TRIBES AND EMPIRES
by Tim Mackintosh-Smith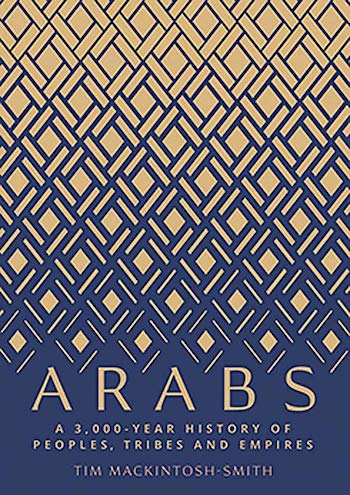 This kaleidoscopic book covers almost 3,000 years of Arab history and shines a light on the footloose Arab peoples and tribes who conquered lands and disseminated their language and culture over vast distances. Tracing this process to the origins of the Arabic language, rather than the advent of Islam, Tim Mackintosh-Smith begins his narrative more than a thousand years before Muhammad and focuses on how Arabic, both spoken and written, has functioned as a vital source of shared cultural identity over the millennia. Mackintosh-Smith reveals how linguistic developments—from pre-Islamic poetry to the growth of script, Muhammad's use of writing, and the later problems of printing Arabic—have helped and hindered the progress of Arab history, and investigates how, even in today's politically fractured post–Arab Spring environment, Arabic itself is still a source of unity and disunity.
---
THOMAS CROMWELL: A REVOLUTIONARY LIFE
by Diarmaid MacCulloch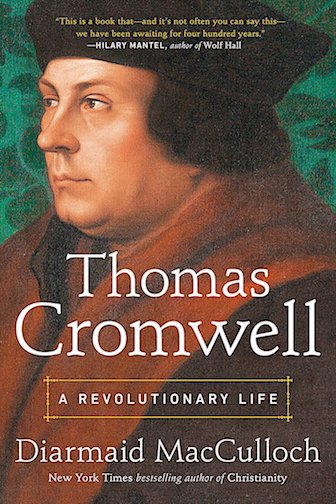 Since the sixteenth century we have been fascinated by Henry VIII and the man who stood beside him, guiding him, enriching him, and enduring the king's insatiable appetites and violent outbursts until Henry ordered his beheading in July 1540. After a decade of sleuthing in the royal archives, Diarmaid MacCulloch has emerged with a tantalizing new understanding of Henry's mercurial chief minister, the inscrutable and utterly compelling Thomas Cromwell. History has not been kind to the son of a Putney brewer who became the architect of England's split with Rome. Where past biographies portrayed him as a scheming operator with blood on his hands, Hilary Mantel reimagined him as a far more sympathetic figure buffered by the whims of his master. So which was he—the villain of history or the victim of her creation? MacCulloch sifted through letters and court records for answers and found Cromwell's fingerprints on some of the most transformative decisions of Henry's turbulent reign. But he also found Cromwell the man, an administrative genius, rescuing him from myth and slander.
---
BLUEPRINT: THE EVOLUTIONARY ORIGINS OF A GOOD SOCIETY
by Nicholas A. Christakis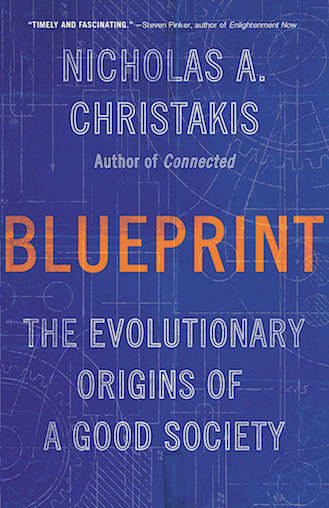 For too long, scientists have focused on the dark side of our biological heritage: our capacity for aggression, cruelty, prejudice, and self-interest. But natural selection has given us a suite of beneficial social features, including our capacity for love, friendship, cooperation, and learning. Beneath all our inventions — our tools, farms, machines, cities, nations — we carry with us innate proclivities to make a good society. In Blueprint, Nicholas A. Christakis introduces the compelling idea that our genes affect not only our bodies and behaviors, but also the ways in which we make societies, ones that are surprisingly similar worldwide. With many vivid examples — including diverse historical and contemporary cultures, communities formed in the wake of shipwrecks, commune dwellers seeking utopia, online groups thrown together by design or involving artificially intelligent bots, and even the tender and complex social arrangements of elephants and dolphins that so resemble our own — Christakis shows that, despite a human history replete with violence, we cannot escape our social blueprint for goodness.
---
ERDOGAN RISING: THE BATTLE FOR THE SOUL OF TURKEY
by Hannah Lucinda Smith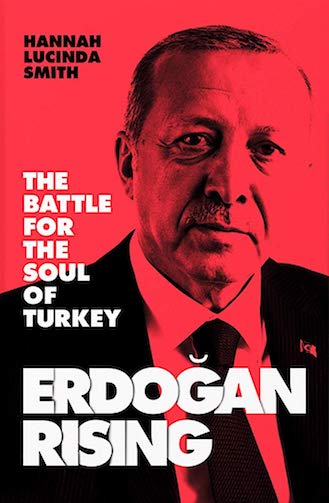 Hannah Lucinda Smith, Turkey correspondent with The Times, has been on the ground in Turkey since the onset of the Arab Spring. From the frontlines of the wars in Syria and eastern Turkey, through the refugee crisis and the attempted coup against Erdogan, she traces how chaos in the Middle East has blown back on a country that was once heralded as the model of Islamic democracy. Talking to key insiders, she paints a vivid portrait of Erdogan's relentless, unusual position of power, and his descent from flawed democrat to staunch authoritarian. Erdogan Rising is a story rooted in Smith's first-hand experiences of a country divided, told through the eyes of a rich cast of characters. She journeys into the Turkey where Erdogan's following devotedly compose songs in his honour, adorn their houses with his picture, and lay down their lives to keep him in power. But on the other side – sometimes just a few hundred metres down the road – she also meets the Turks who are mourning the loss of the country they once knew.
---
THE NONSENSE FACTORY: THE MAKING AND BREAKING OF THE AMERICAN LEGAL SYSTEM
by Bruce Cannon Gibney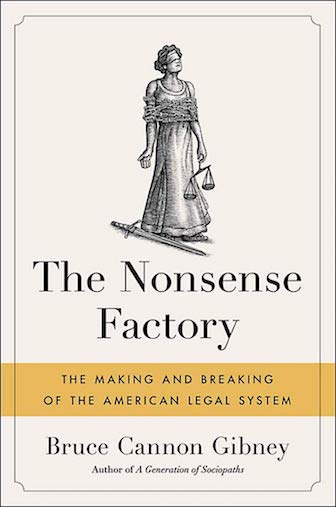 Our trial courts conduct hardly any trials, our correctional systems do not correct, and the rise of mandated arbitration has ushered in a shadowy system of privatized «justice.» Meanwhile, our legislators can't even follow their own rules for making rules, while the rule of law mutates into a perpetual state of emergency. The legal system is becoming an incomprehensible farce. How did this happen? In The Nonsense Factory, Bruce Cannon Gibney shows that over the past seventy years, the legal system has dangerously confused quantity with quality and might with legitimacy. As the law bloats into chaos, it staggers on only by excusing itself from the very commands it insists that we obey, leaving Americans at the mercy of arbitrary power. By examining the system as a whole, Gibney shows that the tragedies often portrayed as isolated mistakes or the work of bad actors-police misconduct, prosecutorial overreach, and the outrages of imperial presidencies-are really the inevitable consequences of law's descent into lawlessness.
---
THE ARTIST IN THE MACHINE: THE WORLD OF AI-POWERED CREATIVITY
by Arthur I. Miller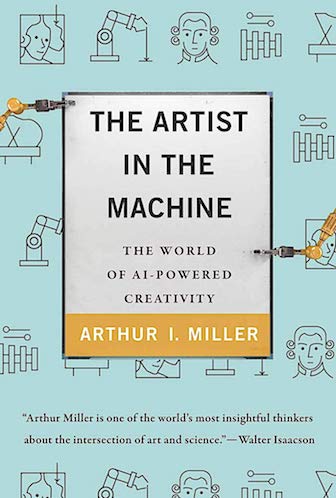 Today's computers are composing music that sounds "more Bach than Bach," turning photographs into paintings in the style of Van Gogh's Starry Night, and even writing screenplays. But are computers truly creative―or are they merely tools to be used by musicians, artists, and writers? In this book, Arthur I. Miller takes us on a tour of creativity in the age of machines. Miller, an authority on creativity, identifies the key factors essential to the creative process, from "the need for introspection" to "the ability to discover the key problem." He talks to people on the cutting edge of artificial intelligence, encountering computers that mimic the brain and machines that have defeated champions in chess, Jeopardy!, and Go. In the central part of the book, Miller explores the riches of computer-created art, introducing us to artists and computer scientists who have, among much else, unleashed an artificial neural network to create a nightmarish, multi-eyed dog-cat; taught AI to imagine; developed a robot that paints; created algorithms for poetry; and produced the world's first computer-composed musical, Beyond the Fence, staged by Android Lloyd Webber and friends.
---
WHEN THE PRESIDENT CALLS: CONVERSATIONS WITH ECONOMIC POLICYMAKERS
by Simon W. Bowmaker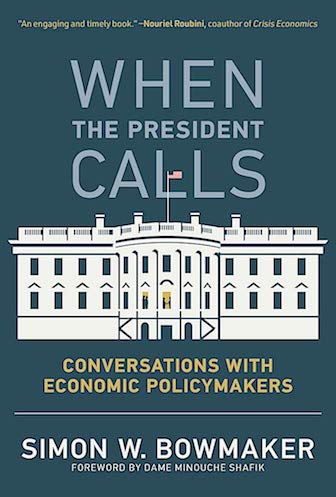 What is it like to sit in the Oval Office and discuss policy with the president? To know that the decisions made will affect hundreds of millions of people? To know that the wrong advice could be calamitous? When the President Calls presents interviews with thirty-five economic policymakers who served presidents from Nixon to Trump. These officials worked in the executive branch in a variety of capacities―the Council of Economic Advisers, the Office of Management and Budget, the Department of the Treasury, and the National Economic Council―but all had direct access to the policymaking process and can offer insights about the difficult tradeoffs made on economic policy. The interviews shed new light, for example, on the thinking behind the Reagan tax cuts, the economic factors that cost George H. W. Bush a second term, the constraints facing policymakers during the financial crisis of 2008, the differences in work styles between Bill Clinton and Barack Obama, and the Trump administration's early budget process.
---
FIND YOUR PATH: UNCONVENTIONAL LESSONS FROM 36 LEADING SCIENTISTS AND ENGINEERS
by Daniel Goodman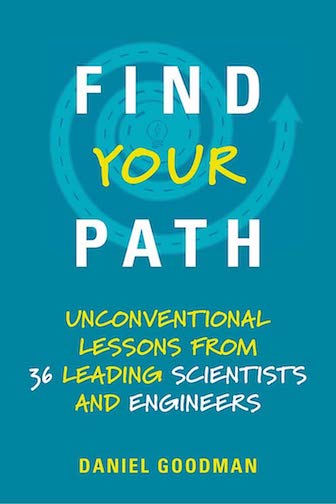 This insightful book offers essential life and career lessons for newly minted STEM graduates and those seeking a career change. Thirty-six leading scientists and engineers (including two Nobel Prize winners) describe the challenges, struggles, successes, satisfactions, and U-turns encountered as they established their careers. Readers learn that there are professional possibilities beyond academia, as contributors describe the paths that took them into private industry and government as well as to college and university campuses. They discuss their varying preferences for solitary research or collaborative teamwork; their attempts to achieve work-life balance; and unplanned changes in direction that resulted in a more satisfying career. Women describe confronting overt sexism and institutional gender bias; scientists of color describe the experience of being outsiders in their field.
---
THE NARROW CORRIDOR: STATES, SOCIETIES, AND THE FATE OF LIBERTY
by Daron Acemoglu and James A. Robinson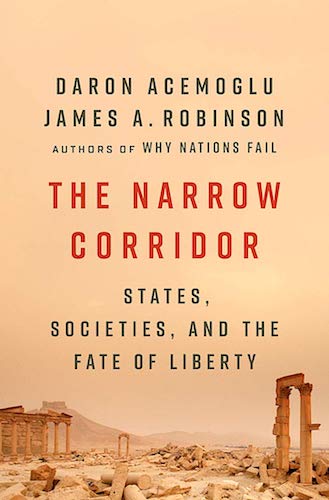 Liberty is hardly the «natural» order of things. In most places and at most times, the strong have dominated the weak and human freedom has been quashed by force or by customs and norms. Either states have been too weak to protect individuals from these threats, or states have been too strong for people to protect themselves from despotism. Liberty emerges only when a delicate and precarious balance is struck between state and society. There is a Western myth that political liberty is a durable construct, arrived at by a process of «enlightenment.» This static view is a fantasy, the authors argue. In reality, the corridor to liberty is narrow and stays open only via a fundamental and incessant struggle between state and society: The authors look to the American Civil Rights Movement, Europe's early and recent history, the Zapotec civilization circa 500 BCE, and Lagos's efforts to uproot corruption and institute government accountability to illustrate what it takes to get and stay in the corridor. But they also examine Chinese imperial history, colonialism in the Pacific, India's caste system, Saudi Arabia's suffocating cage of norms, and the "Paper Leviathan" of many Latin American and African nations to show how countries can drift away from it, and explain the feedback loops that make liberty harder to achieve.
---
LINEAGES OF MODERNITY: A HISTORY OF HUMANITY FROM THE STONE AGE TO HOMO AMERICANUS
by Emmanuel Todd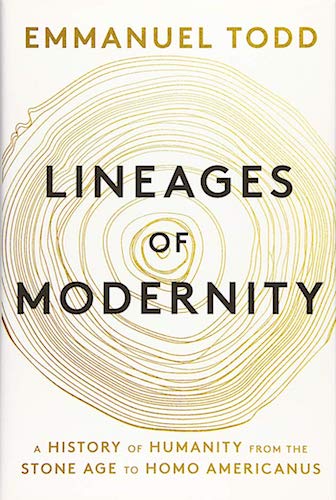 In this major new book, the leading sociologist, historical anthropologist and demographer Emmanuel Todd sheds fresh light on our current predicament by reconstructing the historical dynamics of human societies from the Stone Age to the present. Eschewing the tendency to attribute special causal significance to the economy, Todd develops an anthropological account of history, focusing on the long-term dynamics of family systems and their links to religion and ideology – what he sees as the slow-moving, unconscious level of society, in contrast to the conscious level of the economy and politics. He also analyses the dramatic changes brought about by the spread of education. This enables him to explain the different historical trajectories of the advanced nations and the growing divergence between them, a divergence that can be observed in such phenomena as the rise of the Anglosphere in the modern period, the paradox of a Homo americanus who is both innovative and archaic, the startling electoral success of Donald Trump, the lack of realism in the will to power shown by Germany and China, the emergence of stable authoritarian democracy in Russia, the new introversion of Japan and the recent turbulent developments in Europe, including Brexit.
---
GOLDEN RICE: THE IMPERILED BIRTH OF A GMO SUPERFOOD
by Ed Regis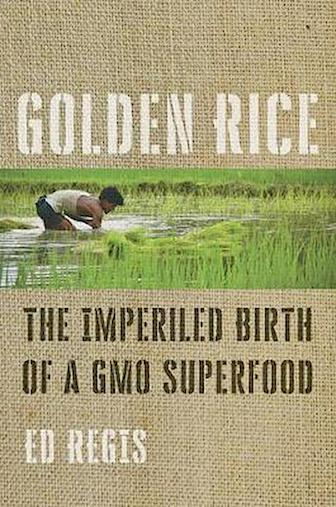 Ordinary white rice is nutrient poor; it consists of carbohydrates and little else. About one million people who subsist on rice become blind or die each year from vitamin A deficiency. Golden Rice, which was developed in the hopes of combatting that problem by a team of European scientists in the late '90s, was genetically modified to provide an essential nutrient that white rice lacks: beta-carotene, which is converted into vitamin A in the body. But twenty years later, this potentially sight- and life-saving miracle food still has not reached the populations most in need―and tens of millions of people in India, China, Bangladesh, and throughout South and Southeast Asia have gone blind or have died waiting. Supporters claim that the twenty-year delay in Golden Rice's introduction is an unconscionable crime against humanity. Critics have countered that the rice is a «hoax,» that it is «fool's gold» and «propaganda for the genetic engineering industry.» Here, science writer Ed Regis argues that Golden Rice is the world's most controversial, maligned, and misunderstood GMO. Regis tells the story of how the development, growth, and distribution of Golden Rice was delayed and repeatedly derailed by a complex but outdated set of operational guidelines and regulations imposed by the governments and sabotaged by anti-GMO activists in the very nations where the rice is most needed.
---
NON OBVIOUS MEGATRENDS: HOW TO SEE WHAT OTHERS MISS AND PREDICT THE FUTURE
by Rohit Bhargava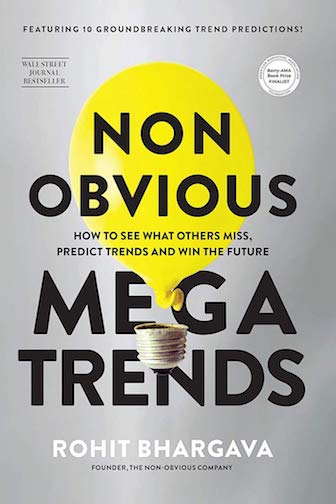 For the past ten years, Rohit Bhargava's signature annual Non-Obvious Trend Report has helped over a million readers discover more than 100 trends changing our culture. Now for the first time, Rohit and his team of Non-Obvious trend curators reveal ten revolutionary new Megatrends that are transforming how we work, play and live. This completely revised 10th Anniversary edition of Non-Obvious also offers an unprecedented look behind the scenes at the author's signature Haystack Method for identifying trends, and how you can learn to curate and predict trends for yourself. You don't need to be a futurist or innovator to learn to think like one. The key to growing your business or propelling your career into the next decade lies in better understanding the present. The future belongs to non-obvious thinkers and this book is your guide to becoming one.
---
ENCHANTING ROBOTS: INTIMACY, MAGIC, AND TECHNOLOGY (SOCIAL AND CULTURAL STUDIES OF ROBOTS AND AI)
by Maciej Musiał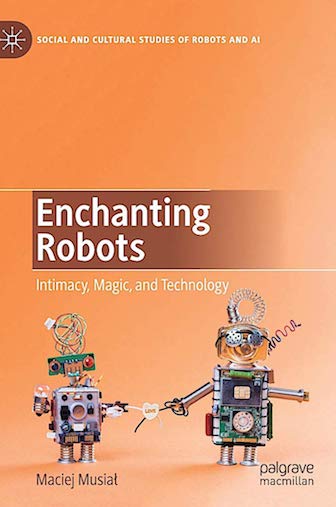 This book argues that robots are enchanting humans (as potential intimate partners), because humans are enchanting robots (by performing magical thinking), and that these processes are a part of a significant re-enchantment of the "modern" world. As a foundation, the author examines arguments for and against intimate relationships with robots, particularly sex robots and care robots. Moreover, the book provides a consideration of human-robot interactions and philosophical reflections about robots through the lens of magic and magical thinking as well as theoretical and practical re-evaluations of their status and presence. Furthermore, the author discusses the abovementioned issues in the context of disenchantment and re-enchantment of the world, characterizing modernity as a coexistence of these two processes. The book closes with a consideration of future scenarios regarding the meaning of life in the age of rampant automation and the possibility that designing robots becomes a sort of new eugenics as a consequence of recognizing robots as persons.
---
GIVE ME LIBERTY: A HISTORY OF AMERICA'S EXCEPTIONAL IDEA
by Richard Brookhiser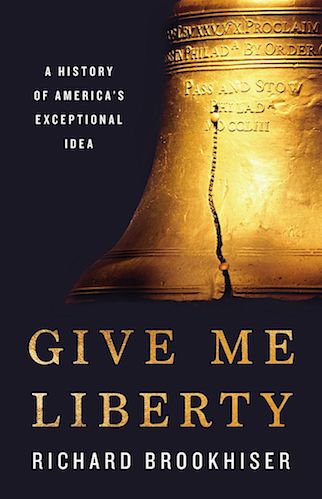 Nationalism is inevitable: It supplies feelings of belonging, identity, and recognition. It binds us to our neighbors and tells us who we are. But increasingly — from the United States to India, from Russia to Burma — nationalism is being invoked for unworthy ends: to disdain minorities or to support despots. As a result, nationalism has become to many a dirty word. In Give Me Liberty, award-winning historian and biographer Richard Brookhiser offers up a truer and more inspiring story of American nationalism as it has evolved over four hundred years. He examines America's history through thirteen documents that made the United States a new country in a new world: a free country. We are what we are because of them; we stay true to what we are by staying true to them. Americans have always sought liberty, asked for it, fought for it; every victory has been the fulfillment of old hopes and promises. This is our nationalism, and we should be proud of it.
---
THE POLITICAL SPECTRUM: THE TUMULTUOUS LIBERATION OF WIRELESS TECHNOLOGY, FROM HERBERT HOOVER TO THE SMARTPHONE
by Thomas Winslow Hazlett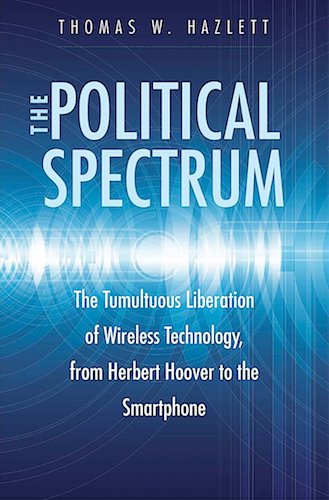 Popular legend has it that before the Federal Radio Commission was established in 1927, the radio spectrum was in chaos, with broadcasting stations blasting powerful signals to drown out rivals. In this fascinating and entertaining history, Thomas Winslow Hazlett, a distinguished scholar in law and economics, debunks the idea that the U.S. government stepped in to impose necessary order. Instead, regulators blocked competition at the behest of incumbent interests and, for nearly a century, have suppressed innovation while quashing out-of-the-mainstream viewpoints. Hazlett details how spectrum officials produced a "vast wasteland" that they publicly criticized but privately protected. The story twists and turns, as farsighted visionaries—and the march of science—rise to challenge the old regime. Over decades, reforms to liberate the radio spectrum have generated explosive progress, ushering in the "smartphone revolution," ubiquitous social media, and the amazing wireless world now emerging. Still, the author argues, the battle is not even half won.
---
THE DECADENT SOCIETY: HOW WE BECAME THE VICTIMS OF OUR OWN SUCCESS
by Ross Douthat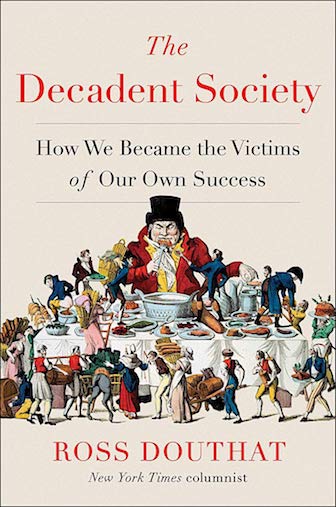 Today the Western world seems to be in crisis. But beneath our social media frenzy and reality-television politics, the deeper reality is one of drift, repetition, and dead ends. The Decadent Society explains what happens when a rich and powerful society ceases advancing—how the combination of wealth and technological proficiency with economic stagnation, political stalemates, cultural exhaustion, and demographic decline creates a strange kind of "sustainable decadence," a civilizational malaise that could endure for longer than we think. Ranging from the chaos of Trump-era Washington to the gridlock of the European Union, from our empty cradles to our increasingly-lonely pathways through middle and old age, from the lost promise of the Space Age and the early internet to today's earthbound surveillance state, from the recycling of Baby Boomer pop culture to the Brave New World we're making with drugs and virtual reality escapes, Douthat provides an enlightening diagnosis of the modern condition—how we got here, how long our malaise might last, and how, whether in renaissance or catastrophe, our decadence might ultimately end.
---
THE ECONOMIC THOUGHT OF MICHAEL POLANYI
by Gábor Bíró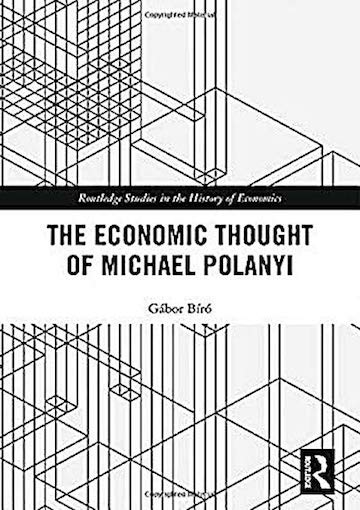 Michael Polanyi is most famous for his work in chemistry and the philosophy of science, but in the 1930s and 1940s he made an important contribution to economics. Drawing on rich archival materials of Polanyi and his correspondents, Gábor Bíró explores their competing worldviews and their struggles to popularize their visions of the economy, economic expertise and democracy. Special focus is given to Polanyi's pioneering economics film and postmodern ideas. This volume will be of interest to advanced students and researchers of the history of economics, philosophy of science, and science and technology studies.
---
YOU LOOK LIKE A THING AND I LOVE YOU
by Janelle Shane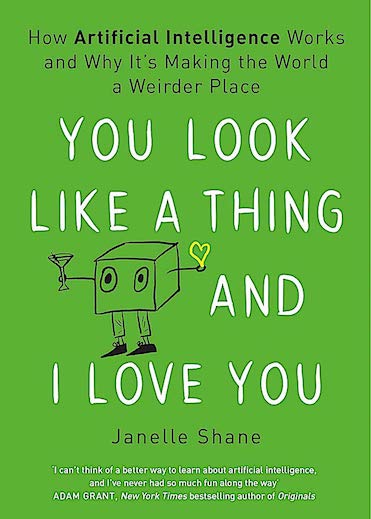 AI is everywhere. It powers the autocorrect function of your iPhone, helps Google Translate understand the complexity of language, and interprets your behaviour to decide which of your friends' Facebook posts you most want to see. In the coming years, it'll perform medical diagnoses and drive your car — and maybe even help our authors write the first lines of their novels. But how does it actually work? Scientist and engineer, Janelle Shane, is the go-to contributor about computer science for the New York Times, Slate, and the New Yorker. Through her hilarious experiments, real-world examples, and illuminating cartoons, she explains how AI understands our world, and what it gets wrong. More than just a working knowledge of AI, she hands readers the tools to be skeptical about claims of a smarter future. A comprehensive study of the cutting-edge technology that will soon power our world, You Look Like a Thing and I Love You is an accessible and hilarious exploration of the future of technology and society. It's Astrophysics for People In a Hurry meets Thing Explainer: an approachable guide to a fascinating scientific topic, presented with clarity, levity, and brevity by an expert in the field with a powerful and growing platform.
---
THE MYTH OF CAPITALISM: MONOPOLIES AND THE DEATH OF COMPETITION
by Jonathan Tepper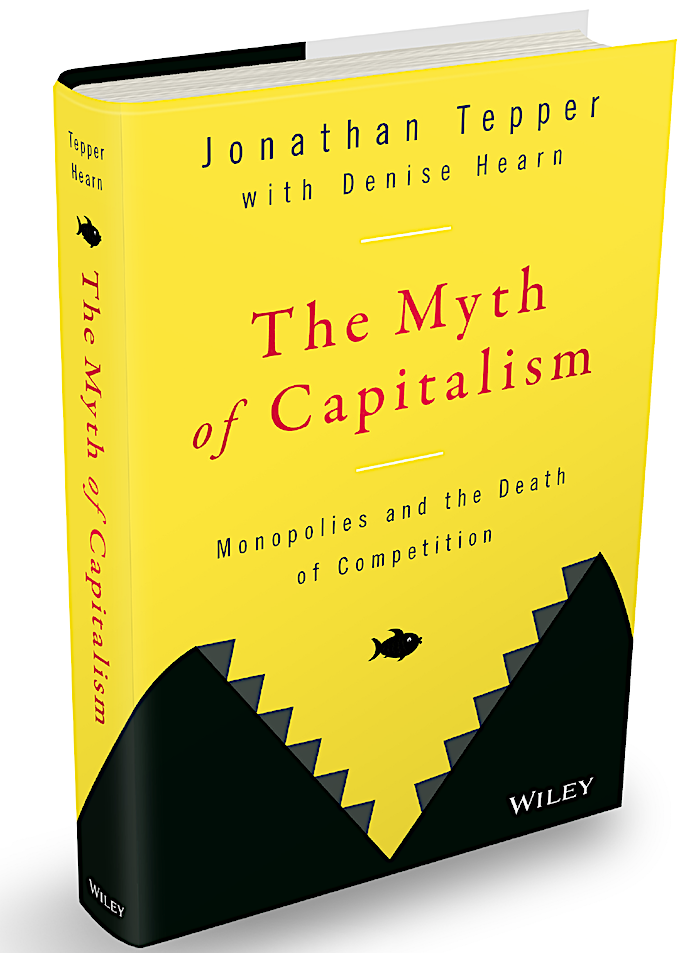 The Myth of Capitalism tells the story of how America has gone from an open, competitive marketplace to an economy where a few very powerful companies dominate key industries that affect our daily lives. Digital monopolies like Google, Facebook and Amazon act as gatekeepers to the digital world. Amazon is capturing almost all online shopping dollars. We have the illusion of choice, but for most critical decisions, we have only one or two companies, when it comes to high speed Internet, health insurance, medical care, mortgage title insurance, social networks, Internet searches, or even consumer goods like toothpaste. Every day, the average American transfers a little of their pay check to monopolists and oligopolists. The solution is vigorous anti-trust enforcement to return America to a period where competition created higher economic growth, more jobs, higher wages and a level playing field for all. The Myth of Capitalism is the story of industrial concentration, but it matters to everyone, because the stakes could not be higher. It tackles the big questions of: why is the US becoming a more unequal society, why is economic growth anemic despite trillions of dollars of federal debt and money printing, why the number of start-ups has declined, and why are workers losing out.
---
CAPITALISM WITHOUT CAPITAL: THE RISE OF THE INTANGIBLE ECONOMY
by Jonathan Haskel and Stian Westlake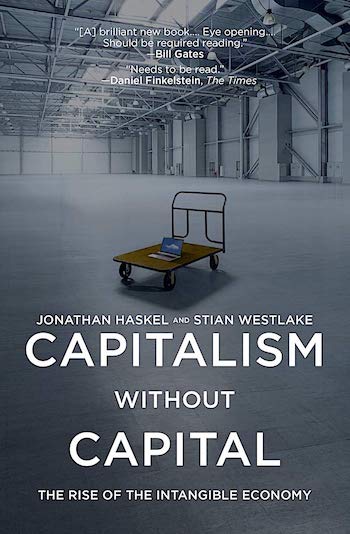 Early in the twenty-first century, a quiet revolution occurred. For the first time, the major developed economies began to invest more in intangible assets, like design, branding, and software, than in tangible assets, like machinery, buildings, and computers. For all sorts of businesses, the ability to deploy assets that one can neither see nor touch is increasingly the main source of long-term success. But this is not just a familiar story of the so-called new economy. Capitalism without Capital shows that the growing importance of intangible assets has also played a role in some of the larger economic changes of the past decade, including the growth in economic inequality and the stagnation of productivity. Jonathan Haskel and Stian Westlake explore the unusual economic characteristics of intangible investment and discuss how an economy rich in intangibles is fundamentally different from one based on tangibles. Capitalism without Capital concludes by outlining how managers, investors, and policymakers can exploit the characteristics of an intangible age to grow their businesses, portfolios, and economies.
---
AIRLINE MAPS: A CENTURY OF ART AND DESIGN
by Mark Ovenden, Maxwell Roberts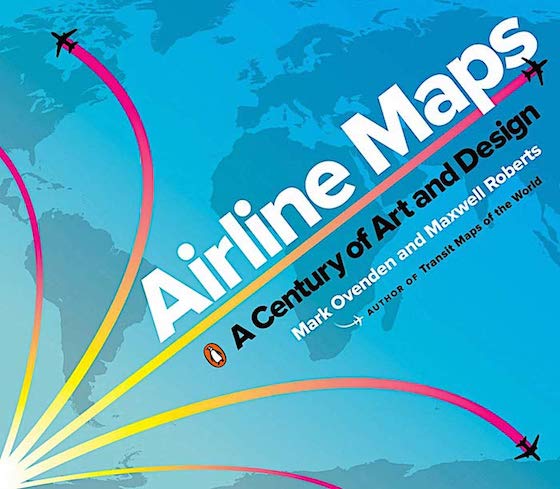 In this gorgeously illustrated collection of airline route maps, Mark Ovenden and Maxwell Roberts look to the skies and transport readers to another time. Hundreds of images span a century of passenger flight, from the rudimentary trajectory of routes to the most intricately detailed birds-eye views of the land to be flown over. Advertisements for the first scheduled commercial passenger flights featured only a few destinations, with stunning views of the countryside and graphics of biplanes. As aviation took off, speed and mileage were trumpeted on bold posters featuring busy routes. Major airlines produced highly stylized illustrations of their global presence, establishing now-classic brands. With trendy and forward-looking designs, cartographers celebrated the coming together of different cultures and made the earth look ever smaller.
---
WALTER RALEGH: ARCHITECT OF EMPIRE
by Alan Gallay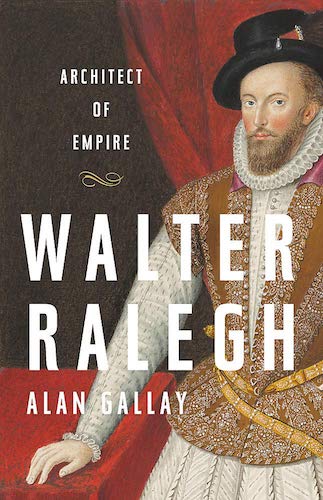 Sir Walter Ralegh was a favorite of Queen Elizabeth. She showered him with estates and political appointments. He envisioned her becoming empress of a universal empire. She gave him the opportunity to lead the way. In Walter Ralegh, Alan Gallay shows that, while Ralegh may be best known for founding the failed Roanoke colony, his historical importance vastly exceeds that enterprise. Inspired by the mystical religious philosophy of hermeticism, Ralegh led English attempts to colonize in North America, South America, and Ireland. He believed that the answer to English fears of national decline resided overseas — and that colonialism could be achieved without conquest. Gallay reveals how Ralegh launched the English Empire and an era of colonization that shaped Western history for centuries after his death.
---
SOVEREIGNTY IN CHINA: A GENEALOGY OF A CONCEPT SINCE 1840
by Maria Adele Carrai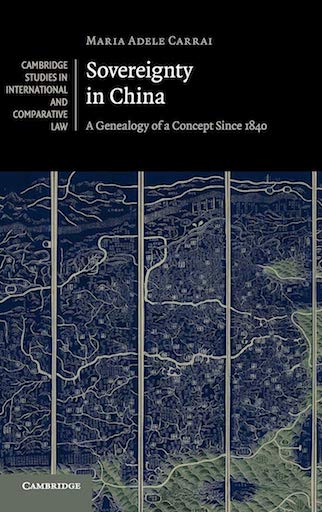 This book provides a comprehensive history of the emergence and the formation of the concept of sovereignty in China from the year 1840 to the present. It contributes to broadening the history of modern China by looking at the way the notion of sovereignty was gradually articulated by key Chinese intellectuals, diplomats and political figures in the unfolding of the history of international law in China, rehabilitates Chinese agency, and shows how China challenged Western Eurocentric assumptions about the progress of international law. It puts the history of international law in a global perspective, interrogating the widely-held belief of international law as universal order and exploring the ways in which its history is closely anchored to a European experience that fails to take into account how the encounter with other non-European realities has influenced its formation.
---
GO TECH, OR GO EXTINCT: HOW ACQUIRING TECH DISRUPTORS IS THE KEY TO SURVIVAL AND GROWTH FOR ESTABLISHED COMPANIES
by Paul Cuatrecasas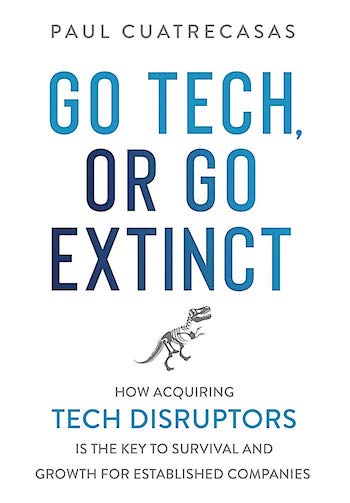 In Go Tech, or Go Extinct: How Acquiring Tech Disruptors Is the Key to Survival and Growth for Established Companies, Paul Cuatrecasas shares his revolutionary approach to transforming legacy companies into forward-thinking industry leaders through the strategic acquisition of disruptive technology companies. As the founder and CEO of Aquaa Partners, Cuatrecasas has facilitated more than forty-five global merger and acquisition transactions involving technology companies and ranging in size from $1 million to $1.5 billion. Leveraging insights gained from his one-on-one meetings with C-suite executives of over 300 large corporations during 2018 and 2019, Cuatrecasas explains why so many corporates are failing at innovation and why technology companies represent the new secret formula for non-tech corporate incumbents to delight their customers and leave their competition in the dust.
---
NEO.LIFE: 25 VISIONS FOR THE FUTURE OF OUR SPECIES
Edited by Jane Metcalfe, Founder of NEO.LIFE and cofounder of Wired Magazine, and Brian Bergstein, NEO.LIFE editor at large and former executive editor of MIT Technology Review. It is art directed by National Design Award Winner Jennifer Morla.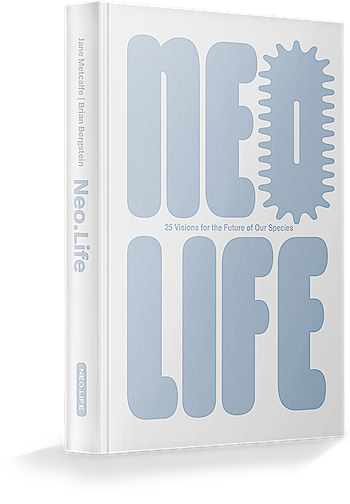 We now have the tools to transform ourselves and our species. Greater health and longevity, enhanced brains, and engineered fertility are in the works. What's just over the horizon is even more astonishing. We call this the Neobiological Frontier. Neo.Life: 25 Visions for the Future of Our Species offers a big-picture perspective on the profound changes these technologies will unleash. This book captures our most daring, inventive, and thoughtful ideas about our upcoming evolutionary interventions, as conceived by some of science's biggest thinkers, entrepreneurs, writers, and artists. It is a 2020 time capsule for future humans. We are launching our Kickstarter in November.
---
TICKER: THE QUEST TO CREATE AN ARTIFICIAL HEART
by Mimi Swartz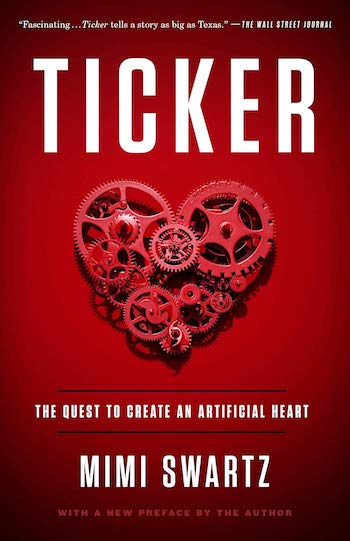 Until post WWII, heart surgery did not exist. Ticker provides a riveting history of the pioneers who gave their all to the courageous process of cutting into the only organ humans cannot live without. Heart surgeons Michael DeBakey and Denton Cooley, whose feud dominated the dramatic beginnings of heart surgery. Christian Barnaard, who changed the world overnight by performing the first heart transplant. Inventor Robert Jarvik, whose artificial heart made patient Barney Clark a worldwide symbol of both the brilliant promise of technology and the devastating evils of experimentation run amuck. Rich in supporting players, Ticker introduces us to Bud's brilliant colleagues in his quixotic quest to develop an artificial heart: Billy Cohn, the heart surgeon and inventor who devotes his spare time to the pursuit of magic and music; Daniel Timms, the Brisbane biomedical engineer whose design of a lightweight, pulseless heart with but a single moving part offers a new way forward. And, as government money dries up, the unlikeliest of backers, Houston's furniture king, Mattress Mack.
---
WHY AMERICA LOSES WARS: LIMITED WAR AND US STRATEGY FROM THE KOREAN WAR TO THE PRESENT
by Donald Stoker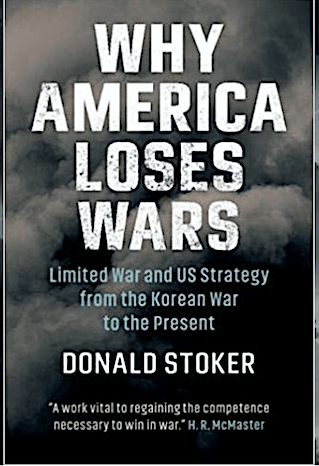 How can you achieve victory in war if you don't have a clear idea of your political objectives and a vision of what victory means? In this provocative challenge to US policy and strategy, Donald Stoker argues that America endures endless wars because its leaders no longer know how to think about war, particularly limited wars. He reveals how ideas on limited war and war in general evolved against the backdrop of American conflicts in Korea, Vietnam, and Iraq. These ideas, he shows, were flawed and have undermined America's ability to understand, wage, and win its wars, and to secure peace afterwards. America's leaders have too often taken the nation to war without understanding what they want or valuing victory, leading to the 'forever wars' of today. Why America Loses Wars dismantles seventy years of misguided thinking and lays the foundations for a new approach to the wars of tomorrow.
---
HUMAN DIVERSITY: THE BIOLOGY OF GENDER, RACE, AND CLASS
by Charles Murray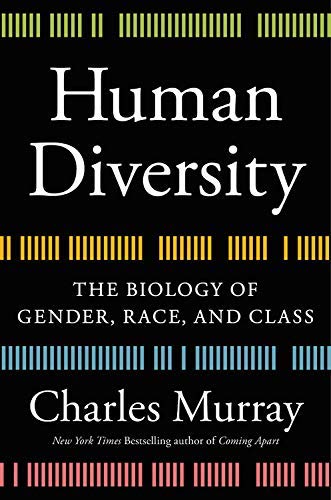 The thesis of Human Diversity is that advances in genetics and neuroscience are overthrowing an intellectual orthodoxy that has ruled the social sciences for decades. The core of the orthodoxy consists of three dogmas: Gender is a social construct, Race is a social construct, Class is a function of privilege. The problem is that all three dogmas are half-truths. They have stifled progress in understanding the rich texture that biology adds to our understanding of the social, political, and economic worlds we live in. It is not a story to be feared. «There are no monsters in the closet,» Murray writes, «no dread doors we must fear opening.» But it is a story that needs telling. Human Diversity does so without sensationalism, drawing on the most authoritative scientific findings, celebrating both our many differences and our common humanity.
---
POSSESSED: WHY WE WANT MORE THAN WE NEED
by Bruce Hood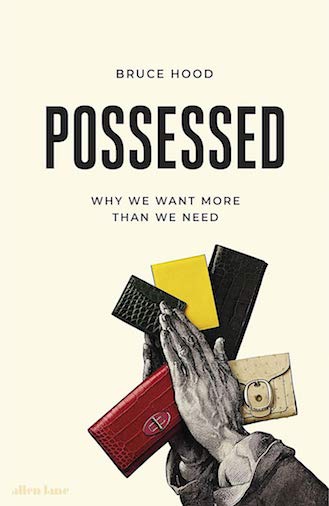 Our love affair with our possessions seems to be all-consuming, even as our planet reaches breaking point. Despite the constant warnings about our future, we are reluctant to change our ways when it comes to accumulating more and more things. Why is this? The answer is our need for ownership. Ownership is a uniquely human pre-occupation that has its origins deeply rooted in our biology. It can be seen in everything from children fighting over toys to the rise of political extremism. Award-winning psychologist Bruce Hood draws on research from his own lab and others around the world to explain why psychological ownership is an emotional state of mind that governs our behaviour from the cradle to the grave, even when it is often irrational and destructive. What motivates us to buy more than we need? How does our urge to acquire control our behaviour, even the way we vote? And what can we do about it? Timely, engaging and persuasive, Possessed is the first book to explore how ownership has us enthralled in relentless pursuit of a false happiness, with damaging consequences for society and the planet — and how we can stop buying into it.
---
SCHISM: CHINA, AMERICA, AND THE FRACTURING OF THE GLOBAL TRADING SYSTEM
by Paul Blustein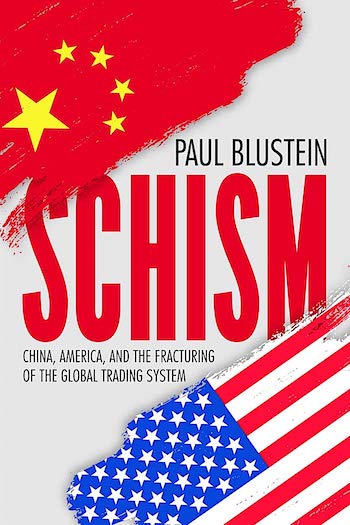 China's entry into the World Trade Organization (WTO) in 2001 was heralded as historic, and for good reason: the world's most populous nation was joining the rule-based system that has governed international commerce since World War II. But the full ramifications of that event are only now becoming apparent, as the Chinese economic juggernaut has evolved in unanticipated and profoundly troublesome ways. In this book, journalist Paul Blustein chronicles the contentious process resulting in China's WTO membership and the transformative changes that followed, both good and bad — for China, for its trading partners, and for the global trading system as a whole. The book recounts how China opened its markets and underwent far-reaching reforms that fuelled its economic takeoff, but then adopted policies — a cheap currency and heavy-handed state intervention — that unfairly disadvantaged foreign competitors and circumvented WTO rules. Events took a potentially catastrophic turn in 2018 with the eruption of a trade war between China and the United States, which has brought the trading system to a breaking point. Regardless of how the latest confrontation unfolds, the world will be grappling for decades with the challenges posed by China Inc.
---
GROWTH: FROM MICROORGANISMS TO MEGACITIES
by Vaclav Smil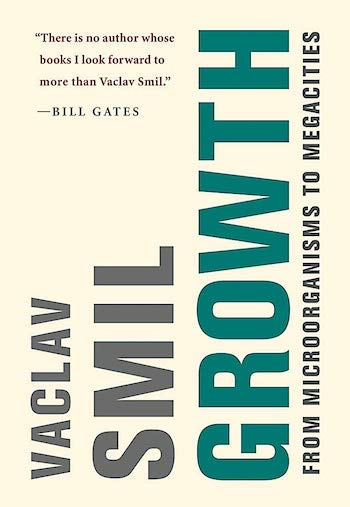 Growth has been both an unspoken and an explicit aim of our individual and collective striving. It governs the lives of microorganisms and galaxies; it shapes the capabilities of our extraordinarily large brains and the fortunes of our economies. Growth is manifested in annual increments of continental crust, a rising gross domestic product, a child's growth chart, the spread of cancerous cells. In this magisterial book, Vaclav Smil offers systematic investigation of growth in nature and society, from tiny organisms to the trajectories of empires and civilizations. Smil takes readers from bacterial invasions through animal metabolisms to megacities and the global economy. He begins with organisms whose mature sizes range from microscopic to enormous, looking at disease-causing microbes, the cultivation of staple crops, and human growth from infancy to adulthood. He examines the growth of energy conversions and man-made objects that enable economic activities―developments that have been essential to civilization. Finally, he looks at growth in complex systems, beginning with the growth of human populations and proceeding to the growth of cities. He considers the challenges of tracing the growth of empires and civilizations, explaining that we can chart the growth of organisms across individual and evolutionary time, but that the progress of societies and economies, not so linear, encompasses both decline and renewal. The trajectory of modern civilization, driven by competing imperatives of material growth and biospheric limits, Smil tells us, remains uncertain.
---
IN DEFENSE OF GLOBALISM
by Dalibor Rohac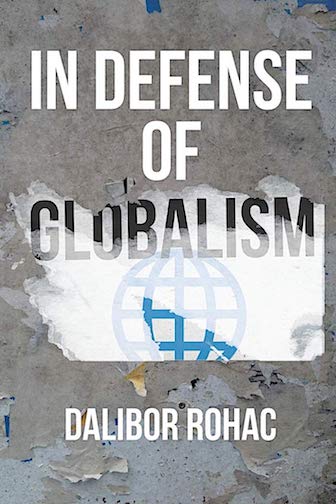 Countering our divisive times, this innovative book makes the conservative case in favor of international organizations and cooperation. Dalibor Rohac persuasively argues that far from undermining national sovereignty, the mechanisms of international cooperation have been instrumental to humankind's freedom, prosperity, and peace. Moreover, he shows that unlike the caricature of international cooperation as a top-down imposition, in reality it is characterized by extreme institutional diversity. Its structures have typically emerged from the bottom up, in response to concrete challenges transcending national borders. Moving beyond empty political rhetoric, Rohac's meticulous research and clear analysis assess and explains the strengths, flaws, and relevant trade-offs of different forms of global governance. A powerful rebuttal to the temptations of nationalist populism, his work is a call to arms for thoughtful people on the center right to defend the central tenets of the post-WWII international order.
---
MINDF*CK: CAMBRIDGE ANALYTICA AND THE PLOT TO BREAK AMERICA
by Christopher Wylie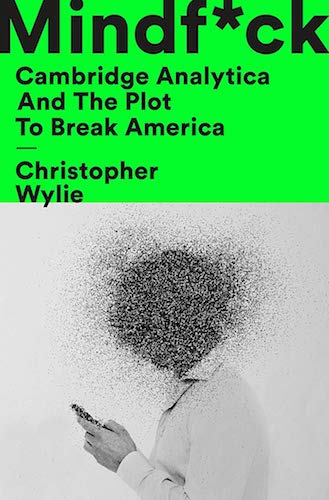 Mindf*ck goes deep inside Cambridge Analytica's "American operations," which were driven by Steve Bannon's vision to remake America and fueled by mysterious billionaire Robert Mercer's money, as it weaponized and wielded the massive store of data it had harvested on individuals—in excess of 87 million—to disunite the United States and set Americans against each other. Bannon had long sensed that deep within America's soul lurked an explosive tension. Cambridge Analytica had the data to prove it, and in 2016 Bannon had a presidential campaign to use as his proving ground. Christopher Wylie might have seemed an unlikely figure to be at the center of such an operation. Canadian and liberal in his politics, he was only twenty-four when he got a job with a London firm that worked with the U.K. Ministry of Defense and was charged putatively with helping to build a team of data scientists to create new tools to identify and combat radical extremism online. In short order, those same military tools were turned to political purposes, and Cambridge Analytica was born.
---
DIVIDED ARMIES: INEQUALITY AND BATTLEFIELD PERFORMANCE IN MODERN WAR
by Jason Lyall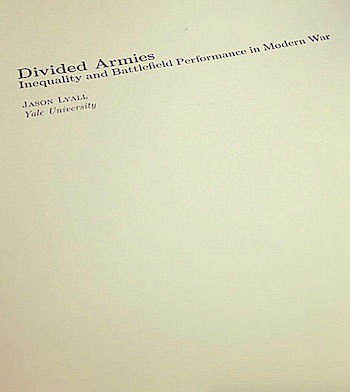 How do armies fight and what makes them victorious on the modern battlefield? In Divided Armies, Jason Lyall challenges long-standing answers to this classic question by linking the fate of armies to their levels of inequality. Introducing the concept of military inequality, Lyall demonstrates how a state's prewar choices about the citizenship status of ethnic groups within its population determine subsequent battlefield performance. Treating certain ethnic groups as second-class citizens, either by subjecting them to state-sanctioned discrimination or, worse, violence, undermines interethnic trust, fuels grievances, and leads victimized soldiers to subvert military authorities once war begins. The higher an army's inequality, Lyall finds, the greater its rates of desertion, side-switching, casualties, and use of coercion to force soldiers to fight. In a sweeping historical investigation, Lyall draws on Project Mars, a new dataset of 250 conventional wars fought since 1800, to test this argument. Project Mars breaks with prior efforts by including overlooked non-Western wars while cataloguing new patterns of inequality and wartime conduct across hundreds of belligerents. Combining historical comparisons and statistical analysis, Lyall also marshals evidence from nine wars, ranging from the Eastern Fronts of World Wars I and II to less familiar wars in Africa and Central Asia, to illustrate inequality's effects.
---
MUSIC: A SUBVERSIVE HISTORY
by Ted Gioia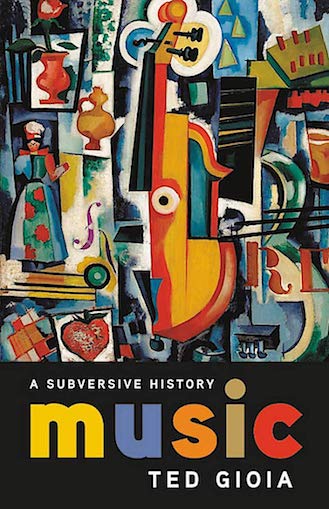 Histories of music overwhelmingly suppress stories of the outsiders and rebels who created musical revolutions and instead celebrate the mainstream assimilators who borrowed innovations, diluted their impact, and disguised their sources. In Music: A Subversive History, historian Ted Gioia reclaims the story of music for the riffraff, insurgents, and provocateurs. Gioia tells a four-thousand-year history of music as a global source of power, change, and upheaval. He shows how social outcasts have repeatedly become trailblazers of musical expression: slaves and their descendants, for instance, have repeatedly reinvented music, from ancient times all the way to the jazz, reggae, and hip-hop sounds of the current day. Music: A Subversive History is essential reading for anyone interested in the meaning of music, from Sappho to the Sex Pistols to Spotify.
---
THE MEMORY POLICE: A NOVEL
by Yoko Ogawa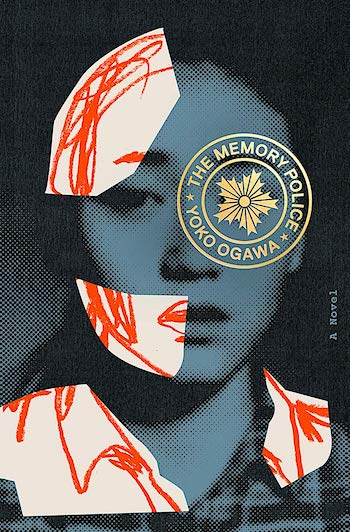 On an unnamed island off an unnamed coast, objects are disappearing: first hats, then ribbons, birds, roses—until things become much more serious. Most of the island's inhabitants are oblivious to these changes, while those few imbued with the power to recall the lost objects live in fear of the draconian Memory Police, who are committed to ensuring that what has disappeared remains forgotten. When a young woman who is struggling to maintain her career as a novelist discovers that her editor is in danger from the Memory Police, she concocts a plan to hide him beneath her floorboards. As fear and loss close in around them, they cling to her writing as the last way of preserving the past. A surreal, provocative fable about the power of memory and the trauma of loss, The Memory Police is a stunning new work from one of the most exciting contemporary authors writing in any language.
---
WHAT YOU HAVE HEARD IS TRUE: A MEMOIR OF WITNESS AND RESISTANCE
by Carolyn Forché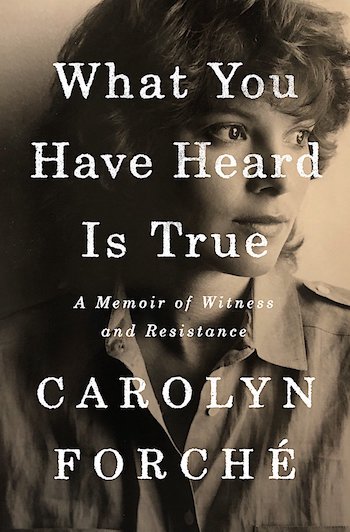 What You Have Heard is True is a devastating, lyrical, and visionary memoir about a young woman's brave choice to engage with horror in order to help others. Written by one of the most gifted poets of her generation, this is the story of a woman's radical act of empathy, and her fateful encounter with an intriguing man who changes the course of her life. Carolyn Forché is twenty-seven when the mysterious stranger appears on her doorstep. The relative of a friend, he is a charming polymath with a mind as seemingly disordered as it is brilliant. She's heard rumors from her friend about who he might be: a lone wolf, a communist, a CIA operative, a sharpshooter, a revolutionary, a small coffee farmer, but according to her, no one seemed to know for certain. He has driven from El Salvador to invite Forché to visit and learn about his country. Captivated for reasons she doesn't fully understand, she accepts and becomes enmeshed in something beyond her comprehension.
---
MADE IN SWEDEN: HOW THE SWEDES ARE NOT NEARLY SO EGALITARIAN, TOLERANT, HOSPITABLE OR COZY AS THEY WOULD LIKE TO (HAVE YOU) THINK
by Elisabeth Åsbrink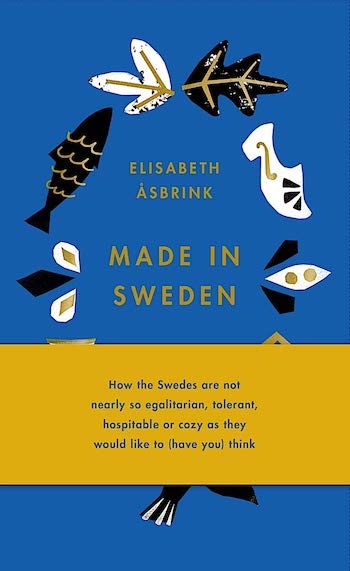 In recent times, we have come to favor all things Scandinavian―their food, furnishings, fiction, fashion, and general way of life. We seem to regard the Swedes and their neighbors as altogether more sophisticated, admirable, and evolved than us. But what if Sweden has in fact never been as moderate, egalitarian, dignified, or tolerant as it would like to (have us) think? The recent rise to political prominence of an openly neo-Nazi party has begun to crack the illusion, and here now is Swede Elisabeth Åsbrink, who loves her country "but not blindly," presenting twenty-five of her nation's key words and icons afresh. "There is," she writes, "a dark side to Utopia." As she did in her acclaimed 1947, she creates a collage that helps us not only see a more complex and problematic society, but also illustrates how national identity is constructed as much by what (or who) is excluded as what (or who) is included.
---
HUSTLE AND GIG: STRUGGLING AND SURVIVING IN THE SHARING ECONOMY
by Alexandrea J. Ravenelle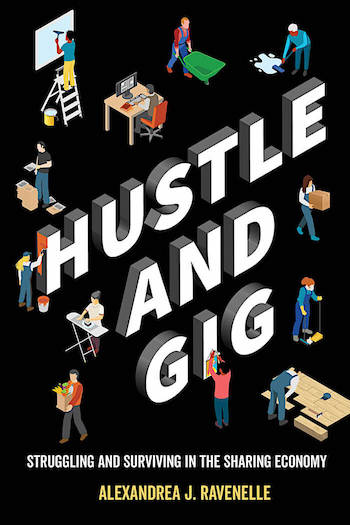 Choose your hours, choose your work, be your own boss, control your own income. Welcome to the sharing economy, a nebulous collection of online platforms and apps that promise to transcend capitalism. Supporters argue that the gig economy will reverse economic inequality, enhance worker rights, and bring entrepreneurship to the masses. But does it? In Hustle and Gig, Alexandrea J. Ravenelle shares the personal stories of nearly eighty predominantly millennial workers from Airbnb, Uber, TaskRabbit, and Kitchensurfing. Their stories underline the volatility of working in the gig economy: the autonomy these young workers expected has been usurped by the need to maintain algorithm-approved acceptance and response rates. The sharing economy upends generations of workplace protections such as worker safety; workplace protections around discrimination and sexual harassment; the right to unionize; and the right to redress for injuries. Discerning three types of gig economy workers—Success Stories, who have used the gig economy to create the life they want; Strugglers, who can't make ends meet; and Strivers, who have stable jobs and use the sharing economy for extra cash—Ravenelle examines the costs, benefits, and societal impact of this new economic movement. Poignant and evocative, Hustle and Gig exposes how the gig economy is the millennial's version of minimum-wage precarious work.
---
HUMANITY WORKS: MERGING TECHNOLOGIES AND PEOPLE FOR THE WORKFORCE OF THE FUTURE
by Alexandra Levit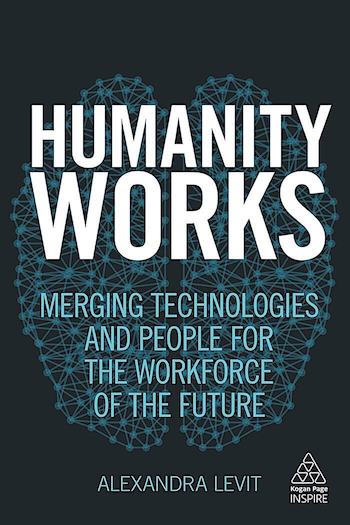 The professional landscape is transforming, and the only way to maintain competitive advantage is to maximize the unique skills of your workforce. In Humanity Works, bestselling author, global workplace consultant and futurist Alexandra Levit provides a guide to making the most of the human traits of creativity, judgement, problem solving and interpersonal sensitivity. Revealing what the 'robot takeover' will really look like, how talent and machines can work side by side and how you can make organizational structures more agile and innovation focused, this book will prepare you to lead organizations of the future. Humanity Works doesn't just explain the fascinating trends of the future of work; it condenses cutting-edge academic and business thinking to show what you can do about the future right now. Original, real-life case studies including Nestle, The Washington Post, Deloitte, and Pepsi combined with exercises and workplace tools will equip you for staying innovative and successful in the wake of major workplace disruption. Everything hinges on capturing the human edge in your organization.
---
THE FUTURE IS FASTER THAN YOU THINK: HOW CONVERGING TECHNOLOGIES ARE TRANSFORMING BUSINESS, INDUSTRIES, AND OUR LIVES
by Peter Diamandis and Steven Kotler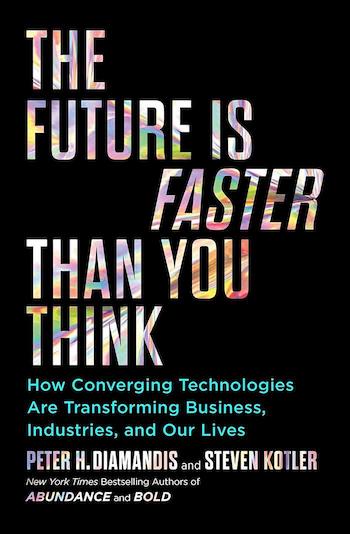 Now the bestselling authors are back with The Future Is Faster Than You Think, a blueprint for how our world will change in response to the next ten years of rapid technological disruption. Technology is accelerating far more quickly than anyone could have imagined. During the next decade, we will experience more upheaval and create more wealth than we have in the past hundred years. In this gripping and insightful roadmap to our near future, Diamandis and Kotler investigate how wave after wave of exponentially accelerating technologies will impact both our daily lives and society as a whole. What happens as AI, robotics, virtual reality, digital biology, and sensors crash into 3D printing, blockchain, and global gigabit networks? How will these convergences transform today's legacy industries? What will happen to the way we raise our kids, govern our nations, and care for our planet?
---
CAPITALISM, ALONE: THE FUTURE OF THE SYSTEM THAT RULES THE WORLD
by Branko Milanovic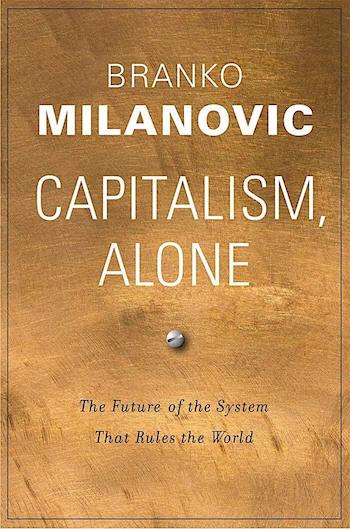 We are all capitalists now. For the first time in human history, the globe is dominated by one economic system. In Capitalism, Alone, leading economist Branko Milanovic explains the reasons for this decisive historical shift since the days of feudalism and, later, communism. Surveying the varieties of capitalism, he asks: What are the prospects for a fairer world now that capitalism is the only game in town? His conclusions are sobering, but not fatalistic. Capitalism gets much wrong, but also much right―and it is not going anywhere. Our task is to improve it. Milanovic argues that capitalism has triumphed because it works. It delivers prosperity and gratifies human desires for autonomy. But it comes with a moral price, pushing us to treat material success as the ultimate goal. And it offers no guarantee of stability. In the West, liberal capitalism creaks under the strains of inequality and capitalist excess. That model now fights for hearts and minds with political capitalism, exemplified by China, which many claim is more efficient, but which is more vulnerable to corruption and, when growth is slow, social unrest. As for the economic problems of the Global South, Milanovic offers a creative, if controversial, plan for large-scale migration. Looking to the future, he dismisses prophets who proclaim some single outcome to be inevitable, whether worldwide prosperity or robot-driven mass unemployment. Capitalism is a risky system. But it is a human system. Our choices, and how clearly we see them, will determine how it serves us.
---
THE CONSERVATIVE SENSIBILITY
by George F. Will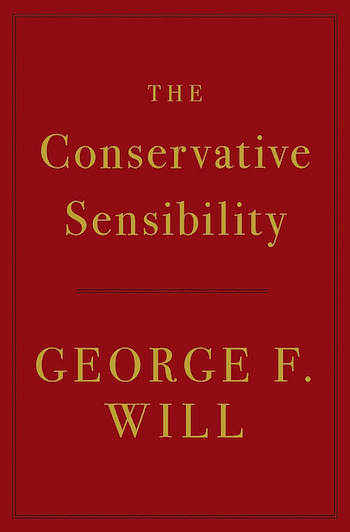 From the Pulitzer Prize-winning columnist, an «astonishing» and «enthralling» (Booklist) new examination of how the Founders' belief in natural rights created a great American political tradition—«easily one of the best books on American Conservatism ever written» (Jonah Goldberg). For more than four decades, George F. Will has attempted to discern the principles of the Western political tradition and apply them to America's civic life. Today, the stakes could hardly be higher. Vital questions about the nature of man, of rights, of equality, of majority rule are bubbling just beneath the surface of daily events in America.
---
SECONDHAND: TRAVELS IN THE NEW GLOBAL GARAGE SALE
by Adam Minter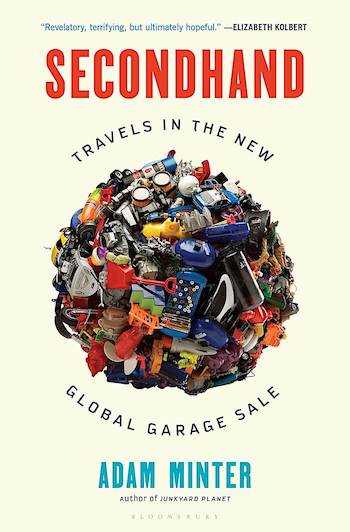 Downsizing. Decluttering. A parent's death. Sooner or later, all of us are faced with things we no longer need or want. But when we drop our old clothes and other items off at a local donation center, where do they go? Sometimes across the country-or even halfway across the world-to people and places who find value in what we leave behind. In Secondhand, journalist Adam Minter takes us on an unexpected adventure into the often-hidden, multibillion-dollar industry of reuse: thrift stores in the American Southwest to vintage shops in Tokyo, flea markets in Southeast Asia to used-goods enterprises in Ghana, and more. Along the way, Minter meets the fascinating people who handle-and profit from-our rising tide of discarded stuff, and asks a pressing question: In a world that craves shiny and new, is there room for it all? Secondhand offers hopeful answers and hard truths. A history of the stuff we've used and a contemplation of why we keep buying more, it also reveals the marketing practices, design failures, and racial prejudices that push used items into landfills instead of new homes. Secondhand shows us that it doesn't have to be this way, and what really needs to change to build a sustainable future free of excess stuff.
---
INDISTRACTABLE: HOW TO CONTROL YOUR ATTENTION AND CHOOSE YOUR LIFE
by Nir Eyal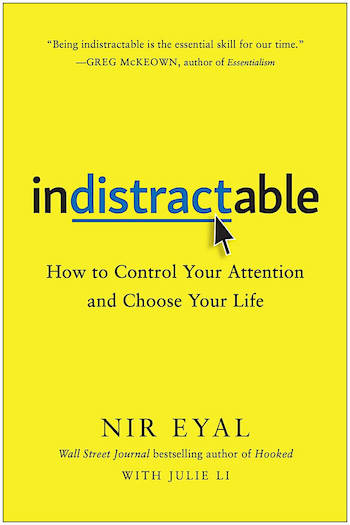 What would be possible if you followed through on your best intentions? What could you accomplish if you could stay focused? What if you had the power to become "indistractable?" International bestselling author, former Stanford lecturer, and behavioral design expert, Nir Eyal, wrote Silicon Valley's handbook for making technology habit-forming. Five years after publishing Hooked, Eyal reveals distraction's Achilles' heel in his groundbreaking new book. In Indistractable, Eyal reveals the hidden psychology driving us to distraction. He describes why solving the problem is not as simple as swearing off our devices: Abstinence is impractical and often makes us want more. Eyal lays bare the secret of finally doing what you say you will do with a four-step, research-backed model. Indistractable reveals the key to getting the best out of technology, without letting it get the best of us.
---
RAILROADS AND THE TRANSFORMATION OF CHINA
by Elisabeth Köll
As a vehicle to convey both the history of modern China and the complex forces still driving the nation's economic success, rail has no equal. Railroads and the Transformation of China is the first comprehensive history, in any language, of railroad operation from the last decades of the Qing Empire to the present. China's first fractured lines were built under semicolonial conditions by competing foreign investors. The national system that began taking shape in the 1910s suffered all the ills of the country at large: warlordism and Japanese invasion, Chinese partisan sabotage, the Great Leap Forward when lines suffered in the "battle for steel," and the Cultural Revolution, during which Red Guards were granted free passage to "make revolution" across the country, nearly collapsing the system. Elisabeth Köll's expansive study shows how railroads survived the rupture of the 1949 Communist revolution and became an enduring model of Chinese infrastructure expansion. The railroads persisted because they were exemplary bureaucratic institutions. Through detailed archival research and interviews, Köll builds case studies illuminating the strength of rail administration. Pragmatic management, combining central authority and local autonomy, sustained rail organizations amid shifting political and economic priorities. As Köll shows, rail provided a blueprint for the past forty years of ambitious, semipublic business development and remains an essential component of the PRC's politically charged, technocratic economic model for China's future.
---
WHY LIBERALISM WORKS: HOW TRUE LIBERAL VALUES PRODUCE A FREER, MORE EQUAL, PROSPEROUS WORLD FOR ALL
by Deirdre Nansen McCloskey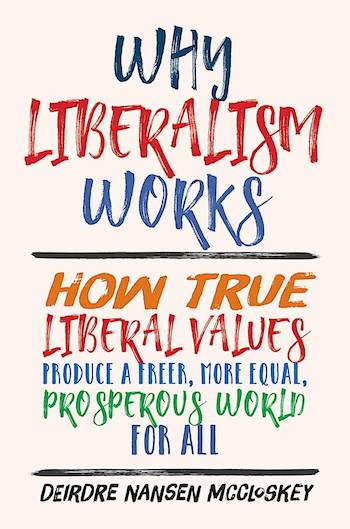 The greatest challenges facing humankind, according to Deirdre McCloskey, are poverty and tyranny, both of which hold people back. Arguing for a return to true liberal values, this engaging and accessible book develops, defends, and demonstrates how embracing the ideas first espoused by eighteenth-century philosophers like Locke, Smith, Voltaire, and Wollstonecraft is good for everyone. With her trademark wit and deep understanding, McCloskey shows how the adoption of Enlightenment ideals of liberalism has propelled the freedom and prosperity that define the quality of a full life. In her view, liberalism leads to equality, but equality does not necessarily lead to liberalism. Liberalism is an optimistic philosophy that depends on the power of rhetoric rather than coercion, and on ethics, free speech, and facts in order to thrive.
---
WRIGHT AND NEW YORK: THE MAKING OF AMERICA'S ARCHITECT
by Anthony Alofsin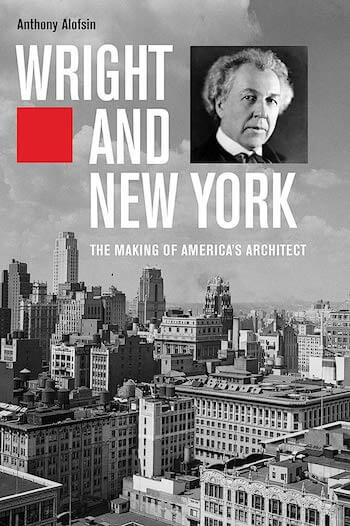 Frank Lloyd Wright (1867–1959) took his first major trip to New York in 1909, fleeing a failed marriage and artistic stagnation. He returned a decade later, his personal life and architectural career again in crisis. Booming 1920s New York served as a refuge, but it also challenged him and resurrected his career. The city connected Wright with important clients and commissions that would harness his creative energy and define his role in modern architecture, even as the stock market crash took its toll on his benefactors. Wright denounced New York as an "unlivable prison" even as he reveled in its culture. The city became an urban foil for Wright's work in the desert and in the "organic architecture" he promoted as an alternative to American Art Deco and the International Style. New York became a major protagonist at the end of Wright's life, as he spent his final years at the Plaza Hotel working on the Guggenheim Museum, the building that would cement his legacy. Anthony Alofsin has broken new ground by mining the recently opened Wright archives held by Columbia University and the Museum of Modern Art. His foundational research provides a crucial and innovative understanding of Wright's life, his career, and the conditions that enabled his success. The result is at once a stunning biography and a glittering portrait of early twentieth-century Manhattan.
---
INGENIOUS: THE UNINTENDED CONSEQUENCES OF HUMAN INNOVATION
by Sir Peter Gluckman, Mark Hanson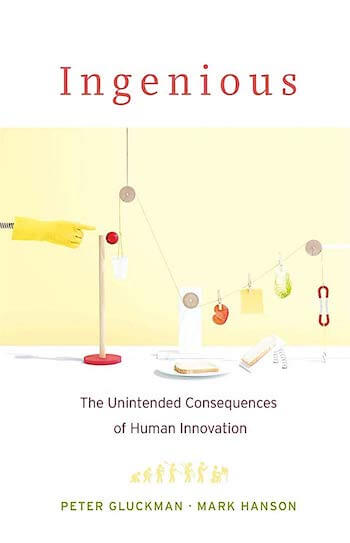 Over thousands of years, humans have invented ingenious ways to gain mastery over our environment. The ability to communicate, accumulate knowledge collectively, and build on previous innovations has enabled us to change nature. Innovation has allowed us to thrive. The trouble with innovation is that we can seldom go back and undo it. We invent, embrace, and exploit new technologies to modify our environment. Then we modify those technologies to cope with the resulting impacts. Gluckman and Hanson explore what happens when we innovate in a way that leads nature to bite back. To provide nourishment for a growing population, humans developed methods to process and preserve food; but easy access to these energy-dense foods results in obesity. To protect ourselves from dangerous pathogens we embraced cleanliness and invented antibiotics, which has led to rising rates of autoimmune diseases and antibiotic-resistant bacteria. More recently, our growing dependence on the internet and social media has been linked to mental health concerns and declining social cohesion. And we are only at the beginning of the digital transformation that will influence every part of our existence. Our ingenuity has not only changed our world―it has changed us.
---
A QUESTION OF POWER: ELECTRICITY AND THE WEALTH OF NATIONS
by Robert Bryce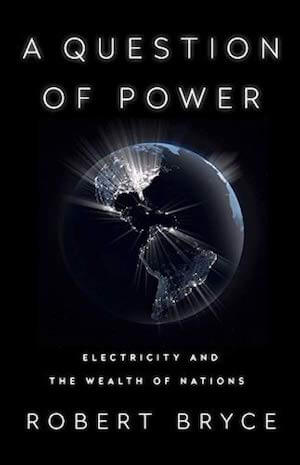 Global demand for power is doubling every two decades, but electricity remains one of the most difficult forms of energy to supply and do so reliably. Today, some three billion people are still living in places where per-capita electricity use is less than what's used by an average American refrigerator. How we close the enormous gap between the electricity rich and the electricity poor will affect everything from women's rights and healthcare to warfare and climate change. In A Question of Power, Robert Bryce tells the human story of electricity and explains why some countries have successfully electrified while so many others remain stuck in the dark. He shows how our cities, our money—our very lives—depend on reliable flows of electricity. Electricity has fueled a new epoch in the history of civilization. A Question of Power explains how that happened and what it means for our future.
---
SPACE CAPITALISM: HOW HUMANS WILL COLONIZE PLANETS, MOONS, AND ASTEROIDS
by Peter Lothian Nelson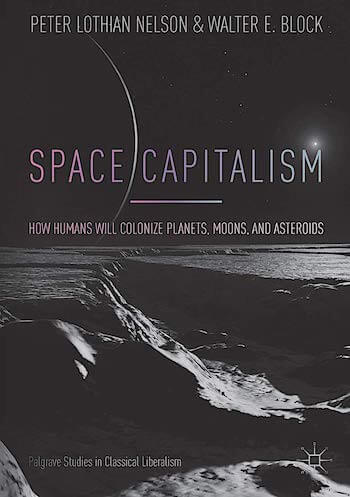 This book compares and contrasts the motivations, morality, and effectiveness of space exploration when pursued by private entrepreneurs as opposed to government. The authors advocate market-driven, private initiatives take the lead through enhanced competition and significant resources that can be allocated to the exploration and exploitation of outer space. Space travel and colonisation is analysed through the prism of economic freedom and laissez faire capitalism, in a unique and accessible book.
---
THE UNDYING: PAIN, VULNERABILITY, MORTALITY, MEDICINE, ART, TIME, DREAMS, DATA, EXHAUSTION, CANCER, AND CARE
by Anne Boyer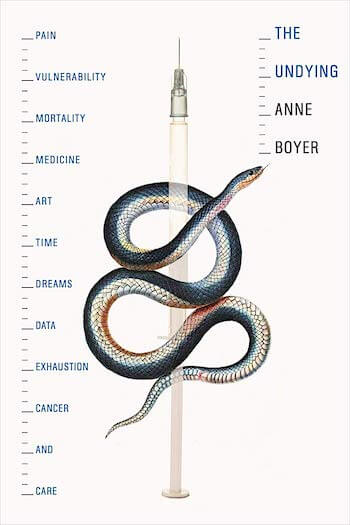 A week after her forty-first birthday, the acclaimed poet Anne Boyer was diagnosed with highly aggressive triple-negative breast cancer. For a single mother living paycheck to paycheck who had always been the caregiver rather than the one needing care, the catastrophic illness was both a crisis and an initiation into new ideas about mortality and the gendered politics of illness. A twenty-first-century Illness as Metaphor, as well as a harrowing memoir of survival, The Undying explores the experience of illness as mediated by digital screens, weaving in ancient Roman dream diarists, cancer hoaxers and fetishists, cancer vloggers, corporate lies, John Donne, pro-pain "dolorists," the ecological costs of chemotherapy, and the many little murders of capitalism. It excoriates the pharmaceutical industry and the bland hypocrisies of "pink ribbon culture" while also diving into the long literary line of women writing about their own illnesses and ongoing deaths: Audre Lorde, Kathy Acker, Susan Sontag, and others. A genre-bending memoir in the tradition of The Argonauts, The Undying will break your heart, make you angry enough to spit, and show you contemporary America as a thing both desperately ill and occasionally, perversely glorious.
---
THE STOIC CHALLENGE: A PHILOSOPHER'S GUIDE TO BECOMING TOUGHER, CALMER, AND MORE RESILIENT
by William B. Irvine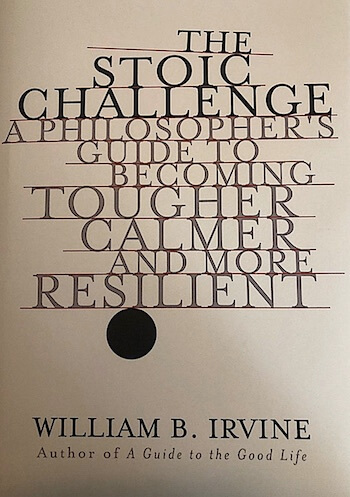 Some people bounce back in response to setbacks; others break. We often think that these responses are hardwired, but fortunately this is not the case. Stoicism offers us an alternative approach. Plumbing the wisdom of one of the most popular and successful schools of thought from ancient Rome, philosopher William B. Irvine teaches us to turn any challenge on its head. The Stoic Challenge, then, is the ultimate guide to improving your quality of life through tactics developed by ancient Stoics, from Marcus Aurelius and Seneca to Epictetus. This book uniquely combines ancient Stoic insights with techniques discovered by contemporary psychological research, such as anchoring and framing. The result is a surprisingly simple strategy for dealing with life's unpleasant and unexpected challenges―from minor setbacks like being caught in a traffic jam or having a flight cancelled to major setbacks like those experienced by physicist Stephen Hawking, who slowly lost the ability to move, and writer Jean-Dominique Bauby, who suffered from locked-in syndrome. The Stoics discovered that thinking of challenges as tests of character can dramatically alter our emotional response to them. Irvine's updated "Stoic test strategy" teaches us how to transform life's stumbling blocks into opportunities for becoming calmer, tougher, and more resilient. Not only can we overcome everyday obstacles―we can benefit from them, too.
---
VIRTUE POLITICS: SOULCRAFT AND STATECRAFT IN RENAISSANCE ITALY
by James Hankins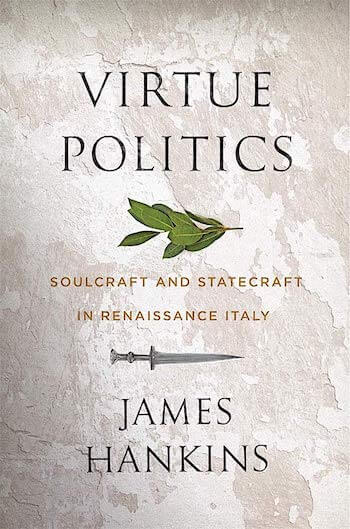 Convulsed by a civilizational crisis, the great thinkers of the Renaissance set out to reconceive the nature of society. Everywhere they saw problems. Corrupt and reckless tyrants sowing discord and ruling through fear; elites who prized wealth and status over the common good; military leaders waging endless wars. Their solution was at once simple and radical. "Men, not walls, make a city," as Thucydides so memorably said. They would rebuild their city, and their civilization, by transforming the moral character of its citizens. Soulcraft, they believed, was a precondition of successful statecraft. A dazzlingly ambitious reappraisal of Renaissance political thought by one of our generation's foremost intellectual historians, Virtue Politics challenges the traditional narrative that looks to the Renaissance as the seedbed of modern republicanism and sees Machiavelli as its exemplary thinker. James Hankins reveals that what most concerned the humanists was not reforming laws or institutions so much as shaping citizens. If character mattered more than constitutions, it would have to be nurtured through a new program of education they called the studia humanitatis: the humanities.
---
ON DESPERATE GROUND: THE MARINES AT THE RESERVOIR, THE KOREAN WAR'S GREATEST BATTLE
by Hampton Sides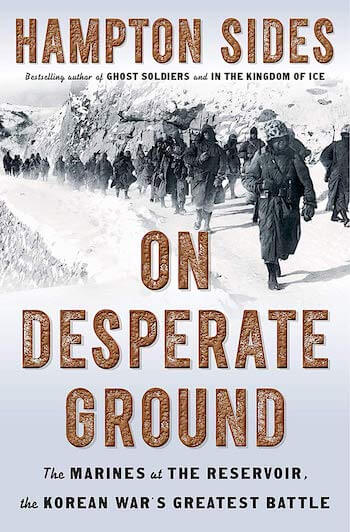 On October 15, 1950, General Douglas MacArthur, Supreme Commander of UN troops in Korea, convinced President Harry Truman that the Communist forces of Kim Il-sung would be utterly defeated by Thanksgiving. The Chinese, he said with near certainty, would not intervene in the war. As he was speaking, 300,000 Red Chinese soldiers began secretly crossing the Manchurian border. Led by some 20,000 men of the First Marine Division, the Americans moved deep into the snowy mountains of North Korea, toward the trap Mao had set for the vainglorious MacArthur along the frozen shores of the Chosin Reservoir. What followed was one of the most heroic—and harrowing—operations in American military history, and one of the classic battles of all time. Faced with probable annihilation, and temperatures plunging to 20 degrees below zero, the surrounded, and hugely outnumbered, Marines fought through the enemy forces with ferocity, ingenuity, and nearly unimaginable courage as they marched their way to the sea. Hampton Sides' superb account of this epic clash relies on years of archival research, unpublished letters, declassified documents, and interviews with scores of Marines and Koreans who survived the siege. While expertly detailing the follies of the American leaders, On Desperate Ground is an immediate, grunt's-eye view of history, enthralling in its narrative pace and powerful in its portrayal of what ordinary men are capable of in the most extreme circumstances.
---
INNOVATION + EQUALITY: HOW TO CREATE A FUTURE THAT IS MORE STAR TREK THAN TERMINATOR
by Joshua Gans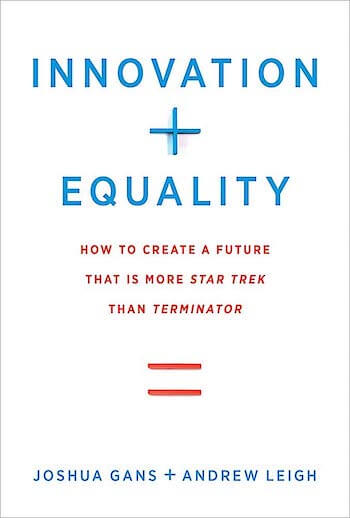 Is economic inequality the price we pay for innovation? The amazing technological advances of the last two decades―in such areas as artificial intelligence, genetics, and materials―have benefited society collectively and rewarded innovators handsomely: we get cool smartphones and technology moguls become billionaires. This contributes to a growing wealth gap; in the United States; the wealth controlled by the top 0.1 percent of households equals that of the bottom ninety percent. Is this the inevitable cost of an innovation-driven economy? Economist Joshua Gans and policy maker Andrew Leigh make the case that pursuing innovation does not mean giving up on equality―precisely the opposite. In this book, they outline ways that society can become both more entrepreneurial and more egalitarian. All innovation entails uncertainty; there's no way to predict which new technologies will catch on. Therefore, Gans and Leigh argue, rather than betting on the future of particular professions, we should consider policies that embrace uncertainty and protect people from unfavorable outcomes. To this end, they suggest policies that promote both innovation and equality. If we encourage innovation in the right way, our future can look more like the cheerful techno-utopia of Star Trek than the dark techno-dystopia of The Terminator.
---
THE SHIFTING REALITIES OF PHILIP K. DICK: SELECTED LITERARY AND PHILOSOPHICAL WRITINGS
by Philip K. Dick (Author), Lawrence Sutin (Editor)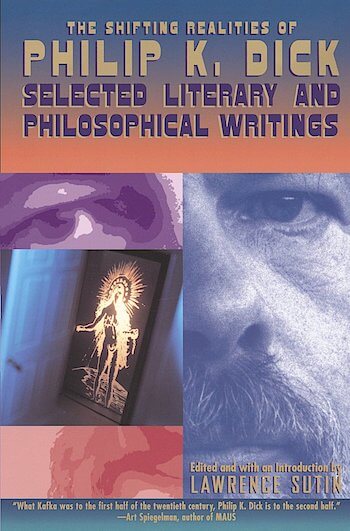 Philip K. Dick was both our most brilliant science fiction writer and a visionary philosopher who chose to couch his speculations in fiction. For, as he wrote about androids and virtual reality, schizophrenic prophets and amnesiac gods, Dick was also posing fundamental questions: What is reality? What is sanity? And what is human? This unprecedented collection of Dick's literary and philosophical writings acquaints us with the astonishing range and eloquence of his lifelong inquiry. The Shifting Realities of Philip K. Dick includes autobiography, critiques of science fiction, and dizzyingly provocative essays such as "The Android and the Human" and "If You Find This World Bad, You Should See Some of the Others." Readers will also find two chapters of a proposed sequel to Dick's award-winning novel The Man in the High Castle and selections from the metaphysical Exegesis that inspired his classic VALIS.
---
CALL SIGN CHAOS: LEARNING TO LEAD
by Jim Mattis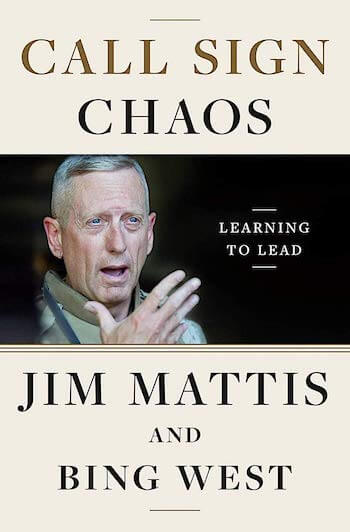 Call Sign Chaos is the account of Jim Mattis's storied career, from wide-ranging leadership roles in three wars to ultimately commanding a quarter of a million troops across the Middle East. Along the way, Mattis recounts his foundational experiences as a leader, extracting the lessons he has learned about the nature of warfighting and peacemaking, the importance of allies, and the strategic dilemmas—and short-sighted thinking—now facing our nation. He makes it clear why America must return to a strategic footing so as not to continue winning battles but fighting inconclusive wars. Mattis divides his book into three parts: Direct Leadership, Executive Leadership, and Strategic Leadership. In the first part, Mattis recalls his early experiences leading Marines into battle, when he knew his troops as well as his own brothers. In the second part, he explores what it means to command thousands of troops and how to adapt your leadership style to ensure your intent is understood by your most junior troops so that they can own their mission. In the third part, Mattis describes the challenges and techniques of leadership at the strategic level, where military leaders reconcile war's grim realities with political leaders' human aspirations, where complexity reigns and the consequences of imprudence are severe, even catastrophic.
---
THE ECONOMISTS' HOUR: FALSE PROPHETS, FREE MARKETS, AND THE FRACTURE OF SOCIETY
by Binyamin Appelbaum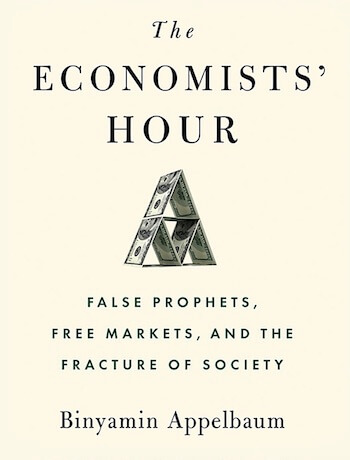 In The Economists' Hour, Binyamin Appelbaum traces the rise of the economists, first in the United States and then around the globe, as their ideas reshaped the modern world, curbing government, unleashing corporations and hastening globalization. Some leading figures are relatively well-known, such as Milton Friedman, the elfin libertarian who had a greater influence on American life than any other economist of his generation, and Arthur Laffer, who sketched a curve on a cocktail napkin that helped to make tax cuts a staple of conservative economic policy. Others stayed out of the limelight, but left a lasting impact on modern life: Walter Oi, a blind economist who dictated to his wife and assistants some of the calculations that persuaded President Nixon to end military conscription; Alfred Kahn, who deregulated air travel and rejoiced in the crowded cabins on commercial flights as the proof of his success; and Thomas Schelling, who put a dollar value on human life.
---
IN THE SHADOW OF JUSTICE: POSTWAR LIBERALISM AND THE REMAKING OF POLITICAL PHILOSOPHY
by Katrina Forrester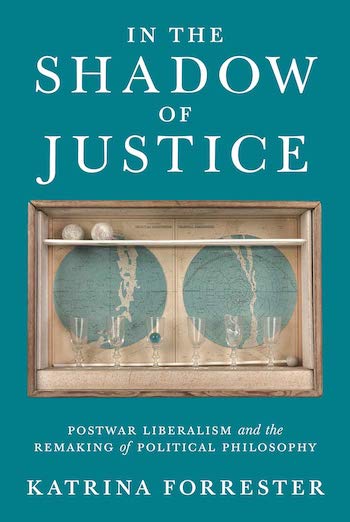 In the Shadow of Justice tells the story of how liberal political philosophy was transformed in the second half of the twentieth century under the influence of John Rawls. In this first-ever history of contemporary liberal theory, Katrina Forrester shows how liberal egalitarianism―a set of ideas about justice, equality, obligation, and the state―became dominant, and traces its emergence from the political and ideological context of the postwar United States and Britain. In the aftermath of the civil rights movement and the Vietnam War, Rawls's A Theory of Justice made a particular kind of liberalism essential to political philosophy. Using archival sources, Forrester explores the ascent and legacy of this form of liberalism by examining its origins in midcentury debates among American antistatists and British egalitarians. She traces the roots of contemporary theories of justice and inequality, civil disobedience, just war, global and intergenerational justice, and population ethics in the 1960s and '70s and beyond. In these years, political philosophers extended, developed, and reshaped this liberalism as they responded to challenges and alternatives on the left and right―from the New International Economic Order to the rise of the New Right. These thinkers remade political philosophy in ways that influenced not only their own trajectory but also that of their critics.
---
SOMETHING DEEPLY HIDDEN: QUANTUM WORLDS AND THE EMERGENCE OF SPACETIME
by Sean Carroll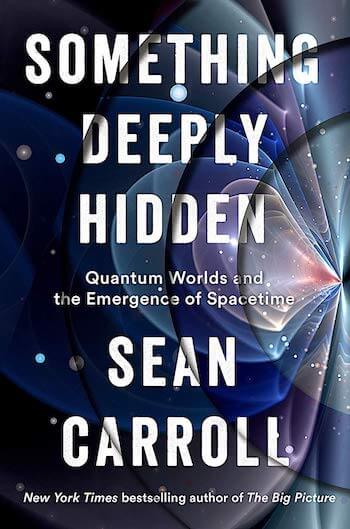 Sean Carroll, theoretical physicist and one of this world's most celebrated writers on science, rewrites the history of 20th century physics. Already hailed as a masterpiece, Something Deeply Hidden shows for the first time that facing up to the essential puzzle of quantum mechanics utterly transforms how we think about space and time. His reconciling of quantum mechanics with Einstein's theory of relativity changes, well, everything. Most physicists haven't even recognized the uncomfortable truth: physics has been in crisis since 1927. Quantum mechanics has always had obvious gaps—which have come to be simply ignored. Science popularizers keep telling us how weird it is, how impossible it is to understand. Academics discourage students from working on the «dead end» of quantum foundations. Putting his professional reputation on the line with this audacious yet entirely reasonable book, Carroll says that the crisis can now come to an end. We just have to accept that there is more than one of us in the universe. There are many, many Sean Carrolls. Many of every one of us.
---
THE EDUCATION OF AN IDEALIST: A MEMOIR
by Samantha Power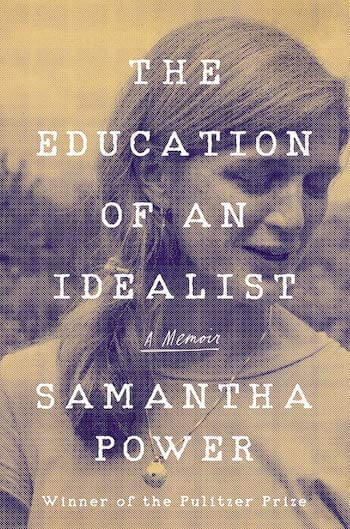 In her memoir, Power offers an urgent response to the question «What can one person do?»—and a call for a clearer eye, a kinder heart, and a more open and civil hand in our politics and daily lives. The Education of an Idealist traces Power's distinctly American journey from immigrant to war correspondent to presidential Cabinet official. In 2005, her critiques of US foreign policy caught the eye of newly elected senator Barack Obama, who invited her to work with him on Capitol Hill and then on his presidential campaign. After Obama was elected president, Power went from being an activist outsider to a government insider, navigating the halls of power while trying to put her ideals into practice. She served for four years as Obama's human rights adviser, and in 2013, he named her US Ambassador to the United Nations, the youngest American to assume the role. A Pulitzer Prize–winning writer, Power transports us from her childhood in Dublin to the streets of war-torn Bosnia to the White House Situation Room and the world of high-stakes diplomacy. Humorous and deeply honest, The Education of an Idealist lays bare the searing battles and defining moments of her life and shows how she juggled the demands of a 24/7 national security job with the challenge of raising two young children. Along the way, she illuminates the intricacies of politics and geopolitics, reminding us how the United States can lead in the world, and why we each have the opportunity to advance the cause of human dignity. Power's memoir is an unforgettable account of the power of idealism—and of one person's fierce determination to make a difference.
---
CHINA'S NEW RED GUARDS: THE RETURN OF RADICALISM AND THE REBIRTH OF MAO ZEDONG
by Jude Blanchette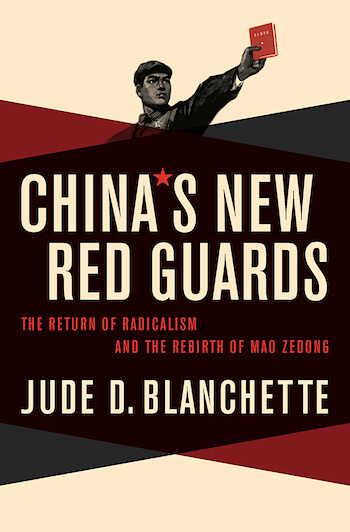 Ever since Deng Xiaoping effectively de-radicalized China in the 1980s, there have been many debates about which path China would follow. Would it democratize? Would it embrace capitalism? Would the Communist Party's rule be able to withstand the adoption and spread of the Internet? One debate that did not occur in any serious way, however, was whether Mao Zedong would make a political comeback. As Jude Blanchette details in China's New Red Guards, contemporary China is undergoing a revival of an unapologetic embrace of extreme authoritarianism that draws direct inspiration from the Mao era. Under current Chinese leader Xi Jinping, state control over the economy is increasing, civil society is under sustained attack, and the CCP is expanding its reach in unprecedented new ways. As Xi declared in late 2017, «Government, military, society and schools, north, south, east and west-the party is the leader of all.»
---
THIS COULD BE OUR FUTURE: A MANIFESTO FOR A MORE GENEROUS WORLD
by Yancey Strickler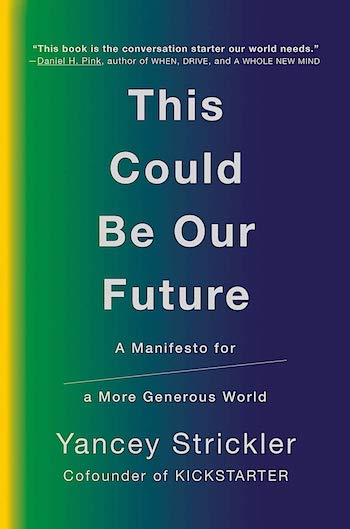 Western society is trapped by three assumptions: 1) That the point of life is to maximize your self-interest and wealth, 2) That we're individuals trapped in an adversarial world, and 3) That this is natural and inevitable. These ideas separate us, keep us powerless, and limit our imagination for the future. It's time we replace them with something new. This Could Be Our Future is about how we got here, and how we change course. While the pursuit of wealth has produced innovation and prosperity, it also established an implicit belief that the right choice in every decision is whichever option makes the most money. The answer isn't to get rid of money; it's to expand our concept of value. By assigning rational value to other values besides money—things like community, purpose, and sustainability—we can refocus our energies to build a society that's generous, fair, and ready for the future. By recalibrating our definition of value, a world of scarcity can become a world of abundance. Hopeful but firmly grounded, full of concrete solutions and bursting with creativity, This Could Be Our Future brilliantly dissects the world we live in and shows us a road map to the world we are capable of making.
**
NEW RETAIL BORN IN CHINA GOING GLOBAL: HOW CHINESE TECH GIANTS ARE CHANGING GLOBAL COMMERCE
by Ashley Galina Dudarenok, Michael Zakkour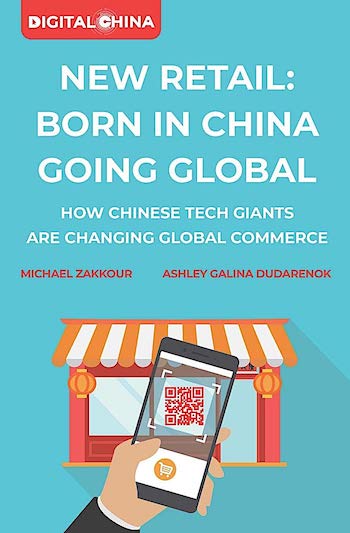 A behind the scenes look at how, in only a few short years, Alibaba CEO Jack Ma's vision of «The New Retail», where 800 million consumers take for granted a world of convenience unimagined anywhere else, has become a reality. This complete integration of online, offline, technology and entertainment has changed the rules of commerce forever. We unpack how a perfect storm of smart devices, digital payments, e-commerce and the need to modernize physical stores led to a complete reimagining of 5,000 years of buying and selling products and services. The long battle between bricks and clicks is over, and the winner is The New Retail. Alibaba, JD.com, Tencent and a growing group of innovative brands, retailers and digital pioneers, fueled by the demands of the most spoiled consumers in the world have spurred a retail renaissance and plotted a course for the future of retail and consumption around the world. If you want to see the future of retail and commerce, read this book, and then, if you can, spend a week shopping in Shanghai.
---
DECEIVING THE SKY: INSIDE COMMUNIST CHINA'S DRIVE FOR GLOBAL SUPREMACY
by Bill Gertz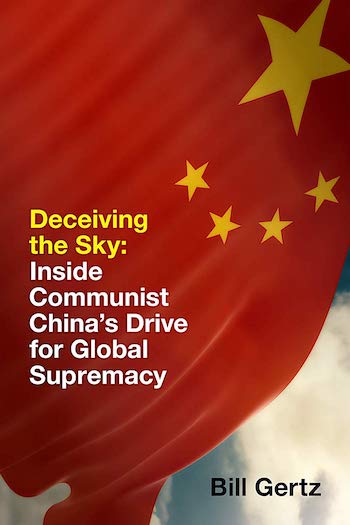 The United States' approach to China since the Communist regime in Beijing began the period of reform and opening in the 1980s was based on a promise that trade and engagement with China would result in a peaceful, democratic state. Forty years later the hope of producing a benign People's Republic of China utterly failed. The Communist Party of China deceived the West into believing that the its system and the Party-ruled People's Liberation Army were peaceful and posed no threat. In fact, these misguided policies produced the emergence of a 21st Century Evil Empire even more dangerous than a Cold War version in the Soviet Union. Successive American presidential administrations were fooled by ill-advised pro-China policymakers, intelligence analysts and business leaders who facilitated the rise not of a peaceful China but a threatening and expansionist nuclear-armed communist dictatorship not focused on a single overriding strategic objective: Weakening and destroying the United States of America. Defeating the United States is the first step for China's current rulers in achieving global supremacy under a new world order based an ideology of Communism with Chinese characteristics.
---
TECH TITANS OF CHINA: HOW CHINA'S TECH SECTOR IS CHALLENGING THE WORLD BY INNOVATING FASTER, WORKING HARDER & GOING GLOBAL
by Rebecca A. Fannin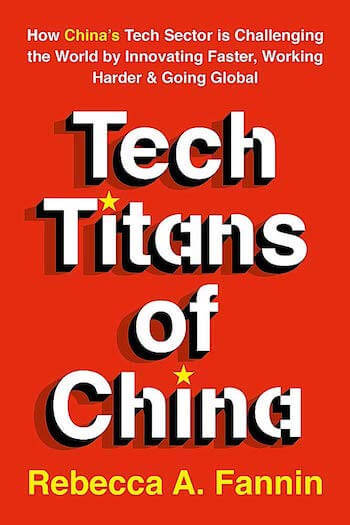 The rise of China's tech companies and intense competition from the sector is just beginning. This will present an ongoing management and strategy challenge for companies for many years to come. Tech Titans of China is the go-to-guide for companies (and those interested in competition from China) seeking to understand China's grand tech ambitions, who the players are and what their strategy is. Fannin, an expert on China, is an internationally-recognized journalist, author and speaker. She hosts 12 live events annually for business leaders, venture capitalists, start-up founders, and others impacted by or interested in cashing in on the Chinese tech industry. In this illuminating book, she provides readers with the ammunition they need to prepare and compete. Featuring detailed profiles of the Chinese tech companies making waves, the tech sectors that matter most in China's grab for super power status, and predictions for China's tech dominance in just 10 years.
---
ONLY THE DEAD: THE PERSISTENCE OF WAR IN THE MODERN AGE
by Bear Braumoeller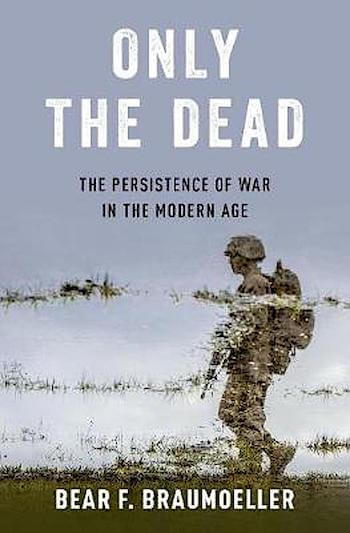 The idea that war is going out of style has become the conventional wisdom in recent years. But in Only the Dead, award-winning author Bear Braumoeller demonstrates that it shouldn't have. With a rare combination of historical expertise, statistical acumen, and accessible prose, Braumoeller shows that the evidence simply doesn't support the decline-of-war thesis propounded by scholars like Steven Pinker. He argues that the key to understanding trends in warfare lies, not in the spread of humanitarian values, but rather in the formation of international orders—sets of expectations about behavior that allow countries to work in concert, as they did in the Concert of Europe and have done in the postwar Western liberal order. With a nod toward the American sociologist Charles Tilly, who argued that «war made the state and the state made war,» Braumoeller shows argues that the same is true of international orders: while they reduce conflict within their borders, they can also clash violently with one another, as the Western and communist orders did throughout the Cold War.
---
KILLING FOR THE REPUBLIC: CITIZEN-SOLDIERS AND THE ROMAN WAY OF WAR
by Steele Brand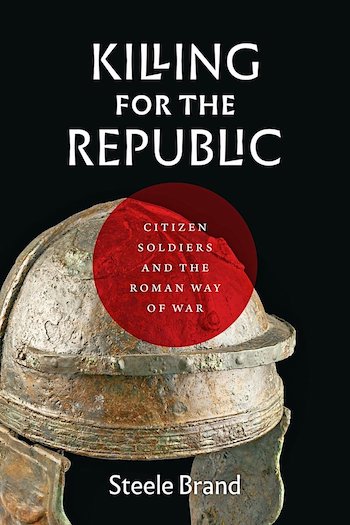 How did armies made up of citizen-soldiers manage to pull off such a major triumph? And what made the republic so powerful? In Killing for the Republic, Steele Brand explains how Rome transformed average farmers into ambitious killers capable of conquering the entire Mediterranean. Rome instilled something violent and vicious in its soldiers, making them more effective than other empire builders. Unlike the Assyrians, Persians, and Macedonians, it fought with part-timers. Examining the relationship between the republican spirit and the citizen-soldier, Brand argues that Roman republican values and institutions prepared common men for the rigors and horrors of war. Brand reconstructs five separate battles―representative moments in Rome's constitutional and cultural evolution that saw its citizen-soldiers encounter the best warriors of the day, from marauding Gauls and the Alps-crossing Hannibal to the heirs of Alexander the Great. A sweeping political and cultural history, Killing for the Republic closes with a compelling argument in favor of resurrecting the citizen-soldier ideal in modern America.
---
RE-ENGINEERING HUMANITY
by Brett Frischmann, Evan Selinger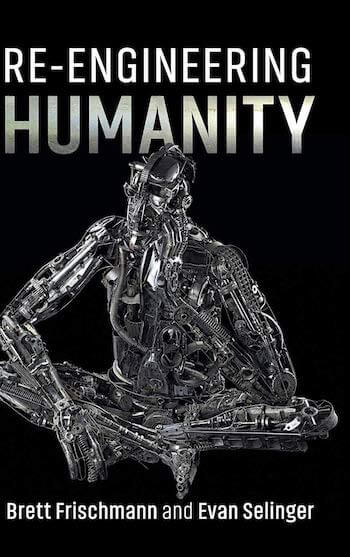 Every day, new warnings emerge about artificial intelligence rebelling against us. All the while, a more immediate dilemma flies under the radar. Have forces been unleashed that are thrusting humanity down an ill-advised path, one that's increasingly making us behave like simple machines? In this wide-reaching, interdisciplinary book, Brett Frischmann and Evan Selinger examine what's happening to our lives as society embraces big data, predictive analytics, and smart environments. They explain how the goal of designing programmable worlds goes hand in hand with engineering predictable and programmable people. Detailing new frameworks, provocative case studies, and mind-blowing thought experiments, Frischmann and Selinger reveal hidden connections between fitness trackers, electronic contracts, social media platforms, robotic companions, fake news, autonomous cars, and more. This powerful analysis should be read by anyone interested in understanding exactly how technology threatens the future of our society, and what we can do now to build something better.
---
HACKING THE CODE OF LIFE: HOW GENE EDITING WILL REWRITE OUR FUTURES
by Nessa Carey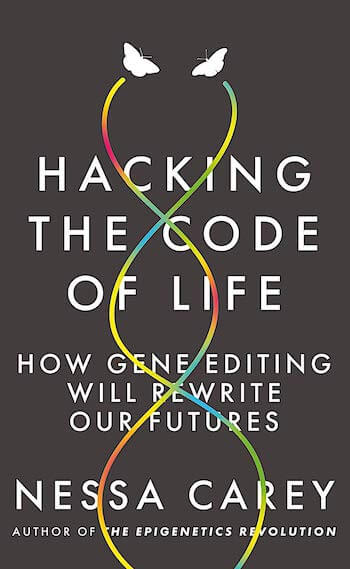 Just 45 years ago, the age of gene modification was born. Researchers could create glow-in-the-dark mice, farmyard animals producing drugs in their milk, and vitamin-enhanced rice that could prevent half a million people going blind every year. But now GM is rapidly being supplanted by a new system called CRISPR or 'gene editing'. Using this approach, scientists can manipulate the genes of almost any organism with a degree of precision, ease and speed that we could only dream of ten years ago. But is it ethical to change the genetic material of organisms in a way that might be passed on to future generations? If a person is suffering from a lethal genetic disease, is it even more unethical to deny them this option? Who controls the application of this technology, when it makes 'biohacking' – perhaps of one's own genome – a real possibility?
---
THE TRIUMPH OF INJUSTICE: HOW THE RICH DODGE TAXES AND HOW TO MAKE THEM PAY
by Emmanuel Saez, Gabriel Zucman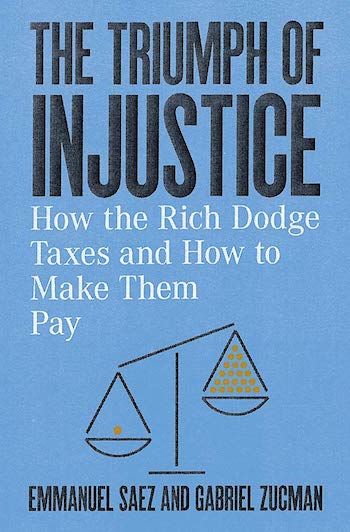 Even as they became fabulously wealthy, the ultra-rich have seen their taxes collapse to levels last seen in the 1920s. Meanwhile, working-class Americans have been asked to pay more. The Triumph of Injustice presents a forensic investigation into this dramatic transformation, written by two economists who revolutionized the study of inequality. Eschewing anecdotes and case studies, Emmanuel Saez and Gabriel Zucman offer a comprehensive view of America's tax system, based on new statistics covering all taxes paid at all levels of government. Their conclusion? For the first time in more than a century, billionaires now pay lower tax rates than their secretaries. Blending history and cutting-edge economic analysis, and writing in lively and jargon-free prose, Saez and Zucman dissect the deliberate choices (and sins of indecision) that have brought us to today: the gradual exemption of capital owners; the surge of a new tax avoidance industry; and the spiral of tax competition among nations. With clarity and concision, they explain how America turned away from the most progressive tax system in history to embrace policies that only serve to compound the wealth of a few.
---
INVESTING IN SCIENCE: SOCIAL COST-BENEFIT ANALYSIS OF RESEARCH INFRASTRUCTURES
by Massimo Florio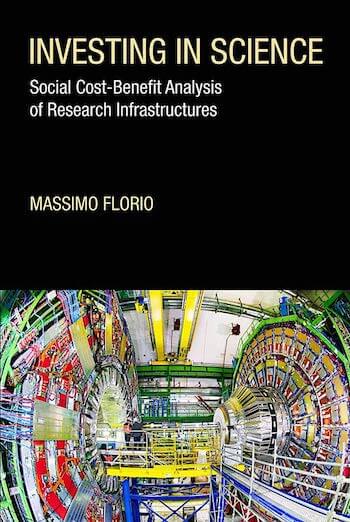 Large particle accelerators, outer space probes, genomics platforms: all are scientific enterprises managed through the new form of the research infrastructure, in which communities of scientists collaborate across nations, universities, research institutions, and disciplines. Such large projects are often publicly funded, with no accepted way to measure the benefits to society of these investments. In this book, Massimo Florio suggests the use of cost-benefit analysis (CBA) to evaluate the socioeconomic impact of public investment in large and costly scientific projects.
---
BEYOND THE VALLEY: HOW INNOVATORS AROUND THE WORLD ARE OVERCOMING INEQUALITY AND CREATING THE TECHNOLOGIES OF TOMORROW
by Ramesh Srinivasan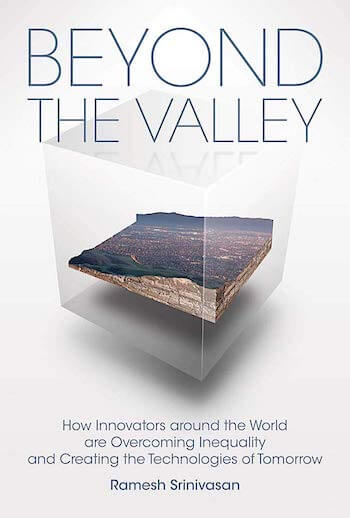 How to repair the disconnect between designers and users, producers and consumers, and tech elites and the rest of us: toward a more democratic internet. In this provocative book, Ramesh Srinivasan describes the internet as both an enabler of frictionless efficiency and a dirty tangle of politics, economics, and other inefficient, inharmonious human activities. We may love the immediacy of Google search results, the convenience of buying from Amazon, and the elegance and power of our Apple devices, but it's a one-way, top-down process. We're not asked for our input, or our opinions―only for our data. The internet is brought to us by wealthy technologists in Silicon Valley and China. It's time, Srinivasan argues, that we think in terms beyond the Valley.
---
THE PROMISE OF ARTIFICIAL INTELLIGENCE: RECKONING AND JUDGMENT
by Brian Cantwell Smith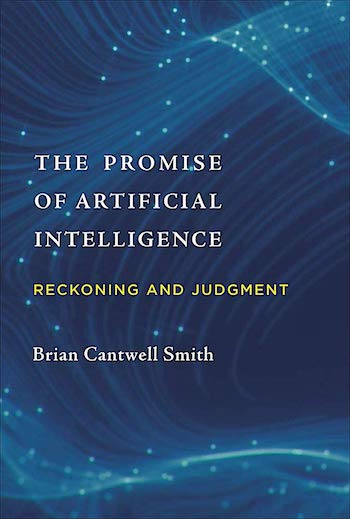 In this provocative book, Brian Cantwell Smith argues that artificial intelligence is nowhere near developing systems that are genuinely intelligent. Second wave AI, machine learning, even visions of third-wave AI: none will lead to human-level intelligence and judgment, which have been honed over millennia. Recent advances in AI may be of epochal significance, but human intelligence is of a different order than even the most powerful calculative ability enabled by new computational capacities. Smith calls this AI ability "reckoning," and argues that it does not lead to full human judgment―dispassionate, deliberative thought grounded in ethical commitment and responsible action. Taking judgment as the ultimate goal of intelligence, Smith examines the history of AI from its first-wave origins ("good old-fashioned AI," or GOFAI) to such celebrated second-wave approaches as machine learning, paying particular attention to recent advances that have led to excitement, anxiety, and debate. He considers each AI technology's underlying assumptions, the conceptions of intelligence targeted at each stage, and the successes achieved so far. Smith unpacks the notion of intelligence itself―what sort humans have, and what sort AI aims at.
---
CAN MARKETS SOLVE PROBLEMS?
by Daniel Neyland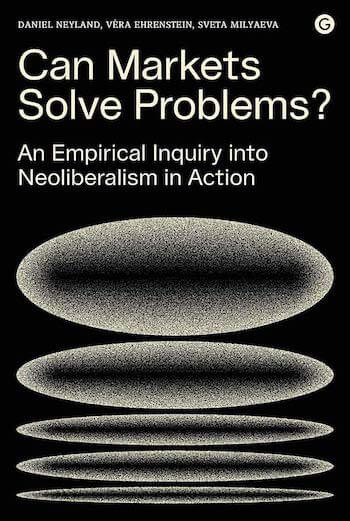 Market-based interventions have been used in attempts to solve numerous public problems, from education to healthcare and from climate change to privacy. Scholars have responded persuasively through critiques of neoliberalism. In Can Markets Solve Problems? Daniel Neyland, Véra Ehrenstein, and Sveta Milyaeva propose a different route forward. There is no single entity knowable as «the market,» the authors argue. Instead, they examine in detail the devices, relations, and practices that underpin these market-based interventions. Drawing on recent work in science and technology studies (STS), each chapter focuses on a different intervention and critically explores the market sensibility around which it is organized. Trade and exchange, competition, property and ownership, and investment and return all become the focus of a thorough exploration of what it means to intervene in public problems, how problems are composed, and how solutions are continually reworked.
---
THE AI ADVANTAGE: HOW TO PUT THE ARTIFICIAL INTELLIGENCE REVOLUTION TO WORK (MANAGEMENT ON THE CUTTING EDGE)
by Thomas Davenport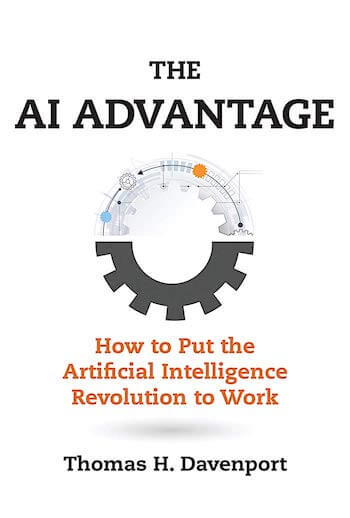 In The AI Advantage, Thomas Davenport offers a guide to using artificial intelligence in business. He describes what technologies are available and how companies can use them for business benefits and competitive advantage. He cuts through the hype of the AI craze—remember when it seemed plausible that IBM's Watson could cure cancer?—to explain how businesses can put artificial intelligence to work now, in the real world. His key recommendation: don't go for the "moonshot" (curing cancer, or synthesizing all investment knowledge); look for the "low-hanging fruit" to make your company more efficient. Davenport explains that the business value AI offers is solid rather than sexy or splashy. AI will improve products and processes and make decisions better informed—important but largely invisible tasks. AI technologies won't replace human workers but augment their capabilities, with smart machines to work alongside smart people. AI can automate structured and repetitive work; provide extensive analysis of data through machine learning ("analytics on steroids"), and engage with customers and employees via chatbots and intelligent agents. Companies should experiment with these technologies and develop their own expertise.
---
THE FEELING OF LIFE ITSELF: WHY CONSCIOUSNESS IS WIDESPREAD BUT CAN'T BE COMPUTED
by Christof Koch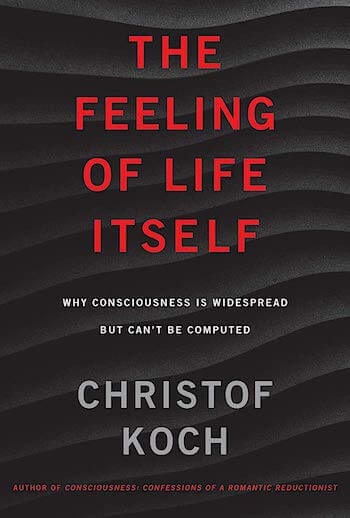 In The Feeling of Life Itself, Christof Koch offers a straightforward definition of consciousness as any subjective experience, from the most mundane to the most exalted―the feeling of being alive. Psychologists study which cognitive operations underpin a given conscious perception. Neuroscientists track the neural correlates of consciousness in the brain, the organ of the mind. But why the brain and not, say, the liver? How can the brain, three pounds of highly excitable matter, a piece of furniture in the universe, subject to the same laws of physics as any other piece, give rise to subjective experience? Koch argues that what is needed to answer these questions is a quantitative theory that starts with experience and proceeds to the brain. In The Feeling of Life Itself, Koch outlines such a theory, based on integrated information.
---
MATERIAL AND MIND
by Christopher Bardt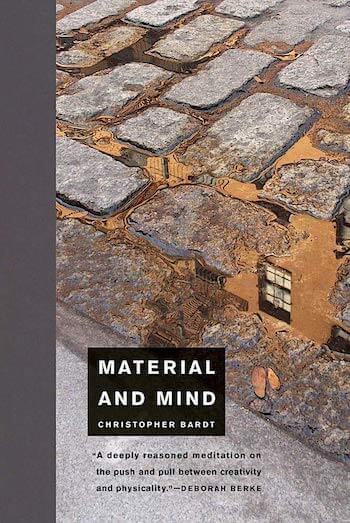 In Material and Mind, Christopher Bardt delves deeply into the interaction of mind and material world, mediated by language, image, and the process of making. He examines thought not as something "pure" and autonomous but as emerging from working with material, and he identifies this as the source of imagination and creative insight. This takes place as much in such disciplines as cognitive science, anthropology, and poetry as it does in the more obvious painting, sculpture, and design. In some fields, the medium of work is, in fact, the very medium of thinking―as fabric is for the tailor. Drawing on the philosophical notions of the "extended mind" and the "enactive mind," and looking beyond the world of material-based arts, Bardt investigates the realms in which material and mind interweave through metaphor, representation, projection, analogues, tools, and models. He considers words and their material origins and discusses the paradox of representation. He draws on the design process, scientific discovery, and cultural practice, among others things, to understand the dynamics of human thinking, to illuminate some of the ways we work with materials and use tools, and to demonstrate how our world continues to shape us as we shape it. Finally, he considers the seamless "immaterial" flow of imagery, text, and data and considers the place of material engagement in a digital storm.
---
WHY HUMANS MATTER MORE THAN EVER (DIGITAL FUTURE OF MANAGEMENT)
by management experts from both industry and academia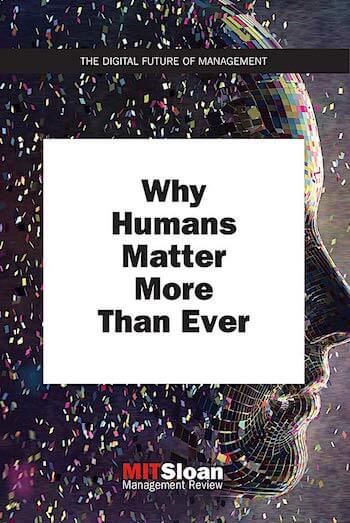 In these technocentric times, it is more important than ever to manage people well. Companies―employees and managers―may feel overwhelmed by the never-ending disruptions caused by new technologies. This volume in the Digital Future of Management series shows why we should step back, take stock, and seize just a bit more control over how our world is evolving. In Why Humans Matter More Than Ever, management experts from both industry and academia offer strategies for managing people in our brave new digital world. The contributors explain how new technologies, even the most sophisticated artificial intelligence agents, depend on human collaboration. Companies need to develop rules, principles, and clear ethical guidelines that structure smart object–human interactions. Moreover, in a world filled with technology distractions, we must learn to how to manage our most valuable personal resource: our attention. Leaders need to step up to prepare their organizations for the evolution of work, showing them how to adapt, be more collaborative, and learn new skills. As virtual collaborations take place across professions, locations, and industries, we must adopt the best practices in virtual communication. Finally, going beyond empathy and curiosity, leaders should be self-aware enough to remind themselves of what they may be missing―even the best managers don't know everything.
---
SIX IMPOSSIBLE THINGS: THE MYSTERY OF THE QUANTUM WORLD
by John Gribbin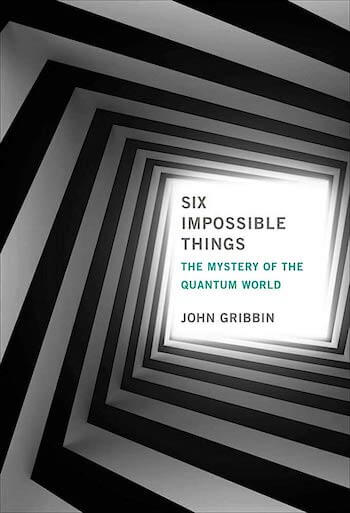 Rules of the quantum world seem to say that a cat can be both alive and dead at the same time and a particle can be in two places at once. And that particle is also a wave; everything in the quantum world can described in terms of waves―or entirely in terms of particles. These interpretations were all established by the end of the 1920s, by Erwin Schrödinger, Werner Heisenberg, Paul Dirac, and others. But no one has yet come up with a common sense explanation of what is going on. In this concise and engaging book, astrophysicist John Gribbin offers an overview of six of the leading interpretations of quantum mechanics.
---
PLAGUES AND THE PARADOX OF PROGRESS: WHY THE WORLD IS GETTING HEALTHIER IN WORRISOME WAYS
by Thomas Bollyky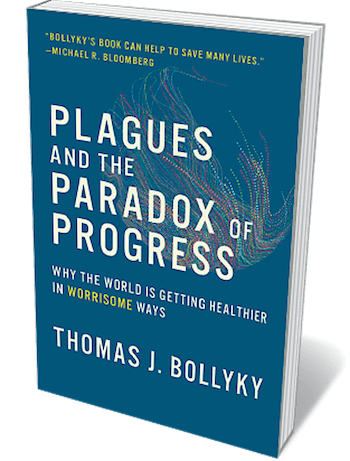 Plagues and parasites have played a central role in world affairs, shaping the evolution of the modern state, the growth of cities, and the disparate fortunes of national economies. This book tells that story, but it is not about the resurgence of pestilence. It is the story of its decline. For the first time in recorded history, virus, bacteria, and other infectious diseases are not the leading cause of death or disability in any region of the world. People are living longer, and fewer mothers are giving birth to many children in the hopes that some might survive. And yet, the news is not all good. Recent reductions in infectious disease have not been accompanied by the same improvements in income, job opportunities, and governance that occurred with these changes in wealthier countries decades ago. There have also been unintended consequences. In this book, Thomas Bollyky explores the paradox in our fight against infectious disease: the world is getting healthier in ways that should make us worry.
---
GLOBAL MEAT: SOCIAL AND ENVIRONMENTAL CONSEQUENCES OF THE EXPANDING MEAT INDUSTRY
by by Bill Winders (Editor, Contributor), Elizabeth Ransom (Editor, Contributor), & 9 more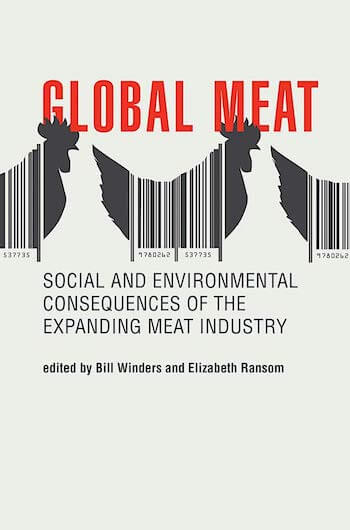 Global meat production and consumption have risen sharply and steadily over the past five decades, with per capita meat consumption almost doubling since 1960. The expanding global meat industry, meanwhile, driven by new trade policies and fueled by government subsidies, is dominated by just a few corporate giants. Industrial farming―the intensive production of animals and fish―has spread across the globe. Millions of acres of land are now used for pastures, feed crops, and animal waste reservoirs. Drawing on concrete examples, the contributors to Global Meat explore the implications of the rise of a global meat industry for a range of social and environmental issues, including climate change, clean water supplies, hunger, workers' rights, and the treatment of animals.
---
PRODUCTIVITY MACHINES: GERMAN APPROPRIATIONS OF AMERICAN TECHNOLOGY FROM MASS PRODUCTION TO COMPUTER AUTOMATION (HISTORY OF COMPUTING)
by Corinna Schlombs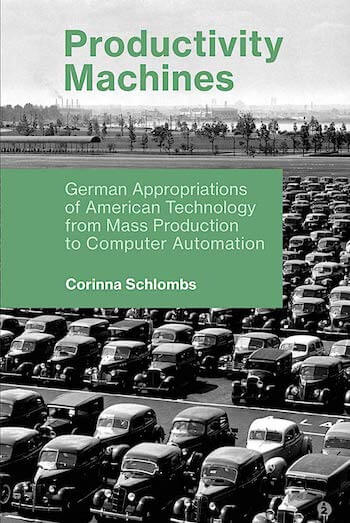 How productivity culture and technology became emblematic of the American economic system in pre- and postwar Germany. The concept of productivity originated in a statistical measure of output per worker or per work-hour, calculated by the US Bureau of Labor Statistics. A broader productivity culture emerged in 1920s America, as Henry Ford and others linked methods of mass production and consumption to high wages and low prices. These ideas were studied eagerly by a Germany in search of economic recovery after World War I, and, decades later, the Marshall Plan promoted productivity in its efforts to help post–World War II Europe rebuild. In Productivity Machines, Corinna Schlombs examines the transatlantic history of productivity technology and culture in the two decades before and after World War II. She argues for the interpretive flexibility of productivity: different groups viewed productivity differently at different times. Although it began as an objective measure, productivity came to be emblematic of the American economic system; post-World War II West Germany, however, adapted these ideas to its own political and economic values.
---
CHINA'S VISION OF VICTORY
by Jonathan D T Ward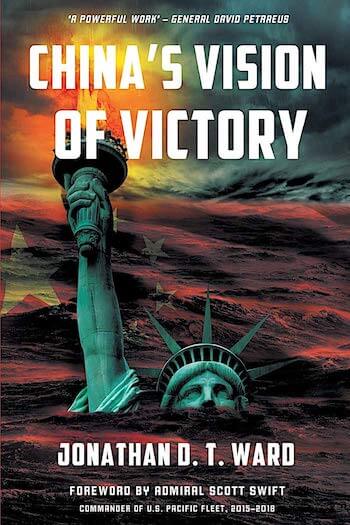 Someday we may say that we never saw it coming. After seventy-five years of peace in the Pacific, a new challenger to American power has emerged, on a scale not seen in generations. Working from a deep sense of national destiny, the Chinese Communist Party is guiding a country of 1.4 billion people towards what it calls «the great rejuvenation of the Chinese nation,» and, with it, the end of an American-led world. Will this generation witness the final act for America as a superpower? Can American ingenuity, confidence, and will power outcompete the long-term strategic thinking and planning of China's Communist Party? These are the challenges that will shape the next decade and more. China's Vision of Victory brings the reader to a new understanding of China's planning, strategy, and ambitions. From seabed to space, from Africa to the Arctic, from subsurface warfare to the rise of China's global corporations, this book will illuminate for the reader the new great game of our lifetimes, and how our adversary sees it all.
---
AESTHETICS, INDUSTRY, AND SCIENCE: HERMANN VON HELMHOLTZ AND THE BERLIN PHYSICAL SOCIETY
by M. Norton Wise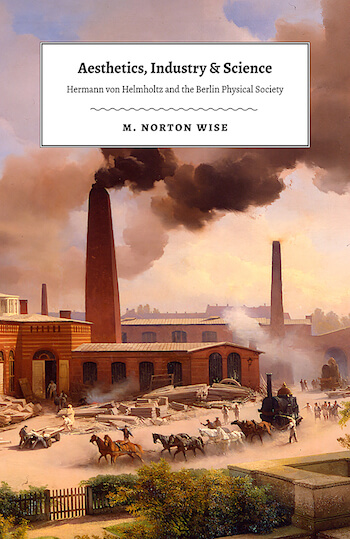 On January 5, 1845, the Prussian cultural minister received a request by a group of six young men to form a new Physical Society in Berlin. In fields from thermodynamics, mechanics, and electromagnetism to animal electricity, ophthalmology, and psychophysics, members of this small but growing group—which soon included Emil Du Bois-Reymond, Ernst Brücke, Werner Siemens, and Hermann von Helmholtz—established leading positions in what only thirty years later had become a new landscape of natural science. How was this possible? How could a bunch of twenty-somethings succeed in seizing the future? In Aesthetics, Industry, and Science M. Norton Wise answers these questions not simply from a technical perspective of theories and practices but with a broader cultural view of what was happening in Berlin at the time. He emphasizes in particular how rapid industrial development, military modernization, and the neoclassical aesthetics of contemporary art informed the ways in which these young men thought.
---
CODE BLUE: INSIDE AMERICA'S MEDICAL INDUSTRIAL COMPLEX
by Mike Magee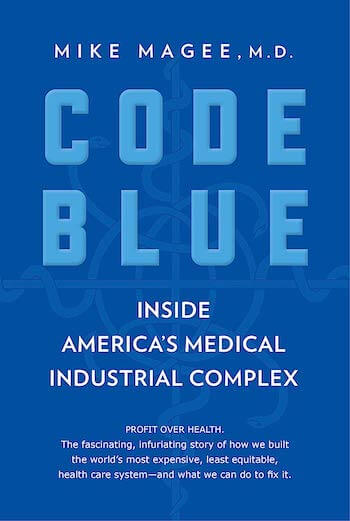 How has the United States, with more resources than any nation, developed a healthcare system that delivers much poorer results, at near double the cost of any other developed country―such that legendary seer Warren Buffett calls the Medical Industrial Complex "the tapeworm of American economic competitiveness"? Mike Magee, M.D., who worked for years inside the Medical Industrial Complex administering a hospital and then as a senior executive at the giant pharmaceutical company Pfizer, has spent the last decade deconstructing the complex, often shocking rise of, and connectivity between, the pillars of our health system―Big Pharma, insurance companies, hospitals, the American Medical Association, and anyone affiliated with them. With an eye first and foremost on the bottom line rather than on the nation's health, each sector has for decades embraced cure over care, aiming to conquer disease rather than concentrate on the cultural and social factors that determine health. This decision Magee calls the "original sin" of our health system.
---
HIVEMIND: THE NEW SCIENCE OF TRIBALISM IN OUR DIVIDED WORLD
by Sarah Rose Cavanagh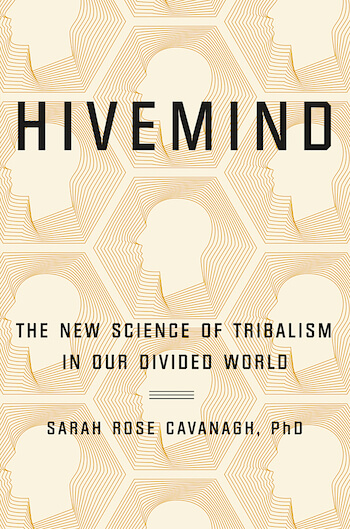 At the crossroads between The Shallows and Presence, Hivemind is a provocative look at how communities can sync up around shared ideas, and how this hive mentality is contributing to today's polarized times. Hivemind: A collective consciousness in which we share consensus thoughts, emotions, and opinions; a phenomenon whereby a group of people function as if with a single mind. Our views of the world are shaped by the stories told by our self-selected communities. Whether seeking out groups that share our tastes, our faith, our heritage, or other interests, since the dawn of time we have taken comfort in defining ourselves through our social groups. But what happens when we only socialize with our chosen group, to the point that we lose the ability to connect to people who don't share our passions? What happens when our tribes merely confirm our world view, rather than expand it?
---